By Earleen Hinton
The Oregon School Board is waiting for further guidance from the Illinois State Board of Education and the Illinois Department of Public Health before deciding what the district's mask policy will be for the upcoming school year.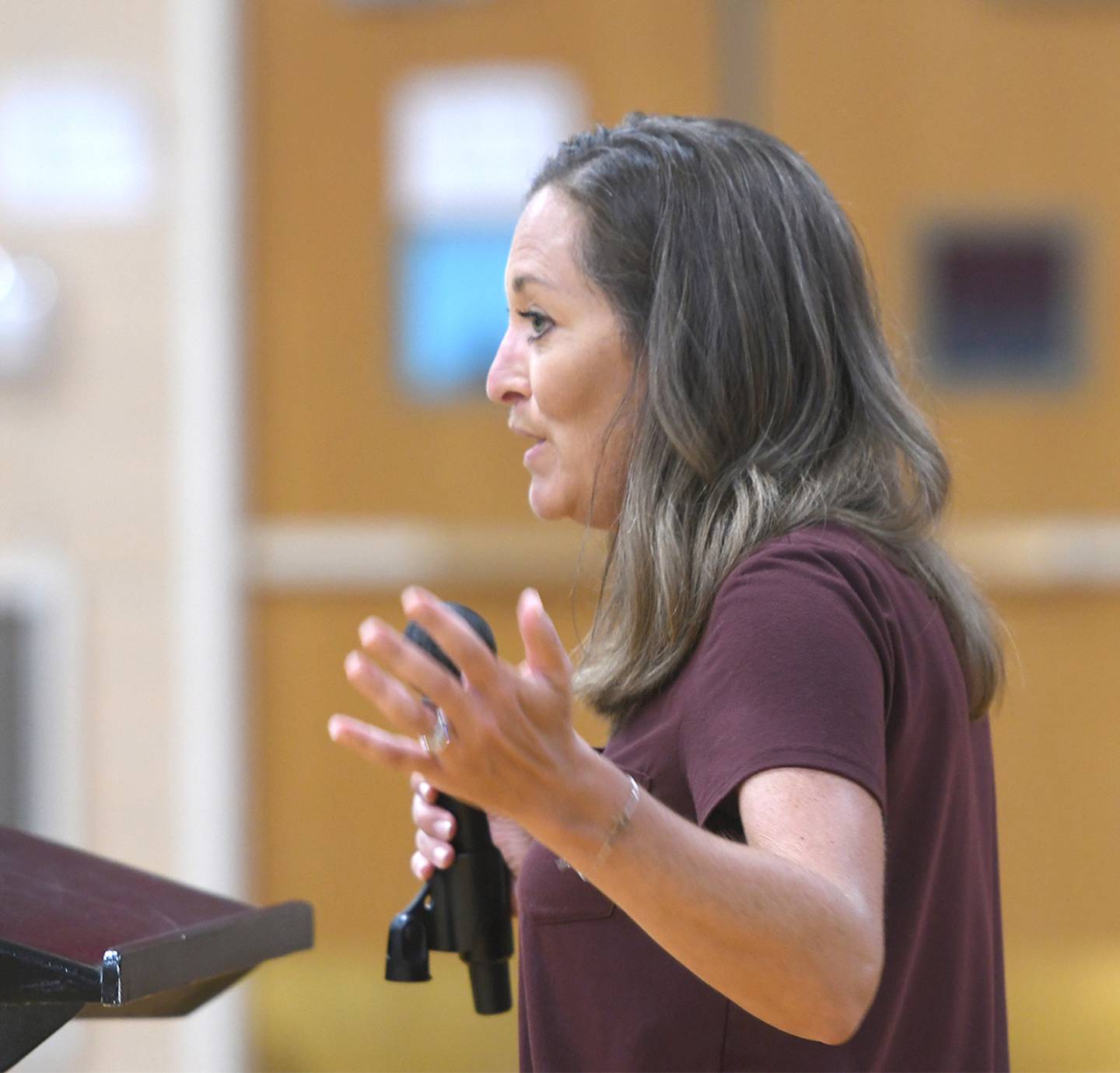 But parents present at Monday's board meeting urged school officials to eliminate mask requirements and let parents decide what would be best for their children.
"If you have been following the Center for Disease Control (CDC) release on guidelines ... masks should be worn in schools and must be worn on buses. Social distancing was three feet, and that was kind of the limit of what they've explained. Both the IDPH and the ISBE adopted that policy," said Oregon Superintendent Tom Mahoney prior to the public comment period of Monday's meeting. "We were then told that the ISBE with the IDPH was going to issue guidance to schools on what that meant on Wednesday of last week. They have not issued that guidance yet."
Mahoney said the district has had multiple meetings on what the district will propose as a plan, but a final plan cannot be determined until officials learn what ISBE says.
"What we don't want to do is say to you, 'Hey we're going to do this year,' then 3 days later come back and say, 'We're not going to do that.' We'd like to be as right as possible the first time," he said.
Local school officials already have part of the plan built and will add the new information once it is received, then release that to the school board and district staff to get their feedback and input.
"And then once we get that back, we will release it to parents to get their feedback and input," Mahoney said. "The ultimate plan would be adopted at the Aug. 2 board meeting."
He said if credible information is received before the August meeting, he would send a specific email to families notifying them of that information before the meeting.
"It's not that we don't want to make a decision. I just don't want to make three decisions and have to change them every time and put you through that kind of turmoil," he told the parents present at the meeting.
But six of 18 parents present at the meeting spoke out against any mask requirement.
Joe Anderson of Chana said children were being "indoctrinated" by state decisions and mandates and "core values" instilled at home were being lost.
"We have got to stop what they [state officials] are doing," Anderson said. "I say we don't need their money."
Aaron Mudge of Oregon said parents should be included in all policy decisions made by the local school board.
"Without parents there is no board, no school," he said. "You need to be more parent-centered as you move forward."
He said the curve for COVID-19 infections had already been "flattened" and his 6-year-old son did not need a "disgusting, snot-filled mask in his face".
"A disgusting piece of cloth over someone's face has no benefits," Mudge said.
Doug Shafer of Oregon also spoke out against mandatory masks for students.
"It should be our choice," he said. "If we let face masks in this year, we will have it forever. It's about money and power."
Some said online options for students who don't want to wear masks should remain available.
Three others at the meeting also urged the board to let parents decide if their children should wear masks.
"We know masks don't work or COVID would already be over. I think it should be our choice," said Allison Colinsenga.
"It should be a parent's choice," said Jen Eckerd. "Give us the choice to send our kids to school masked or unmasked. That choice should remain with the parent."
"They don't have to wear a mask anywhere now except at school," said Ashley Flannagan. "It should be optional."
More information
In an FAQ on the CDC website, the CDC notes that carbon dioxide levels breathed in by mask wearers do not rise.
"[Carbon dioxide] completely escapes into the air through the cloth mask when you breathe out or talk," reads the FAQ. "[Carbon dioxide] molecules are small enough to easily pass through any cloth mask material. In contrast, the respiratory droplets that carry the virus that causes COVID-19 are much larger than [carbon dioxide], so they cannot pass as easily through a properly designed and properly worn cloth mask." According to data from the Illinois Department of Public Health, reported cases in kids ages 5 to 11 averaged 1,056 new cases per week from June 2020 through June 2021. For kids ages 12 to 17, they averaged 1,587 new cases per week during the same time period, per state data.
According to the American Academy of Pediatrics, children were 1.3% to 3.6% of total reported hospitalizations, and between 0.1% to 1.9% of all child COVID-19 cases resulted in hospitalization. Deaths for the 20 and under population remain the lowest of any age group in the state, with a total of only 20 statewide for the entire pandemic as of July 13.
On July 9, the Centers for Disease Control and Prevention (CDC) updated its guidance regarding the start of the 2021-22 school year, and the Illinois Department of Public Health (IDPH) and Illinois State Board of Education (ISBE) followed by adopting the guidelines regarding the return to in-person learning in Illinois public schools. Those guidelines included requiring masks only for individuals who are not fully vaccinated and recommending at least three feet of physical distance between students within classrooms.
Other key points to the revised guidance include continued mitigation efforts and emphasizing "layered prevention strategies" (masking, distancing, testing) to protect people who are not fully vaccinated, which at this time includes children under the age of 12.
On July 8, Thomas E. Bertrand, Executive Director of the Illinois Association of School Boards, and Tom Neeley, President of the IASB Board of Directors, sent a letter to Illinois Governor JB Pritzker to emphasize "that decision-making regarding COVID-19 mitigation measures for public schools be returned to locally elected boards of education."
That letter included requests for guidance that "permits local school boards, in consultation with local public health departments and in consideration of local COVID-19 vaccination and transmission data, to make decisions relative to mitigation measures, including the use of face coverings and social distancing practices" and "allows school boards, in consultation with local public health departments, to approve and implement appropriate mitigation measures in response to a rise in positive COVID-19 cases in the local community and/or region."