Name: Brooke Klosowicz
School, year: Johnsburg, senior
Sport: Softball
Why she was selected: Klosowicz went 5 for 8 with three home runs in two games as the Skyhawks won the Class 2A Johnsburg Regional title. She drilled a go-ahead homer in the eighth inning of a 3-2 win over Sandwich in the final, just keeping the ball fair down the left-field line.
The Skyhawks senior finished the season with the second most home run in the area with 12. Klosowicz will play next season at Penn State and already is at the Big Ten school in State College, Pennsylvania for freshman orientation and summer classes.
For her performance, Klosowicz was voted the Northwest Herald Athlete of the Week by readers. She answered a few questions about her big postseason performance, her time at Johnsburg, Big Ten softball and more.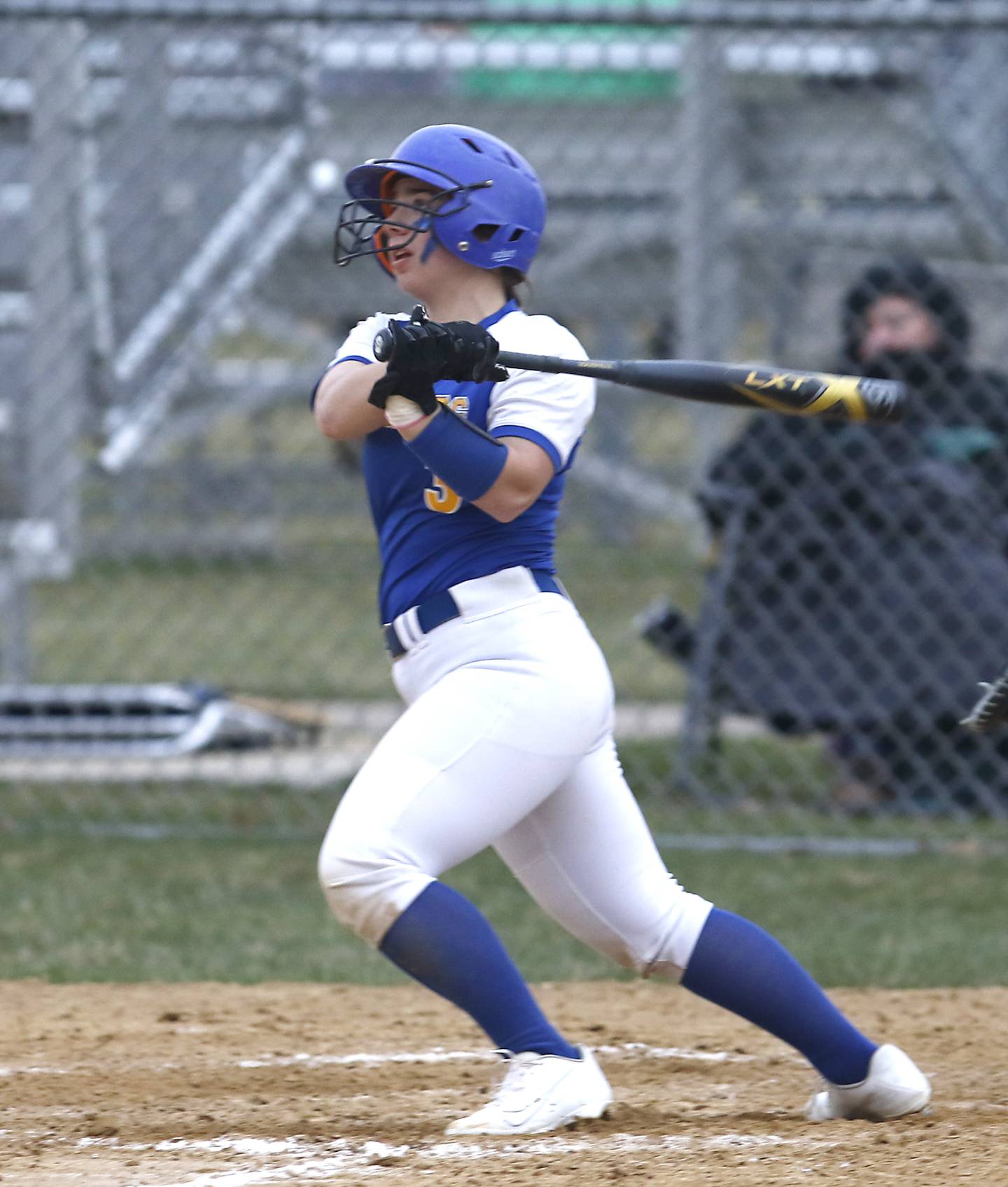 What did it mean to you and your team to win a regional title?
Klosowicz: It meant a ton to win a regional title. We were definitely the underdogs this season. We had a lot to prove and earning a regional was so rewarding. I also was happy the underclassmen got to experience it, as well. Hopefully, they can carry that excitement into next year.
Tell me about the emotions of hitting the go-ahead home run in the regional final.
Klosowicz: When i stepped into the box, I totally wanted to go yard again. It was such a close game and I wanted to do it not only for my team, but for our pitcher, Joree Tibbs, who threw an incredible game. I was scared it would trail foul but when it didn't, I couldn't stop smiling. It's just another reason why I love the game so much. Anything can happen at anytime and change the game completely. It was the perfect way to end my senior year on the team.
If you could have dinner with any three people, who would they be?
Klosowicz: Taylor Swift, Shaquille O'neal and Micheal Jordan. They are all very iconic in their own way and would have some good stories to tell.
What is your favorite fast food?
Klosowicz: My favorite fast food is Culver's. It's become an obsession and I'll miss it the most when I'm at college.
What would be your walk-up song?
Klosowicz: My walk-up song would be "Gasolina" by Daddy Yankee. It hypes me up a ton, whether it's on the dance floor, in the weight room or on a field.
What's a sport that you are bad at?
Klosowicz: I'm really bad at soccer. I have no coordination. My P.E. teacher, Mr. Eastland, can second that, as well. He did see me trip on the ball the last time I played.
If you could live anywhere in the world, where would it be?
Klosowicz: I would love to live in the mountains of Colorado. It is so beautiful and my favorite trip of the year when we go for softball.
What are you looking forward to most about Penn State?
Klosowicz: Obviously playing softball is what I am looking forward to the most, but also meeting new people. Campus is so lively and fun, and they do game days like no one else. Being able to step into a new chapter of my life is very exciting.
What will you miss most about Johnsburg?
Klosowicz: I will miss the community a ton. Because we are so small, the community is tight knit and supportive. No matter what, people will always have your back and be happy for you. It's part of what makes Johnsburg so special. I am so happy to be a part of something so great and know if I ever need anything at all, "JB" has my back.