The IHSA Girls Track and Field State Meet will mark the end of an era for the McHenry County area this weekend.
Huntley's Alex Johnson and Prairie Ridge's Rylee Lydon, likely the greatest two the area has ever produced in that sport, will close out their illustrious careers at Eastern Illinois University's O'Brien Stadium in Charleston.
The Class 1A girls compete in preliminary flights and heats Thursday, with the Class 2A girls going Friday morning and the Class 3A girls Friday afternoon. Finals for all three classes will be run Saturday.
Johnson, who has two Class 3A long jump state titles along with last year's triple jump, is headed to Arizona State. Lydon, who won the 3A 400 meters as a sophomore and the high jump last year, will compete in heptathlon at Texas A&M.
Their consistency and greatness have been remarkable.
"I have some pretty big goals. I'm aiming for the state record in both jumps," Johnson said. "That's pretty lofty. I feel like I've done what I needed to do in my high school career. Anything now is just extra. My main goal is helping my team get a state championship and keeping my state titles in long and triple. Anything else would just be extra."
The long jump record, 6.326 (20-9) by Morgan Park's Alexandria Anderson in 2005, seems within Johnson's reach. The triple jump record is owned by Homewood-Flossmoor's Jaimie Robinson (13.0175, 42-8 1/2) from 2017.
Alex and Dominique Johnson, her sophomore sister, are the top two seeds in the triple jump out of sectionals. They had the only sectional jumps better than 12 meters: Alex went 12.24 (40-2) and Dominique went 12.11 (39-8 3/4).
Alex Johnson is seeded first in the long jump at 6.25 (20-6 1/4) and Lydon (6.02, 19-9) is second, with Dominique Johnson (5.72 (18-9 1/4) in fifth. Lydon is also seeded second in the 400 at 55.48, where Normal's Allison Ince (55.21) is the top seed.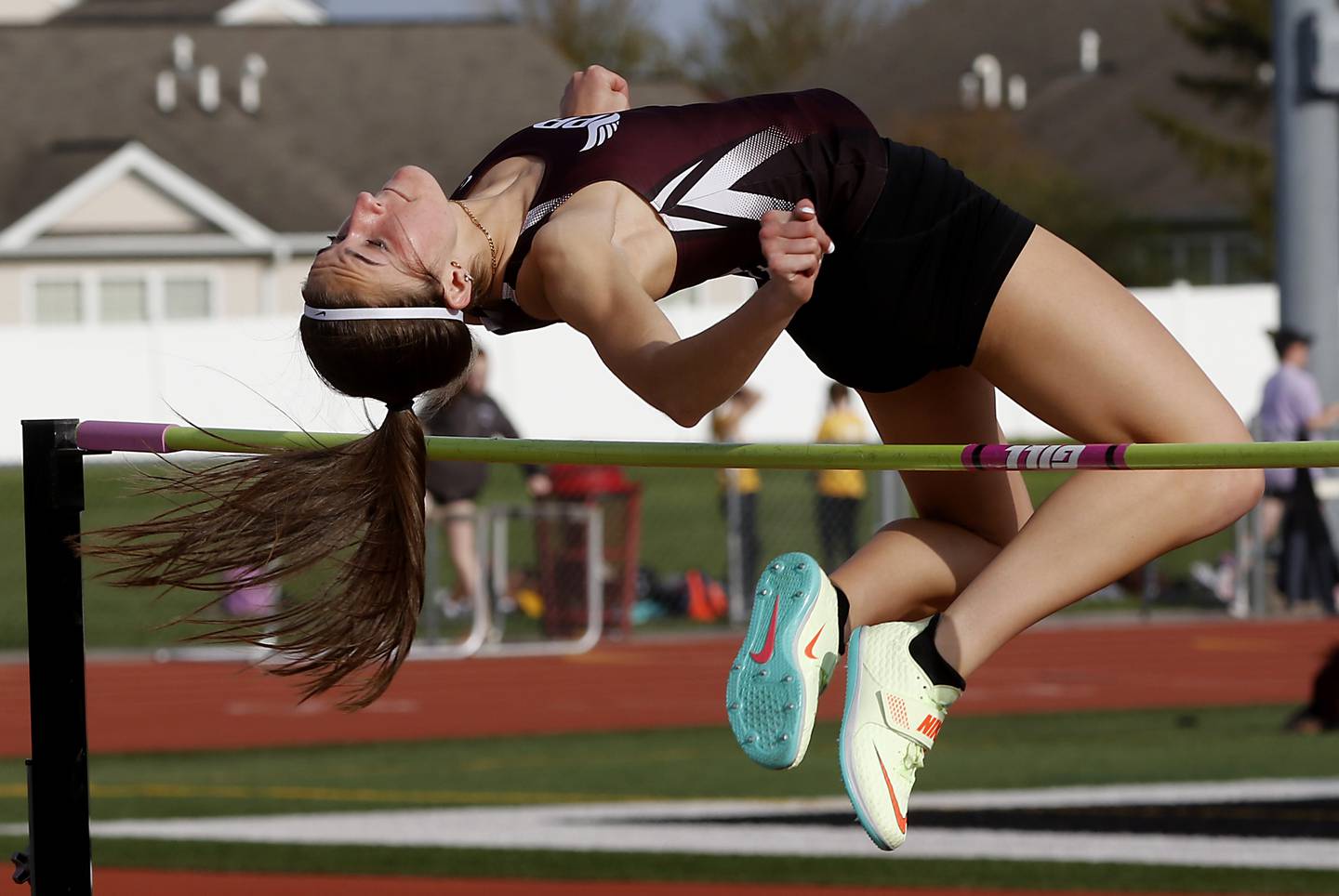 "One of my goals for my last state meet is to have a better performance in the 400," said Lydon, who was seventh last year. "The 400 didn't go the way I wanted it to last year, so I would like a redemption run in that event this year. I'm in a much better place now with my aerobic fitness than I was last year, so I'm excited to see what I can do with some really good competition.
"My main goal, however, is to just enjoy my last state meet and have fun with it. I was putting too much pressure on myself last year trying to win and hit certain marks for the sake of being recruited. Now that I know my plans for next year, I'm hoping to enjoy those couple of days and soak it all in one last time."
The Johnson sisters lead a loaded Huntley team that has 12 entries and is aiming for a top-three finish and a team trophy. The Red Raiders finished fifth last year with 33 points, 20 behind team champion Whitney Young, and feel they have stronger 4x100- and 4x200-meter relay groups this year.
"For the team, we're really gearing for top three or a state championship," senior sprinter Vicky Evtimov said. "We've been working since November for this. We want to go home with placements in the relays and Alex and Dominique (Johnson) in the jumps and our girls in the throws. We're really excited."
Discus thrower Ally Panzloff is seeded second at 43.19 (141-8). The 4x200 team is seeded third and the 4x100 is seeded fourth.
The Raiders lost 4x100 member Sophie Amin last week with a dislocated left ankle in the 100 high hurdles race at the sectional. Dominique Johnson will step into that spot with her sister, Evitimov and K'Leigh Saenz.
Raiders coach Jason Monson said they probably will scratch Alex Johnson from the 100 because they can score more points with her in the 4x200. Emily Byers may run in Friday's qualifying race with Saenz, Dominique Johnson and Evtimov, and Alex Johnson could be subbed in for the finals.
Prairie Ridge's Rachel Soukup has the top time in the 3,200 out of sectionals, and Huntley's Breanna Burak is sixth.
McHenry's Alyssa Moore is the fourth seed in the 800. Lydon is seeded fourth in the 100 high hurdles.
In Class 2A, Burlington Central's Paige Greenhagel will be someone to watch in multiple events. She is seeded fifth in the 400, third in long jump and is a returning medalist in the high jump.
Richmond-Burton's Angelina Gersch is seeded fourth in the triple jump.