CARY – Richmond-Burton senior catcher Taylor Davison didn't get the results she was looking for early against Cary-Grove on Tuesday, reaching base once in four at-bats with an infield hit.
So when the Syracuse commit led off the bottom of the eighth inning, she was really only looking to do one thing: hit the ball hard.
Davison did that and more, going the opposite way and smacking the second pitch from Trojans freshman Addison Green over the right-center field fence to give the Rockets a 6-5, walk-off win in the season opener for both teams.
[ Photos: Cary-Grove vs. Richmond-Burton softball ]
"I was looking for a hittable pitch, something to hit hard," said Davison, who had 12 homers last year. "It didn't have to be a strike. I was OK with a double, I was OK with a single, I just wanted to get on base. She made a pitch I really liked, and I just hit it hard."
Richmond-Burton (1-0) battled back from two deficits – trailing 3-2 after 2 1/2 innings and 5-4 after 4 1/2 innings.
Sophomore pitcher Madison Kunzer threw three scoreless innings in relief of starter Hailey Holtz, allowing one batter to reach base on a walk and striking out four.
Rockets coach Tylar Stanton said he was confident his team would mount a comeback against the Trojans. Last year, R-B fell one win short of reaching the state tournament for the first time in school history, losing to eventual Class 2A champion Rockridge 1-0 in the supersectional round.
"I know it sounds cliché, but there was never a doubt," Stanton said. "This team battles. We've got youth and we've got senior experience. Madison Kunzer, a freshman last year, coming in and finishing the game. And then we've got Taylor [Davison] to finish it. This team, we're ready for something."
Kunzer also gave the Rockets their first runs of the season, pulling a line-drive, two-run homer over the left-center field fence in the second inning for a 2-0 lead.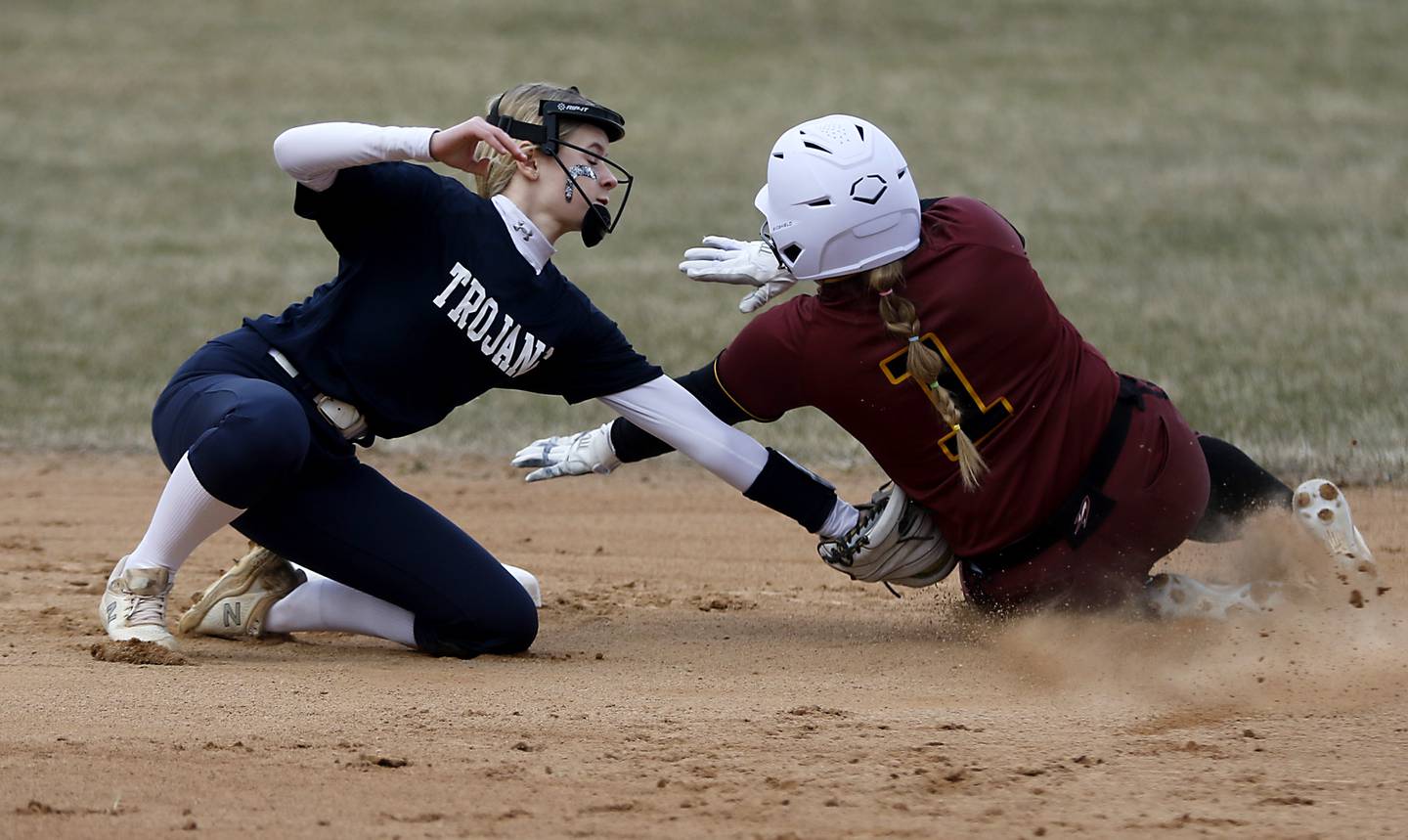 Stanton said Kunzer's maturity showed.
"Last year, it might have been a little shocker, but this year it was a nod and a smile, and she went out there humming that thing," Stanton said. "She looks ready to go. Unfinished business has been our theme. That's our focus this year, and she's going to be a big part of it."
Kunzer said she has gained a lot more confidence since her freshman year.
"Over the summer, I worked really hard on my pitching and my riseball with my travel team," Kunzer said. "Last year, we got so close to state. That's just going to push us even more."
Cary-Grove took a 5-4 lead in the top of the fourth on two-out RBI hits from Maddie Crick (2 for 4) and Emily Green (2 for 3, 3 RBIs). Crick tied the game at 4-all after she hit a soft liner back to Holtz. The Rockets sophomore pitcher made a diving attempt and appeared to catch the ball before it popped out of her glove when she fell to the ground.
I know it sounds cliché, but there was never a doubt. This team battles. We've got youth and we've got senior experience. ... This team, we're ready for something.

—  Tylar Stanton, Richmond-Burton coach
Emily Green then came through with a single up the middle for a 5-4 lead.
The Rockets were held scoreless the next two innings. With two outs in the bottom of the sixth, Emerson Herrick (2 for 3) provided a clutch two-out RBI single to score Lyndsay Regnier (2 for 4), tying the game at 5-all.
Holtz finished with 10 strikeouts in her five innings, giving up five runs on nine hits and three walks. Becca Weaver started for the Trojans, allowing four runs on seven hits.
Addison Green was tough for C-G (0-1) in her debut, holding the Rockets to two runs (one earned) on four hits in four innings. She struck out six and walked three.
Trojans coach Tammy Olson said Addison Green will be a big part of the team's success. C-G won its first regional title in 11 years last spring.
"I was really proud of how she came in and kept her composure," Olson said. "That's what we were looking for. She's going to be a big part of our season as we look forward. Our biggest goal today was communication. Can they talk to each other? Can they see each other on the field?
"That was our biggest goal, communicating and just staying composed, and I feel like we really hit those goals today."