PALATINE – Jacobs senior left fielder Taylor Stennett provided instant offense in her first at-bat of the season, lifting a ball high into the air in the top of the first inning that carried over the left-center field fence.
"My first at-bat, I was really excited," Stennett said of her solo home run. "I tried to take a nice easy swing, and it just kind of cracked off [the bat]. The wind helped a bit, but that was nice. It's just nice having the support of my teammates. That ball could have gone out, it could have been an out, and they'd still have my back."
Unfortunately for the Golden Eagles, their lead wouldn't last long.
Palatine went ahead of Jacobs with two runs in the bottom half of the inning and kept the pressure on the Eagles' defense with lots of contact. The Pirates piled up 10 hits, knocking out two long home runs, and beat Jacobs 13-3 in five innings in their season opener Monday.
[ Photos: Jacobs vs. Palatine softball ]
Both teams were playing on dirt for the first time after bad weather prevented them from getting outside. Palatine coach Nicole Capalbo was happy with her team's performance, both on the field and at the plate.
"This is the first time we've been on dirt, so I thought defensively we looked pretty strong," Capalbo said. "We had some miscues with communication, but that's something we can work on. I thought we were really strong offensively, and that showed with us putting pressure on them every inning.
"One of our goals is to win every inning, and we did that. That takes pressure off our pitchers and our defense. That was nice to see our bats come alive our first time seeing live pitching."
Palatine scored runs in every inning, getting two in the first, five in the second, four in the third and two in the fourth.
My first at-bat, I was really excited. I tried to take a nice easy swing, and it just kind of cracked off [the bat]. The wind helped a bit, but that was nice.

—  Taylor Stennett, Jacobs senior left fielder
Senior right fielder Jolie DeValk blasted a grand slam to straight-away center field for the Pirates (1-0) with two outs in the bottom of the second, giving Palatine a 7-1 lead after two innings. Senior center fielder Lauren Dettloff (2 for 2, three runs) added a two-run homer – the first of her career – in the third.
DeValk got the pitch she was looking for on a 2-2 count and didn't miss.
"It felt great," DeValk said. "It's the first time being out here, and hearing all my teammates cheer me on really fires me up. I was a little bit down in the count in the beginning. I was expecting a changeup, she threw my one down the middle and I let it rip."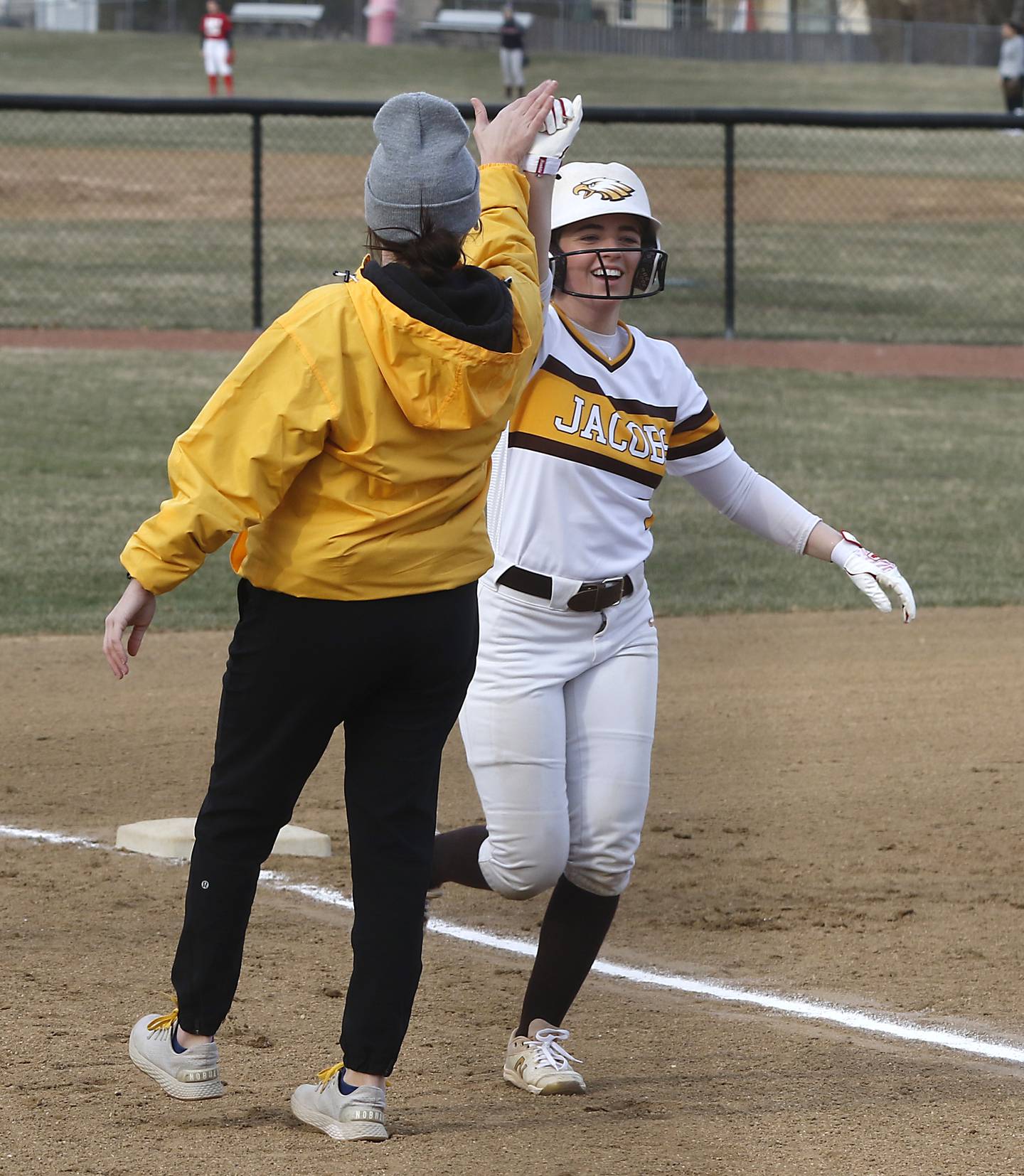 Palatine sophomore Holly Steffus pitched all five innings in the complete-game win, giving up three runs on five hits. She struck out eight and walked two.
Capalbo felt Steffus looked strong in her first start of the season.
"She took a break a little bit over the summer to give herself some time to heal, and I thought she looked great," Capalbo said. "It's like she didn't miss a beat. Consistently hitting her spots and not putting pressure on herself to strike out every batter.
"She did a nice job of using the defense behind her."
Jacobs freshman Addie St. Ledger took a loss in her first high school start, allowing eight hits with three strikeouts. Only three of the 11 runs against her were earned as the Eagles committed five errors.
St. Ledger drew the start for Jacobs (0-1) after senior pitcher-shortstop CiCi DiSilvio woke up Monday feeling sick.
"Palatine did a great job of testing our defense," Jacobs first-year coach Jessica Turner said. "We definitely have to get more reps outside. If we clean up our defense and make better throws, we should be in good shape to compete. ... We've prepared these kids for three weeks, there's going to be adversity. [St. Ledger] was ready. She did her job and did exactly what was asked of her."
Stennett went 2 for 3 with two runs for Jacobs, Avarie Lohrmann had two hits and a stolen base, and Jianna Tanada had a run.
For Palatine, Angie Delgado and Sammie Kendrick each went 2 for 3 with a double and two runs. Hannah Wachler scored twice in the win.