Marengo girls basketball coach Elisa Hanson strongly believes there is another level her team can reach.
"Honestly, we're not playing our best basketball right now, but we're still finding ways to win," Hanson said. "Obviously, that isn't ideal, but it does make me happy that everyone is finding ways to contribute, and that gives us a better chance to win closer games.
"We're finding a way."
Despite not playing their best ball, the Indians (14-8) still find themselves in control of the Kishwaukee River Conference race with a 6-0 record and four games remaining. Johnsburg trails Marengo in second at 5-1, followed by Woodstock at 4-3.
Of late, one player who has stepped up for the Indians is junior guard Keatyn Velasquez, who scored the game-winning bucket on a putback with 10 seconds left in a 34-32 win against Woodstock on Jan. 12. On Tuesday, she had 10 points with two 3-pointers and held Woodstock North's top scorer Gracie Zankle to two points in a 48-25 win.
"She's really come up big for us in key moments," Hanson said. "She's affected games on both offense and defense."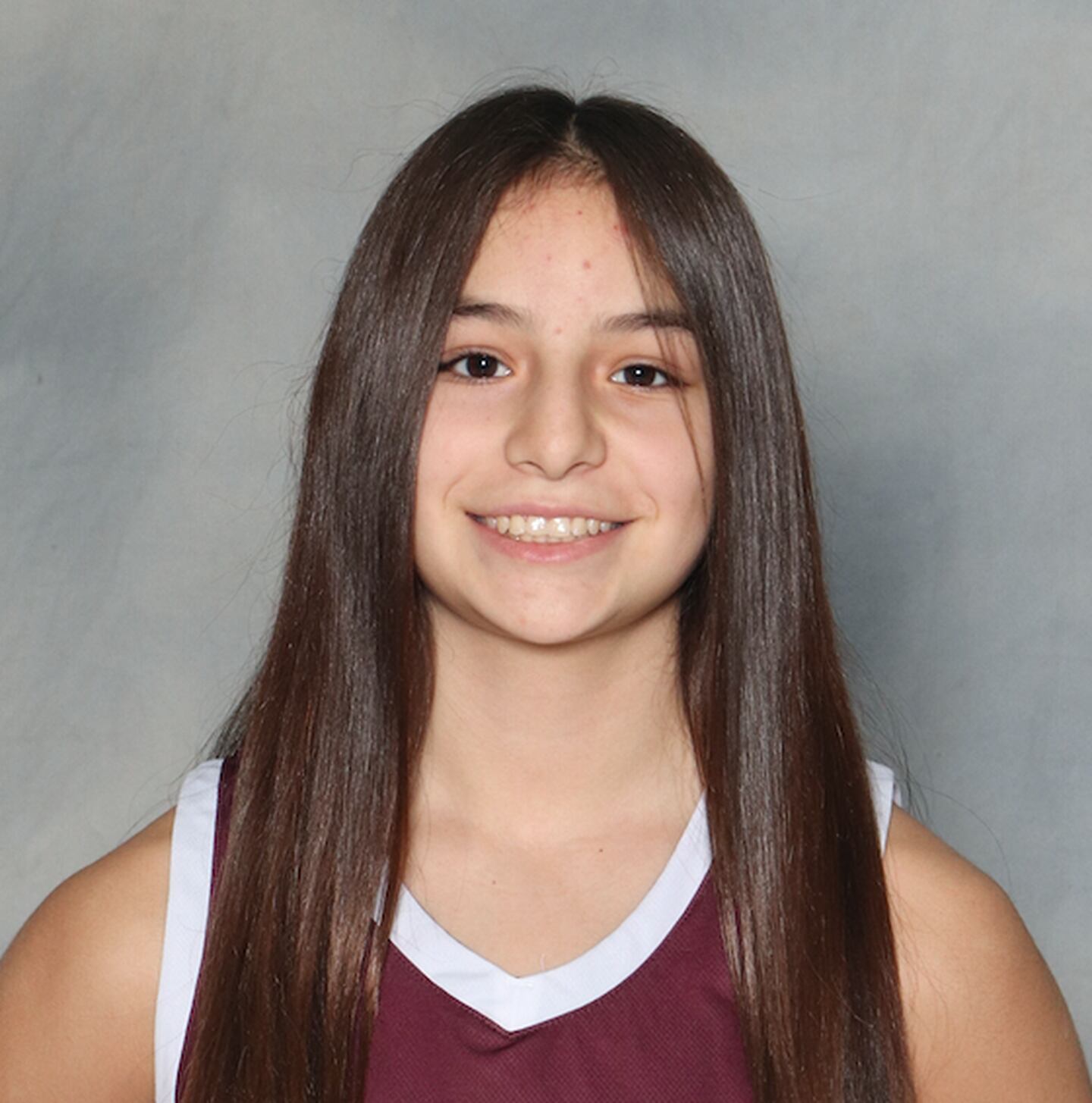 Marengo has struggled at times offensively but has done enough on both ends of the floor to pull out close games and put them in position to win its fourth KRC title in the past five seasons. The Indians' streak of three straight conference championships ended last year.
"I like defensively what we're doing," Hanson said. "On offense, we've been able to rely on some more people other than [junior] Bella [Frohling] and [senior] Addie [Johnson]. It's a group effort. I think that's going to give us more confidence as we get closer to the postseason."
Two other players who have been instrumental to the Indians' success are twin forwards Gianna and Michaela Almeida.
"I think Gianna and Michaela are always under the radar," Hanson said. "They're really such great athletes. Their leaping ability, the way they disrupt things around the basket ... and they've come up with some huge rebounds. Gianna and her mid-range offensive game has come up pretty big for us."
Marengo hosts Johnsburg in a key KRC game at 7 p.m. Tuesday that could determine the conference champion.
The Indians beat the Skyhawks in their first meeting 45-34 on Jan. 12, but Hanson knows they can't rely on past results.
"They play hard," Hanson said of Johnsburg. "With the level of intensity they play with, you can't take any time off. They have a variety of guards who can score from the 3-point line and in transition. They're a handful. We're looking forward to the opportunity to play them again."
Giant leap: Alden-Hebron coach Marty Hammond called the Giants' recent play a big step up from where they started the season. Since a loss to Westlake Christian on Dec. 1, A-H (14-8) has rattled off 11 wins over its past 15 games.
"They've all come to play this year, and they're reaping their rewards," Hammond said.
Leading the Giants is junior guard Jessica Webber, who is averaging about 18 points a game, Hammond said. Webber set her career high with 29 points in a nonconference win against Durand on Jan. 19 and was averaging 22.4 points a game during a recent five-game stretch.
"Jessica is by far our team leader. The kids really look up to her," Hammond said. "She's not cocky, she's just confident, and she looks for her 3-point shot a lot. Once she starts hitting some of those, teams come out to defend her, and she takes the drive and scores that way."
Webber currently sits between 700 and 800 career points, Hammond said, and has made it a goal of hers to reach 1,000 by the end of her career – something her older sister, Emily, a 2017 graduate, accomplished.
At her current pace, she'll fly by that number.
"She lives basketball," Hammond said. "We were just watching game film from last year and she knew exactly what happened on every single play. She's always watching games. That's the kind of athlete you dream to have on your team."
The Giants have only one senior, center Rachael Freitag, on the team, along with a handful of freshmen, which makes Hammond excited about the future. The other three starters for A-H are juniors Evelyn Heber and Hannah Reiter and sophomore Rileigh Gaddini.
"They're all chipping in, they're all playing hard, and I think they're really enjoying playing right now," Hammond said.
Raiders, Whips to clash in key FVC battle: If Hampshire is going to win a Fox Valley Conference title, it almost certainly will need to beat Huntley when the teams meet at 7 p.m. Monday at Huntley.
Huntley (20-4, 11-0) beat Hampshire (16-8, 10-1) in a close game 51-48 on Dec. 9. No other FVC team has come closer than 13 points to the Red Raiders, who have won 21 consecutive conference games and 28 of their past 29.
The Whip-Purs, who last won conference in 2019, still are looking at the big picture.
"I tell them before every conference game that every day is the conference title," Hampshire coach Eric Samuelson said. "What I mean by that is you can't worry about who you're playing in a week. You can't look ahead. I always say you can't win a conference title in one night, but you can lose it.
"One small slip, and that means Huntley has it. What do they say at Duke? You have to hate losing more than you enjoy winning."