HUNTLEY – Barrington drew inspiration from a "Never say die" Northwestern softball team that's caught national attention during the NCAA Women's College World Series and had its own Wildcats' moment on Saturday.
The Fillies, three outs from their season being over, stormed back for seven runs in the top of the seventh inning against Huntley ace Jori Heard, highlighted by a game-tying, three-run home run by Allie Goodwin, and stunned the Raiders, 9-7, to win the Class 4A Huntley Sectional championship.
"When we fell down, we stayed up and said we're not quitting no matter what," said Goodwin, Barrington's starting pitcher and a Princeton commit. "Northwestern inspired us because whenever they're down, they always come back.
"We wanted to be like them, and so we just rallied and kept going."
[ Photos: Huntley vs. Barrington softball, IHSA Class 4A Huntley Sectional championship ]
Barrington (32-5) advances to meet Warren – a 2-1 winner in eight innings over Loyola Academy in the Glenbrook North Sectional – in the Barrington Supersectional at 7 p.m. Monday at Barrington's Field of Dreams.
The wild win was a turn of events from last season's supersectional when Huntley hit a walk-off home run in the 11th inning on Barrington's home field to send the Raiders to state for the second consecutive year.
Now, it will be Barrington playing for a trip to state.
"We've lived and died with the long ball, and they weren't ready to stop," Fillies coach Perry Peterson said. "Huntley was terrific. I thought for six innings they certainly were the better team today. Credit to our kids, they came back and hit the ball great in the seventh."
Barrington's first two runs of the game both came on solo homers from Brynn Nevers and Goodwin, with Goodwin getting her first long ball in the top of the sixth to cut the Raiders' lead to 6-2. Huntley added a run in its half of the sixth on an RBI single by Reese Hunkins and took a 7-2 lead into the seventh.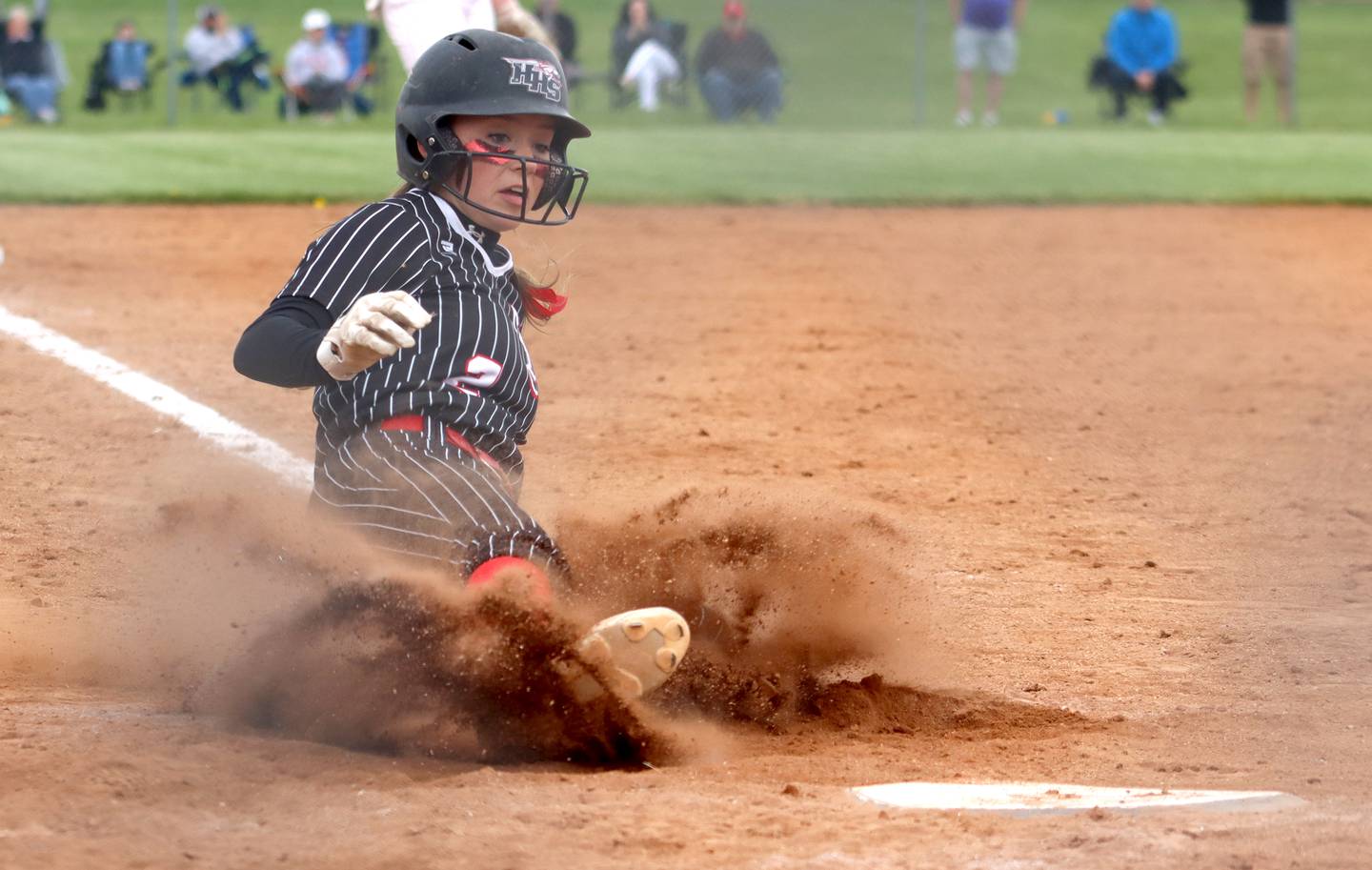 Heard, who will play at Valparaiso next year, entered Saturday without allowing a hit in 25 2/3 straight innings while tossing two perfect games and two no-hitters in her previous four starts. She held a powerful Fillies' lineup to two runs on five hits in the first six innings before surrendering seven runs (five earned) on six hits in the seventh.
"That's a monster-hitting team, and we held them at bay for six innings," Raiders coach Mark Petryniec said. "You're sitting there and hoping they don't get the top of the order back up. They shortened their swings, put the bat on the ball and did something most teams couldn't do against Jori this year."
Barrington sent 11 batters to the plate in the seventh, with Nikki Vojack laying down a bunt hit to start the inning. After a foul out, Amanda Glowacki reached on a hit-by-pitch and Lizzie Galovich reached on error, scoring Vojack and turning the lineup over.
Nevers, Barrington's leadoff hitter, followed with an RBI single to score Glowacki and cut the Raiders' lead to 7-4. Goodwin then stepped up and hit the second pitch for a long home run over the center-field fence, tying the score at 7-all.
Emma Kavanagh and Ainsley Muno had back-to-back hits after Goodwin's home run to put runners on first and third, and Ellie Wintringer drove in Kavanagh on a sacrifice fly for an 8-7 lead. Vojack then came up for a second time and laid down another bunt, this time scoring Muno.
After holding a Barrington team that owns the state's single-season homer record, Huntley could not stop the Fillies' bats from catching fire in the seventh.
"They were just hitting the ball hard. Honestly I feel like there was nothing that we could do about it," said senior shortstop Reese Hunkins, who was on the Raiders' state champion in 2019 and third-place finisher last season.
"Hats off to them, they hit the ball. It's what they do."
Kavanagh said the Fillies had to start thinking small ball against Heard, something they are not really used to.
"I knew we had to string together hits," Kavanagh said. "Some of us might have been thinking, 'Home run, home run,' but to get to a pitcher like [Heard], you've got to be able to just hit single after single and start moving runners.
"It was just taking it one step at a time, one pitch at a time and trusting our process."
Heard allowed nine runs (seven earned) on 11 hits in innings with four strikeouts and no walks.
Goodwin gave up seven runs (six earned) on 10 hits in seven innings, striking out four and walking three.
Goodwin was Barrington's top hitter, finishing 3 for 4 with four RBIs and two homers. Nevers was 2 for 4 with two RBIs, and Kavanagh, Muno and Vojack each had two hits.
For Huntley, Hunkins was 3 for 4 with two RBIs, Katie Mitchell was 2 for 3 with two runs, and Zoe Doherty was 1 for 3 with a two-run homer and two runs scored. Madi Smith had a two-run single and Ryan had an RBI. Heard added two hits.
The Raiders (31-7) were trying to get back to state for the third consecutive season. Huntley earned its seventh straight regional title and second straight Fox Valley Conference title, going undefeated in FVC play in each of the past two seasons.
Heard finished an outstanding senior year with 416 strikeouts, second most in Huntley history and 18th-most in IHSA history.
"I loved everything about this year," Heard said. "The coaches are great and my teammates are amazing. Each year, more and more talent is coming up. I just love this team."