Mark Cordes' home stands just a few dozen feet from a rail line, but he never thought much about the trains going by his house.
Outside of freight train noise and it sometimes rattling his house, it hasn't been a concern, the Crystal Lake man said.
But he's noticed more freight moving through the area and given the February train derailment in East Palestine, Ohio, he wonders now what is on the trains and what kind of safety protocols are in place if a crash were to happen.
"It doesn't feel like [a train disaster] can happen here," he said.
In McHenry County, much of the train traffic going through town are commuter trains, but officials say it's not uncommon for freight to travel through the area daily.
"There's hazardous material that runs up and down these rails every day without any issues," Crystal Lake Fire Rescue Department Chief Paul DeRaedt said. "I would say every freight train that runs through town probably has hazardous material on it."
For Woodstock Mayor Mike Turner, when he sees what's happened in Ohio, the immediate thought is he hopes to never see that happen anywhere, especially in his own town.
"What happened to that community in Ohio is terrible," Turner said. "Our first responders have responsibility for training. … They plan for and train for any major kind of events like that, and they can coordinate quickly."
The freight train that derailed in East Palestine carried hazardous material on about 20 of its 100 cars, The Associated Press reported. It was the first in a series of train derailments in Maine, Washington and Arizona.
Union Pacific Railroad controls much of the rail line running through McHenry County, according to the Illinois Department of Transportation.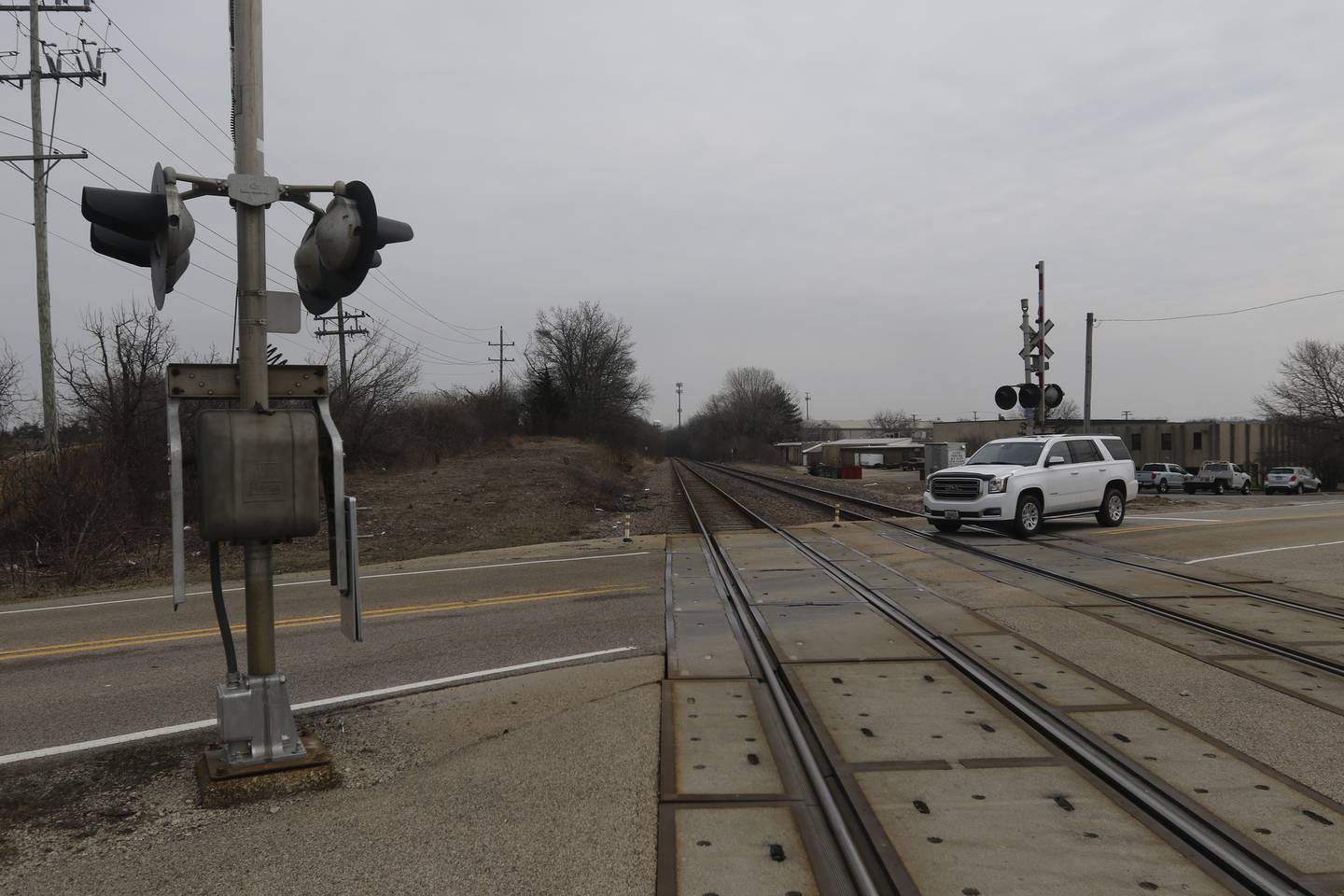 The company will share what it ships in general, spokesperson Robynn Tysver said. The top five commodities shipped in Illinois are intermodal-wholesale, or retail products; auto parts; grain; coal; and assembled vehicles.
The company doesn't break it down by county, nor does it specify what is on a particular train or make public when a train might come through due to security reasons.
"We don't talk about what is on specific trains," Tysver said. "As a common carrier, we are required by federal law to transport chemicals and other hazardous commodities that Americans use daily, including fertilizer, ethanol, crude oil and chlorine."
While that information is not public, first responders are given access to some of those details through an application called AskRail, Tysver said.
"[Railroad companies] keep it secret not because they don't want you to know, but for security reasons," Woodstock Fire/Rescue District Chief Brendan Parker said. "People could use rails to attack [the country]."
Both the Woodstock Fire/Rescue District and the Crystal Lake Fire Rescue Department have access to the application, DeRaedt and Parker said.
While first responders can check the application to see what might be coming through, more often it is used when an incident occurs, DeRaedt said. It also doesn't alert the first responders directly.
I would say every freight train that runs through town probably has hazardous material on it.

—  Crystal Lake Fire Rescue Department Chief Paul DeRaedt
With some trains having dozens of cars attached, there are ways to organize the trains to better protect those carrying hazardous materials in case of a crash, DeRaedt said.
Parker said he doesn't know how often hazardous material comes through town but thinks it's a common occurrence.
If a derailment were to happen in town, regardless of the material, it could prove chaotic given how close some buildings are to the rail line, he said.
"We would have a full response from Woodstock and surrounding communities if we had a train derailment, in or out of town," Parker said.
While recent derailments have caused concerns, groups like the American Association of Railroads have touted the increased safety over railway incidents in recent years.
Since 2000, the hazmat accident rate has declined by 78%, with more than 99.9% of hazmat material moved by rail reaching its destination without issue, according to the association's website.
Multiple attempts to reach the association were unsuccessful.
Data from the U.S. Department of Transportation's Pipeline and Hazardous Materials Safety Administration shows from 2013 to 2022, between 364 to to 718 total railway incidents occurred each year, with more than 5,000 incidents total over the past 10 years.
The vast majority of incidents involving hazardous material take place through highway transportation, according to the data.
Of the railway incidents, Illinois had the third most incidents in 2022, with 19 incidents. Dating back to 2014, Illinois repeatedly ranks No. 3 on the list, falling to No. 6 in 2015, according to the data.
Following the derailment in Ohio, a March 3 advisory notice from the U.S. Department of Transportation suggests encouraging more disclosure for these dangerous materials, including "broader accessibility of the AskRail system."
Secretary of Transportation Pete Buttigieg has also pushed railroad companies to provide a proactive notice instead of expecting first responders to look up the information themselves, Federal Railroad Administration spokesperson Cory Gattie said.
Crystal Lake Mayor Haig Haleblian said most of the train traffic traveling through town is carrying commuters, but even with the little freight coming through, it's something that concerns him.
"I expect the train companies to keep us in the loop," Haleblian said.
DeRaedt said he doesn't think making any information public will happen, but one thing that could come out of these pushes is for railroad companies to meet with fire departments annually to give an update on what kinds of materials are traveling through town.
Training opportunities, facilitated by the train companies, also are available to prepare local first responders for any potential incident.
Placards affixed to train cars also denote what kind of material is being carried, such as whether it's flammable or corrosive. First responders can use that to assess the best way is to handle the material if something were to occur.
"Be aware of the cars you have going through your community here and know that the fire department is well-versed in how to handle those situations," DeRaedt said.
CORRECTION: This article was updated Thursday, March 23, to correct the date in the photo captions. The photos were taken Tuesday, March 21.