Public comment on an intersection near Woodstock that saw more than 40 crashes in the past five years has opened, allowing residents to give their thoughts on possible improvements there.
Several ideas have been proposed to improve the intersection at Route 14 and Hartland and Hughes roads, with the most popular being a roundabout, as well as work to level out the road, according to the Illinois Department of Transportation.
The new window for public comment opened Monday and will continue through Feb. 24, according to department documents.
The intersection sits on a stretch of Route 14 that runs between Harvard and Woodstock. Daily traffic at the intersection reaches 1,450 to 1,550 people along Hartland and Hughes roads and about 8,400 people on Route 14, according to traffic counts from IDOT.
At past public outreach events, the bulk of people providing comments said they supported a roundabout at the spot, according to department documents. The project being pitched would include 12-foot lanes, medians and new road markings to accompany the roundabout.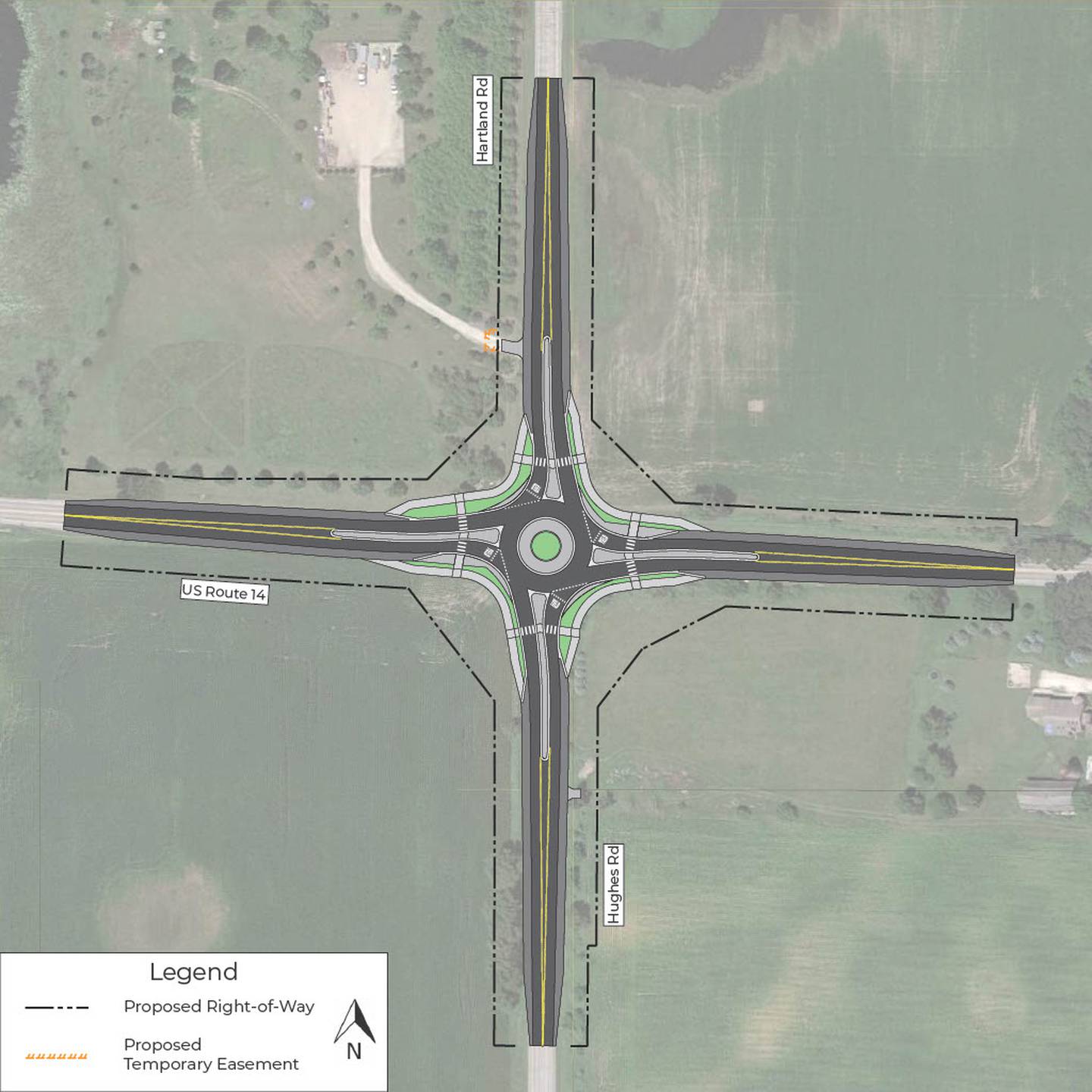 The work also would level out the section of Route 14, according to documents. Raising it 5 feet, along with installing a culver, would decrease flooding and increase visibility.
In total, the roundabout is estimated to cost $4.5 million, which is the lowest total of the proposals, according to documents.
Other options include a modified R-cut, which would see dedicated lanes within the intersection for left and right turns, estimated to cost $8.9 million, and a right-in and right-out design for $6.5 million, IDOT spokeswoman Maria Castaneda said.
Currently, there is no set timeline for the project, Castaneda said, but it is expected that construction will take two years. IDOT will take on constructing the project, as well as most of the cost, minus some utility work that could be required by the municipalities overseeing the intersection.
From 2015 to 2018, the intersection had 33 crashes, according to department documents. The McHenry County Sheriff's Office, which is responsible for responding to the intersection when incidents occur, said 44 more crashes have happened since 2018, bringing the total to more than 75 since 2015.
The intersection butts up against work done along Route 14 that started last year, which ran from Hartland/Hughes roads to Route 47 in the east. That work included resurfacing.
Those interested can provide comments on the intersection through the website created for the study, us14hartlandhughes.com.