Three years after the village of Fox River Grove began to pursue downtown properties through eminent domain, the village announced last week that it now has purchased the last remaining parcels of land it needed to redevelop the area.
For one business, it's the end of an era. For the village, it's a new start, potentially bringing capital investment to a block that otherwise would not have seen development.
The Fox River Grove Village Board began the eminent domain process for the buildings on the block across from the Metra train station and bordered by Route 14, Illinois Street, Lincoln Avenue and Opatrny Drive in 2018.
One of the properties the village bought through eminent domain is New China at 308 Route 14. It is officially closing Oct. 31.
"In the end here, we had to settle," owner William Gee said, explaining that he settled on the advice of his attorney. "We're moving forward."
New China opened in May 1975. On its marquee now is a message thanking customers for their patronage throughout the years – and the words "They won."
"We've been there almost 47 years. It feels horrible," Gee said. "All my life I have worked here. ... We put equity in this place, and now we have nothing to show for it."
After being a restaurant owner for many years, working under someone will be new territory for Gee.
"I've never had to work for anybody. I've always worked for myself," Gee said. "And now I'm going to have to go find a job. ... I don't have an exact plan yet. I'm just trying to wrap things up here."
Eminent domain is a way for municipalities to take control of private property for public use. Because the properties involved are located in a tax increment financing district, there is precedent for the village to take over, an eminent domain lawyer with Chicago-based Figliulo & Silverman P.C. told the Northwest Herald in 2018. All properties in a TIF district can be condemned for development because the area already had been deemed "blighted."
Right now, the block is close to barren. A building next to New China sits empty, sporting a sign saying to "keep out – police order."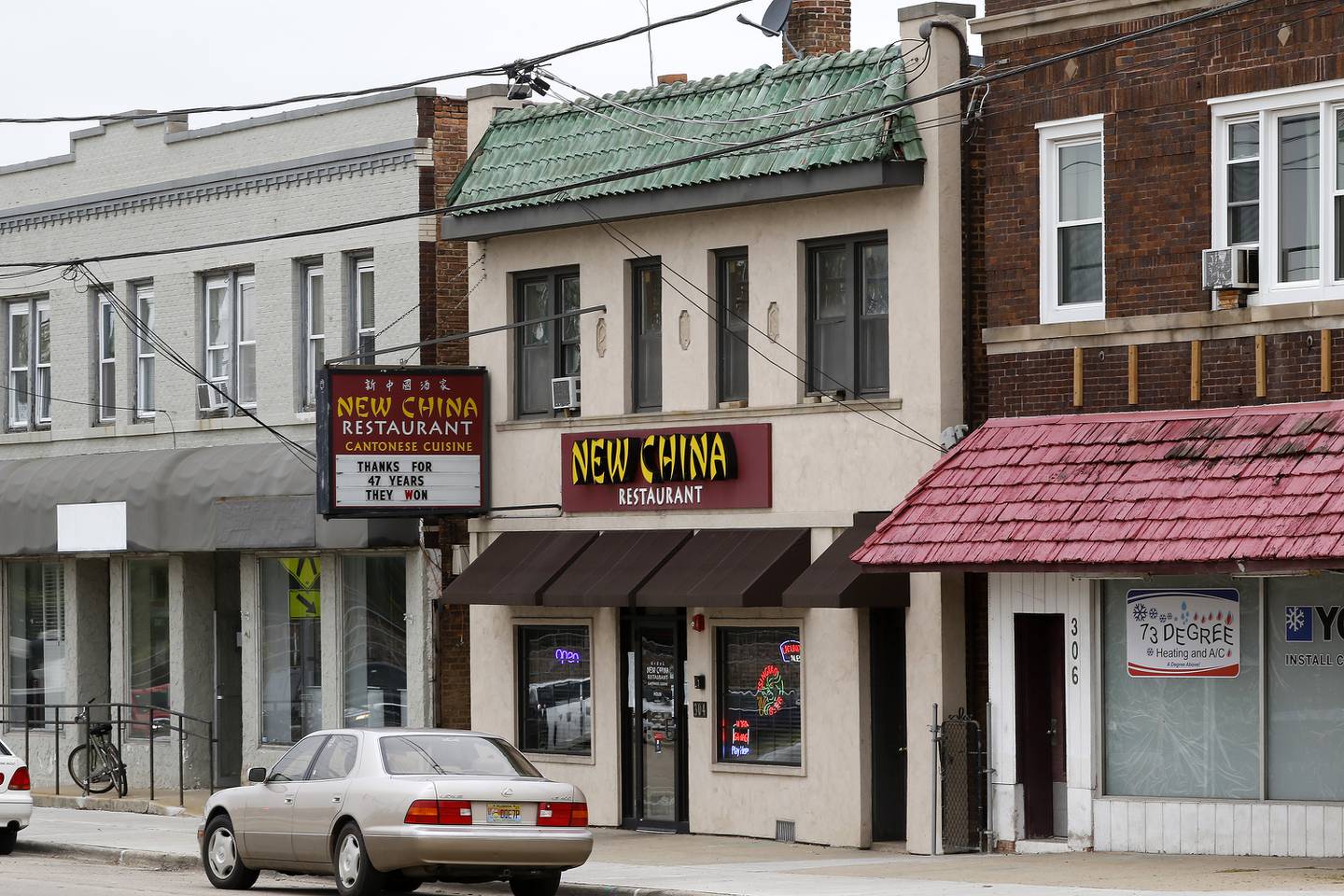 Altogether, the village paid $3.5 million for nine parcels of land from five property owners.
"It did take a while, but we were able to come to an agreement on price with each property," Fox River Grove Village Administrator Derek Soderholm said.
Negotiations slowed because of the pandemic, Soderholm said, as it became challenging to meet in person. He declined to go into specifics on how negotiations went.
Village officials tried to assist businesses with relocation costs and suggested new places for them to go, Soderholm said. However, this did not happen.
Gee declined to specify exactly how much the village gave them for the property, but he said it's not enough to take the restaurant to a new location.
New China shared news of its closure on Facebook in a post garnering 442 reactions and more than 200 comments. Many shared fond memories of New China – first jobs, first drinks, first dates. One person wrote about meeting their partner at the restaurant. Another said their grandparents started eating there back in the 1970s.
"I am heartbroken," one commenter said. "Such a wonderful place and wonderful people."
Ever since word got out on social media, New China has been busier than ever, Gee said.
"They don't want to see us go," he said. "We don't have a choice."
Soderholm said the village has no control over an individual business' decision to stay or leave the village.
"We don't want to see any of our Fox River Grove businesses close, and we're willing to assist in a way that would help keep them open. But there's a lot of factors that go into making a decision whether or not to keep a business open or not," Soderholm said.
As for what could be next for the 2-acre area, Soderholm said, the village is "pretty open to what could be located there."
"We do want to see some form of commercial redevelopment," he said.
Fox River Grove would be willing to entertain the idea of restaurant, retail or a multi-use development at the site, Soderholm said.
Developers have until Nov. 30 to respond to the request for qualifications Fox River Grove put on its website, which will help village officials narrow down their list of who they want to redevelop the area.
"We're looking for firms that are capable, that have some sort of concept of what they would like to see at this particular site," Soderholm said.
The property is "ripe for new fresh commercial development" because of its location across from the Metra train station and Fox River Grove's municipal center, he said.
"We consider it a key block or a premier block," Soderholm said.