Since the darkness of 9/11, Americans throughout the country have worked to make the memory of that tragic day one that brings light to others through volunteering. McHenry County residents turned out Thursday to give blood to honor the 20th anniversary of the Sept. 11 attacks.
People came to the Senior Services Associates Center in Johnsburg on Thursday afternoon to "be a hero" and "meet a hero." Attendees donated blood and met with members of the Johnsburg Police Department and McHenry Township Fire Protection District.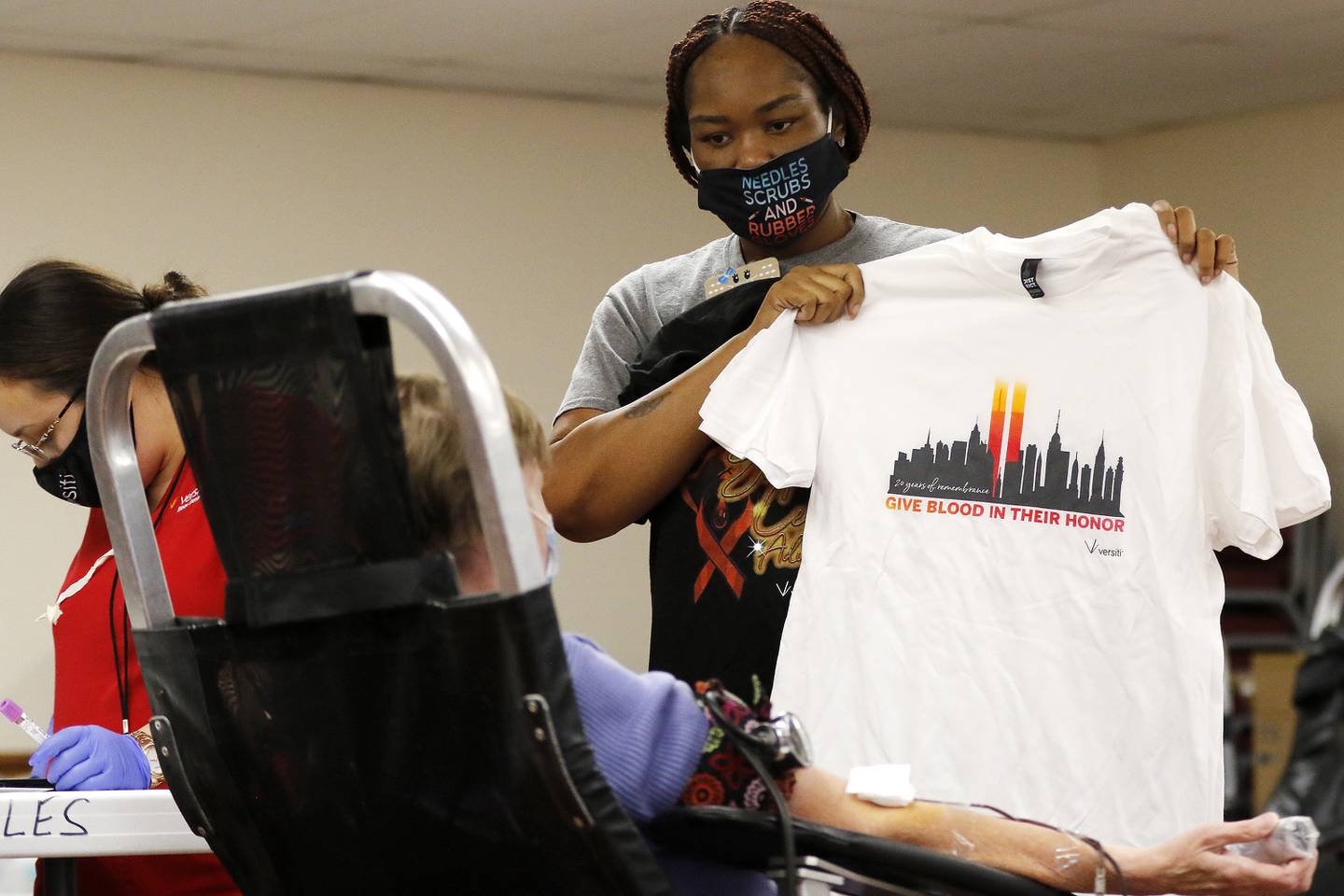 The event was organized by volunteers with the AmeriCorp seniors with the Senior Service Associates and the help of Debbie Danitz, the AmeriCorp administrator, and Versiti, an organization that runs blood drives.
"Each year our volunteers are asked to do a project promoting the Sept. 11 disaster. We've had just an amazing response," Danitz said.
The Sept. 11 National Day of Service and Remembrance, also known as 9/11 Day, grew out of volunteer movements in the years after the attacks, which killed 2,977 people, as a way to mark the anniversary with something good.
McHenry resident Karen Nicholls routinely donates blood and did so on Thursday.
"Being a Christian woman, I have a heart to give," Nicholls said. "It's one planet, and we all need to be a little kinder to each other."
The event brought out about 20 people who signed up to donate in advance, along with others who came without an appointment.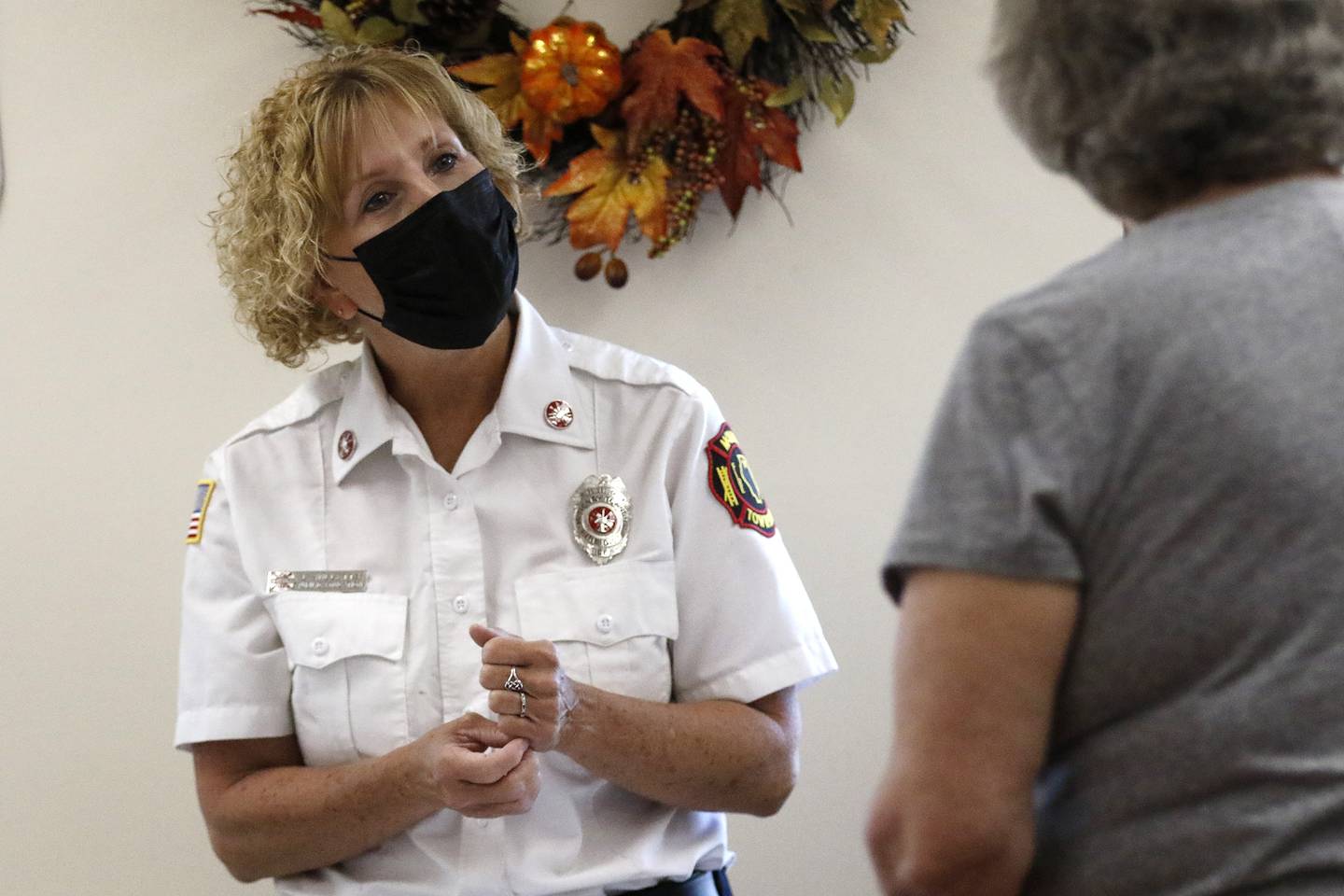 The presence of the local first responders served as a reminder of the importance of regular blood donations.
"In almost 30 years in law enforcement, we see the lifesaving [work] that donations of the blood do," Johnsburg Police Chief Keith Von Allmen said. "I think it's super important that people come out and do that."
McHenry Township Fire Protection District Public Education Coordinator Linda Willetts said 9/11 was a humbling day for the fire service, and it was important that they be involved in such events to honor the firefighters who lost their lives in the attacks.
"The fire department really prides itself on serving the community," Willetts said. "We came to represent the workers who have done that and because it's close to Sept. 11, to honor the 343 firefighters that died on Sept. 11, 2001."
Danitz also feels a special connection to 9/11. Her uncle was a New York State trooper who responded to ground zero after the attack.
"Everybody runs away from a fire, but those folks dash in to save folks. Obviously, the police are putting their lives on the line for our community. [I am] hoping people would be inspired having them here," Danitz said.
Other organizations such as Habitat for Humanity in McHenry County also have service projects for people to get involved with. Habitat's McHenry County Director of Community Relations Sara Davis said volunteering is about inspiring kindness and unity.
"We hope that people are encouraged and find hope in the good deeds that we're doing," Davis said. "Everyone coming together on a day that hurt so many 20 years later is proof that we can and will continue to create a better and more peaceful world."
Volunteers to help with service projects always are needed at local nonprofits, Davis said, adding that giving back to the community helps people's health and creates bonds with others.
"It is probably the most impactful event as far as what we've discovered about the impact of being on a scene on the long-term effects for firefighters' health. It was very unfortunate, but from that came a lot of information that helped us make adjustments to preserve safety and have interventions to help firefighters avoid some of those pitfalls," Willets said of the health problems many 9/11 first responders now suffer from.
Von Allmen said 9/11 changed how police officers understand their role as protectors of the nation.
"What I have learned over the last 20 years is that local law enforcement plays such an important role in identifying national threats and communicating those threats up the chain," he said.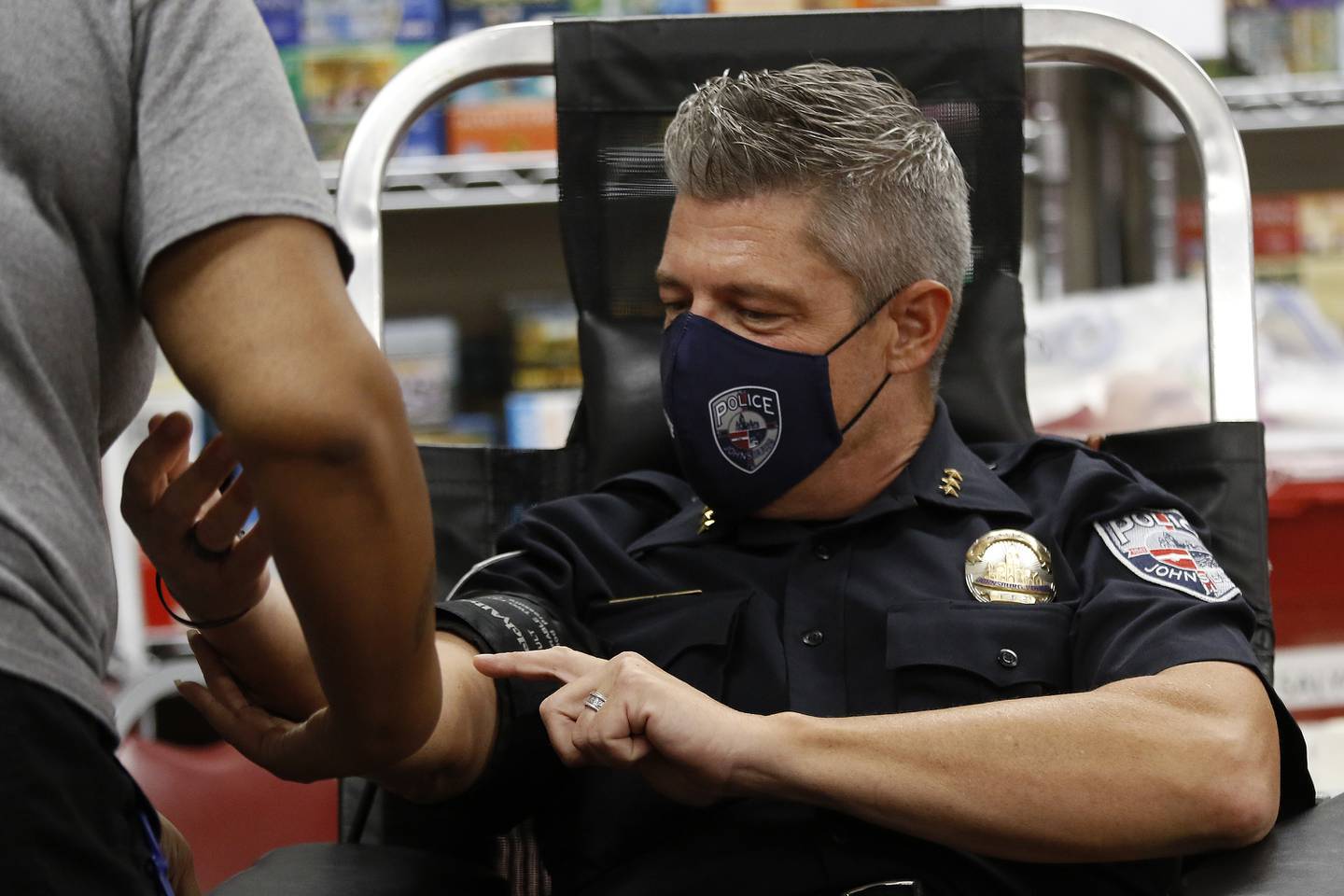 Those who participated in Thursday's event said they felt there was a need to do something for the community in whatever role a person is able to serve.
"I'm just hopeful our volunteers will appreciate those heroes as we hope our first responders will appreciate those volunteers as well," Danitz said.