Hundreds of protesters opposed to President Joe Biden's agenda rallied along Route 14 outside McHenry County College Wednesday ahead of Biden's visit.
Many donned campaign memorabilia in support of President Donald Trump's unsuccessful 2020 reelection bid and anticipating a possible 2024 run. Others touted Republican candidates like Gary Rabine, who is running for governor against incumbent Gov. JB Pritzker.
Among those gathered were Fred Bock of Crystal Lake and his sister-in-law Candice Bock. They're both Trump supporters and raised issues with Biden's $1.8 trillion American Families Plan proposal, which Biden was at McHenry County College to promote.
[ Biden visit leads to increased traffic by McHenry County College, Trump rally ]
The proposal includes a policy that would give Americans two free years of community college education. Candice Bock said she feels that government benefits are already strong enough for students who find postsecondary education too expensive without public assistance.
"Free education, that's what Biden is here promoting, but free education, if you really can't afford an education, it was already paid for anyway," Candice Bock said.
"More like free indoctrination," Fred Bock said.
Simona Rhodes, a Lakewood resident who said her family immigrated from Mexico legally when she was young, also spoke out against Biden's pitch to expand eligibility for free community college.
She said young people working low-wage jobs now who are unable to afford to enter higher education might be able to if the minimum wage continues to rise. Illinois is in the process of raising the minimum wage to $15, a measure Biden floated for the entire country earlier this year but was removed from a previous legislative package.
"I do not approve of free college education for anybody. No free anything," Rhodes said.
She added she was upset that taxpayer dollars went toward policing the event and that the public community college shut down the campus without the chance for many local residents to enter the property for a chance to see the president.
"Our voices aren't being heard," Rhodes said.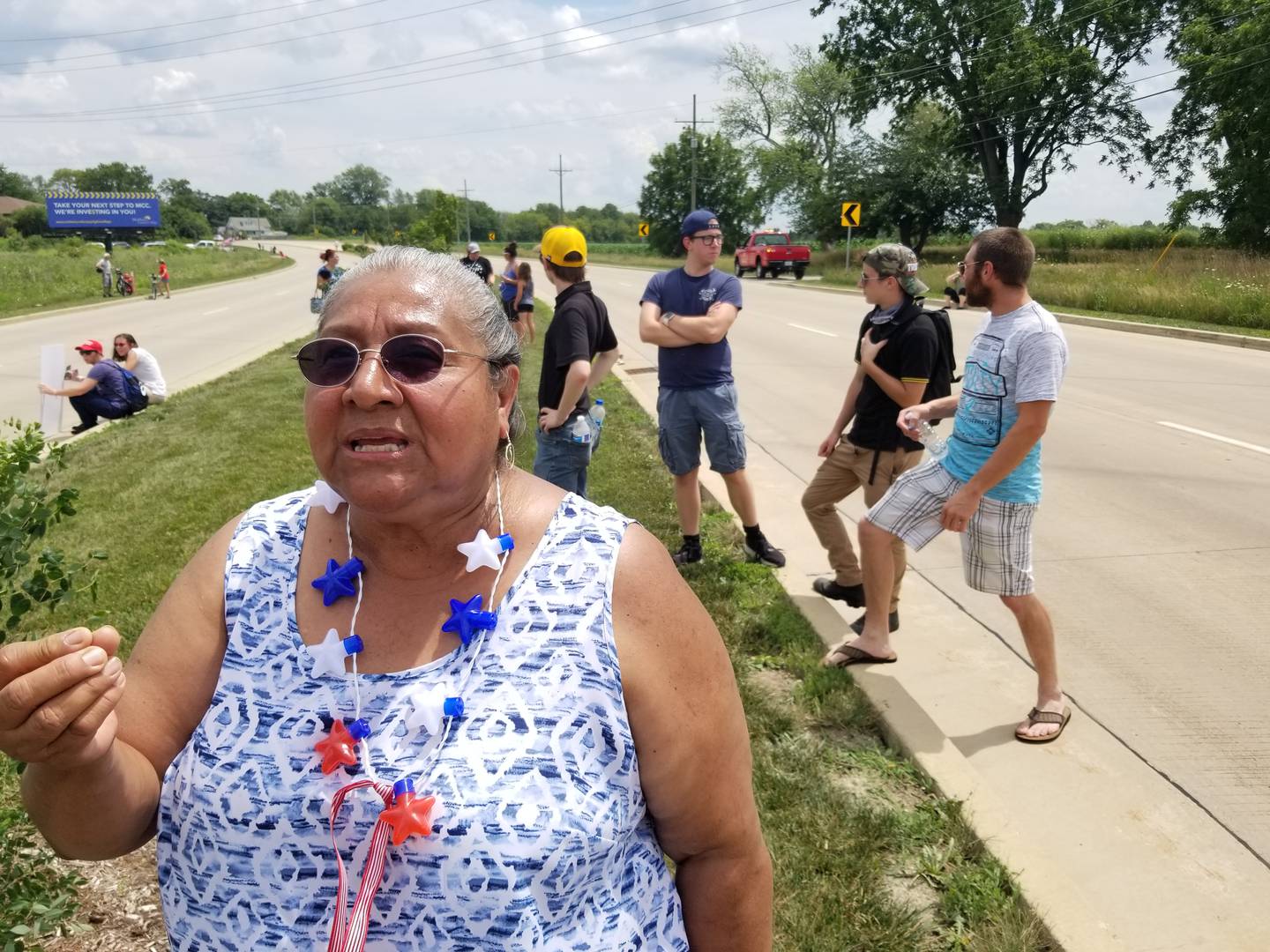 Fred Bock and many others there insisted the 2020 election was unfair, despite many legal and official findings to the contrary.
"I think everything they're doing is harmful to our nation right now," Fred Bock said of the Biden administration.
Multiple protesters said they would like to see more states follow the lead of the Arizona state Senate, which ordered an audit of the November election. Election results in one Arizona county have already been certified following multiple hand counts of ballots and forensic audits.
Heather Sances and her 17-year-old daughter, Aisha Sances, a Crystal Lake Central High School student, both strode up and down the line of protesters displaying a sign welcoming Biden to the area.
"We just happened to come past, and I was like, man, let's go out and show them they don't run this county," Heather Sances said, adding she wanted people to know that many in the county voted for Biden.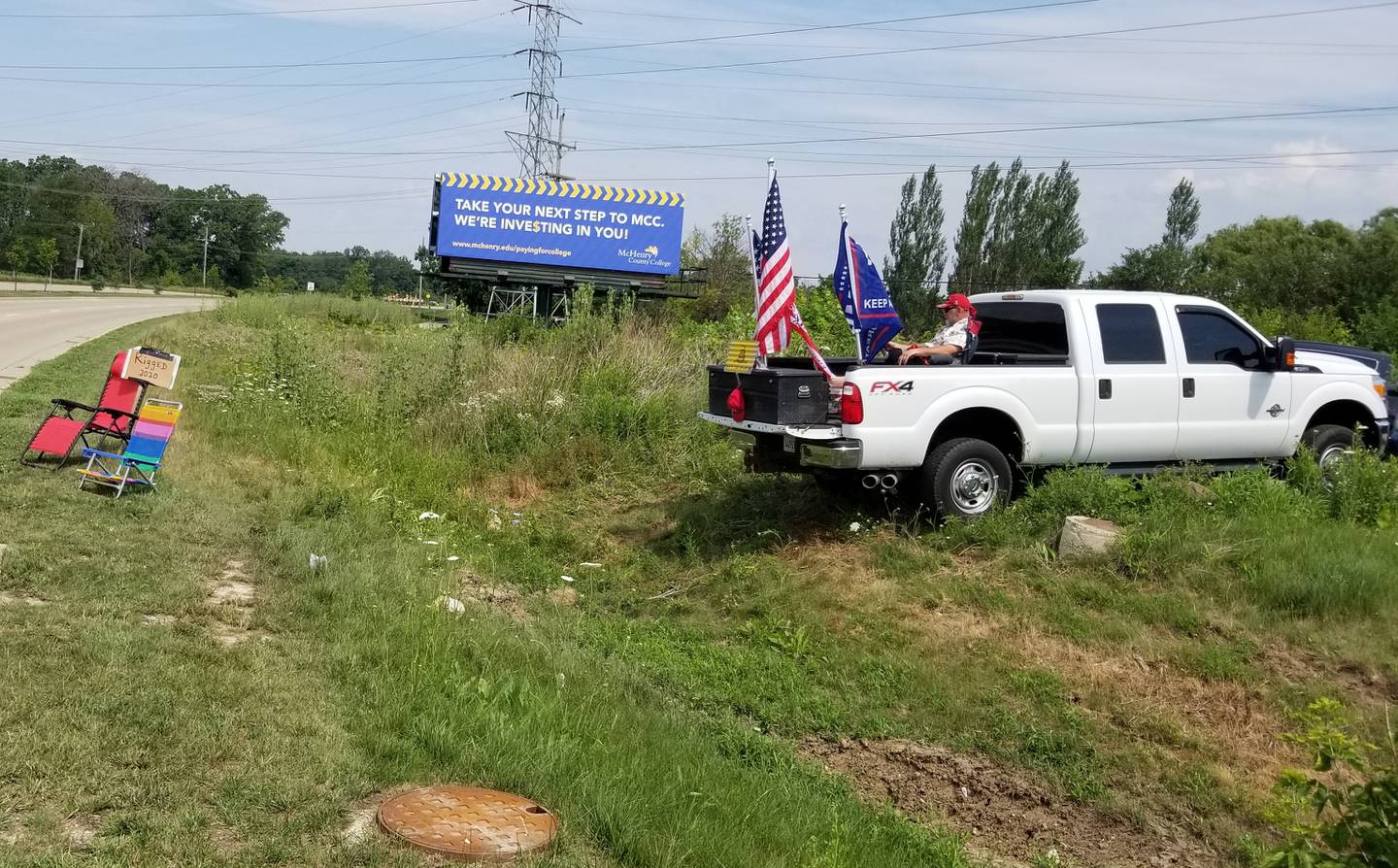 She said she think the protesters should accept the election results and be eager for the president to visit their community. She said she was also supportive of the American Families Plan's measures that could provide more free education and potentially help lower daycare costs for local residents.
Her daughter said the quality careers that she has seen undertaken by McHenry County College students and alums is part of the reason she thinks Biden visited the school.
"MCC is a really good school, and the kids who come here, they really make something out of their lives. It's really inspiring," Aisha Sances said.
Dozens, including some with pro-Biden campaign signs, gathered at The Freeze ice cream shop and eatery in Crystal Lake, hoping to catch a glimpse of the president if he decided to stop for a cold treat before leaving the city. Biden had done so on other visits to Midwest towns in recent weeks but didn't on his visit to Crystal Lake.
Lisa Puma of Crystal Lake was among those at The Freeze, and highlighted the importance of education and expanding its reach to more Americans.
"Especially after the Fourth of July and the big fireworks display, I've been feeling very patriotic about our country. And to have the president come to our hometown makes us feel so excited. We wanted to share that excitement with him, and bring our little flags and let him know we're happy he's there," Puma said. "I think the core of our future is education."