Kelly Ann Hartley remembers feeling a nervous the first time Davenport Family Funeral Homes And Crematory where she works as a funeral director saw its first death from COVID-19.
"It was very intimidating. I was a little nervous for my own safety," Hartley said. "But I also knew that this is my job, this is what I have to do for our community, and what I signed up to do. So I did it."
That task, and the dedication to her profession it took to complete it while there was much still unknown about the virus, was what made Hartley realize the gravity of the public health crisis, and that an unfortunate toll would be taken on northern Illinois.
"After I transferred the first person that had COVID, unfortunately there were more and more," Hartley said.
But McHenry County – along with Illinois and the rest of the country – has begun seeing positive signs regarding the pandemic and on Friday, the state of Illinois moved to Phase 5, which lifts virtually all of the unprecedented restrictions on business activity and gathering the state had set.
Starting Friday, all businesses will be able to again host their standard capacities as determined by pre-pandemic occupancy limits, while mask requirements continue to align with guidelines from the Centers for Disease Control and Prevention, which advise people who are not fully vaccinated to continue to wear masks around others while fully vaccinated people can remove theirs.
"People who are unvaccinated must still wear a mask in crowded settings both indoors and outdoors," McHenry County Department of Health spokeswoman Lindsey Salvatelli said.
Masks also will still be required in a few places, including on public transportation, health care facilities and congregate care settings, while schools, daycares and colleges have different guidance to follow.
Many people and families also still have hurdles to clear before engaging in big get-togethers, considering children younger than 12 are not yet eligible for inoculations.
"Families with unvaccinated children can enjoy the outdoors so long as they are avoiding crowds – think small outdoor gatherings or parks with open space," Salvatelli said. "Anyone who is unvaccinated is at risk of severe illness caused by COVID-19. Anyone who is unvaccinated needs to wear a mask when entering a business, even if masks are not required for vaccinated individuals."
Both businesses that depend on large parties and gatherings as well as religious organizations have seen upticks in interest with each step taken to relax restrictions over the past year.
The Catholic Diocese of Rockford, which includes McHenry County parishes, is resuming full capacity celebrations of Mass, and full capacity indoor and outdoor sacramental and non-sacramental events, while parishioners still will refrain from shaking hands during the Sign of Peace tradition, Most Reverend David J. Malloy, Bishop of Rockford, said in a letter to clergy Thursday.
"I think there's a lot of hope in it," Johnsburg resident Cindy Govekar said of the transition in Phase 5 as she left a midday Mass at Christ the King Catholic Church in Wonder Lake. "I hope people leave their fear behind."
The Wonder Lake church's pastor, the Rev. Caloy D. Saligumba, said he encourages people to get vaccinated when he hears they are hesitant to take the shot. He also said he felt people of faith became more appreciative of the value of attending religious ceremonies in person when the option was temporarily stripped from them during the early days of the pandemic, when virtual services were the only way to practice some spiritualities.
"Now, as we enter this Phase 5, we feel safe. We are now in the right direction," Saligumba said.
McHenry's 31 North Banquets and Catering is seeing an uptick in events, especially after last year, owners Jim and Bernice Smith said.
"It is extremely busy," Jim Smith said. "We're filling up fast, which is good for business after all the public restrictions."
Weddings are probably the No. 1 most popular event, the Smiths said, while baby showers also are in demand.
"What's been really nice is our corporate clientele is coming back," Bernice Smith said.
Celebrations of life also are on the rise.
"There were, unfortunately, a lot of people that passed last year [who] weren't able to have their celebration of life or memorial," Bernice Smith said. "So we have been booking quite a few of those as well."
The Smiths used the last year to tighten up procedures and do some remodeling.
"We were very busy in 2020, but unfortunately, the business was more in rescheduling," Jim Smith said.
Coming out of the pandemic, Jim Smith said, people's comfort levels with big events is at various levels. Some people still want smaller-sized celebrations, while some events 31 North is catering are in the several hundreds in terms of attendees.
One thing the Smiths have found as the state opens up is that finding employees can be difficult.
"Our staffing costs have gone up," Jim Smith said. "While we've been able to hold [down] some facility costs and food costs, labor cost is way up. In order to entice good quality people, we had to pay a much higher salary than we've ever had."
However, even with a labor shortage, Jim Smith said the staff 31 North already employs have been excellent.
Lisa Davenport, co-owner of Davenport Family Funeral Homes, with locations in Crystal Lake, Barrington and Lake Zurich, said they had been taking precautions, but things are more relaxed now. For instance, Davenport is not requiring those who've been vaccinated to wear face masks, although they still will wear masks as funeral directors if people ask.
"We basically just want to respect everyone and make people feel comfortable," Davenport said.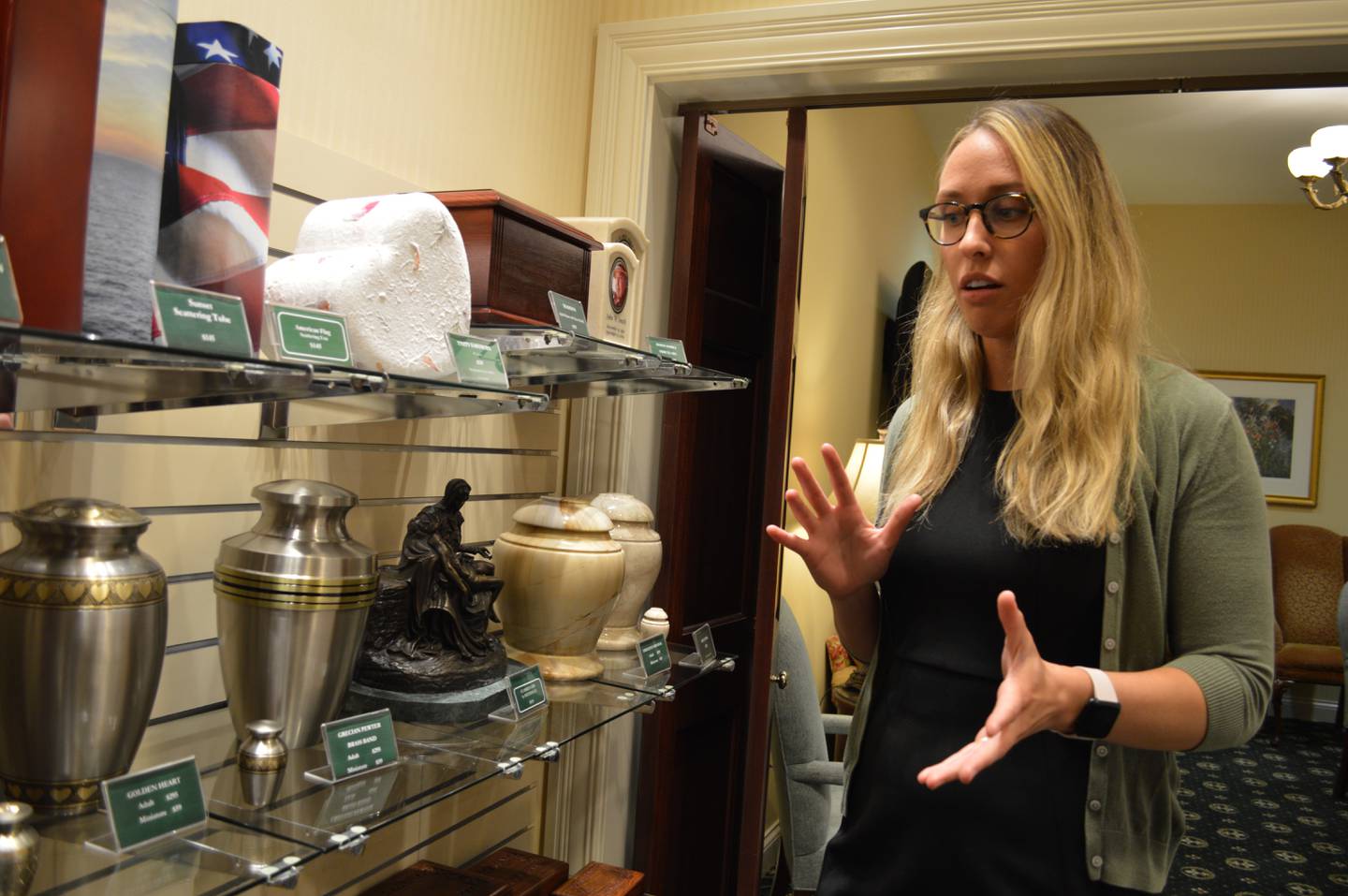 During the past year with COVID-19, a lot of services were done via Zoom, as not many people were allowed at the funeral home for visitations. People also didn't want to come to the funeral home when COVID-19 was prevalent in the area.
But now, as COVID-19 restrictions keep lessening, "I think our families really appreciate gathering with their loved ones again," Davenport said. "We're back to normal, so to speak."
People started coming in for services gradually, Davenport said.
"For a while there, we were having people wear masks and social distance, and initially, we were taking temperatures," she said. "Now, it's not as strict, so it's become a lot easier."
Getting back to normal feels good, Davenport said.
"When someone dies, of course, we want to have the family celebrate their life and have some closure and start the grieving process," she said. "When you don't have that, it makes people feel isolated. ... This is good for people to be able to have people come around them at the hardest time of their life."