Election night hiccups can cause a delay in tallying results at the county clerk's office, which is why two state senators are proposing a bill that would require clerks in Illinois to post online the reason for any delays past five hours after the polls close.
McHenry County wasn't alone in experiencing issues this past election cycle when it recounted ballots countywide after it was discovered some ballot races had been miscounted on election night.
As the Daily Herald reported, in neighboring Lake County, some election judges were unable to upload election data from their local precincts and had to drive to the County Clerk's Office in Waukegan to deliver the results, and Cook County didn't begin posting results until about 9:30 p.m. because, the clerk's office said, of a court order that kept some polling places open an hour later than scheduled.
Senate Bill 1326, sponsored by state Sens. Sue Rezin, R-Morris, and Sally Turner, R-Beason, is focused on transparency and communication of the election process.
"Philosophically, I think it's great," McHenry County Clerk Joe Tirio said in an email this week. "We have used our website and social media to keep the public informed on election night as we move through the process as well as letting them know about delays."
Another part of the bill would require an audit of 5% of the election authorities at random across the state of their post-election vote-by-mail processing requirements and procedures.
Tirio said he thinks it would be great to do an audit similar to the one done for in-person voting, but he added that he's not sure how it would be done.
The bill would also standardize training for election judges across the state and require county clerks to post information about the process for how mail-in ballots are counted.
Rezin acknowledged several bills addressing transparency in the state's voting process have been proposed, but she said what makes her and Turner's bill unique is that Turner is a former county clerk who worked with other county clerks across the state to address issues they believe are present in the voting process.
"These are practices every Illinois lawmaker should support regardless of what party they are," Rezin said.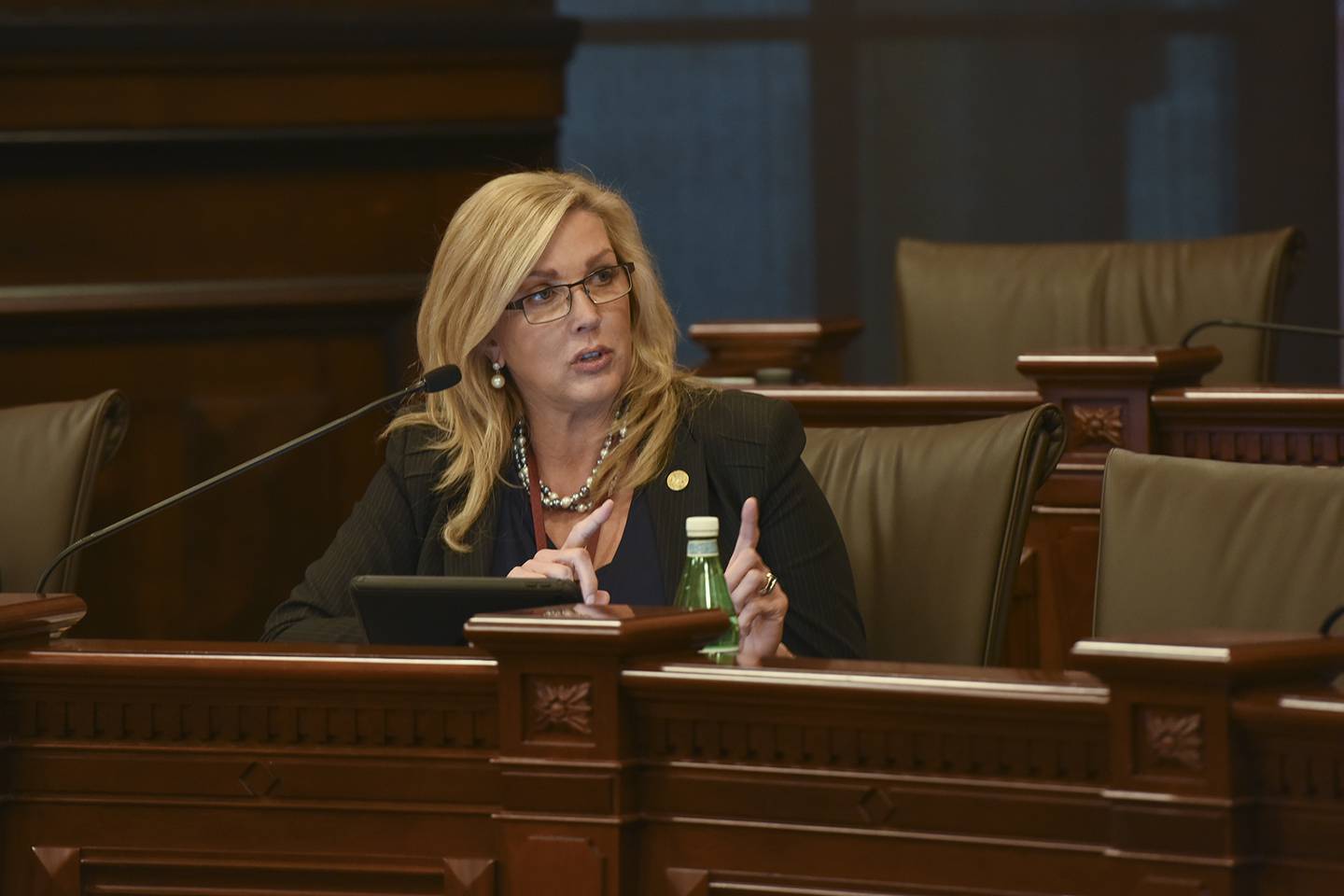 Turner said the bill doesn't create an unfunded mandates of county clerk offices and would help clerks by standardizing what they have to do across the state.
"If there was (an unfunded mandate), I wouldn't have proposed it," Turner said of the bill.
Rezin and Turner both said they have confidence in Illinois' election system and believe this bill would help voters get more communication and understanding of how votes are counted.
"The ability to vote in free and fair elections is one of our country's greatest rights," Rezin said. "This legislation does not hinder that right in any way. In fact, it improves upon the process for every Illinois voter by increasing transparency and integrity. It ensures they have better access to information regarding the process as well as providing them with consistency every time they vote."
The Election Standardization Act, Senate Bill 1326, was created after state Sen. Sally Turner, who is the former Logan County clerk and recorder, convened an Election Reform Working Group to help improve the election process in the state. The group explored ways to increase transparency and uniformity within the state's current election system. It drew upon ideas and feedback from key stakeholders, including the State Board of Elections, individual county clerks, and the Illinois Association of County Clerks and Recorders.
The bill does the following:
Standardizes election judge training by requiring election authorities to use specific guidelines provided by the State Board of Elections. Training topics must include voter verification, campaign free zones, electioneering, vote-by-mail processing, provisional voting, and ballot handling and processing.
Requires election authorities to post on their websites the reason for any reporting delay that is five hours past close of polls.
Requires the State Board of Elections to audit the post-election vote-by-mail processing requirements and procedures of 5% of the state's election authorities.
Requires election authorities to post on their websites the procedures for processing vote by mail ballots, which could simply be a posting of the state's legal requirements for vote by mail processing.
Northwest Herald reporter Sam Lounsberry contributed to this article.