A 24-year-old Crystal Lake woman was acquitted Thursday of drug-induced homicide charges tied to her boyfriend's 2019 overdose death.
A McHenry County judge determined there wasn't sufficient evidence to prove that Veronica Kubiak was responsible for the delivery of drugs that ultimately killed Barry Harkins, 26, of Lake in the Hills.
"We're happy for our client. She gets a second chance," one of Kubiak's attorneys Scott Anderson said after court Thursday.
The McHenry County State's Attorney's Office could not be reached for comment Thursday afternoon.
Kubiak originally was charged in July 2019 with three counts of drug-induced homicide. Each count separately alleged that Kubiak aided in some way in the June 8, 2019, delivery of heroin, fentanyl and a combination of the drugs to Harkins.
Harkins died of a fentanyl overdose that day at Kubiak's Crystal Lake home. Although Kubiak had driven Harkins to Garfield Park where he allegedly bought heroin the day before, the possibility that Harkins bought the lethal dose of fentanyl elsewhere couldn't be ruled out, McHenry County Judge Michael Coppedge said.
Earlier this year, Kubiak's attorney Ernest Blomquist sought to have the charges dismissed in light of an amendment to the state's Good Samaritan laws. The amendment provided limited immunity against drug-induced homicide prosecution if a person seeks medical assistance for the person overdosing.
That expanded immunity wasn't in place time at the time of Harkins' death, however, and although Kubiak administered the opioid-overdose-reversing medicine naloxone while her family called 911, the request to dismiss her charges was denied.
Kubiak wasn't accused of personally delivering the drugs to Harkins, but was charged as being accountable for the transaction, prosecutors said. Such cases are less common in McHenry County, where people convicted of drug-induced homicide typically played an identifiable role in obtaining the drugs that killed the victim.
The day before Harkins' death, he rode with Kubiak to what an undercover police officer referred to at trial as an "open-air drug market" in Chicago. When the pair arrived, an unidentified man gave them two "sample" bags of heroin. Harkins later left the car and came back with several bags of heroin, which they split between them, according to testimony at trial.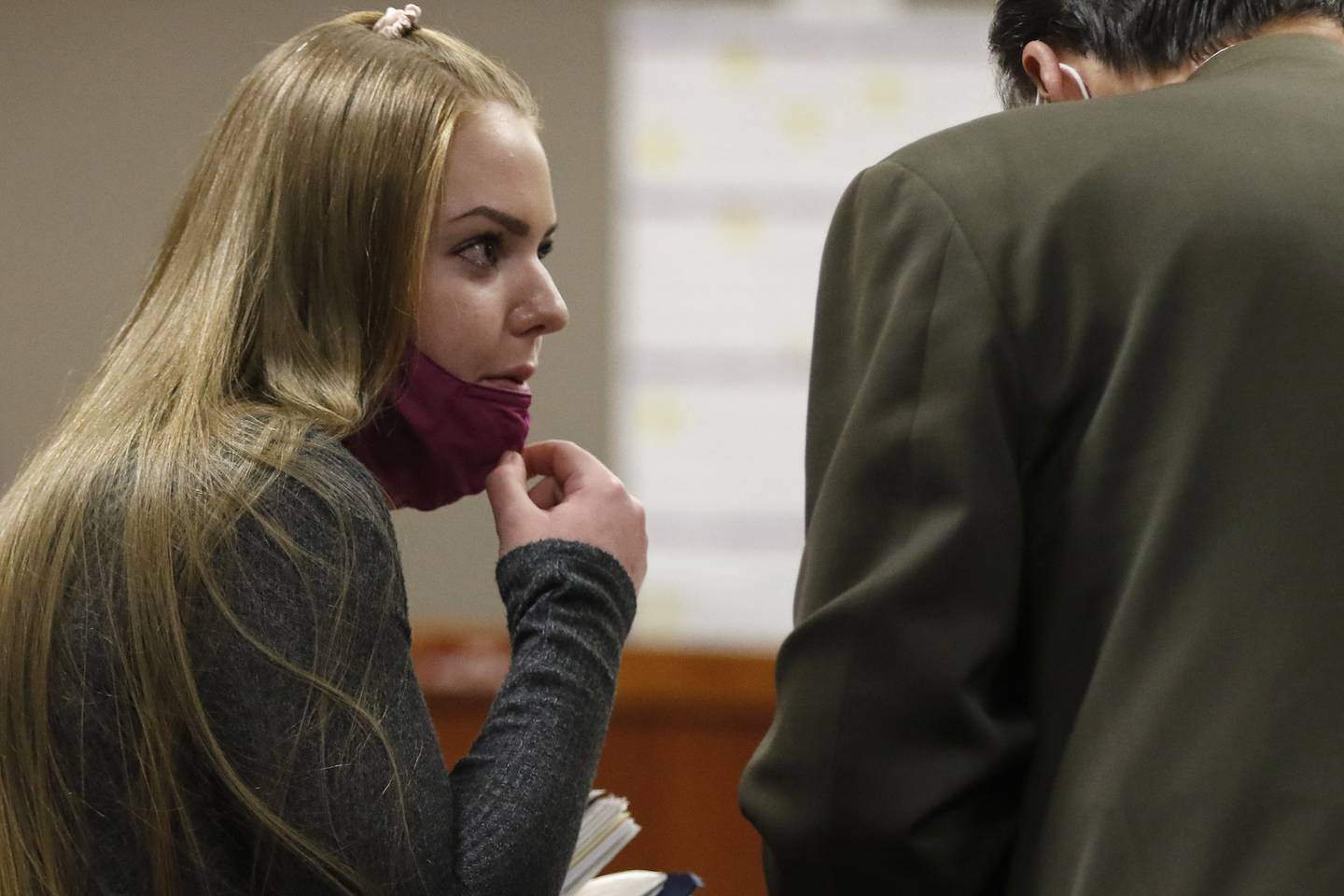 The couple ate dinner outside of Goose Island taproom before returning to Crystal Lake and going to sleep, forensic toxicology expert James O'Donnell testified.
Phone records showed, however, that Harkins exchanged text messages with another person between about 1 and 2 a.m. June 9, Coppedge said while issuing his decision. Harkins died of an overdose that same morning and police later discovered multiple bags of fentanyl in the man's shoe. It was unclear what Harkins might have done in the hours between the last text message he sent to the other phone number about 2 a.m. and when the overdose occurred.
"Did he go to sleep?" Coppedge said in court Thursday. "Did he leave the house and meet another drug dealer?"
Harkins might have bought the drugs that killed him sometime before or after his trip to the city with Kubiak, Coppedge said.
The judge also chose not to convict Kubiak of a lesser heroin delivery charge, which prosecutors had asked Coppedge to consider.
"The system works and people should be proud of that," Blomquist said.