Memorial Day weekend is the unofficial kickoff to summer, and McHenry County has a busy schedule of fun activities for young and old.
The list of events includes festivals, concerts, outdoor movies and more to add to the season's calendar.
Also, keep checking the Northwest Herald for our weekly 5 Things to Do in McHenry County feature, which will provide up-to-date information the week of events and highlights of additional events not included here. The Northwest Herald also will publish a guide ahead of the Fourth of July.
A community calendar is available online at nwherald.com under Event Calendar.
Here's a sampling of what awaits this summer.
Harvard Milk Days: June 2, 3 and 4 at the festival grounds at Milky Way Park, 300 Lawrence Road, Harvard, open at 2 p.m. Saturday and noon Sunday with a food court, marketplace, carnival, petting zoo, chainsaw carver and cow chip lotto.
The parade will take place at 1 p.m. Saturday on Ayer Street and follow the traditional parade route.
A farm equipment and tractor display will be available from 9 to 11 a.m. and 3 to 7 p.m. Saturday and from noon to 3 p.m. Sunday. A milk-drinking contest is set for 4 p.m. Saturday followed by a milking contest at 5 p.m. and a talent show at 6 p.m.
For a full schedule of events, visit milkdays.com.
McHenry County Historical Society and Museum opening celebration: 5 to 8 p.m. Friday, June 2, at 6422 Main St. in Union.
Join the McHenry County Historical Society and Museum as it celebrates its 60th anniversary and launches a new museum season.
Enjoy live music from Johnny and the Madmen, barbecue from Kissed by Fire, ice cream from Julie Ann's Frozen Custard and samples from local craft breweries Crystal Lake Brewing, MobCraft Brewery and Taproom, Sew Hop'd Brewery of Huntley, Scorched Earth Brewing Company and Spirit Water Brewery, Distillery, Taproom.
There also will be a chance to win a special 60th anniversary quilt and a 60/40 raffle.
The highlight of the evening will be the unveiling of our five new museum exhibits, led by a unique exhibition called "60 Years, 60 Objects: Stories from McHenry County." This exhibit showcases 60 unique objects from the historical society's collection. Museum admission is free. Drink tickets are $3 each or four for $10.
Summer Singalong for Kids: 10 a.m. Saturday, June 3, at Veteran Acres Picnic Shelter, 431 N. Walkup in Crystal Lake; 10 a.m. Wednesday, June 28, at Crystal Lake Main Beach, 300 Lakeshore Drive in Crystal Lake; 10 a.m. Saturday, July 15, at Woodscreek Park, 1420 Willow Tree in Crystal Lake.
Crystal Lake Park District and Public Library will host three free family-friendly summer singalongs. Grab a blanket and join for some free popcorn and great music. Julie Ann's frozen custard will be available to buy.
Crystal Lake Park District Concerts in the Park: 7 p.m. Tuesdays from June 6 to Aug. 8 at Crystal Lake Main Beach, 300 Lakeshore Drive.
Each week the Crystal Lake Park District hosts a regional band to perform at Main Beach. Pack a dinner or buy a meal from food trucks on site, pull out a blanket and enjoy a great night of free entertainment at the lakeside with a new-and-improved sound system for 2023.
Admission and parking a free. Food, beverage, beer, wine and small charcoal grills are allowed. No glass, please.
In the event of inclement weather, the decision to reschedule the concert will be made by 4 p.m. Check status by calling 815-410-4475, ext 6. Food truck schedule can be found at crystallakeparks.org/special-events.
Performances include the Crystal Lake Community Band, Jose Valdez and the Mambo All Stars, The Four C Notes, Voices in Harmony, Sushi Roll, Billy Elton, NISRA Kingpins Drumline, Rhythm Rockets and HiFi Superstar.
Aloha Summer Sunset Celebration: 6:30 to 9:30 p.m. Friday, June 9, at Crystal Lake Main Beach. Ages 21 and older.
Aloha Chicago, DJ Dave and Steel Drums will perform at Crystal Lake Park District's celebration of the summer. Tickets are $5 until June 8 and $10 at the door. Food and drink will be available to buy.
Bring your lawn chairs. No outside food or drink will be allowed. Hawaiian attire is encouraged.
Woodstock PrideFest: Various events planned June 10 and 11.
The Rainbow Run will take place June 10 at Emricson Park. Check in begins at 10 a.m., with staggered starts beginning at 10:30 a.m. The race includes one loop with three color stations. The cost is $20 and includes an event T-shirt for the first 200 people who register.
Pride Promenade will take place from noon to 5 p.m. June 10 and 11 around town. A reverse parade will take place, in which participants check out the celebratory displays at local homes and businesses. A map can be found on the Facebook event page the morning of June 10.
A pub crawl will take place from 6 to 10 p.m. June 10 with check-in at the bandstand on the historic Woodstock Square. Tickets are $20 and include two drink tokens. The first 200 tickets come with free Woodstock swag.
Woodstock's PrideFest will take place June 11 with a parade, music and other entertainment, vendors and food on the historic Woodstock Square. The parade begins at 11 a.m. followed by an opening ceremony at noon and vendors and food trucks from noon to 5 p.m.
For information, go to facebook.com/woodstockpride.
Picnic in the Park: 6:30 to 8 p.m. June 16 Deicke Park, 11419 S. Route 47 in Huntley. A free family event with a DJ and lawn games. Attendees can bring their own food or buy food on site.
Juneteenth Freedom Day Festival: 3 to 5:30 p.m. Saturday, June 17 on the historic Woodstock Square.
Juneteenth commemorates June 19, 1865, the date when enslaved persons in Galveston, Texas, who had been cut off from news of the Emancipation Proclamation of 1863, when the Union took control of the length of the Mississippi River, first heard that they had been freed from an order read by the Union general who arrived with troops to take control of the port. It became an annual festival in cities and towns across Texas in the post-Civil War Era. In this century, observations have spread across the United States as a Jubilee day of liberation.
This first ever McHenry County celebration was organized by Gloria Van Hof, a McHenry County Board member, noted Underground Railroad historian and long-time activist along with other community leaders.
The program will feature speakers, musical performances, and readings with food trucks, vendors and fun family activities on the Square.
VetFest: 3 to 11 p.m. June 17 at the Huntley American Legion Post 673, 11712 Coral St. Event will include food and drink plus activities for kids from 3 to 6 p.m. and live music starting at 4 p.m. Bucket No. 6 will perform from 4 to 6 p.m., followed by Loverboyz from 6:30 to 8:30 p.m. and Infinity from 9 to 11 p.m.
First Day of Summer Beach Party: 5 to 8 p.m. June 21 at Indian Trail Beach, 228 Indian Trail in Lake in the Hills.
The party will include beach blanket bingo, sandcastles, giant volleyball, s'mores and a DJ. Kona Ice will be on-site from 5 to 7 p.m.
The event is free for Lake in the Hills residents and $2 for nonresidents who register. The deadline to register is June 18, and registration can be completed online at bit.ly/LITHParkParties.
Tickets can be bought at the door for $2 for residents and $4 for nonresidents.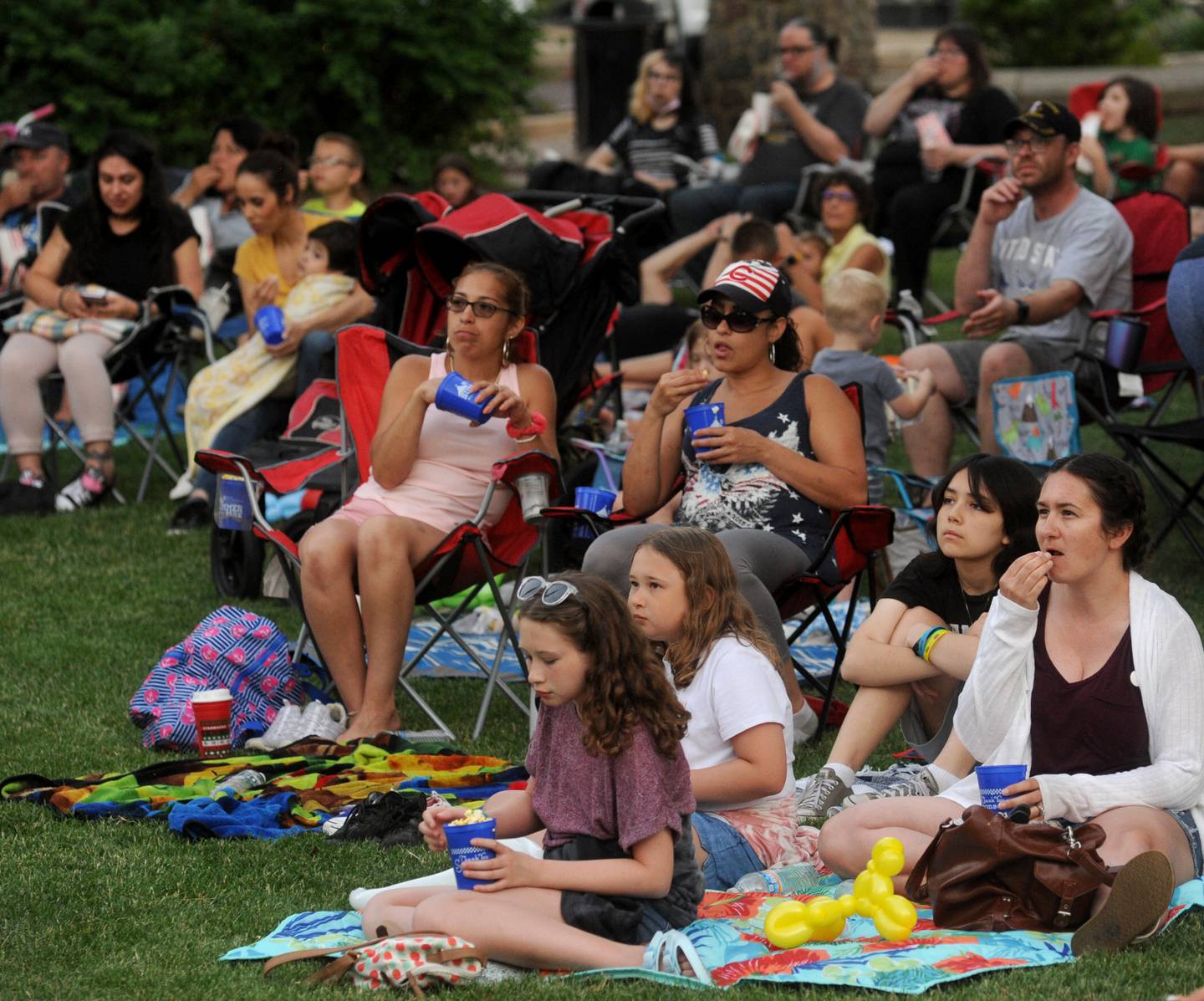 Woodstock's Summer in the Park: June 21 through 25 on the historic Woodstock Square and at Emricson Park.
A multi-day festival bringing together some of Woodstock's most highly-anticipated events, including Food Truck Fest, Rockstock and Tacos & Tequila, along with carnival rides, hot air balloons and fireworks.
A City Band concert will take place 7 to 8 p.m. June 21 at the Square followed by an 8:30 p.m. June 22 showing of "School of Rock" in the park.
Emricson park will feature live music featuring Pina Farina Band and Beyond the Blonde, as well as food trucks and vendor booths from 4:30 to 11 p.m. Friday, June 23.
Later on June 24, teams of up to six players will race around the Woodstock Square area, solving clues and challenges at over 10 locations during The Amazing Woodstock Race 2023. Entry is $10 per person or $50 for a team of six. Children under six years old may play for free. The race begins outside the Old Courthouse Center and is expected to take around two hours. Head to the Stage Left Cafe when finished for prizes and snacks. Register for this event here.
From 3 to 11 p.m., also on June 24, Emricson park will feature live music from Gooroos and Lounge Puppets, as well as food trucks and vendor booths. STAR 105.5 will broadcast live from the event 4 to 6 p.m.
Summer in the Park will wrap up with family day from noon to 6 p.m. at Emricson Park with live music from Vinyl Goldmine, food trucks and vendor booths.
12th annual Parks & Playgrounds Fundraiser: June 23 at the Picnic Grove Park pavilion, 598 Birch Lane, Fox River Grove.
The event will feature food, drinks and new auction items.
Friday Night Fish Boil for Hatchery Park: 5 to 10 p.m. June 23 at Horse Fair Park, 8105 Blivin St. in Spring Grove.
The event will feature all-you-can-eat cod, barbecue chicken and ribs from Fitzgerald's Genoa City Junction. Beer, wine and other beverages also will be available.
The Judson Brown Band will perform from 6:30 to 9:30 p.m. Silent auctions help raise money for repairs and updates at Hatchery Park.
Lakeside Festival: June 29 to July 2 at the Dole and Lakeside Arts Park, 401 Country Club Road, Crystal Lake. The hours are from 3 to 11 p.m. June 29, from noon to 11 p.m. June 30 and July 1, and from noon to 10 p.m. July 2.
The festival will include 14 bands on two outdoor stages over the four days, food and drinks, a bags tournament and carnival rides and games. Among the activities for kids are face-painting, superheroes, team mascots, an ice cream eating contest and a decorated bike parade.
Cary Summer Celebration: June 30 at Lions Park, 1200 Silver Lake Road, Cary.
A performance by Starlight City will take place from 7:30 to 9:30 p.m. with fireworks scheduled to start shortly after the band's performance.
The public is invited to pack a picnic or buy food and beverages at the park from one of several food trucks. Admission to the celebration is free, with $15 pavement parking and $10 grass parking.
The park opens at 6:30 p.m.
Red White & Blue Feastival: 2 to 10 p.m. July 2 with food trucks, a beer tent, live music, a bags tournament and other family-friendly games and fireworks at Milky Way Park, 800 Lawrence Road, Harvard. Admission is free, but parking is $5 a car.
For information, go to harvardparksfoundation.org.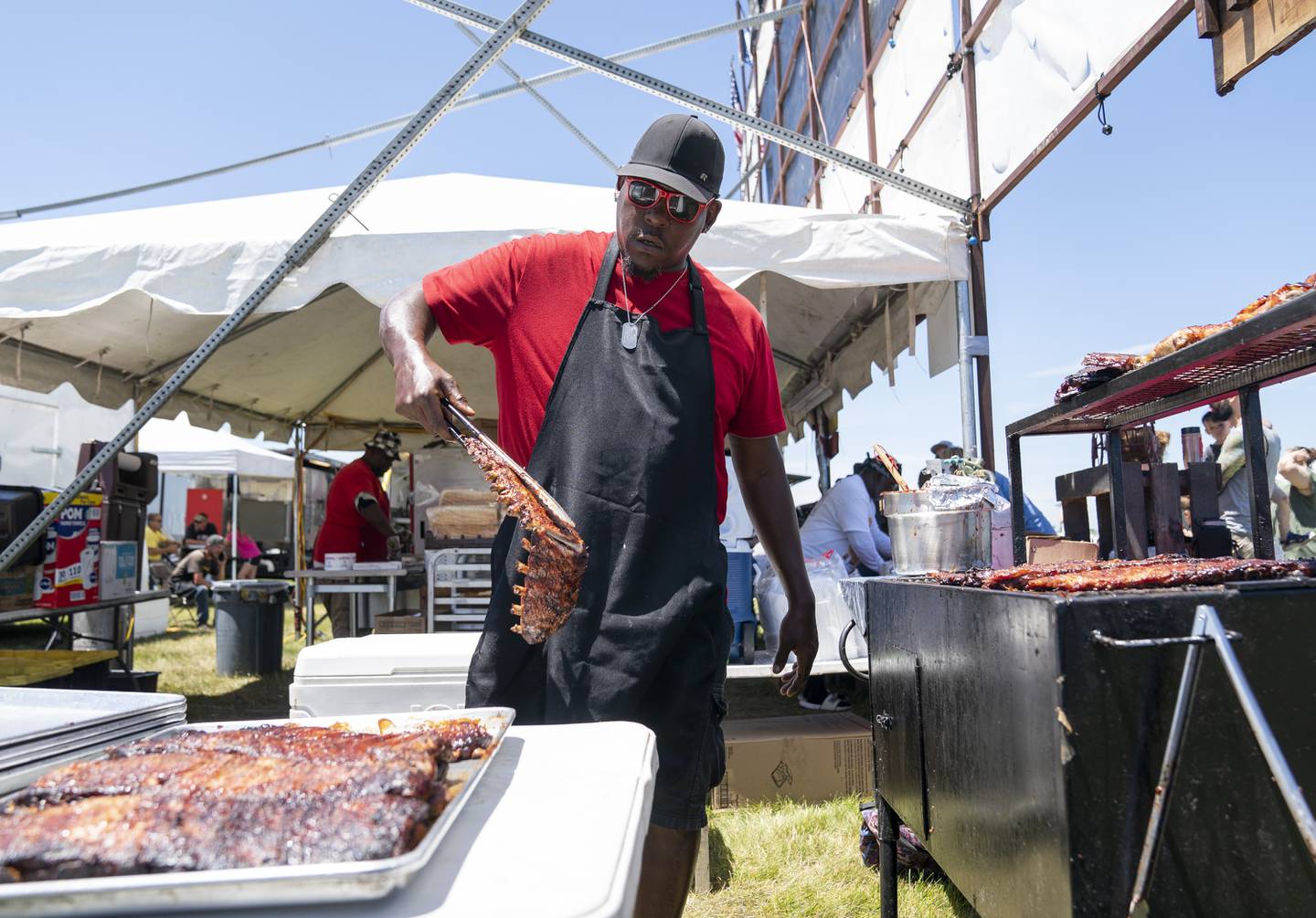 Lake in the Hills' Rockin' Ribfest: The festival, featuring ribs from across the country, live music and other entertainment, runs July 6 to 9 at Sunset Park, 5200 Miller Road in Lake in the Hills.
The cost is $5 for adults and free for military with military ID verifying active status, as well as children 12 and younger accompanied by an adult.
For information, go to rockinrotaryribfest.com.
Marengo's Day in the Park: 2 to 9 p.m. July 8 at Indian Oaks Park, 825 Indian Oaks Trail in Marengo.
McHenry County Historical Society and Museum's 35th annual Heritage Fair and Car Show: 9 a.m. to 3 p.m. July 9 at the museum, 6422 Main St. in Union.
Highlights include children's activities, a colossal Garden Glitz summer plant sale, treasure chest sale featuring one-of-a-kind items, vintage clothing sale, vintage book sale, bake sale and a baking contest. Champion-baked goods will be immediately following the judging at the Heritage Fair's bake sale. In addition, food vendors will be on-site for food and beverage purchases.
The 11th annual Heritage Fair Car Show returns along downtown Main Street in front of the museum with DJ Jose Ramos spinning "oldies." As in the past, the show is free to attend and will feature sports, classic and antique cars. Twenty cars will receive trophies, including one for Best of Show and another for People's Choice. $10 entry fee per car. For information, call Tony at TJ's Klassics at 847-515-8110.
The day also features free admission to the museum, 1895 West Harmony School, and 1843 Gannon log cabin. In addition, a master gardener docent in period costume will be available to answer questions about the Pioneer Garden planted and maintained by the University of Illinois Extension. Food and beverages will be available to buy from vendors.
For information, call 815-923-2267.
McHenry Fiesta Days: The event kicks off from 6 to 10 p.m. July 13 with the fourth-ever Cask and Barrel Night. This limited-ticketed event offers whiskey from a variety of distilleries, unlimited tastes of craft beer from local breweries, delicious food samplings and live music from Gerald and Camille.
Music Fest Weekend runs from July 14 to 16 featuring live music, carnival, food, beer, and a lot of fun in-park entertainment, like RC car racing and free yard games. For an upgraded experience, grab a group and reserve a table for premier treatment with table service, VIP perks and more! This year, enjoy music from LP Vinyl, Classic Rock Experience, What's Our Age Again (Blink 182 Cover Band), Jagged Little Pill – The Alanis Morissette Tribute Band, Fooz Fighters (Foo Fighters Cover Band), Lara Bell Music and Sparks Fly – The Taylor Swift Experience.
The second weekend moves events to Veterans Park, 3400 Pearl St., McHenry, with the Art & Street Fair on July 20 to 23. The Parade Marshal Ceremony will take place from 5 to 9 p.m. Thursday, July 20. Arts and Crafts in the Park runs from 9 a.m. to 4 p.m. Saturday, July 22 with Maker's Zone Craft Stations from 10 a.m. to 3 p.m. The Fiesta Days Parade is at 1:30 p.m. July 23. The route starts on Main Street, traveling to Green Street and Pearl Street and ending on Riverside Drive.
For information, go to mchenryfiestadays.com.
Gavers Barndance: 5 to 11:30 p.m. July 15 at Emricson Park, 1313 Kishwaukee Valley Road, Woodstock.
Put on by the Gavers Community Cancer Foundation, the event features three live acts and a barbecue dinner, which is included in the cost. The event is for those 21 years old and older.
Tickets are $65 each and can be bought online.
General admission ticket holders can bring blankets or portable chairs.
Fox River Grove Lions Club Arts & Crafts Festival: 10 a.m. to 5 p.m. Saturday, July 22, at Lions Park, 747 S. River Road, Fox River Grove.
Algonquin Founders' Days Festival: July 20 to 23 at Ted Spella Community Park, 2610 Harnish Drive, Algonquin.
This year marks includes over 40 events, including live music, daily events, an amazing drink selection and great food.
The festival runs from 5 to 10 p.m. July 20, 5 to 11 p.m. July 21, 3 to 11 p.m. July 22 and 11 a.m. to 10 p.m. July 23.
For a full schedule of events, including the Founders' Run, Let's Go to the Circus Parade and Cardboard Boat Regatta, go to algonquinfoundersdays.com.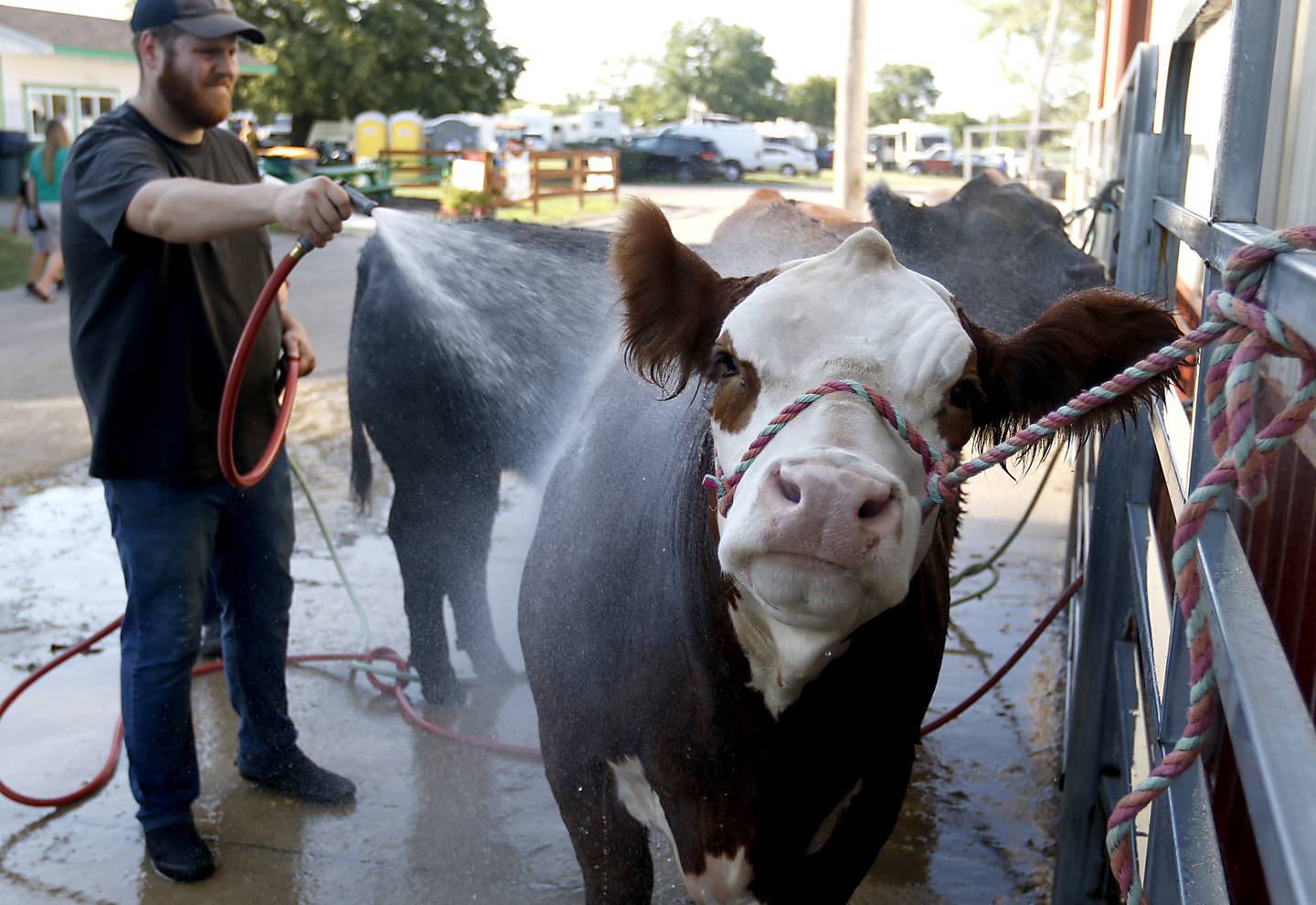 McHenry County Fair: The 75th annual McHenry County Fair is set from Aug. 1 to 6 at the McHenry County Fairgrounds, 11900 Country Club Road, Woodstock.
The fair opens Tuesday, Aug. 1, from noon to 9 p.m. Is open from 7 a.m. to 9 p.m. Wednesday, Aug. 2, and Thursday, Aug. 3, 7 a.m. to 11 p.m. Friday, Aug. 4, and Saturday, Aug. 5, then finishes from 7 a.m. to 8 p.m. Sunday, Aug. 6.
For information, including prices and event schedules, go to mchenrycountyfair.com.
Lakemoor Fest: Aug. 11 and 12.
Monarchs and Music: The Monarch Fair will run from 12:30 to 4 p.m. Aug. 13 at Main Beach, 300 Lakeshore Drive, Crystal Lake.
The Monarch Coalition is bringing to the beach an engaging Monarch Fair loaded with activities, games and monarch education. Buy a pollinator plant to help repopulate the monarch butterfly.
Featuring free family fun, this Crystal Lake Park District event will include performances by the Crystal Lake Community Band.
McHenry Area Rotary Bands, Brews and BBQ Festival: Aug. 18 through Aug. 20 at Petersen Park, 4300 Peterson Park Road, McHenry.
This three-day fundraising event for the McHenry Area Rotary features live music, barbecue and other food vendors, and an array of craft beers, as well as other beverages. Hours are 4:30 to 11 p.m. Friday, 3:30 to 11 p.m. Saturday and noon to 5 p.m. Sunday.
Tickets, performance and other details are available at mrbbb.com.
• Have an event to submit? Email us at tips@nwherald.com.