When Mike Bruce saw a Huntley police officer walking toward him earlier this month, he thought he was getting a ticket.
It was just one of those days.
Bruce was trying to ride his bike home from work during a snowstorm on March 9. Try as he might, it wasn't working. So he opted, instead, to walk his bike along Route 62.
That's when Huntley police officer Joe Lanute spotted him and knew he had to stop.
"If that was one of my family members," the 28-year-old officer said, "I would want someone to stop and make sure they were OK."
Bruce soon realized he wasn't getting a ticket. Lanute was there to help him.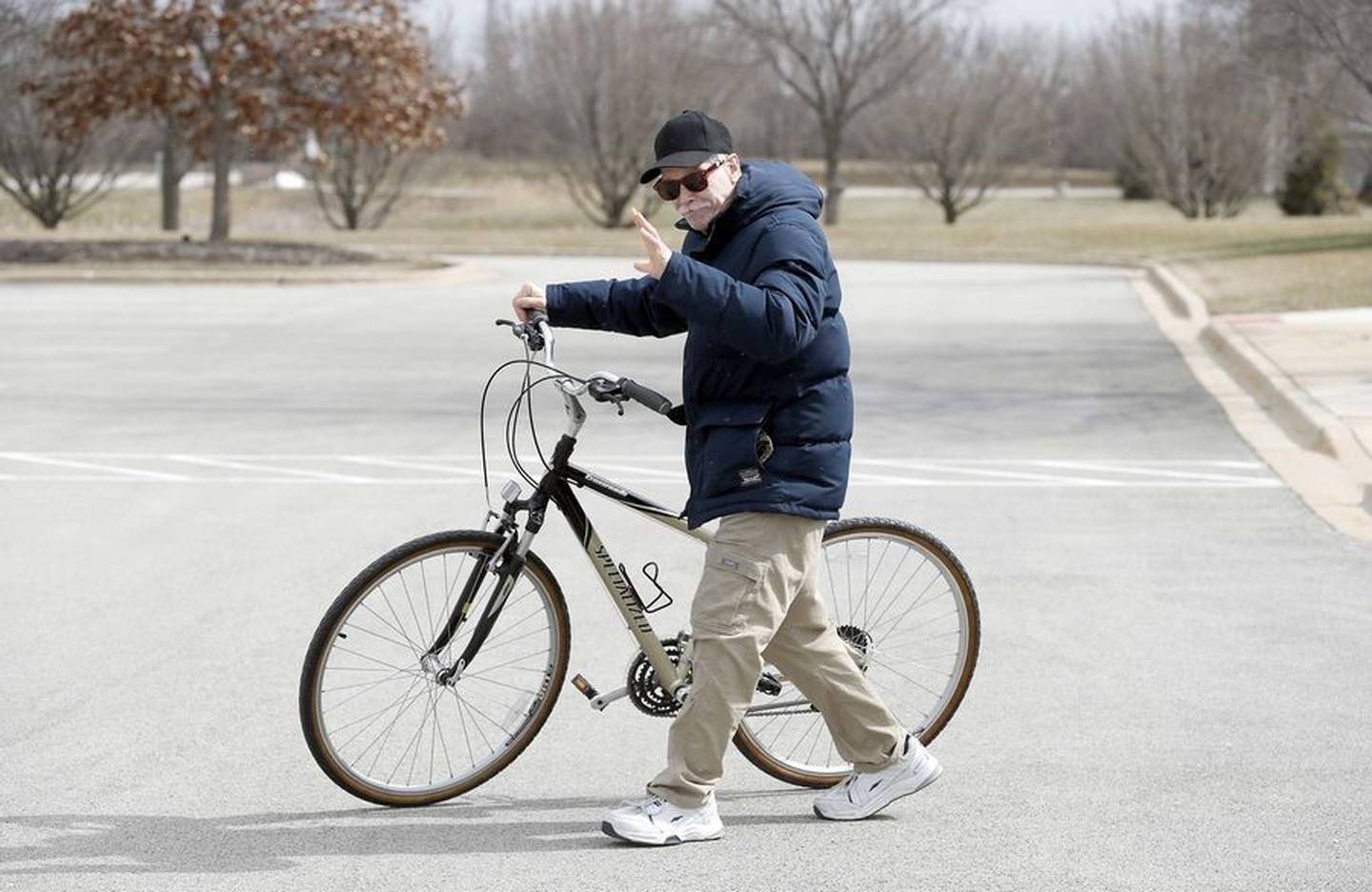 An avid cyclist and on the Huntley force for four years, Lanute saw the bike was beyond any repairs he could do on the side of the road. So he asked if he could make a few calls to see if he could get Bruce a new bike.
Enter Lucky Brake Bicycles in Crystal Lake.
Armed with Bruce's height, Lanute worked with the shop owners to find a bike that would be a good fit for Bruce. The shop donated a used bike, still in good condition, to help. Lanute bought a few parts ­– brake pads and a seat – and made a few other repairs at home in his garage.
If that was one of my family members, I would want someone to stop and make sure they were OK.

—  Huntley police officer Joe Lanute
Lanute and other officers on his shift delivered the bike a few days after his initial encounter with Bruce.
"My bike was on its last leg," said the 67-year-old man who recently moved to Huntley. "He probably saved me from not having any way to get around."
Bruce, who lost his driver's license a decade ago, relies on his bike to get him to jobs, appointments, the store and errands. He said his old bike had seen better days, noting the chain often slipped and the gears were not in good shape.
"It was a hard bike to ride," he said.
"This bike is much better," Bruce said of his new bike. "At least now I have brakes, and my chain isn't slipping. It's much easier to pedal."
Lanute, who is part of the Huntley Police Department's bike team, said he was happy to help and glad that Bruce has a way to get around town.
Huntley Police Chief Robert Porter said he wasn't surprised to hear about Lanute's actions or the support he received from fellow officers in delivering the bike to Bruce.
"Community policing is the fabric of what we do, and this is a great example of that," Porter said.
https://www.dailyherald.com/news/20230320/a-better-bike-huntley-police-officer-helps-make-getting-around-town-easier-for-one-resident