Trevor Janes was optimistic about McHenry and Lake counties' ice fishing season following Christmas weekend's cold snap.
The sub-zero temperatures built 7 to 8 inches of ice on Johnsburg's Pistakee Bay. A few dozen fishing shacks were on the ice by Dec. 28. Even with warmer temperatures forecasted for New Year's weekend, Janes thought overnight lows below freezing should keep the ice stable.
By the first week in January, however, the ice didn't cooperate with Janes' plan. His company, Wet N Wild Outfitters, had to take his ice fishing clients to Wisconsin lakes to find enough ice to safely fish until early February.
Janes is back on the Chain O' Lakes, though, and anglers have also returned to The Hollows, 3804 Route 14 in Cary, McHenry County Conservation District Marketing Director Caitlynn Martinez-McWhorter said.
"It is never closed, per se. It is always 'at your own risk, with 4 inches of ice or more,' " she said. "Most of January the ice was not good enough."
When the ice is thick enough, anglers are allowed to put up a shack, but those must come off the ice every night, Martinez-McWhorter said. While catch-and-release is encouraged, anglers are welcome to take their catches home, too.
The peak ice fishing season in northern Illinois is January and February, Janes said. In a good year, there may be a week or two in December or even into March if the weather stays cold where the ice is strong enough to support both people and a shack.
This winter was not a good year, Janes said. "It is something we haven't experienced before," he said of the terrible ice conditions. "I have never had to wait four or five weeks just to get in."
Most of their guests were willing to travel to Wisconsin, but the ice has been tough this year throughout the region.
"Illinois has a shorter ice season than other areas in the ice belt," said Janes, who has been a full-time fishing guide on the Chain O' Lakes since 2019. The Wonder Lake man grew up fishing here and has learned the ins and outs of wintertime fishing in the region.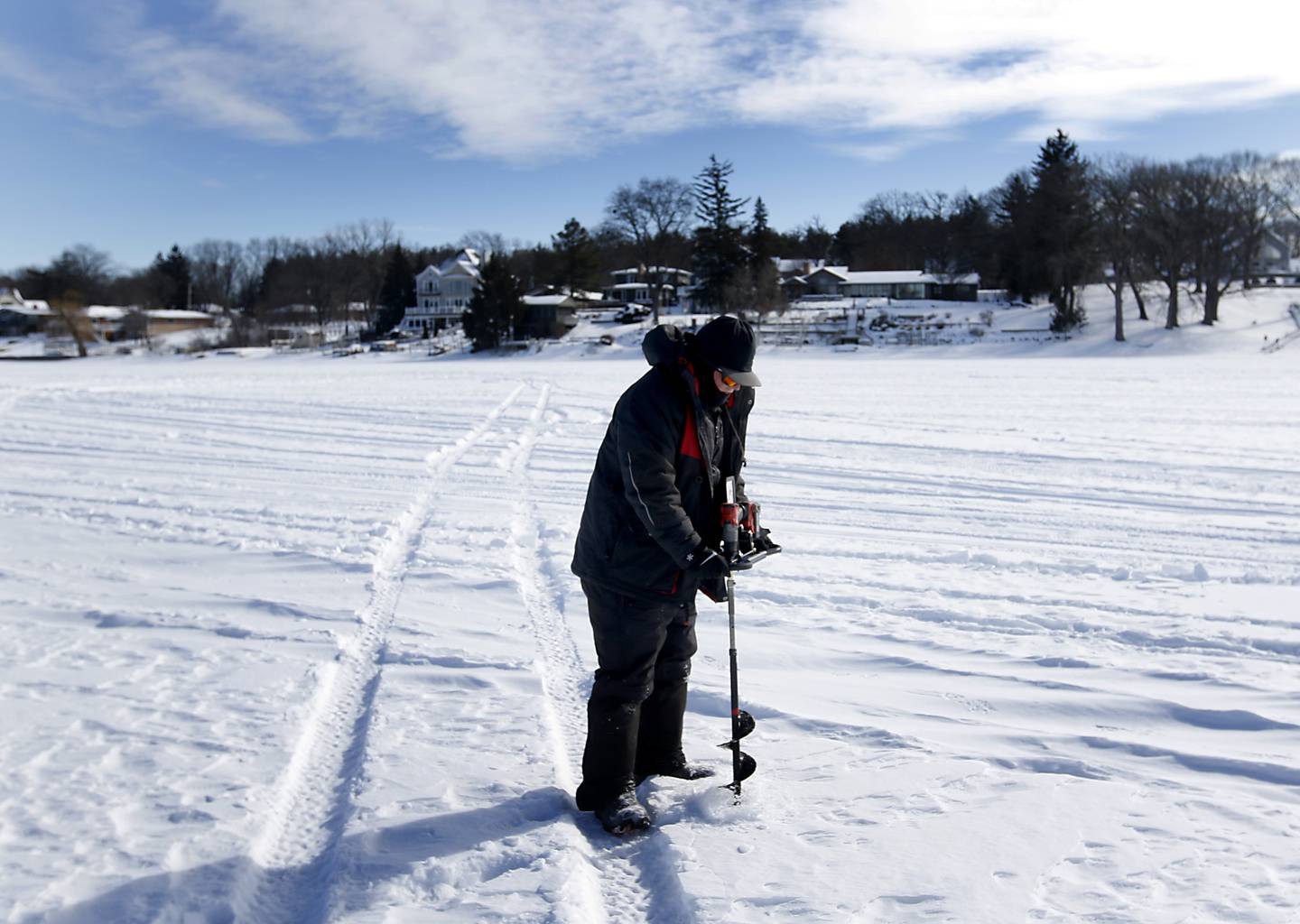 "We just don't have the ice that the old timers talk about," he said.
When there is ice to fish on, his five-person crew starts their days at 5:30 a.m., getting gear into their trucks, fueled up and snacks for the day. They are at a lake by 6 or 6:30 a.m. and have their first clients on the ice by 7 a.m. From then until 10 a.m., they are running shuttles to bring clients – many from Chicago but others from around the country – into one of their fishing shacks on the ice.
"It is such a unique thing that we have with Chicago, Milwaukee, Madison and Rockford" all close by and with people wanting to fish here, Janes said.
Anglers living in or visiting those towns don't just want to go ice fishing, he said. "The destination is 'I want to go ice fishing on to the Fox chain.' "
There are 37 species of fish found in the Chain O' Lakes, including bluegill, crappie, catfish, walleye, northern pike, white bass and "chain-famous yellow bass," Janes said.
Record fish come out of the lakes every year, he said. But with so many homes and private docks surrounding the lakes, access to the water can be a challenge.
One of the easiest spots to get on for or ice fishing is Pistakee Bay from the launch at Oak Park Lounge in Johnsburg. Other access points include Turtle Beach Marina at Chain O'Lakes State Park and the channel in Antioch.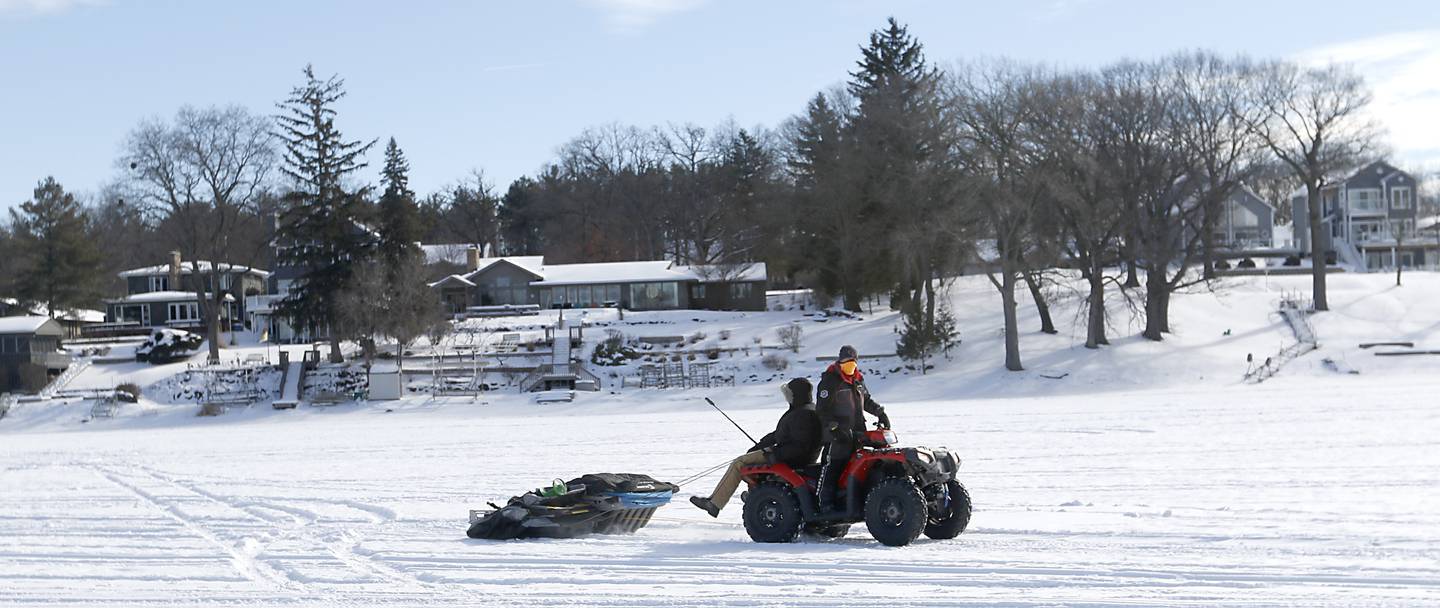 To fish in the winter, anglers need a resident or non-resident fishing license, "warm clothes and a good attitude," he said.
Kyle Goddard, 27, of Crystal Lake teaches ice fishing classes for area parks and recreation districts and departments. He stopped in the Oak Park Lounge recently to hand out business cards and build clientele.
He grew up in Hoffman Estates and fishing on the Chain O' Lakes with his family. "I could fish before could walk," Goddard said.
He has been teaching classes on ice fishing for a park district for the past seven years and just recently went out on his own. He found many families wanted to find a new way to get out of the house during the COVID-19 pandemic, and ice or open-water fishing was one way to do that.
It was something Janes saw too: more people wanting to go ice fishing as a way to get out of the house over the past two winters.
Janes said his customers are booking for the 2024 season now.
Those customers are from all over the U.S. and are a mix of those who want to keep and eat what they catch and those who catch and release. If they want, they will clean the fish for them, added Nick Nelsen, one of the guides who works with Janes.
"For 99% of our customers, it is a convenience thing" to have the fish gutted and deboned for them, Nelsen said.
Janes, Nelsen and their partners don't just offer fishing guide services in the winter. They keep a pretty brisk schedule throughout the year for open water fishing, too, they said.
"There are a lot of lakes here and tons of tourism, ... shopping and venues and great lodging. Everything about this area is world class and underrated" for fishing tourism, Janes said.