McHenry Township Fire Protection District Chief Rudy Horist was able to catch his colon cancer early, but he said he doesn't like to talk about it because so many other people fought harder and longer battles with the disease.
But to help prevent future cancer diagnoses in firefighters, he uses his personal experience to teach a two-hour cancer prevention and awareness class for new McHenry Township firefighters.
"I am an example of early diagnosis and early treatment," Horist said.
Horist, 59, had his first clear colonoscopy in 2007. A follow-up test in 2017 showed cancerous polyps. Surgery removed a portion of his colon, but Horist never needed chemotherapy or radiation.
Horist knows the cancer statistics for his line of work. Firefighters have twice the risk for testicular cancer and mesothelioma. For multiple myeloma and non-Hodgkin's lymphoma, the rate is about 1.5 times greater than the general population. Brain, prostate, colon, leukemia and esophageal cancer also show up in firefighters in greater numbers. Female firefighters have an elevated risk of breast cancer, Horist said.
Overall, according to the National Institute of Occupational Safety and Heath, firefighters have a 9% greater chance of being diagnosed with cancer and a 14% greater chance of dying.
Cancer caused 66% of the career firefighter line-of-duty deaths from 2002 to 2019, according to data from the International Association of Fire Fighters.
Just this week, Horist said, a Skokie firefighter died from cancer, as did Itasca firefighter and Crystal Lake resident Frank Nunez.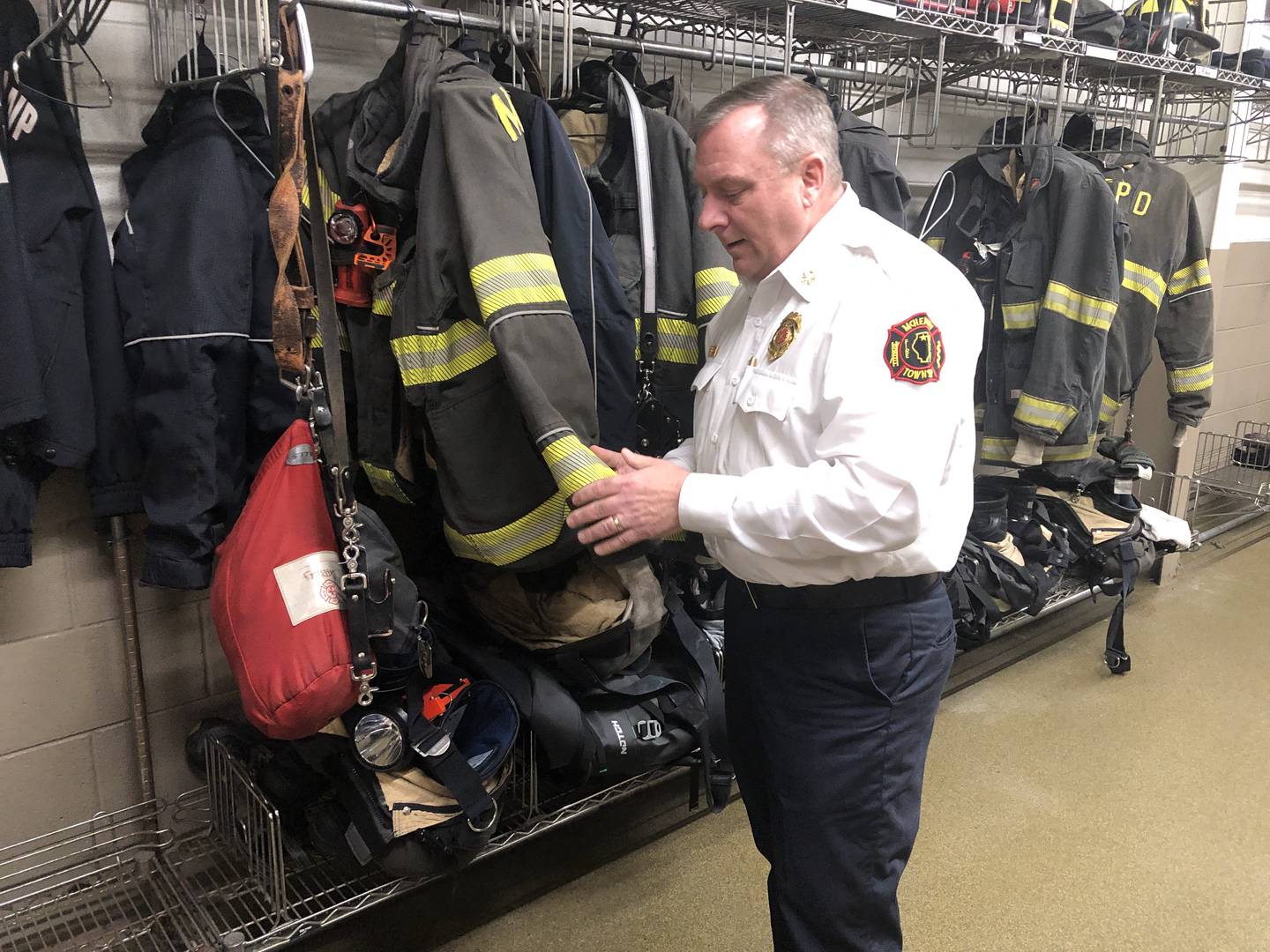 "Forty years ago, we didn't talk about cancer. If you knew a firefighter that developed cancer, you thought 'cigarette smoker,'" Horist said.
People assume that firefighters get lung cancer from breathing in smoke, Horist said. But lung cancer isn't even the most common type of cancer firefighters are treated for. Years of research has found that soot on the skin is just as dangerous.
"It is not the just inhalation, it is also the absorption" through the skin, Horist said.
With new awareness of the dangers, there have been changes in just the past 10 years in how firefighters wear their respirators, clean their skin and wash their turnout gear, Horist said.
There are photos in the McHenry Township Fire Protection District's downtown McHenry fire station that show firefighters outside a blaze, aiming water hoses at fires in the 1950s. None of them are wearing air packs or respirators. A few feet away are more modern photos, with every firefighter donning such gear.
The hood firefighters wear under their helmets has changed, too. Bought with help from the McHenry Veterans of Foreign Wars post, the new hoods block 99% of particulates in the air from getting on the skin and are washed regularly. Wipes are provided on the trucks and engines for firefighters to wipe soot off their faces, hands and any exposed skin.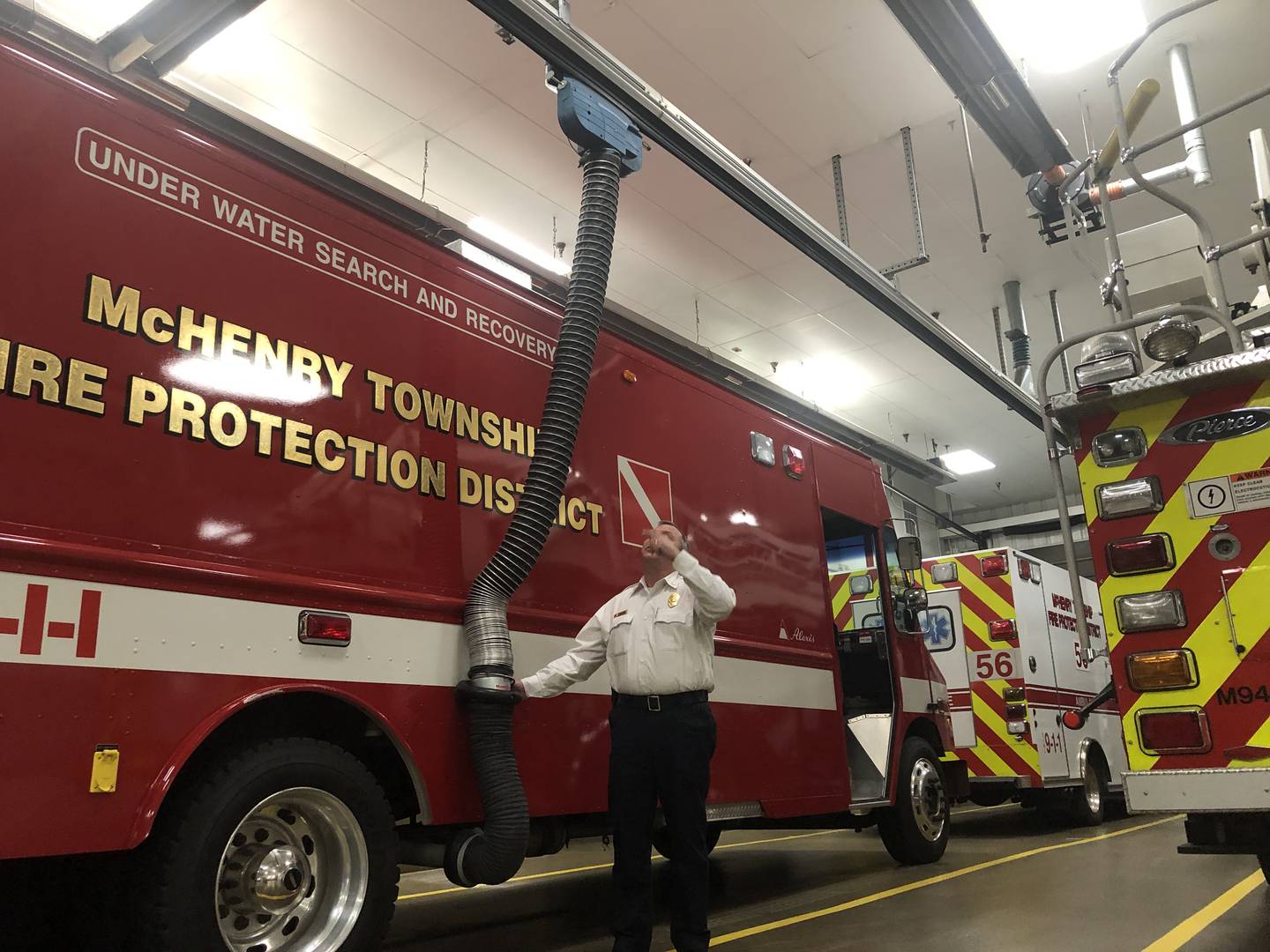 On the scene, firefighters use garden hoses, a scrub brush and dish soap to scrub down their turnout gear before getting back into the trucks and heading back to the station, Horist said.
After crews return to the fire station, they wash their turnout pants and coats in a specially designed washing machine and air dry them afterwards. Long gone are the days of filthy gear hanging in the fire station, worn multiple times before being washed.
"We have moved beyond that," he said.
Inside the garage, other efforts protect firefighters from the diesel fumes created by idling trucks and fire engines. A hose is attached to the trucks, piping the tailgate emissions out of the building. When the apparatus leaves the building, the hose disconnects. When it comes back in, the hose is reattached before the truck comes inside and is turned off.
The benefit of all of these changes might not be known for years and until more studies are completed.
"It will lead to reduced incidents of cancer, which will lower medical expenses" for fire departments, Horist said.
Horist was treated for his 2017 cancer at the Cancer Treatment Centers of America Chicago.
Center spokesperson Cathryn Ingram said that January is Firefighter Cancer Awareness Month, and that focusing on the potential for cancer in firefighters is important from a humanitarian point of view.
"They are putting their lives on the line to take care of other people. I would want things to be done right for them because they are helping to save other people," Ingram said.
What he doesn't want to do, Horist said, is scare people away from the fire service and firefighting as a career.
"We want them to be healthy when working here and going into retirement ... because it is the right thing to do," Horist said.