WOODSTOCK – The start of Wednesday's Fox Valley Conference Tournament was delayed 2 1/2 hours because of rain, but that didn't stop Crystal Lake Central co-op from working on its short game.
"The putting green was full of water, and we were trying to get our putts through the pools," said senior Addison Cleary, the Tigers' No. 4 golfer. "We realized the conditions weren't good, but they weren't good for anyone."
"Everyone else was inside, and we were just having fun with it."
The Tigers' fun didn't end there.
Crystal Lake Central co-op, which also takes golfers from Cary-Grove and Crystal Lake South, shot a 354 to take first at the eight-team meet at Crystal Woods, defeating runner-up McHenry (371) by 17 shots.
Hampshire was third with a 375, followed by Huntley (380) in fourth and Prairie Ridge (383) in fifth. Dundee-Crown (413) was sixth, Jacobs (435) was seventh and Burlington Central (437) was eighth.
Prairie Ridge junior Jenna Albanese captured the individual crown with a 5-over-par 77, edging McHenry senior Maddy Donovan (78) by a shot for the top spot. Junior Delaney Medlyn led Central co-op in third place with an 83.
"If you don't play your best round, it doesn't matter because we're all teammates and we can lean on each other. It helps take a lot of pressure off people, too."

—  Delaney Medlyn, Crystal Lake Central co-op junior
Central co-op posted four of the top 13 scores to win the conference title for the first time since 2018. Cleary was fourth with an 84, junior Madeline Trannel was eighth with a 91, and sophomore Rylee Rud was 13th with a 96.
Medlyn, who has finished in the top five of the tournament in each of her first three seasons, said the Tigers placed a bigger emphasis on the team aspect this season, as opposed to individual scores or performances.
"This year we took it more as a team sport," said Medlyn, who was at plus-5 after two holes. "If you don't play your best round, it doesn't matter because we're all teammates and we can lean on each other. It helps take a lot of pressure off people, too."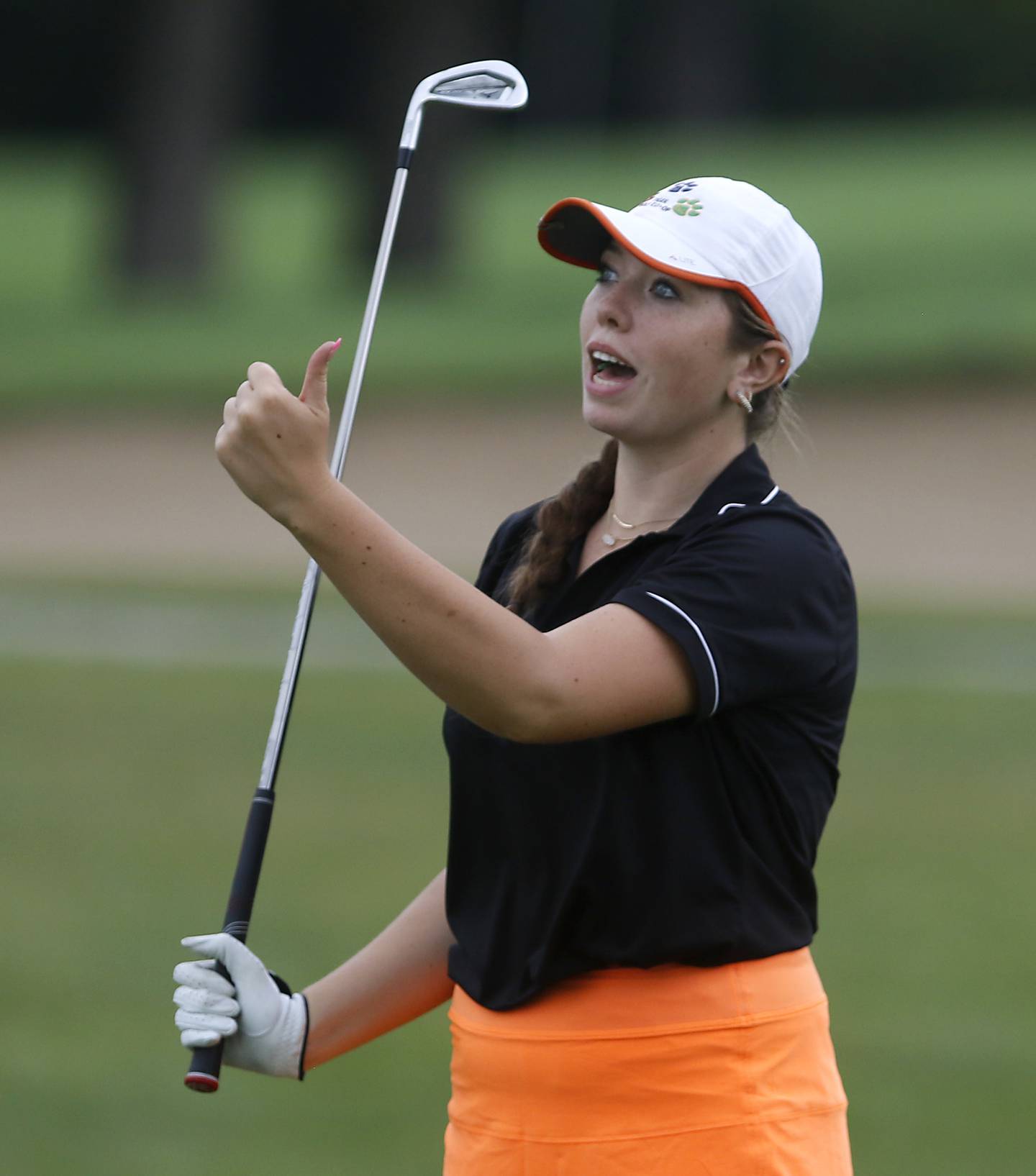 Central co-op coach Kyle McCaughn was proud of his team for rising to the occasion.
"This is a phenomenal group," McCaughn said. "As I was walking around the course, there were a lot of faces telling me things weren't going good, but they just kept their nose to the grindstone. They knew it was the next shot that was important, and it showed in their scores. There's a bright future in front of them for a lot of different reasons."
Albanese shot an 89 at conference last year to place third and said she is hitting the ball 50 yards farther compared to last year.
She started her round with two birdies and was 2-under on her final five holes. Albanese knew where she was on the leaderboard, but didn't let the pressure get to her. She nailed a 5-foot putt on the par-4 ninth to clinch the title.
"It means a lot," said Albanese, who made four birdies. "I put in a lot of work over the summer, so I'm glad it finally happened. The weather wasn't great, so I wasn't super confident, but it just happened for me today. I was in the trees a good amount, believe it or not.
"I did feel nervous because I had a lag putt that I left short, but I gave myself a decent putt with break."
Donovan was runner-up for the second year in a row, but she also finished as the end-of-season FVC points champion, which combines dual and conference tournament finishes, for the second consecutive season.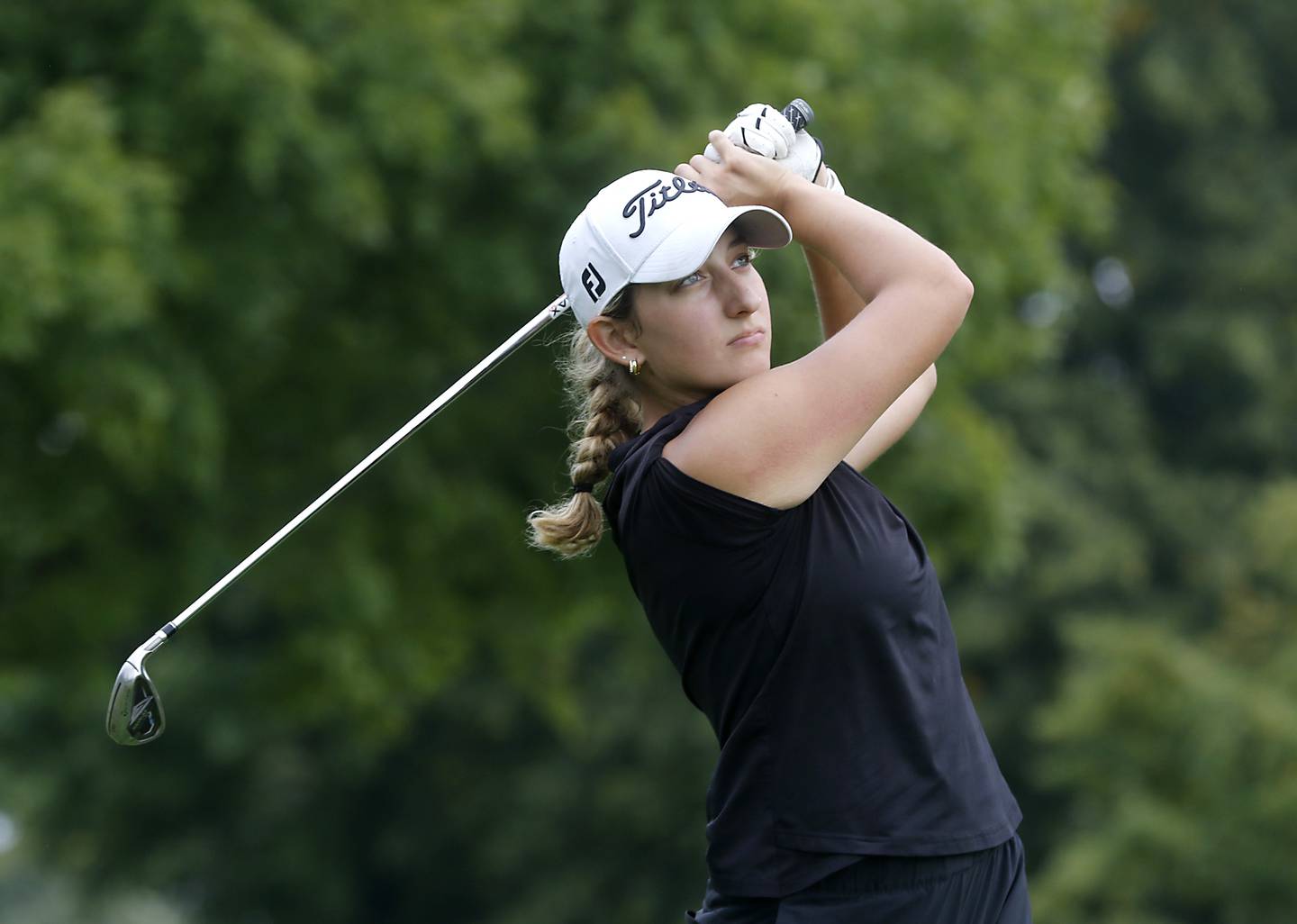 "Honestly, it was a pretty good day," Donovan said. "I ended up 3-over on the back and the front, and I just battled my way through it. My goal was to stay mentally OK. Sometimes I struggle with not feeling like I'm good enough. Going into regionals and sectionals knowing I can do it, just being mentally stable and tough is a goal of mine."
"It's never linear, it's always going up and down. But I think the positive outcomes definitely outweigh the negative ones."
Rounding out the top-10 individual finishes Wednesday were Huntley's Aubrey Dingbaum (fifth place, 89), Hampshire's Kaylee Seo (sixth, 90) and Maddie Franz (seventh, 91), Huntley's Maddie Sloan (ninth, 94) and Dundee-Crown's Magen Laas (10th, 94).
Fox Valley Conference Tournament
at Crystal Woods in Woodstock, par 72
Medalist: Jenna Albanese (PR) 77
Team scores: 1. Crystal Lake Central co-op 354, 2. McHenry 371, 3. Hampshire 375, 4. Huntley 380, 5. Prairie Ridge 383, 6. Dundee-Crown 413, 7. Jacobs 435, 8. Burlington Central 437
Top-10 individuals: 1. Jenna Albanese (PR) 77, 2. Maddy Donovan (McH) 78, 3. Delaney Medlyn (CLC) 83, 4. Addison Cleary (CLC) 84, 5. Aubrey Dingbaum (Hunt) 89, 6. Kaylee Seo (Hamp) 90, 7. Maddie Franz (Hamp) 91, 8. Madeline Trannel (CLC) 91, 9. Maddie Sloan (Hunt) 94, 10. Magen Laas (DC) 94
All-conference: 1. Maddy Donovan (McH), 2. Delaney Medlyn (CLC), 3. Jenna Albanese (PR, 4. Aubrey Dingbaum (Hunt), 5. Magen Laas (DC), 6. Madeline Trannel (CLC), 7. Maddie Franz (Hamp), 8. Kaylee Seo (Hamp), 9. Maddie Sloan (Hunt), 10. Addison Cleary (CLC), 11. Sophie Morawski (DC), 12. Rylee Rud (CLC), 13. Natalie Zimmerman (Jac), 14. Kaitlyn Busky (Hunt), 15. Nicole Heims (Jac), 16. Madison Bilek (Hamp), 17. Jennifer Henry (McH), 18. Grace Mertel (PR)
Crystal Lake Central co-op (354): Delaney Medlyn 83, Addison Cleary 84, Madeline Trannel 91, Rylee Rud 96
McHenry (371): Maddy Donovan 78, Jennifer Henry 97, Emma Hertel 97, Kilynn Axelson 99
Hampshire (375): Kaylee Seo 90, Maddie Franz 91, Madison Bilek 95, Lorna Bachta 99
Huntley (380): Aubrey Dingbaum 89, Maddie Sloan 94, Maddie Lackovic 98, Kaitlyn Busky 99
Prairie Ridge (383): Jenna Albanese 77, Grace Mertel 96, Lily Myers 104, Ella Giffin 106
Dundee-Crown (413): Magen Laas 94, Sophie Morawski 101, Katy Mensching 106, Sabrina Barrett 112
Jacobs (435): Natalie Zimmerman 97, Marly Skarosi 107, Kate Maurus 115, Emma Skarosi 116
Burlington Central (437): Riya Gangavarapu 104, Ariana Riep 109, Sydney Cavallari 112, Gisele Shahzada 112