MARENGO – Johnsburg's Molly Wetzel had a simple but effective mentality entering the second half of Thursday's Kishwaukee River Conference game against Marengo.
"I just wanted to win really bad," Wetzel said. "Since I've been on the team for four years, I know that games can flip just like that really fast, so I knew I had to play hard the whole time."
With shooters on both sides struggling to find their shot most of the night, the Skyhawks senior forward proved to be a difference maker on both offense and defense.
Wetzel scored a game-high 15 points and pulled in nine rebounds with two blocks and four assists to lift Johnsburg to a 39-30 victory over the Indians. With the win, Johnsburg climbed into sole possession of first place in the KRC.
Wetzel had seven of her game-high 15 points in the second quarter, but her biggest impact came after halftime.
Wetzel swished in a shot from the free-throw line to tie the game at 20 with just over three minutes left in the third quarter and, on Marengo's ensuing possession, she blocked Indians' point guard Addie Johnson and ran down court before assisting Gracie Notriano for the go-ahead score.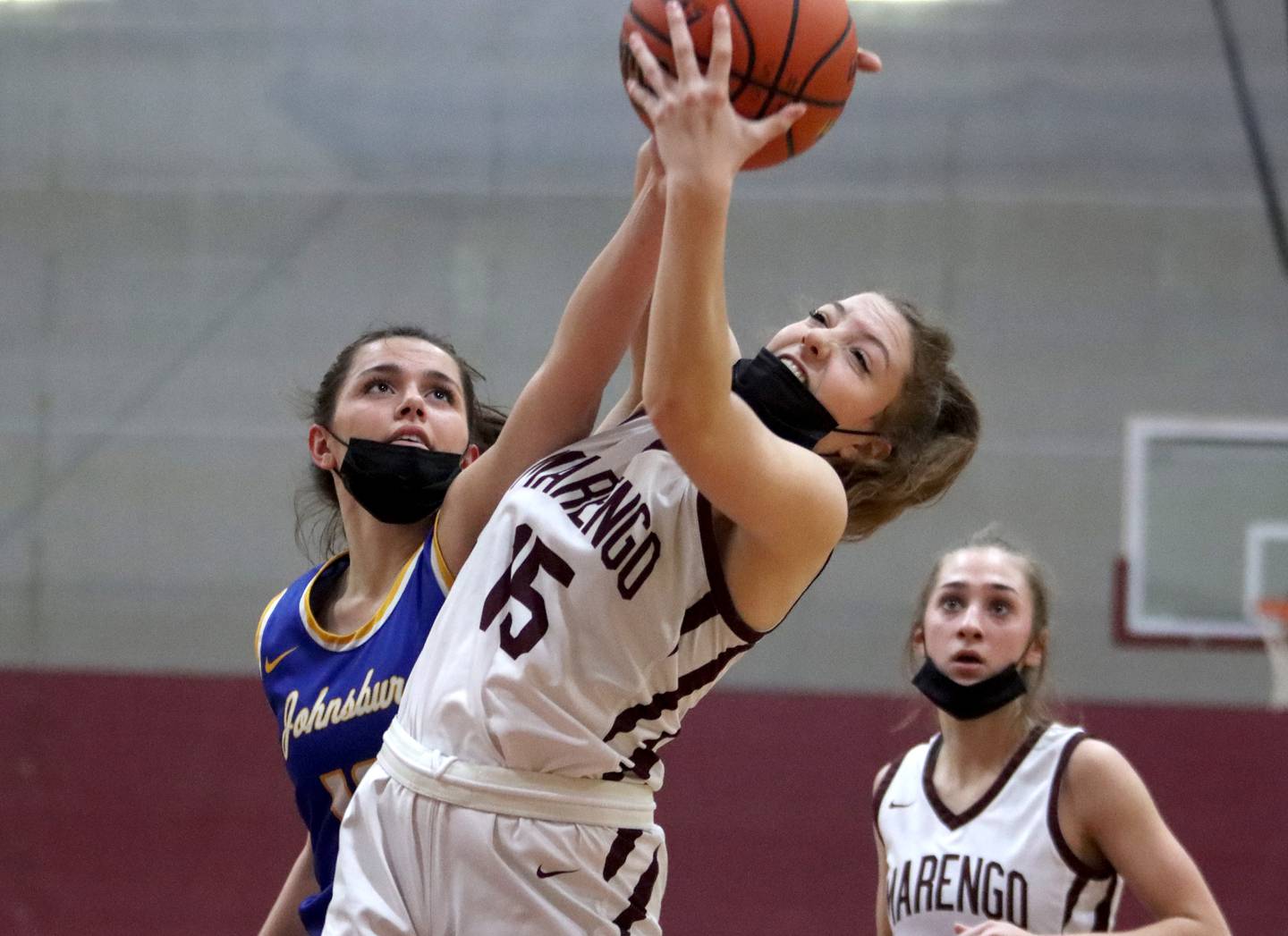 From that point, Johnsburg ended the quarter on a 6-2 run and took a 28-22 lead into the fourth. Wetzel provided another bucket and assist during the run to give the Skyhawks (11-10, 3-0) some much needed cushion and momentum.
Marengo forward Morgan Coffman got into foul trouble earlier in the game, which allowed the Skyhawks to focus their attack on Wetzel.
"We have a lot of confidence in Molly and the way she plays, so we told her to go to work inside," Stochl said. "I think she can give a lot of credit to the guards on the team, too. They got her the ball and she was able to make some big plays out there for us."
Johnsburg coach Erin Stochl told her team to shrug off the cold first half.
"We came into halftime and almost laughed about it a little bit," Stochl said. "We were missing shots we normally make, so I just told them, 'Just go out there in the second half and watch the ball go through the basket. Get out there and shoot.' We were doing everything else right.
"We focused more on defense in the days leading up [to Thursday's game]. I felt like we found other ways to get the ball in the basket in the second half. Using defense fueled that energy to get the game rolling a little bit our way."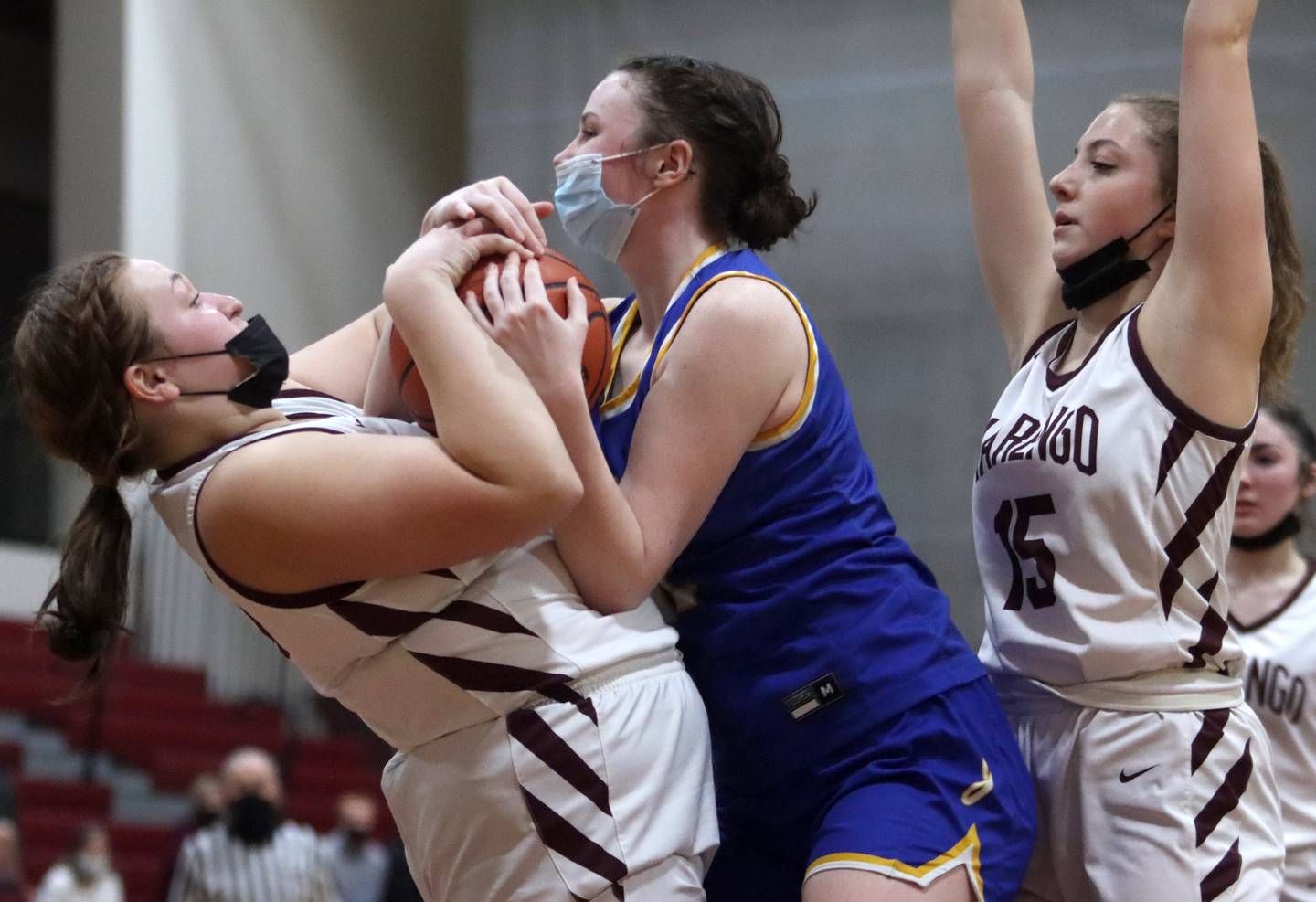 Johnsburg's Macy Madsen, the team's leading scorer this season, had seven points and seven rebounds. Mackenzie McQuiston tossed in six points on 6-of-6 shooting from the free-throw line. Kaylee Fouke (six points) was 4 of 4 from the free-throw line, and Bella Saxelby grabbed 10 rebounds.
As a team, the Skyhawks made 9 of 10 free throws in the fourth quarter to stave off any comeback attempt by the Indians.
In a game in which both teams struggled from the field, Johnsburg was 12 of 44 (27.3%) shooting and Marengo (6-11, 2-1) went 10 of 55 (18.2%).
Marengo's Addie Johnson, who did not play against Johnsburg when the teams met Dec. 21 (a 54-38 win for the Skyhawks), led the team with eight points on three field goals. Keatyn Velasquez and Coffman had five points apiece. Gianna Almeida tossed in four.
Marengo coach Elisa Hanson said the Indians needed to be more physical inside.
"We've got to figure out how to challenge them a little bit more and give them more resistance inside," she said. "I think we just kind of wore down a little in the end. We were within range, but give Johnsburg credit, they played super hard."