WESTMONT – Griffin O'Leary is one of the top swimmers in the country.
He also may have a future in time management.
In Friday's state boys swimming prelims, the Barrington senior qualified for finals in the 100 butterfly and the 100 backstroke with, incredibly, identical times of 47.90.
Then on Saturday, O'Leary had to swim the two grueling championship heats – the butterfly and the back – in just about an hours time.
And after all was said and done, O'Leary was a state champion.
O'Leary won the backstroke in the time of 47.83 after finishing second in the fly, where he was only 0.39 behind winner Aleksej Filipovic of St. Charles North.
The meet was held for the first time at the FMC Natatorium in Westmont, a new state-of-the-art facility.
"Normally my backstroke is a little faster than my fly," O'Leary said. "I knew I had a little room for my back after prelims. It's tough [to race the two events so close together]. You've got to cool down quick and get ready for the next race. I'm just happy how everything turned out."
O'Leary trailed through much of the 100 back but used a ferocious kick in the final 25 yards to win the crown.
"As a freshman I got second, and as a sophomore I got second," O'Leary said. "That was the last time I had an opportunity, so I wanted to give it my all tonight. At the end [of the 100 back] all I was thinking about was all the training I put in."
Now O'Leary has next fall to think about when he swims for Southern California. He also will look forward to the Olympic Trials in 2023.
"I'm thrilled to be able to go to USC and work with the coaches," he said. "They're amazing, and I'm excited to see what I can do once I get there. I've set some goals, and it's going to be incredible."
Huntley's Gavin Heard, who is legally blind, had an outstanding state debut.
The Red Raiders senior won all four events in the Athletes with Disabilities (AWD) division, taking first in the 200 free (2:08.48), 50 free (26.44), 100 free (55.32) and 100 breaststroke (1:11.04). He swam all four years on the high school team but this was his first time competing in AWD events.
"It's so much different from regular meets because it's more crowded and louder," Heard said. "It's a different atmosphere. It was intimidating."
Also excelling in the AWD events were senior Noah Thomas of Hersey (third in the breaststroke, 6th in the 100 free and 50 free), and sophomore Sean Grady from Fremd, who took third in the 50 free, fourth in the 200 free and the 100 free and fifth in the 100 breaststroke.
Grady said that he was a little nervous entering his first state finals, but shook off the butterflies to make his mark in four events.
"It was a very exciting day," said Grady, who added that he's looking forward to his next two years on the swim team, as well as possibly competing on the water polo team.
"Sean is a very positive kid," Vikings coach AJ Adams said. "He's also very polite, very well-mannered and the other guys on the team love to be around him."
Stevenson won the team title with 167 points.
Prospect senior Tim Hays took eighth in the 100 fly and 12th in the 200 individual medley. Holden Wheeler of Buffalo Grove, a junior, won the eighth-place medal in the diving competition.
Plainfield North co-op senior Jack Burke was sixth in the 100 free (45.80) and ninth in the 100 backstroke (50.56).
Plainfield North co-op's 200 medley relay of Burke, Jeremy Suarez, Greg Benson and Aidan Puk tied for ninth place with a time of 1:35.02.
Freshman Lucas Bucaro of Barrington was 12th in the 500 free, and Schaumburg sophomore Szymon Mieczkowski was 12th in the 100 back.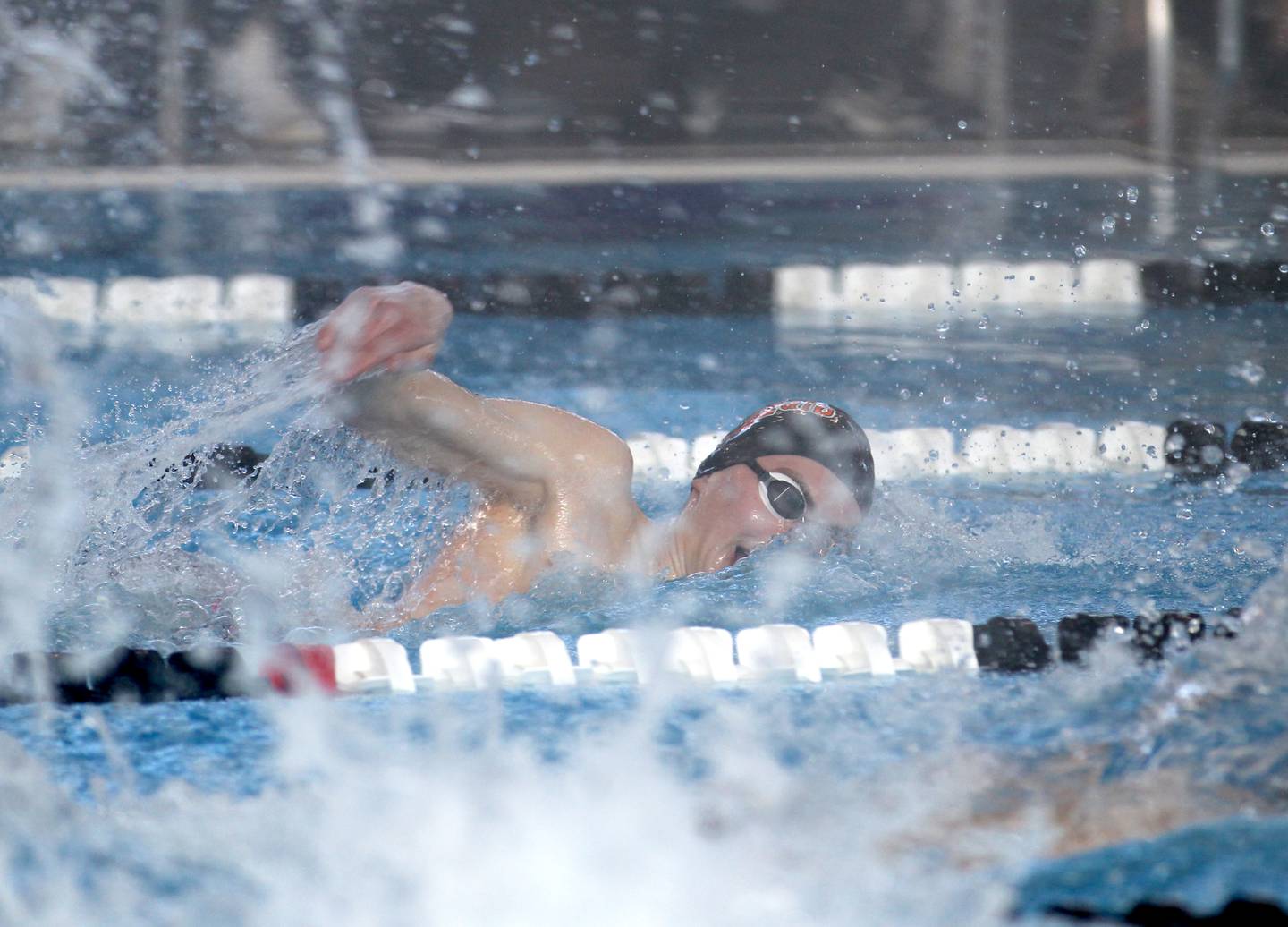 Jacob Gramer from the DeKalb-Sycamore co-op took 11th in the 100 free and ninth in the 50 free.
Cary-Grove co-op's Ben Castro, a senior at Crystal Lake Central, equaled his top-flight performance in Friday's preliminaries by finishing fifth in the 100 butterfly with a time of 49.57. He topped his performance at state as a sophomore when he took 10th in the same event.
Castro, who will compete next year at Tampa, posted a team-record time of 49.16 in Friday's preliminaries.
He also raced legs on the seventh-place 200 medley relay (1:34.67) and the meet-capping 400 free relay, which finished 10th in 3:08.59. The Trojans never had a relay advance to Saturday's finals before this year.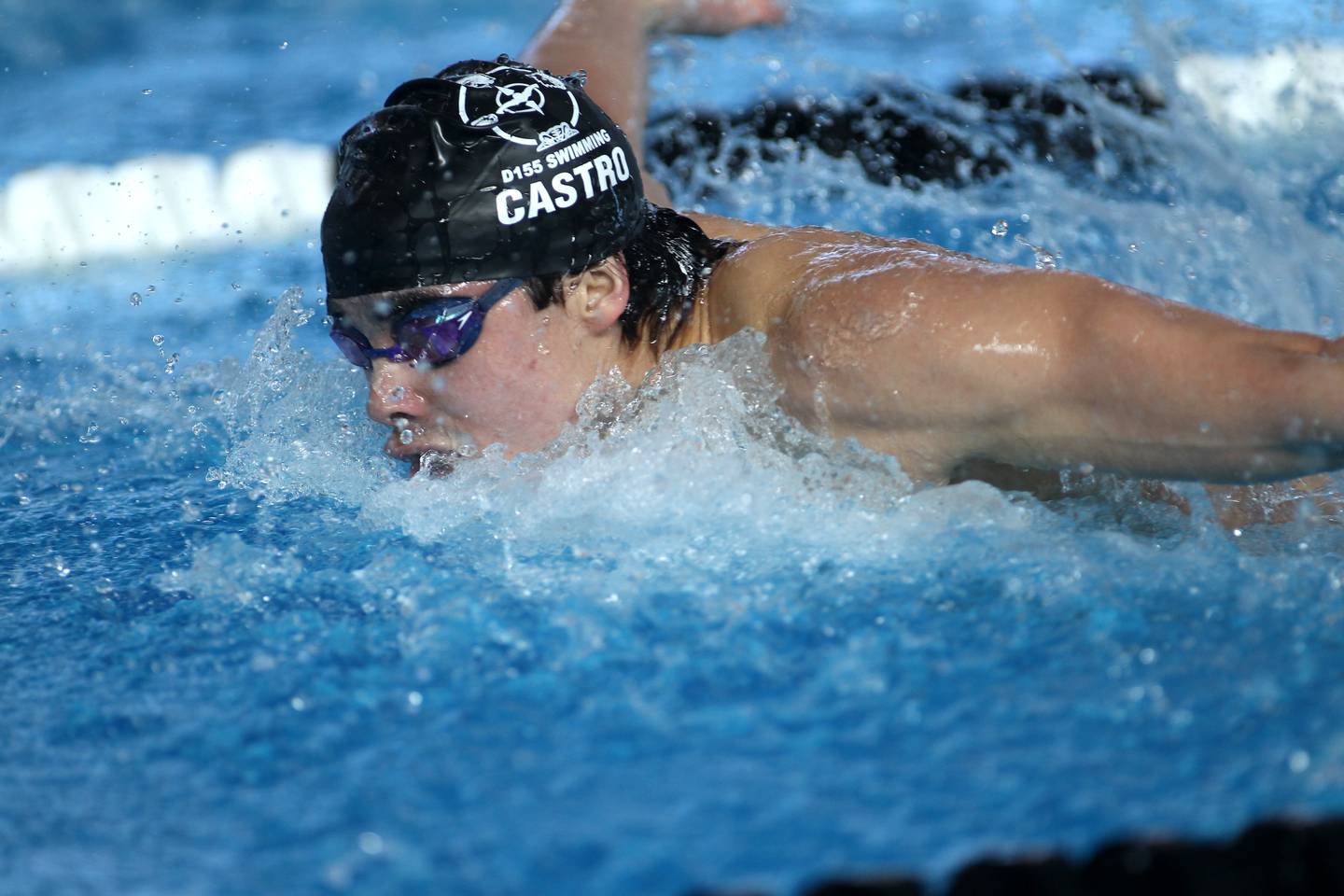 Swimming in the 200 medley relay for the Trojans were Drew Watson, Kasparas Venslauskas, Castro and Kameron Fadden. The 400 free relay consisted of Castro, Watson, Dexter Zielinski and Fadden.
Of the 100 butterfly, Castro said, "It's the second day, so you're trying to tweak out whatever you did the first time. It was good."
Fremd sophomore Jaden Heinlein won the consolation championship (seventh place) in the 200 IM with a time of 1:51.06.
"Jaden is such a hard worker and such a fierce competitor," Adams said. "When he sets his mind that he wants to win, there's nothing that can stop him."
Heinlein said he was happy with his placement Saturday, but he is looking forward for more to come.
"This was progress," Heinlein said. "I did all that I could today and it shows that I can do even bigger things if I put my mind to it."