Prairie Ridge posts pictures of multi-sport athletes on its walls to promote its "Let's Play 2" philosophy of competing in more than one sport.
Senior Daniel Llanquiman has taken that to an extreme, playing soccer and running cross country during this same fall season. Llanquiman is goalkeeper for the Wolves soccer team and also runs with the cross country team.
The Wolves are 5-2 overall, 1-0 in Fox Valley Conference matches and have allowed seven goals in seven matches. Llanquiman often is among the scoring (top five) runners in cross country. On Saturday, he won Flight 5 (teams' No. 5 runners) in the Woodstock-Ryan Byrne Festival.
"Daniel does a great job of balancing soccer and cross country," Wolves soccer coach Justin Brown said. "He misses a couple of practices a week to go to cross country, but he is still our full-time goalkeeper."
Llanquiman sometimes goes to soccer practice, then puts in a 7-mile road run on his own since he missed running with the cross country team.
Llanquiman planned to pull double duty Tuesday, running in a cross country meet at Elgin's Plato Park at 4:30 p.m., then taking his spot in goal with the soccer team at 6:30 in Huntley.
"It is pretty hard, but I've been doing it for a while," Llanquiman said. "I've gotten used to it. Just make sure to stretch after everything I do to make sure I don't get injured."
With the COVID-19 pandemic stopping some sports last fall – soccer was among them – Llanquiman ran cross country. He then played with the soccer team in its spring season.
This fall, doing both required a lot more juggling. Soccer matches receive top priority, then Llanquiman does what he can with cross country, which usually has its big meets Friday. Last year he finished 27th in the FVC Meet.
"Daniel has played soccer his entire life," Wolves cross country coach Judd Shutt said. "As a sophomore two years ago, he trained for both sports over the summer. Soccer was his primary sport, but he was able to experience cross country by practicing when he could and racing a few times.
"He effectively balanced training for both sports and therefore both coaches are supportive of Daniel helping both squads and working toward his goals. Daniel has been a great communicator."
Llanquiman plans on studying electrical or mechanical engineering next year and mentioned Illinois and Purdue as two schools he is considering.
The balancing act is something to which Llanquiman has grown accustomed. He ran track and competed in soccer at the same time as a freshman, then did a little of both in high school as a sophomore.
"I'm used to the long schedule," Llanquiman said. "Unfortunately, I have to do homework pretty late. I do my sports, then dinner's being made, and after that I have to start all my homework."
Maybe Llanquiman should have a special poster on Prairie Ridge's wall: "Let's Play 2 (at the same time)."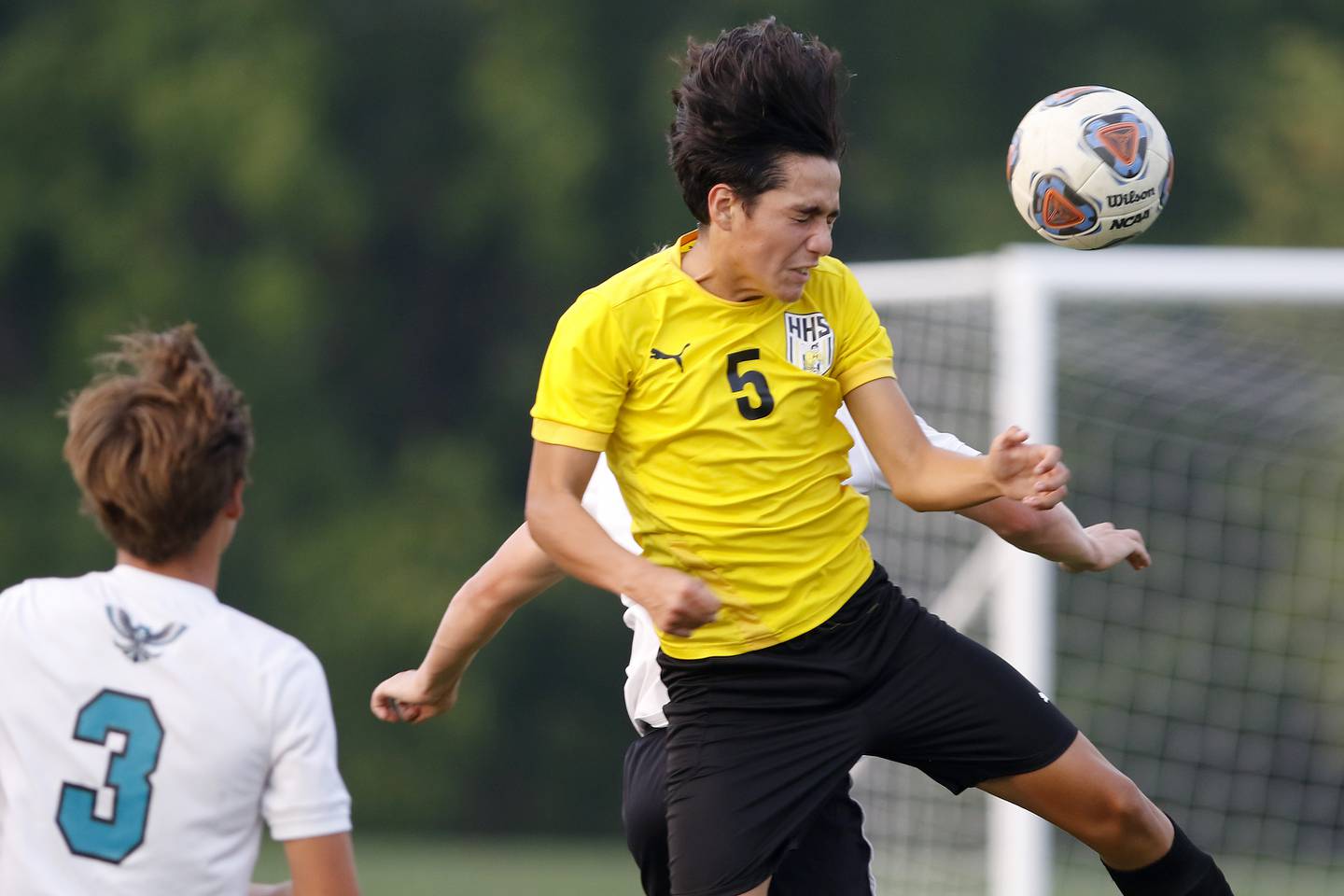 Hornets' big week: Harvard has now won seven consecutive matches and took a two-game lead in the Kishwaukee River Conference after going 4-0 since Monday, Sept. 13.
That was the day the Hornets held off Woodstock North, 3-2, in an overtime shootout. They went on to beat Marengo, Jacobs and on Monday defeated Woodstock, 2-0.
The Hornets got a little help from Johnsburg, which defeated North, 3-2, in a shootout Monday. Harvard (9-3, 5-0) now has a two-game lead over Woodstock and Woodstock North.
Harvard is 2-1 for the season against FVC teams, with a shootout loss to Prairie Ridge and one-goal wins against Cary-Grove and Jacobs.
Flying solo: In Harvard's 3-2 victory over Jacobs on Saturday, the field referee worked the game as the lone official and two Jacobs administrators worked the sideline as assistant referees, calling only out-of-bounds plays and not offside.
"It's been happening more and more," Jacobs coach Colin Brice said. "There's a huge ref shortage in the state."
Brice said Jacobs has had to cancel two lower level games this season because it could not find referees.
Coughlin honored again: The Elite Clubs National League announced its Player of the Year choices for 2021 on Monday and Crystal Lake South senior midfielder Tommy Coughlin earned that honor among 17U players.
The ECNL has 90 member clubs playing across eight conferences. Coughlin, who plays with Eclipse Select SC, previously was named the Midwest All-Conference Player of the Year. Now, he also has All-American honors and a Player of the Year.