This weekend's IHSA state tournaments will be an exciting and unique experience for five Northwest Herald area golfers.
Crystal Lake Central co-op's Delaney Medlyn, Johnsburg's Riley Klotz, Marian Central's Ella Notaro and Peter Louise and Prairie Ridge's Charlie Pettrone will make their state debuts Friday after making it out of their respective sectionals Monday.
After Friday, the field will be cut to the top eight teams (and ties) and top 40 individuals (and ties) not on one of the top eight teams.
Medlyn was the only local golfer to advance to the Class 2A girls state tournament, which takes place at Hickory Point in Forsyth. The Cary-Grove sophomore shot an 8-over-par 79 at the Huntley Sectional and was moved to tears after her round.
"I was stunned. I was completely stunned," Medlyn said. "Literally tears of joy when I walked off the golf course."
Medlyn had dreams of going to state as a freshman last year but said she put too much pressure on herself. This year, she's simply looking to have a good time.
"I'm looking forward to just going and getting a new experience," Medlyn said. "I don't really care what I shoot. Obviously, I want to play well, but just making it to state is the most exciting part. I just want to play and have fun."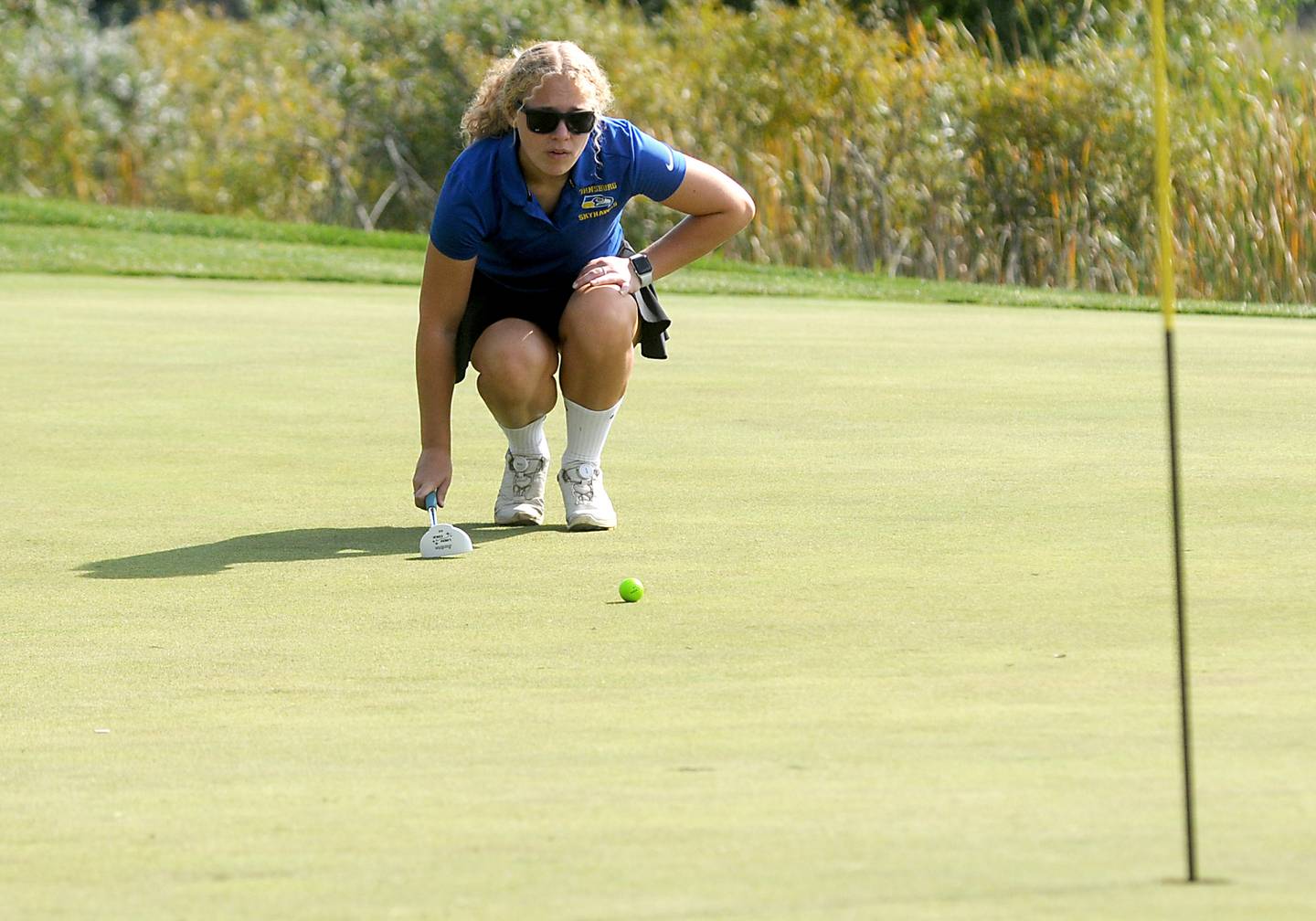 Klotz and Notaro will compete at the 1A girls state tournament at Red Tail Run in Decatur. Both golfers had 88s at the Sandwich Sectional's Edgebrook Golf Course, which played long and tough with nobody shooting in the 70s.
Klotz, a senior who recently was named the Kishwaukee River Conference Girls Golfer of the Year, took extra lessons over the summer to get ready for her final season, but said her biggest improvements have come on the mental side.
Similar to Medlyn, Klotz is excited to take in a new experience.
"I'm not hoping for a big win or anything because I haven't scored low enough for that," Klotz said. "I just want to finish my season off with a fun round of golf. I think I've just grown to love the sport a lot more and appreciate how much work it takes to be good at it."
Louise earned his way to the Class 2A boys state tournament via a playoff. He was one of seven golfers in a playoff for the last four qualifying spots after shooting an 80 at the Sterling Sectional. The Hurricanes sophomore made a bogey on the first playoff hole to advance. Three others finished with double bogeys.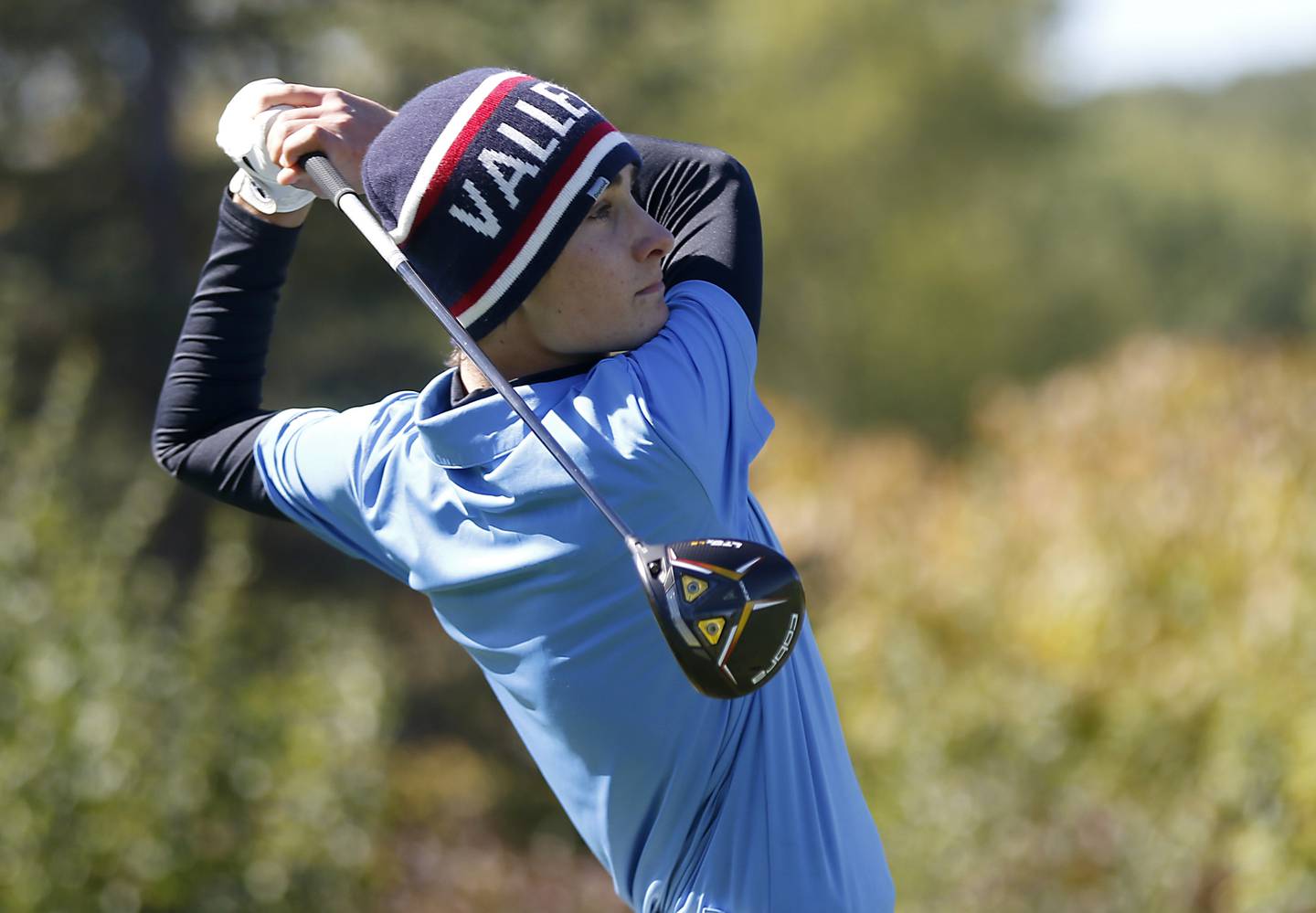 Louise said he won't put any added pressure on himself at state. He's excited to get out of the classroom for a few days.
"It's great. I get to skip school on Thursday and Friday," Louise said. "I think I'll just go down there and have fun, just not worry. My coach always tells me you play better golf when you don't try, which sounds ridiculous, but it keeps you out of your own head.
"The other thing Coach always tells me is to focus on my round. At regionals, I was scoreboard watching the whole time and trying to make up strokes when I got behind. [At sectionals], I didn't look at a scoreboard once until after my round, and I think that helped me a lot. I didn't feel as much pressure."
Pettrone, the Fox Valley Conference Tournament individual champion, was the top individual golfer not on an advancing team to qualify from the Sterling Sectional, taking third overall with a 74. Pettrone made two birdies in his round and had only four bogeys.
The Wolves junior has worked hard to improve his putting, which has paid off big with a trip to state. He is shooting for a top five finish on Day 2.
"I'm just going to be working my butt off in the short-game zone to see if I can put up a better number than today, because that's what I feel I need down at state," Pettrone said. "I have not been to state before, so this is going to be fun.
"I think that under [par] will definitely put me in a good spot for the second day, and then I'd love to get out there to have a chance to do well, either win it or be up in the top five. That would be awesome."
Local state qualifiers
Boys golf
Class 2A
at Weibring Golf Club in Normal
Individuals: Peter Louise, Marian Central, so.; Charlie Pettrone, Prairie Ridge, jr.
Girls golf
Class 2A
at Hickory Point in Forsyth
Individuals: Delaney Medlyn, Crystal Lake Central co-op, so.
Class 1A
at Red Tail Run in Decatur
Individuals: Riley Klotz, Johnsburg, sr.; Ella Notaro, Marian Central, jr.