Crystal Lake South's Cooper LePage already had his mind made up but waited for the perfect time to share the news.
While in Michigan over the weekend with his family, including all four grandparents, the Gators senior shooting guard announced his commitment to NCAA Division II Northern Michigan University.
LePage's parents, Matt and Marisa, both played basketball at the school in Marquette, Michigan.
"My grandparents [Mike and Lorraine LePage] live probably 20 minutes from campus," said Cooper LePage, who went on an official visit to Northern Michigan in June. "They all knew about the offer, they were all very excited. It was just a really cool experience.
"The coaches there are nice and very welcoming. I felt like I fit in perfectly. After I visited, I still went through the AAU [season], but I knew that Northern Michigan was where I wanted to go."
LePage, who also plays receiver on South's football team, said he had interest from other schools but wanted to make his decision before the start of the high school season. His mom was the 2001-02 Great Lakes Intercollegiate Athletic Conference Player of the Year and is fifth all-time in scoring at the school. She was inducted into Northern Michigan's 2020 Hall of Fame Class.
Marisa's parents, Andy and Karen DellAngelo, and Matt's parents all still live in Michigan.
Despite the family's connection to the school, Cooper said his parents didn't pressure him to follow in their footsteps.
"It kind of played a role in the process, but ultimately I was just looking out for myself and the best fit for my future," LePage said. "[My mom] wanted me to do whatever I wanted to do. Obviously, she wanted me to go there, she'd be happy if I chose there, but she let me do my own thing. They're both very proud of me.
"The process and journey is just starting now. It's a whole new journey again."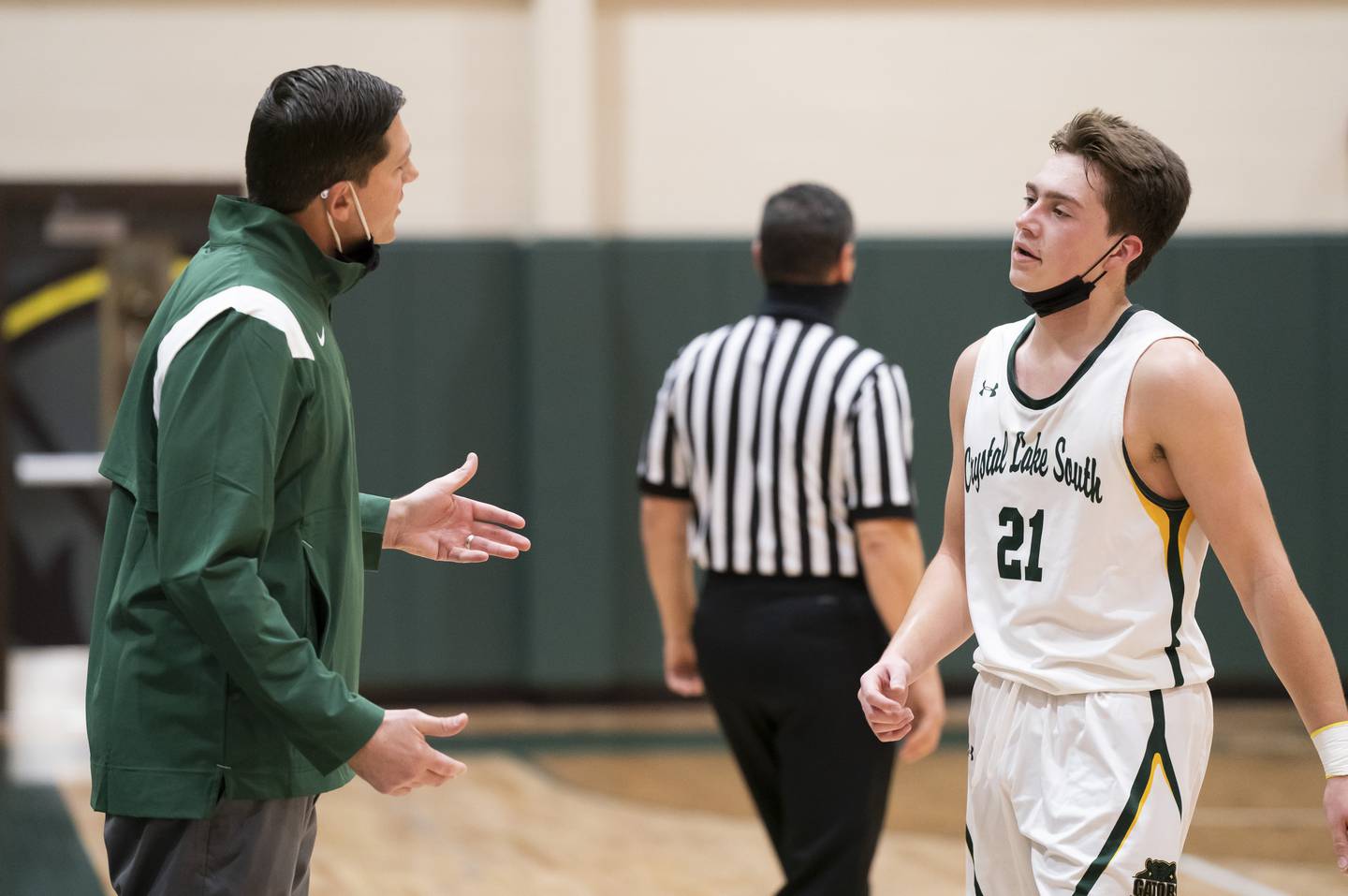 LePage, who is entering his fourth year on varsity, will have one more season with the Gators, coached by his dad. As a junior, LePage averaged 12.1 points and 5.7 rebounds a game, also making 63 3-pointers and averaging 4.3 assists and 2.3 steals a game. He was named to the Northwest Herald All-Area first team for the first time.
LePage said he has wanted to play college basketball most of his life. His mom coached him from fifth through eighth grades in South's feeder levels.
"This was a big goal of mine," LePage said. "I've had this dream since I was 6 years old. It has always been a dream of mine to play college basketball. I've just worked as hard as I can to achieve my goal, and I'm thankful and blessed that it happened."
LePage thanked his AAU coaches at Fundamental U – Michael Weinstein, Christian Sotos and Dantea Johnson – for helping him achieve his goals. He will join a Northern Michigan team that finished 18-12 last year and made it to the GLIAC championship game.
"They've been great role models," LePage said. "They've had a very positive impact on my career and as a person. They've given me the drive to keep going and have given me a lot of confidence."
South went 17-15 last season and placed fifth in the Fox Valley Conference. LePage is hoping for a few more wins his senior season.
"We want to win as many games and achieve as much success as possible," LePage said. "I want team success over my success any day of the week. I just want my teammates to be happy and have a good time. I want to have a good senior season, whatever I can do to fulfill that."
In the future, LePage looks forward to seeing his grandparents more often.
"They're very excited that they're going to get the opportunity to come out and watch some more games," LePage said.