Nate Wright entertained the thought of leaving Marengo for an educational administrative position early in his career at the school.
Wright, who finished his Type 75 certification in 2010, even interviewed for positions, but did not receive offers.
That was fine, because it meant Wright stayed at Marengo, where he eventually had a successful eight-year run as boys basketball coach and worked the last four years as athletic director.
But now, with his children getting more involved in sports and activities close to their home in Sycamore, the time was right.
Wright is making the move to become a dean of students at Sycamore High School and leaving the school at which he spent the past 15 years. He and his wife Brooke have three children: son Chaz (11), son Tucker (7) and daughter McCartney (4).
With Wright leaving Marengo, it will mean that eight McHenry County area schools will have new ADs next year. Several ADs moved on to different jobs, while McHenry's Barry Burmeister retired and Cary-Grove's Jim Altendorf is moving back to the classroom.
"Opportunities at Sycamore popped up. If I was going to be anywhere it was going to be Marengo or Sycamore," Wright said. "Chaz has gotten involved in sports the last five or six years. Tucker's getting involved in sports and I'm sure McCartney will be getting involved in something down the road.
"Had the opportunity in Sycamore not popped up, I probably wouldn't want to leave. I can't turn an opportunity like that down, to turn a 35-minute commute into a 5-minute commute and see my kids right after school and all those things."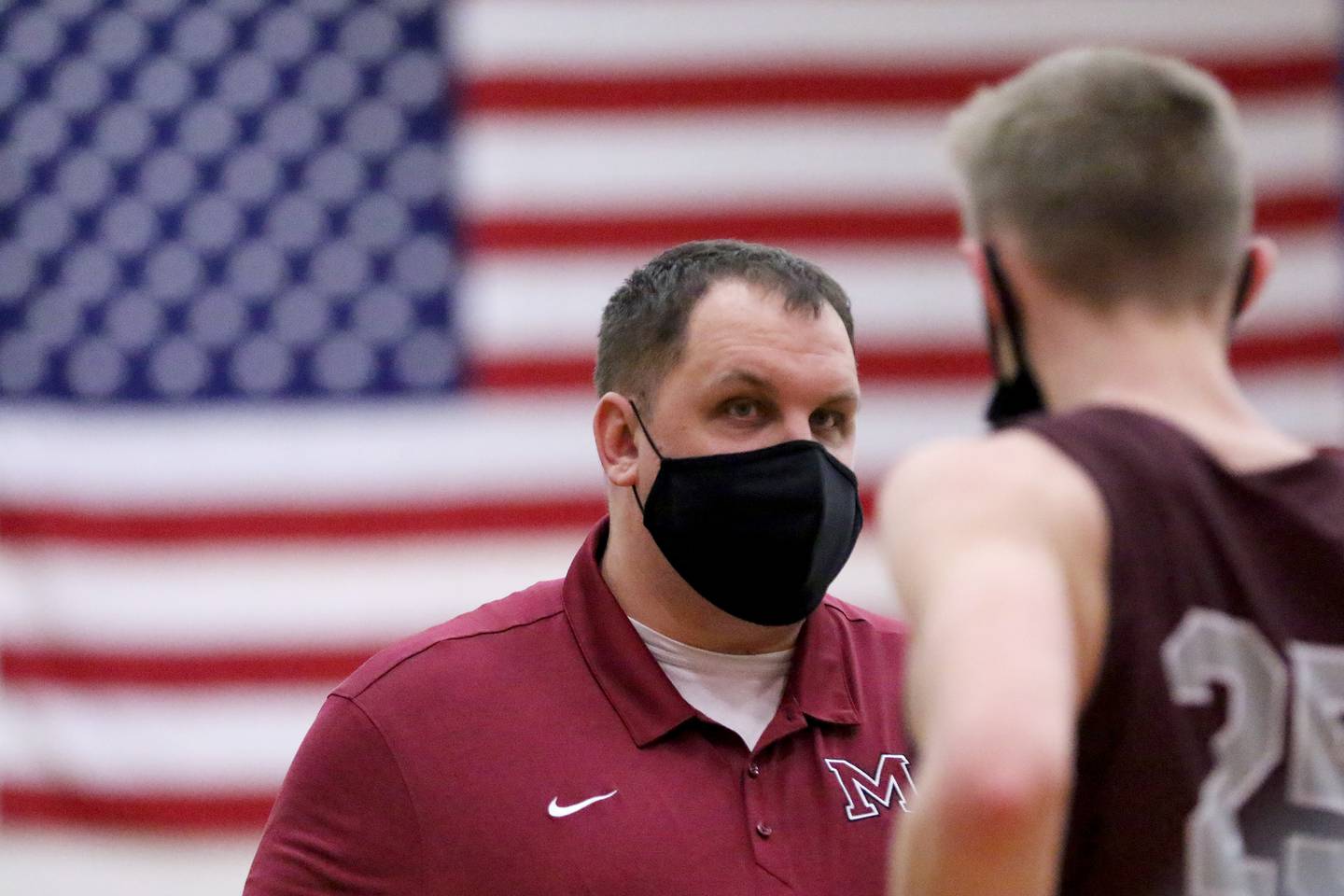 Wright had a health scare last November, but medical personnel caught his testicular cancer early and he has since received a favorable prognosis.
"I wanted the opportunity to be closer to my family," Wright said. "It reprioritized my life a little bit, when that punches you in the face.
"I'm clear of it right now. I have to have scans the next five years, but I caught it super-early, which is awesome. I'm the poster boy for early detection."
Wright came to Marengo as a math teacher and assistant coach and he and Brooke have lived in Sycamore since they were married in 2008.
Wright became boys basketball coach in 2014 and his teams were 155-68 over his eight seasons, with two Class 3A regional titles and a sectional title in 2017.
"I interviewed for a few jobs in different places and didn't get them, kind of luckily I think," Wright said. "I ended up not getting those jobs early on in my career. All of a sudden the basketball opportunity opened up and I got the chance to be head basketball coach.
"That reinvigorated my passion for teaching and coaching a little bit. Having that opportunity to do that longer was beneficial for looking at an administrative job down the road. It allowed me to learn a little bit more and see a little bit more. The opportunity to be AD in Marengo was my first step into admin, but an opportunity to still do things I wanted to do."
Wright announced after the basketball season he was stepping down as coach. Adam Webb, a former assistant at St. Edward, was hired to take over the program.
Being an integral part of Marengo athletics for so long is something Wright will miss.
"The people I worked with, the people I worked for," he said. "The community, the support I had for basketball over the years was awesome. The support I had as an athletic director for all sports. Marengo's a community that gets it. They get athletics.
"They understand what it takes to be successful. And when you struggle, they understand it's not about wins and losses, it's about how you improve. Those kinds of things I'll miss a lot."