MILWAUKEE – Quinn Priester drew light duty Thursday at American Family Field, guarding the other Pittsburgh Pirates pitchers in left field as they loosened up while the Milwaukee Brewers took batting practice.
Wearing a dry wick black Pirates' T-shirt, Priester's jacked physique could have passed for a power-hitting outfielder rather than Pittburgh's top pitching prospect.
Priester (6-foot-3, 210 pounds) did some agility and cardio work in the outfield for a few minutes, then walked in to the Pirates' dugout.
"Being able to walk into stadiums like this every day and go to work kind of gets me," Priester said. "It doesn't seem real. It's awesome to be a part of the team. It's extremely fun to be in the big leagues and be learning from some of the best in the world, and competing against the best in the world.
"It's been really, really fun. It's been a challenge for sure, but nothing I haven't been adjusting to."
The 2019 Cary-Grove graduate's heavy lifting comes when he makes his fourth major league start against the Brewers at 7:10 p.m. Friday.
Priester was the 18th pick in the 2019 MLB First-Year Player Draft, just before he was named Northwest Herald Baseball Player and Male Athlete of the Year. There will be loads of C-G people at Friday's game cheering him on.
Priester is 2-1 with a 9.19 ERA in his first three starts. The ERA notwithstanding, his starts have produced a lot of positive results, with several strong innings in a row, then an occasional bad inning.
It is all part of the learning process for Priester, who will turn 23 next month.
"The way I've seen it, two of the three starts, we're one inning away from a quality start," he said. "That's what we're working on, carrying that sharp execution into games later and being able to do different things the second and third time through, different than what we did the first time.
"The combination of those things are what I want to continue to get better at. It's a process of getting the experience and learning and getting in those bases-loaded situations. Maybe the first time they get me, but learn from that situation and get them."
Pirates manager Derek Shelton just wants Priester to trust what he is doing.
"The way I would assess it is good, with the ability to be more consistent," Shelton said. "What we've seen really good stretches of three innings, four innings, and then realizing we need to stay on the plate. That's really important.
"When he's got himself in trouble, it's not because he's given up a lot of volume of hits. It's more he's stayed off the plate. It's trusting his stuff. That's natural for all young pitchers, to realize when you're doing something, it's OK to stay with it and be consistent with it."
Priester and catcher Endy Rodriguez, who turned 23 in May, came to the Pirates together last month. They became the first battery born in 2000 to make their MLB debuts together, and the first Pirates' battery to make debuts together since 1943.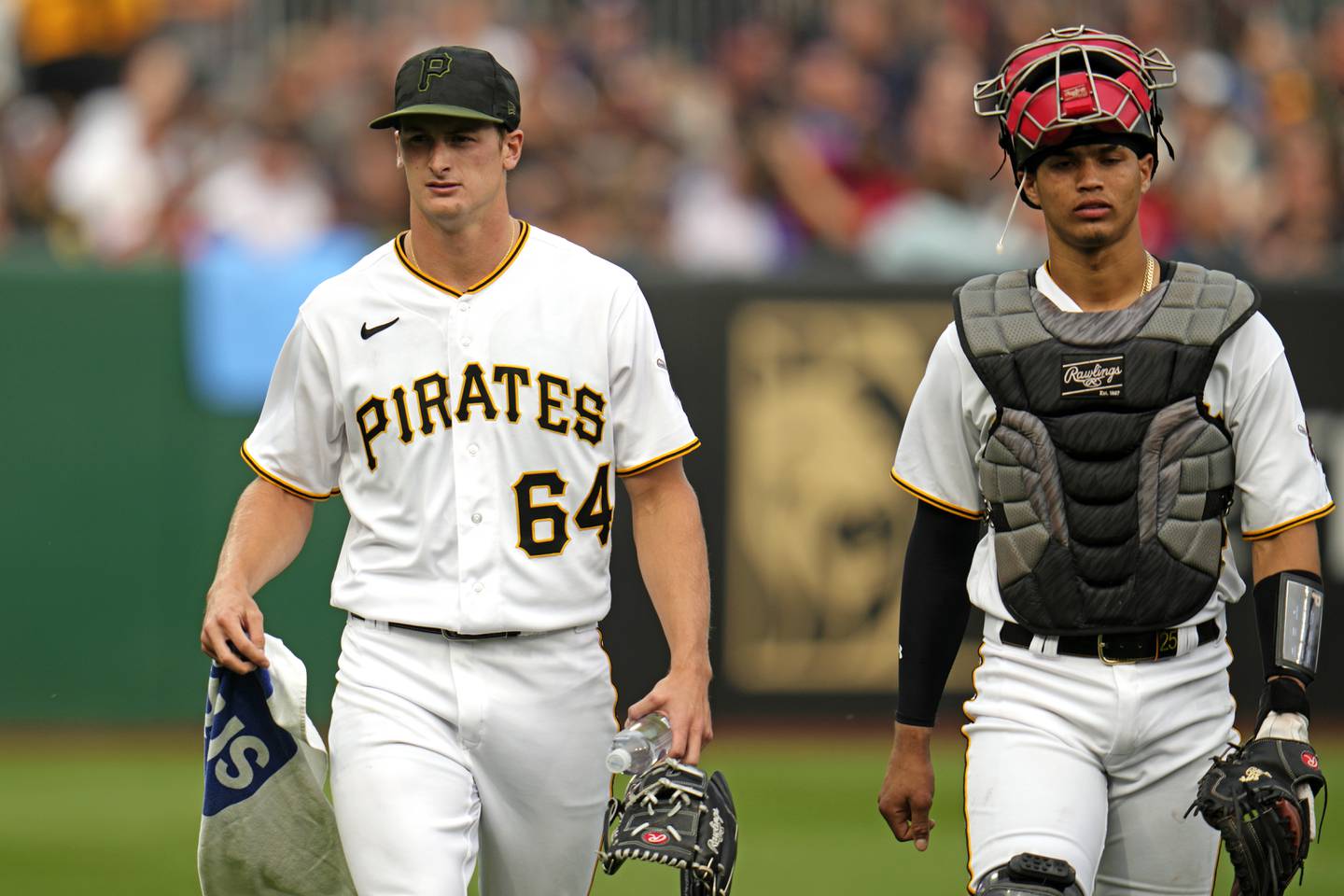 "He's getting better," Rodriguez said. "He will be good his whole career. He's a superstar. He keeps working and learning about the game every day. Learning from other guys when he's on the mound. He's just learning everything in the game."
Priester has no shortage of teammates on whom he can lean. Although 43-year-old lefty Rich Hill was traded this week to San Diego, his 13th team, Priester still has pitching coach Oscar Marin and starters Mitch Keller, Johan Oviedo and Vince Velasquez [who is on the injured list] to help him along.
Pirates closer David Bednar likes Priester's approach.
"It's impressibe seeing his mentality and how he attacks guys," Bednar said. "His stuff's really good. It's been fun to watch him grow and progress. I tell him just be in a good routine and go right after guys. Stay in attack mode."
Priester is learning quickly about pitching sequences at the big league level. He has 13 strikeouts in 15 2/3 innings and his best work has produced weak contact and ground balls. He has thrown his sinker on 35% of his pitches.
"Playing the game within the game with the hitters, and with the game itself, and understanding how to beat the lineup and what guys can do damage with what," Priester said. "It's ultimately not all that different, it's just about executing in situations with more thought behind it. Ultimately, it's the same game. The atmosphere's different. The stage is different. The game's the same. I'm trying to keep it simple that way."
Priester started his career with three perfect innings against Cleveland, but struggled after that and lost 11-0. In his next two starts, he was more consistent and received great run support to beat San Diego and Philadelphia. He whiffed seven Phillies in his last outing.
Priester enjoys the cerebral side.
"That's what makes it fun, when you're able to have success in those moments," he said. "That's what you work so hard for. That's what you play for. That keeps momentum, changes momentum."
On the days after starts, Priester takes things easy.
"The day after I start, I give myself a day to unplug and start thinking about the next game," he said. "Maybe watch one time through their last game, see what they did, just to start thinking about it. Day 2 is usually my bullpen day. During the game I'm watching the most current games of the team I'm going to face next. I was watching the Brewers when we were facing the Tigers.
"Every day it's something new. Get some new information maybe you didn't have. You have an idea about how other teams attack them."
Priester is the highest-drafted player ever from the McHenry County area, although McHenry's Bobby Miller [the 2017 Northwest Herald Player of the Year] was taken 29th in the 2020 draft by the Los Angeles Dodgers.
Miller is 6-2 with a 4.37 ERA for the Dodgers, who lead the NL West Division and appear headed for the playoffs.
Priester hopes he can put together his best start Friday and then enjoy it with family and friends from home.
"After the game, teams are pretty cool with the callups. I'll probably be able to hang out and say hi to my family and stuff like that," Priester said. "I know there's a lot of people coming. I feel bad I'll miss some. We'll do what we can.
"I always do my best to go out and try to see people who come to support me. That'll never change. Be appreciative of people. I always do what I can."