Matt Jachec was hoping to hear his name called during last year's MLB First-Year Player Draft.
When that didn't happen, the 2019 Hampshire graduate made the decision to return for his senior year at NCAA Division I Indiana State.
One year later, after his best collegiate season, Jachec is one step closer to living his lifelong dream of being a big leaguer.
The 6-foot, 200-pound right-handed pitcher was selected by the Cleveland Guardians in the 18th round with the 548th pick Tuesday in Seattle.
Jachec was one of three local players to hear their name called earlier this week.
Cary-Grove graduate Jack Wenninger was selected by the New York Mets in the sixth round with the 186th pick Monday, and fellow Trojans grad Ryan Ignoffo went to the Miami Marlins in the 20th round with the 593rd pick Tuesday.
Jachec, who just returned home from training in North Carolina, was hanging out in his bedroom when he got the big news.
"I was just watching the broadcast and got a call from my advisor saying to look out for this pick and this team, and then it happened," Jachec said. "We went through this process last year, so I didn't know what to expect. It got to the 18th round, and it wasn't looking the brightest. It was very relieving to hear my name called.
"I've wanted to play in MLB for as long as I can remember. Ever since I picked up a baseball, I loved it. I always kept up with the White Sox, they're my favorite team. It's always been a big dream of mine."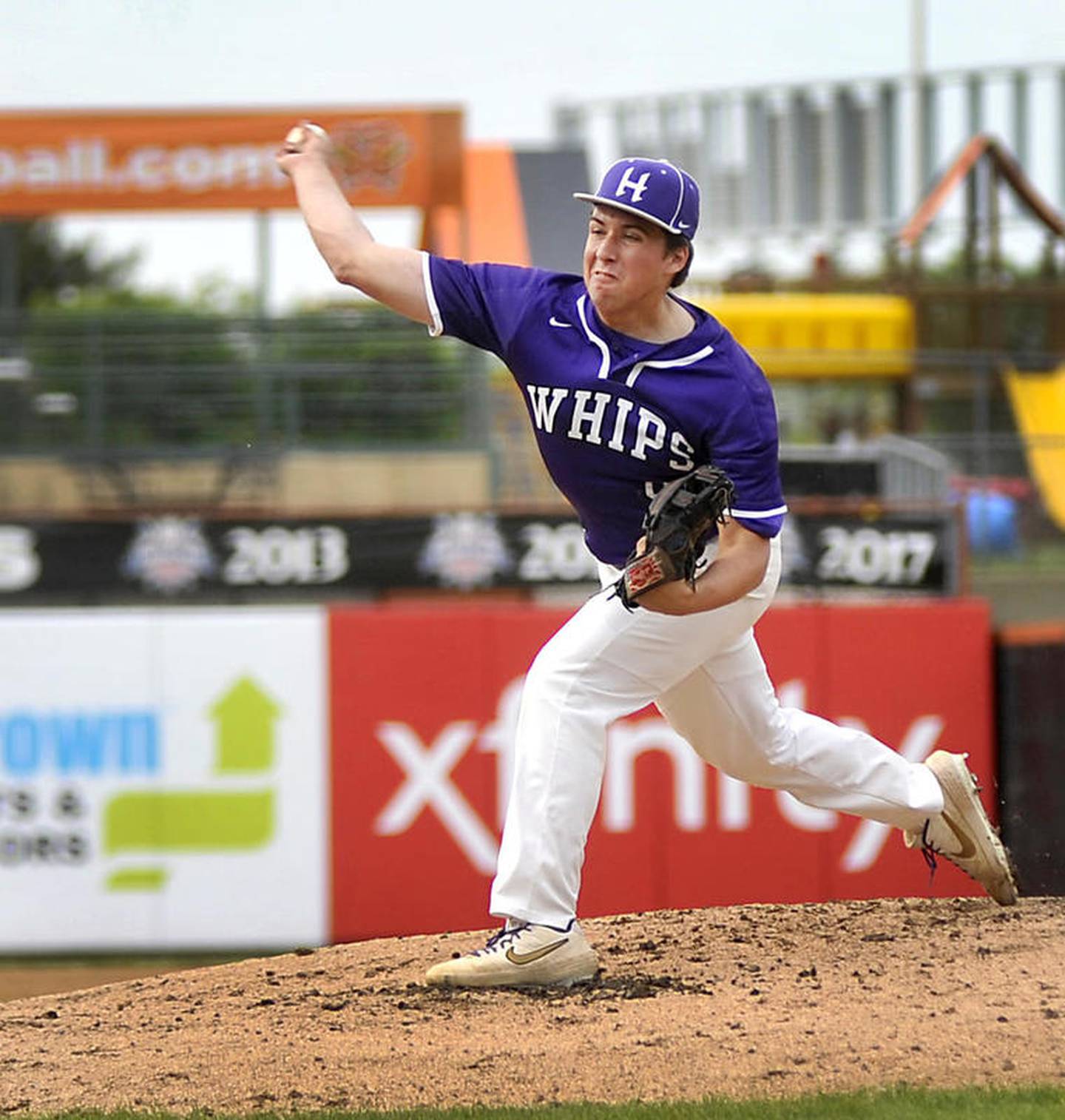 In his final year at Indiana State, Jachec earned All-Missouri Valley Conference first-team honors for the second consecutive season and helped lead the Sycamores to the NCAA Fort Worth Super Regional.
Jachec was 7-4 with a 4.05 ERA in 104 1/3 innings, striking out 104 and walking 17. In four years at Indiana State, he was 17-6 with a 3.56 ERA with 199 strikeouts and 32 walks in 220 innings.
"Everything happens for a reason, and there's a reason why I went back this year," Jachec said of returning to Indiana State for his senior season. "Making that super regional run was pretty cool and pretty special to be a part of. It was a great group of guys and a lot of deserving guys on that team."
"I want to make it all the way and play in the majors," Jachec said. "I'm really excited to play in my first pro outing. That's going to be pretty cool."

—  Matt Jachec, Hampshire graduate
Jachec said he's excited to join an organization known for its strong development of pitchers.
"I know they develop pitchers really well, that's one of the things they're known for," Jachec said. "My mom grew up in Cleveland, and both of her parents are from there, so it's pretty cool to have those ties. My parents were really emotional. They're super excited for me."
Jachec throws a four-seam fastball, sinker, changeup and slider and said he also is working on a curveball. He prides himself on his ability to miss bats, but more for his pristine control of the strike zone.
In his senior year of high school, Jachec was named to the Northwest Herald All-Area first team and led the area with 116 strikeouts and posted a 0.65 ERA. He helped the Whip-Purs to a fourth-place finish in the Class 4A State Tournament.
"I know in high school I only had 10 walks my senior year in almost 90 innings," Jachec said. "I think that was part of what I was known for back then, and I'm still doing that today."
Jachec is excited to get started.
"I want to make it all the way and play in the majors," Jachec said. "I'm really excited to play in my first pro outing. That's going to be pretty cool."