MLB umpire Dan Bellino had returned to Crystal Lake from Boston and was enjoying some well-earned time off with his family Oct. 16.
Bellino had worked the AL Divisional Series between Boston and Tampa Bay, which ended only five days earlier. Bellino was uncertain if his long season was over, although he hoped for more work.
When his cellphone rang that day, the elation throughout the Bellino home was palpable.
"You see the caller ID pop up, and you know it's not a normal phone call," Bellino said. "You know what's at stake."
The call was from Mike Hill, MLB's senior vice president for on-field operations. Bellino, 43, was going to the World Series for the first time.
"The best part was being able to go and tell my kids and my wife, with all the sacrifices that they've made for me to do this," Bellino said. "The excitement was extreme. It's euphoric. It's second only to the phone call when I was hired.
"It's incredibly humbling to get this phone call in particular. This is a career milestone, for sure, something everybody aspires to do, working the Series. The excitement for the kids, they're the perfect ages, and we couldn't imagine not bringing them to these games. It's a lifetime experience."
The NL champion Atlanta Braves take on the AL champion Houston Astros in the World Series, starting Tuesday night in Houston.
MLB umpires earn their postseason work through merit. Bellino previously had advanced to an LCS in 2019. Umpires do not work back-to-back series, so those who work wild-card rounds do not work divisional series but can work the LCS. Likewise, those who work an LCS do not work the World Series.
"Dan has worked nine postseason rounds in his young career, and we are pleased to add his first World Series to that list," Hill said. "We appreciate Dan's skills and dedication to his craft."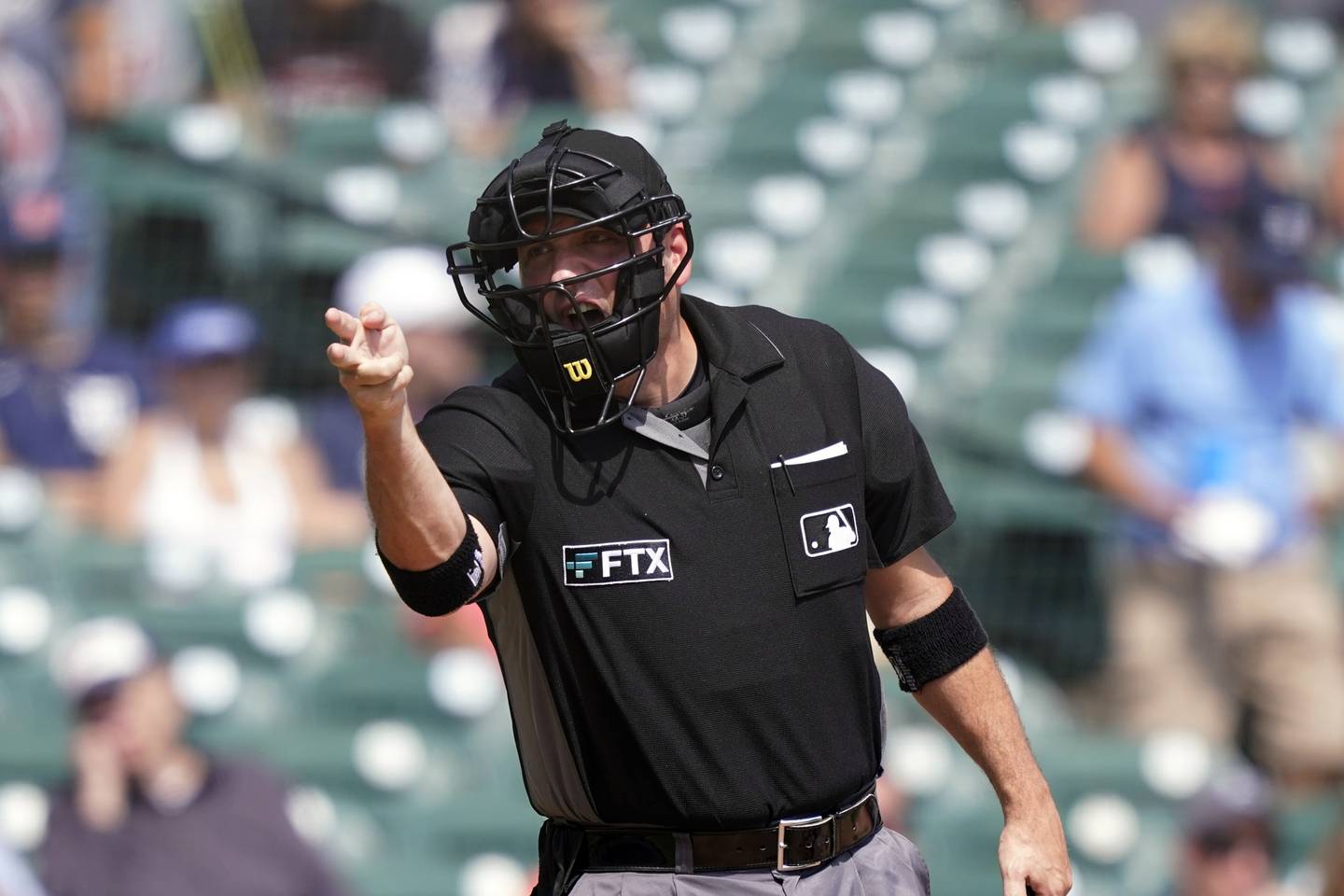 Dan and Katie Bellino flew to Houston on Monday with their children: Anthony (14), Grant (13), Andrew (11) and Lucy (8). The Bellino children will get at least a week off from school. Dan said his family would join him for at least the first five games.
Umpires' families receive tickets and sit in a section together. When it shifts to Atlanta for Games 3-5, Bellino's parents and sisters will join the group.
Bellino's story is an intriguing one in that he earned a degree at University of Illinois' College of Law and was ready to go into practice but felt an attraction to umpiring. It is a long road with incredibly tough odds, but at age 32, he was hired as a full-time MLB umpire.
MLB uses a seven-man crew for the postseason. Bellino will work second base in Game 1, first base in Game 2, serve as alternate for Game 3 and get home plate in Game 4. If there are three more games, he will work each foul line and finish at third base.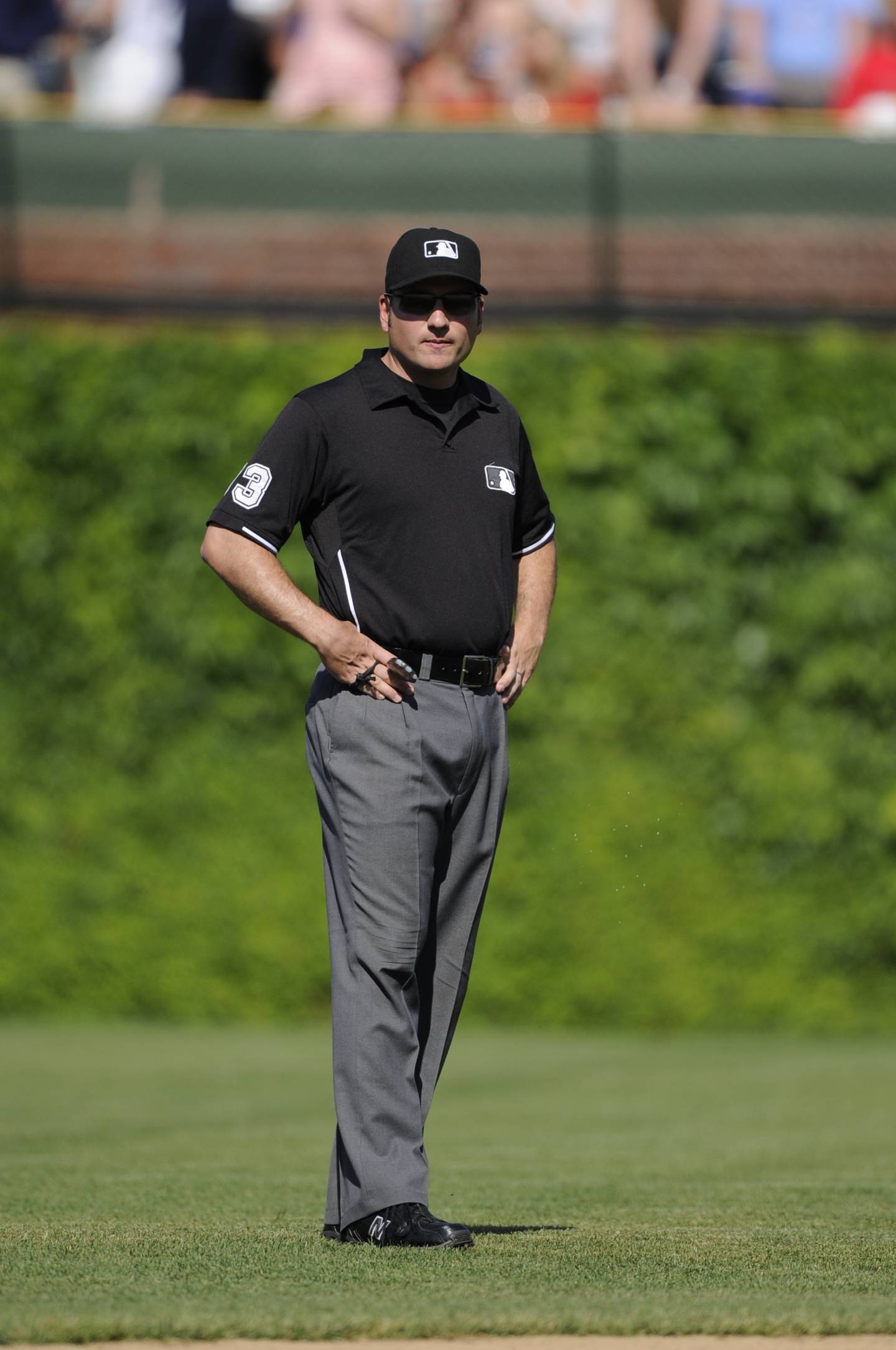 Bellino says he does not think about becoming well known among baseball fans for the wrong reason.
"At the major league level, if you go out there with that in the back of your mind, bad things are going to happen," he said. "This is an excellent crew, great guys, a lot of experience, wonderful human beings to work with. I have all the confidence that we're going to go out there and handle whatever's thrown at us."
Bellino said experience, watching for tricky plays and talking through situations with his fellow umpires are ways that he hones his game.
"It's understanding the rules and implementing them and knowing when not to inject yourself," Bellino said. "We're not the product everyone's paying to see, we're there to administer the game and make sure it's played as flawlessly as possible."
Bellino's crew for the ALDS had an odd call when Tampa Bay's Kevin Kiermaier lined a ball off the right-field wall that bounced off Red Sox right fielder Hunter Renfroe and over the fence.
The crew correctly ruled a ground-rule double, but Rays manager Kevin Cash asked for a video review. The review backed up the crew's ruling.
Getting in touch with Bellino might be difficult over the next two weeks. When they landed in Houston, Katie looked at his phone and saw 180 unanswered text messages.
"I may have to distance myself from my phone for a while," he said.