Raider Nation, as usual, had plenty to cheer about in the 2021-22 year.
Huntley's sports teams had another highly successful year, winning seven Fox Valley Conference titles and finishing as runner-up in four other sports.
Junior Jessie Ozzauto participated in two of the FVC championships, in girls basketball and track and field, and said everyone followed what was going on.
"All of us do. It's good with our Raider Nation, the fan section," Ozzauto said. "As a school, we're really aware of other teams' accomplishments, and our school does a great job keeping up on both sides, boys and girls.
"It's awesome. The culture of Huntley, we're kind of known for our athletics, but it's great to see the support between every single sport. Every sport supports each other, and we have amazing coaches with every single sport. Just the support coming with the students and parents, it's awesome to celebrate with all the sports."
For the seventh consecutive year, the Red Raiders are winners of the Northwest Herald's All-Sports Award, given each year to the FVC school with the best boys and girls sports combined. Schools are graded for their finishes in the 16 sports in which all 10 members compete.
Huntley finished with 132 points, Crystal Lake Central was second with 98, followed by Cary-Grove at 96 1/2 and Jacobs with 89.
The award was started in the 1989-90 school year. Central has won it 10 times, C-G has eight and Huntley's seven is third.
The Red Raiders won FVC titles in girls tennis, boys soccer, girls basketball, wrestling, baseball, softball and girls track and field.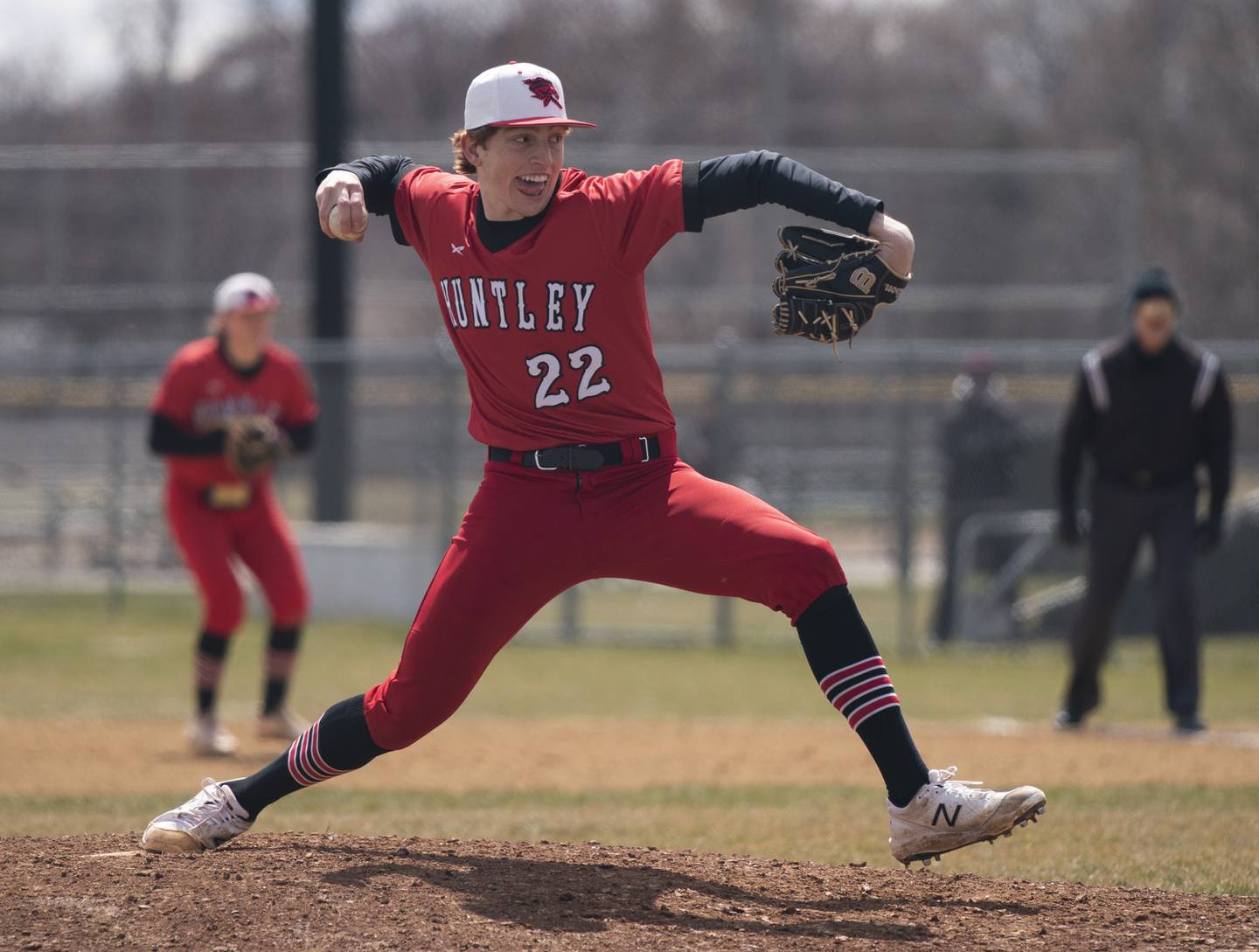 Senior Adam Guazzo, who played on the champion baseball team and FVC runner-up in boys basketball, was part of Raider Nation for the other sports.
"I stay pretty involved. I go to other events and keep up with it," Guazzo said. "It's always a good atmosphere. Every sport is expected to be good. It's always talked about, and people support everyone. Raider Nation is a key factor."
Huntley athletic director Glen Wilson appreciates the support the various programs show for each other.
"We are incredibly proud to earn this award in our conference, with the number of high quality programs and student athletes there are," Wilson said. "Our student athletes and their families, and HHS coaches have a terrific synergy and work ethic that help them make their experiences engaging and successful.
"It is invigorating and contagious for our programs to see the work another is putting in and the success they achieve. As a result, there is a positive and infectious atmosphere for our athletic program and our school."
Huntley wrestling coach B.J. Bertelsman said the coaches communicate about how their seasons are progressing with each other.
"I try to stay up to date and look for tweets and articles about the other teams' results," Bertelsman said. "I always look at it this way: We want to get max points [with wrestling] to make up for any other teams because we want to be the best."
Huntley boys and girls soccer coach Matt Lewandowski also stays in touch via social media and said some coaches work at the scorer's table for other events.
"For soccer, the boys' contribution [which included a Class 3A sectional title] is huge," Lewandowski said. "We tied our best record and made school history with our supersectional appearance.
"Raider Nation is a big factor. They are led by a few kids from each team, and it is a priority to attend events for each team."
Huntley has an enrollment advantage with 3,056 students, 500 more than Dundee-Crown (2,547), the next-largest FVC school. But the Raiders also get the most out of those numbers every year.
"Numbers don't mean anything if you don't have coaches hitting the halls to recruit," Bertelsman said. "Obviously, football, baseball, track and basketball are good, but other teams and coaches still have to put in the work. We have a good group of head coaches that know we have to share athletes to be successful, which may not be the case at other schools."
2022 Northwest Herald All-Sports Award
1. Huntley 132
2. Crystal Lake Central 98
3. Cary-Grove 96.5
4. Jacobs 89
5. Prairie Ridge 87
6. Burlington Central 85.5
7. Crystal Lake South 81
8. McHenry 78.5
9. Hampshire 72.5
10. Dundee-Crown 60
Note: The Northwest Herald's All-Sports Award is given each year to the Fox Valley Conference school with the best overall sports for boys and girls. First-place finishes are given 10 points, second place nine and so on. Girls golf and boys and girls swimming were not counted because not all 10 teams compete in those sports.
Past Winners
Here is the list of all the Northwest Herald All-Sports Award winners:
2022: Huntley
2021: Huntley
2020: Huntley
2019: Huntley
2018: Huntley
2017: Huntley
2016: Huntley
2015: Jacobs
2014: CL Central
2013: CL Central
2012: CL Central
2011: CL Central
2010: Cary-Grove
2009: Prairie Ridge
2008: Cary-Grove
2007: Cary-Grove
2006: Cary-Grove
2005: Lake Zurich
2004: Jacobs
2003: Lake Zurich
2002: Lake Zurich
2001: Cary-Grove
2000: Cary-Grove
1999: Cary-Grove
1998: Cary-Grove
1997: Crystal Lake Central
1996: Crystal Lake Central
1995: Crystal Lake Central
1994: Crystal Lake Central
1993: Crystal Lake South
1992: Crystal Lake Central
1991: Crystal Lake Central
1990: Woodstock