Richmond-Burton senior Eleni Gewalt will add two more state medals to her collection after she swam to a pair of top 12 finishes during Friday's IHSA Girls Swimming and Diving State Meet preliminaries at the FMC Natatorium in Westmont.
Gewalt advanced to Saturday's "B" finals (seventh to 12th place) in both of her individual events, taking eighth in the 100-yard breaststroke with a time of 1:03.52 and 12th in the 100 freestyle with a time of 51.92.
Gewalt was 0.12 seconds faster than Oswego co-op's Chloe Diner and Hononegah's Avery Miles to get the 12th and last qualifying spot for the finals in the 100 free.
Gewalt, an Arizona commit, will try to improve in both of her places in the finals, which start at 11 a.m. Saturday. Gewalt went to state two years ago and was fifth in the 100 breaststroke. She became the first swimmer from R-B to qualify for state in 2018 when she was a freshman.
There was no state meet last year because of the COVID-19 pandemic.
Cary-Grove's Maggie Bendell also will continue her season after she grabbed one of the 12 qualifying spots for the diving finals. The Trojans sophomore recorded the seventh-highest score Friday (312.15) and will make her final three dives Saturday with the chance of moving up.
Hersey's Allyson Blumenfeld had the top score with a 335.40.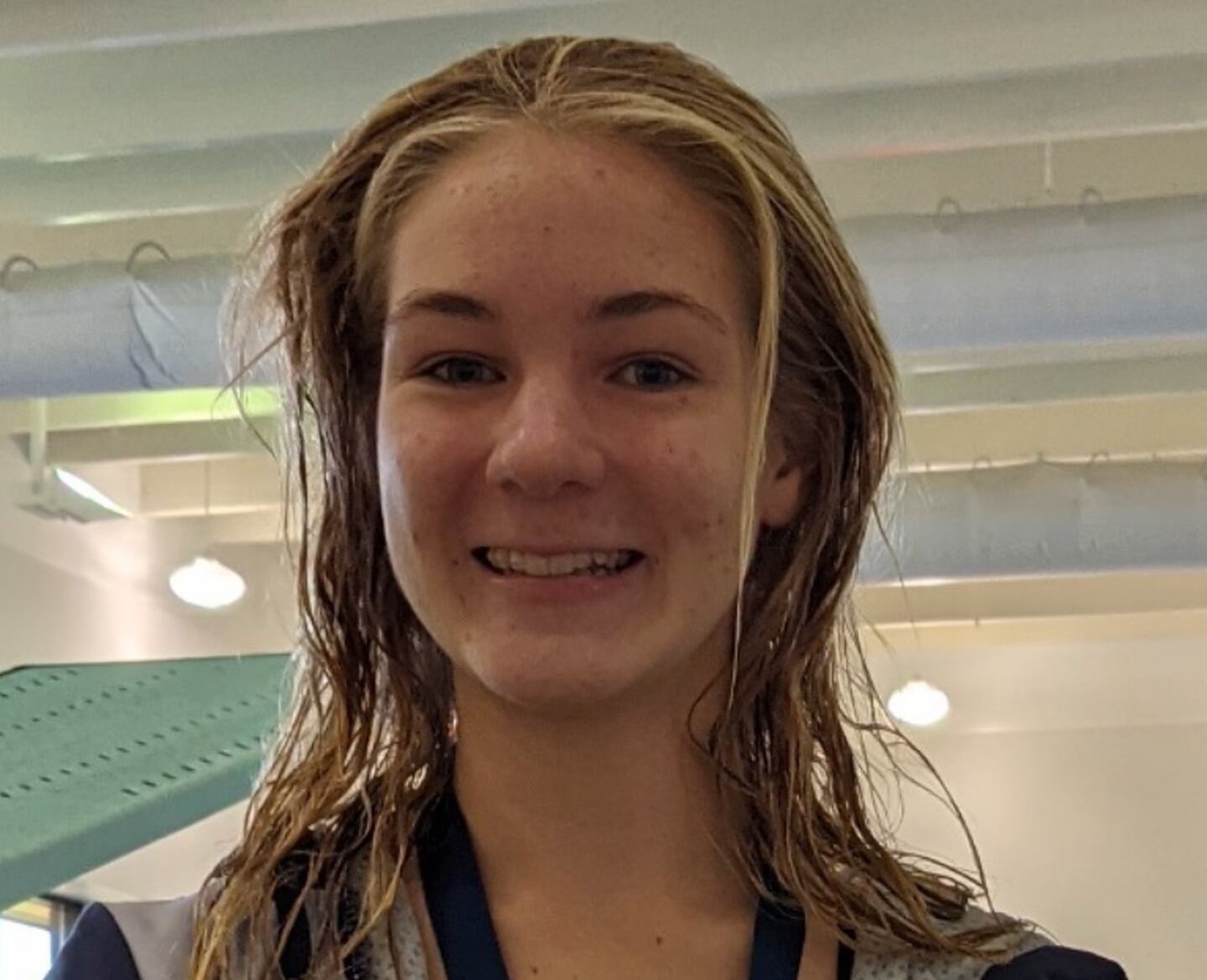 No matter what place Bendell finishes at Saturday, she will become the first from her school to earn a state medal in diving. The last C-G swimmer to win a state medal in a non-diving event was Kate Aherne in 2005, according to IHSA.org.
Huntley's Ella Young and Crystal Lake South co-op's Avery Watson were 22nd and 23rd, respectively, in the 100 butterfly.
Young, a senior, had a season-best time of 57.76 and improved on her 30th-place result in the same event as a sophomore.
Watson, a sophomore, was making her first state appearance and finished in 58 seconds.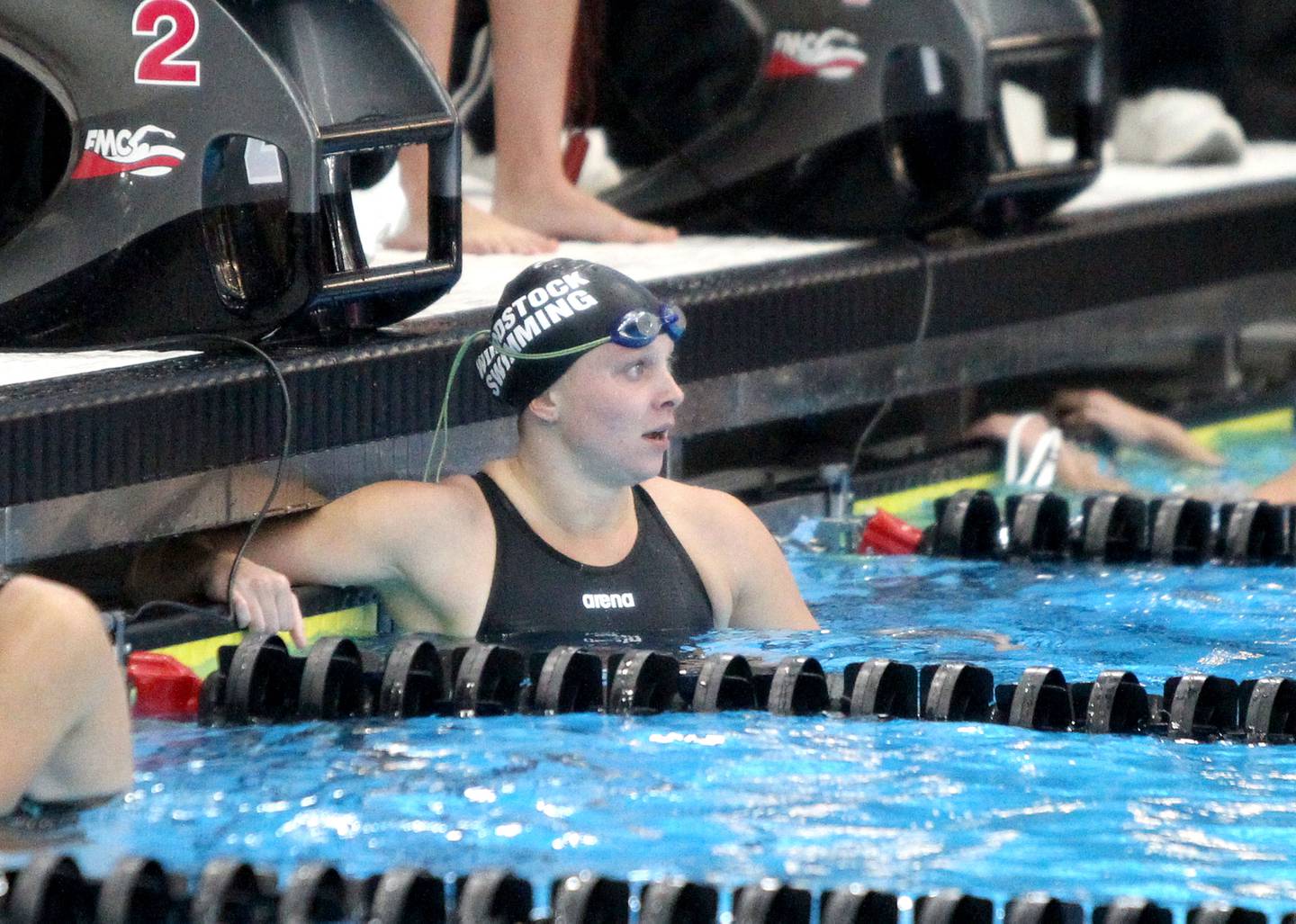 Woodstock North co-op's Haley Halsall, a senior and Indiana State commit, was 19th in the 500 free (5:09.77), and Hannah Blaksley, a senior, tied for 26th in the 50 free (24.19). Both were making their state debuts for the Thunder.
Also making her state debut, Marian Central junior Tessa Jones placed 22nd in the 100 breaststroke (1:05.73).
BOYS BOWLING
Thursday's results
Johnsburg 2,631, Woodstock 2,542: At Kingston Lanes in Woodstock, Aiden Schwichow bowled a match-high 595 series and match-high 223 game to lead the Skyhawks to the win against the Blue Streaks.
Also for Johnsburg, Sean Layton had a 512 series, Landon Banaszynski had a 507 series and Caden Comstock had a 501 series.
Woodstock was led by Zach Cynowa (575 series), Tyler Fink (536) and Jacob Stewart (525). Cynowa had games of 202 and 216.
Huntley 3,125, Grayslake North 2,661: At Bowl-Hi Lanes in Huntley, Austin Tenglin led the Raiders with a 684 series in a win over the Knights. Tenglin had games of 215, 256 and 213.
AJ DeBello added a 655 series, including a 257 and 213; Hayes Porsche had a 634 series, including a 208, 214 and 212; and Chris Welzien had a 605 series, including a 227.