After the announcement by Gov. JB Pritzker of a vaccine mandate for all school employees, some McHenry County area school officials said they hope this will be one more step toward ensuring students stay in in-person schooling this year.
All preschool through high school employees in Illinois will need to have received at least one dose of the COVID-19 vaccine by Sept. 5 or undergo testing at least weekly for the highly infectious virus, Pritzker announced Thursday morning.
The mandate also applies to higher education personnel and health care workers in hospitals, doctors' offices, urgent care and nursing homes. For those who do not get vaccinated, additional testing may be required in certain situations, such as during an outbreak, Pritzker said.
After seeing some businesses, health care facilities and the city of the Chicago mandate vaccines for their employees, Fox River Grove Elementary School District 3 Superintendent Sandy Ozimek said she had a feeling a similar rule "might be coming our way."
"[The mandate] won't have a huge impact on us because we already have such a high amount of teachers vaccinated," Ozimek said. "It adds another layer of protection, and helps to boost the confidence of parents who are sending their students to school, as well as reducing the risk of having to quarantine."
About 91% of the 400-student district staff currently is vaccinated, Ozimek told the Northwest Herald.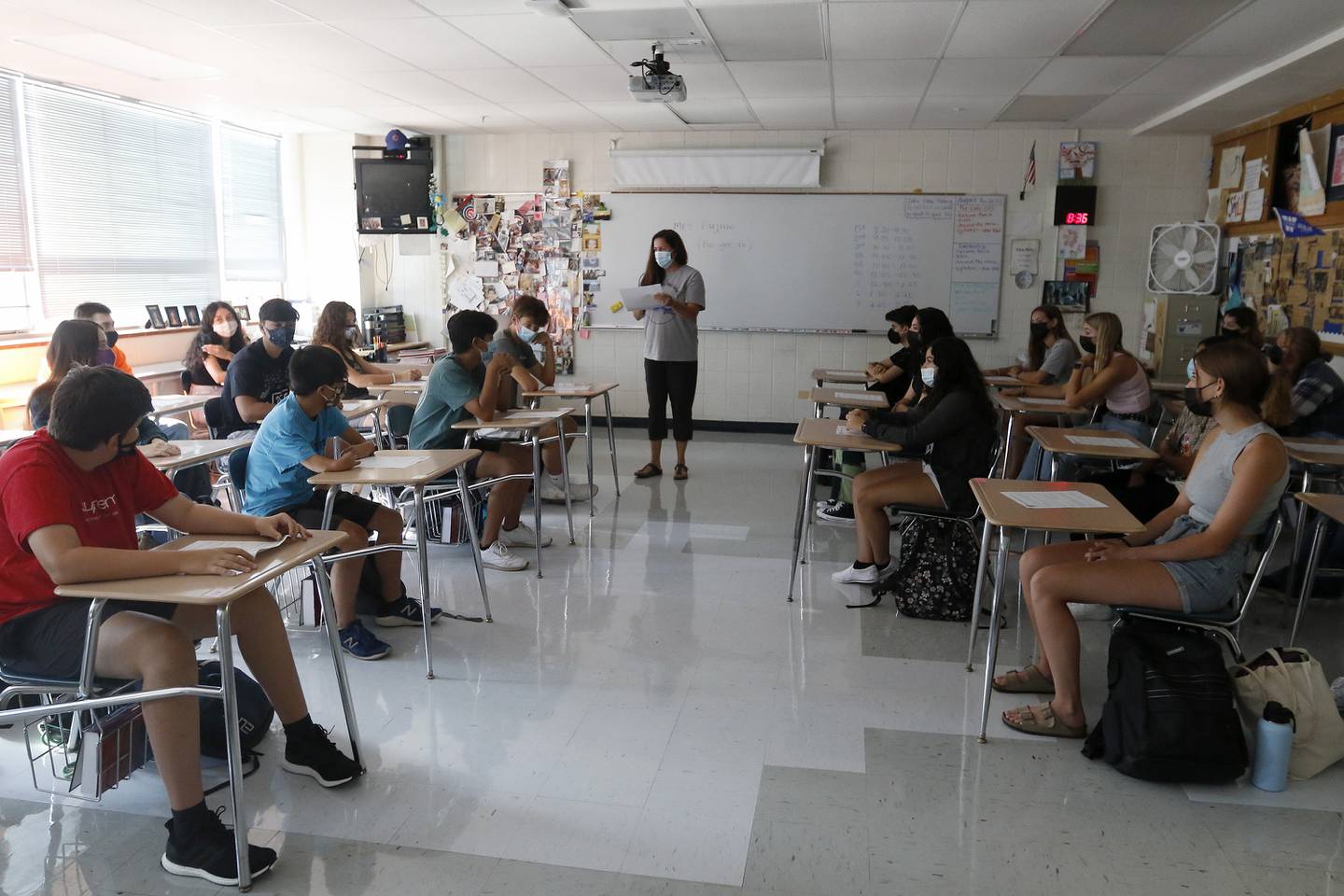 Not all schools in McHenry County have as high of a vaccination rate as Fox River Grove Elementary School District 3.
Crystal Lake Elementary School District 47 reported on its COVID-19 dashboard that its schools had anywhere from 20% to 43% of their staff vaccinated. The rates are based on the number of vaccination cards provided to the district voluntarily by staff.
Richard Bernotas Middle School reported the highest vaccination rate at 43%, while South Elementary School had the lowest at 20%.
An attempt to reach a District 47 spokeswoman Thursday was not successful.
Community High School District 155 declined to provide its vaccination rate, noting that the number it has is "not accurate as we have asked staff to voluntarily submit their vaccination card in an effort to expedite contact tracing this school year," spokesperson Shannon Podzimek said in an email. The district expects to have an accurate percentage after the new mandate kicks in.
Nancy Boro, a fourth-grade teacher and president of the Crystal Lake Elementary Teachers Association, said personally speaking, she thinks everyone needs to do what they can to put the pandemic behind them.
"I think that everybody needing to be vaccinated is a wonderful idea," she said.
But as the leader of the teachers' union, she was concerned because she knows some of her membership won't want to get vaccinated. Although Boro hasn't heard of anyone in Crystal Lake wanting to leave the profession because of vaccine requirements, it is something she's seen in online teacher groups.
However, the fact that the state is giving people the option of getting tested regularly instead of vaccinated will probably help with this, Boro said.
"That option of being able to test still keeps us safe," she said.
Devin Hester, an English teacher Cary-Grove High School who serves as the president of the District 155 Education Association, said he thinks the testing alternative will help keep teachers from leaving the profession.
"We would not want anybody to leave the profession because they're refusing to be vaccinated," Hester said.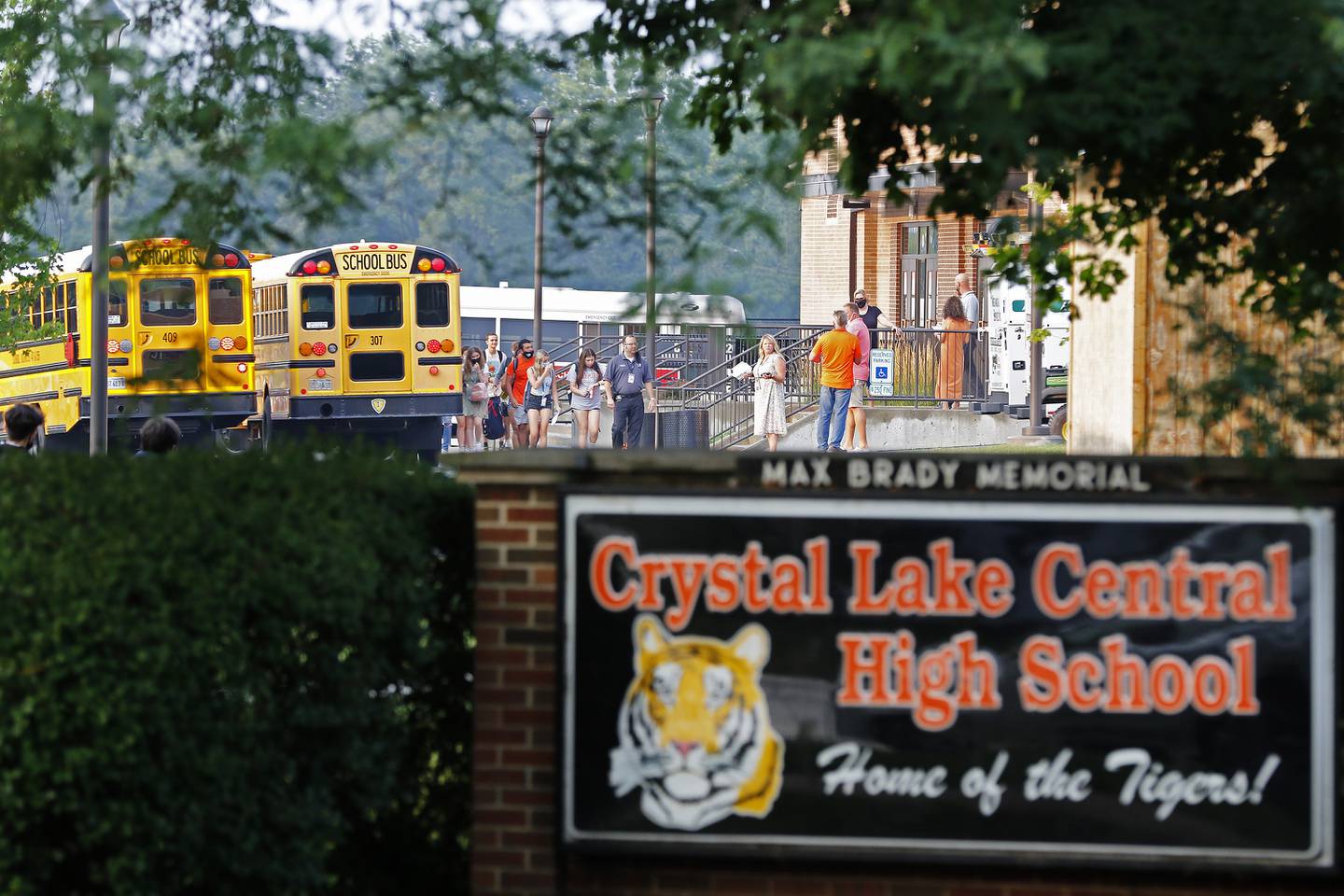 Woodstock School District 200 Superintendent Mike Moan is not sure exactly how many of the district's employees are vaccinated but said the vast majority have gotten shots. The district will work out a plan for testing the workers who still refuse the vaccine, and Moan does not expect the new rules to be a major issue in District 200.
"We support the decision. We've always encouraged vaccination and hosted a clinic for more than 2,000 educators throughout McHenry County last spring," Moan said through spokesman Kevin Lyons. "Throughout this pandemic, our primary concern, and our [school board's] concern, has always been for the health and safety of our students, families, staff members and the overall community."
Some District 3 staff last year had to quarantine, which may have helped them see the benefits in getting the vaccine, Ozimek said. As for the relatively small number of people who haven't gotten vaccinated, she said it is hard to say whether it will be a challenge to get them inoculated.
"We might have some that would just have to test once a week and others that may change their mind," she said.
Angela Bove, president of the McHenry School Transportation Association Local 23 union that serves the McHenry Elementary School District 15 system, said she is aware of multiple workers, including bus drivers, in her union who are unvaccinated. She said she thinks some of them will choose weekly testing instead of shots.
"I do understand why [Pritzker] is mandating it," said Bove, who is vaccinated. "I wake up every day hoping that it will turn out to be a good day and nobody will end up getting sick, whether it be the kids or any of the staff involved. The drivers, as long as they have the option of the testing, then it gives them still a choice. To me, that's the only fair way of doing it."
She is unsure whether the mandate will lead some of her colleagues to look for other jobs where shots or tests are not necessary.
If some do leave, Bove said, it would put the district transportation staff in an even more difficult situation, as the union is already down about a dozen drivers from pre-pandemic levels.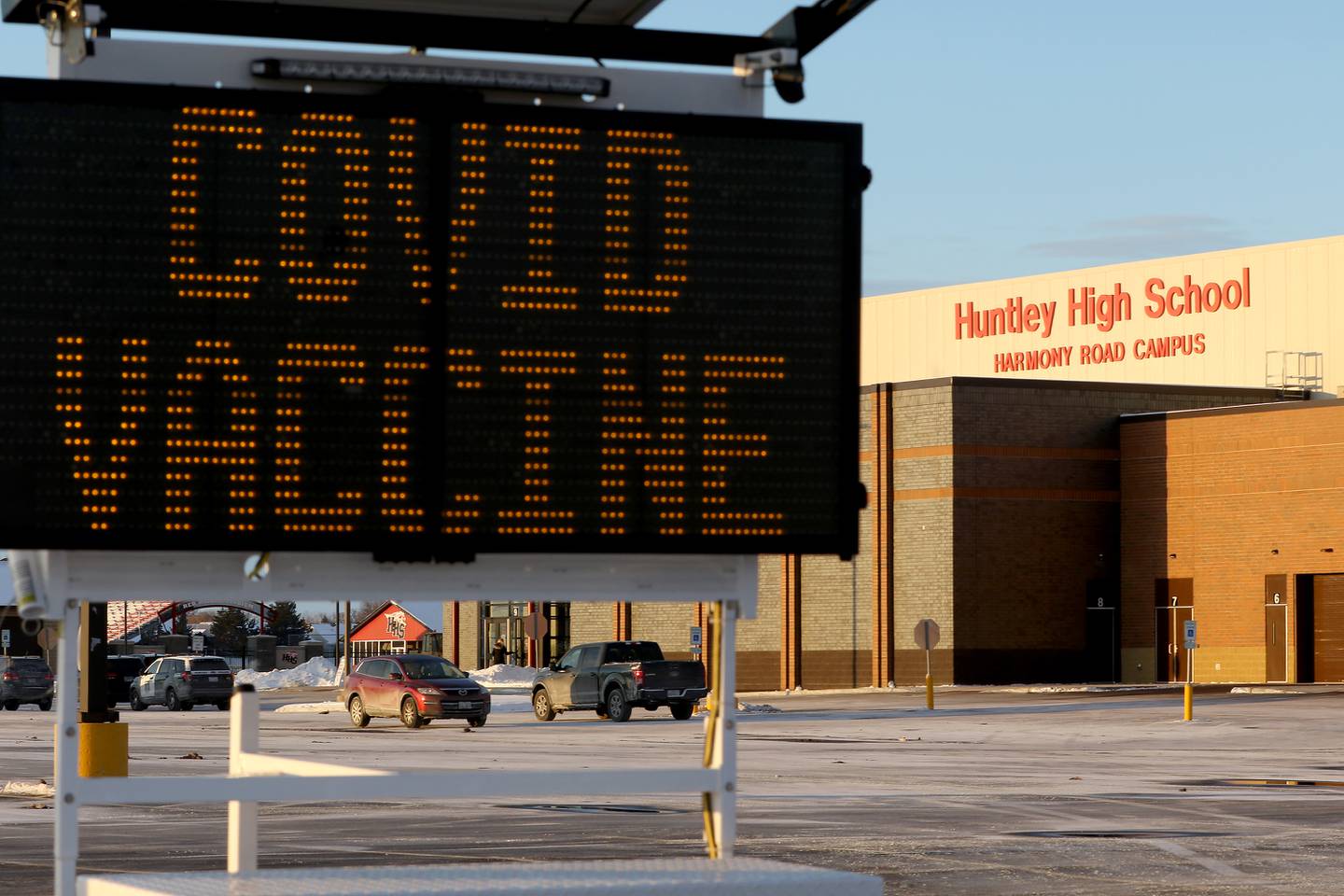 Bus routes this fall are already so full that three students to a seat is standard on most buses, leading to more students needing to quarantines when a COVID-19 positive case occurs.
McHenry High School District 156 officials are still interpreting Pritzker's order and plan to detail how they will handle the mandate for staff to be vaccinated or frequently tested for the virus soon.
"At this point, we're still analyzing the new requirements from the state as it pertains to vaccination of the staff," District 156 Superintendent Ryan McTague said through spokeswoman Amy Maciaszek.
Crystal Lake-based Community High School District 155 officials also are aware of the mandate and "waiting for further guidance from the state, county and our legal team," Podzimek said in an email.
During the mass vaccine clinics for teachers at the beginning of the vaccine rollout, Hester said a large percentage of District 155 staff got vaccinated.
"We know that getting vaccinated at a mass level is going to be the surest way to make sure that our doors stay open all year," he said. "We do not want our students to return to remote education, and so vaccination seemed like the most direct route to that."
As a whole, Boro said she has not felt concerned about being in person, as mitigation measures have been put in place by District 47 to stem the spread of COVID-19.
"We're all wearing our masks, we're hand-washing, we have an air purifier in every classroom," Boro said. "Everything is in place to be as safe as we can be."