I rarely finish a meal. I'm the type of person who walks away with leftovers after dining out. But the burger at Rock N Grill in Lake in the Hills – I devoured it.
Chad and Tammy Hufford opened Rock N Grill, a 1980s rock-themed restaurant, in 2017, serving up Angus beef hamburgers, hot dogs and chicken sandwiches. Located at 335 N. Randall Road, the restaurant sits north of Algonquin Road in a row of storefronts between a Cold Stone Creamery and nail salon.
The space isn't huge, but comfortably holds a mix of tables and booths. The light fixtures are made from drum kits, and cymbals hang from the ceiling. There's a board on the wall where local bands can advertise.
The non-food highlight of our visit – at least for our smallest diner – was the Pac-Man arcade game in the corner. For families, the restaurant also has multiple high chairs and a booster available.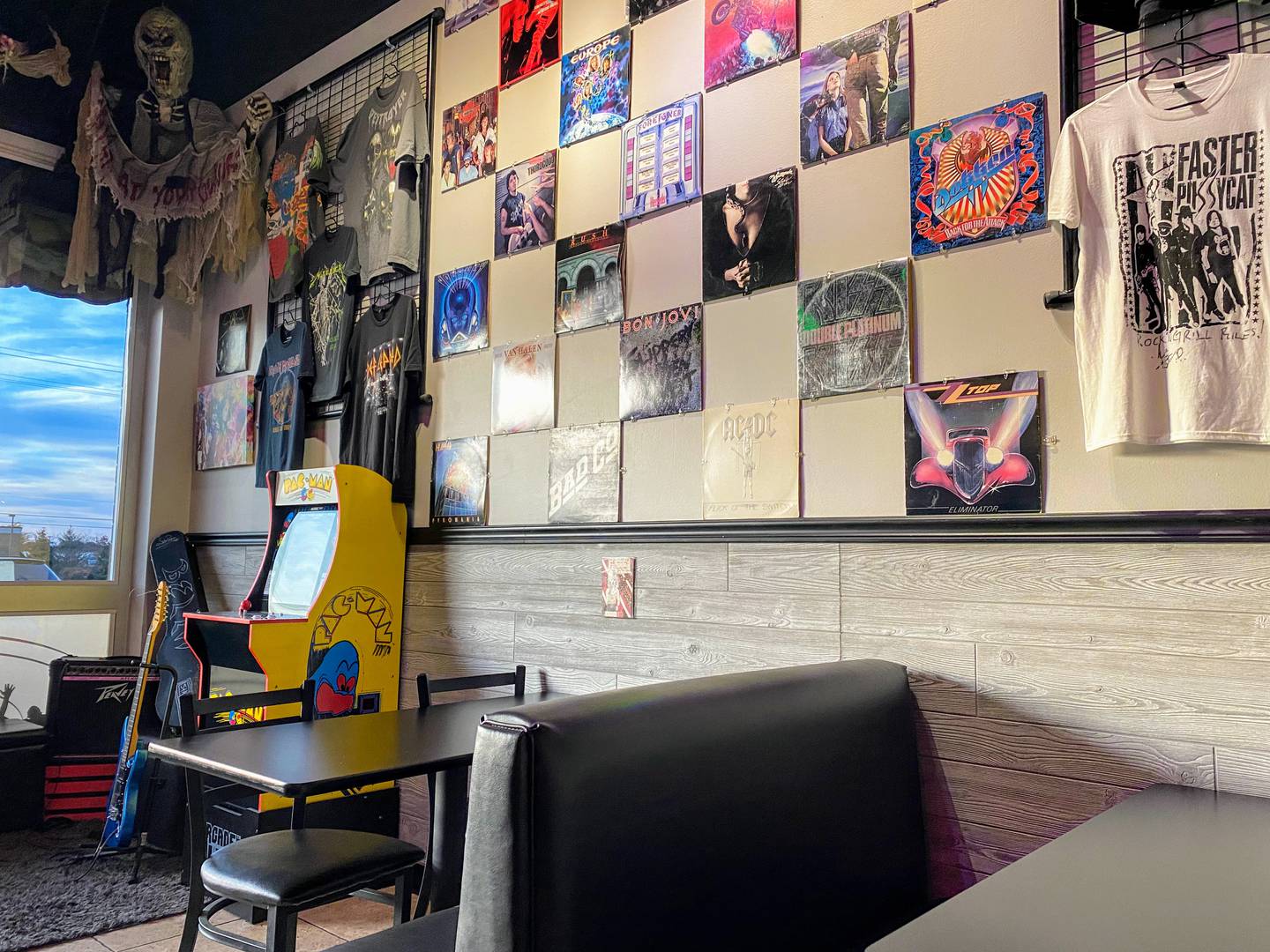 The menu's sides section holds some unexpected entrees. One of those was homemade macaroni and cheese with pulled pork ($6.50) – also available without the pork (regular size at $3.25 and $5) – which was the choice of the diner accompanying me. He also ordered a side of fries.
The dish was hearty, definitely entree worthy and very good, my fellow diner said. The pasta and cheese were well prepared.
A star, though, was the barbecue sauce. Rock N Grill has two on its menu: an in-house homemade creamy smoked barbecue sauce and Veterans Q original barbecue sauce.
The sauce on the mac and cheese – and many of the burgers – was Veterans Q, the creation of Steve Lulofs of Huntley, an eight-year Army veteran who served in Iraq from 2004 to 2005.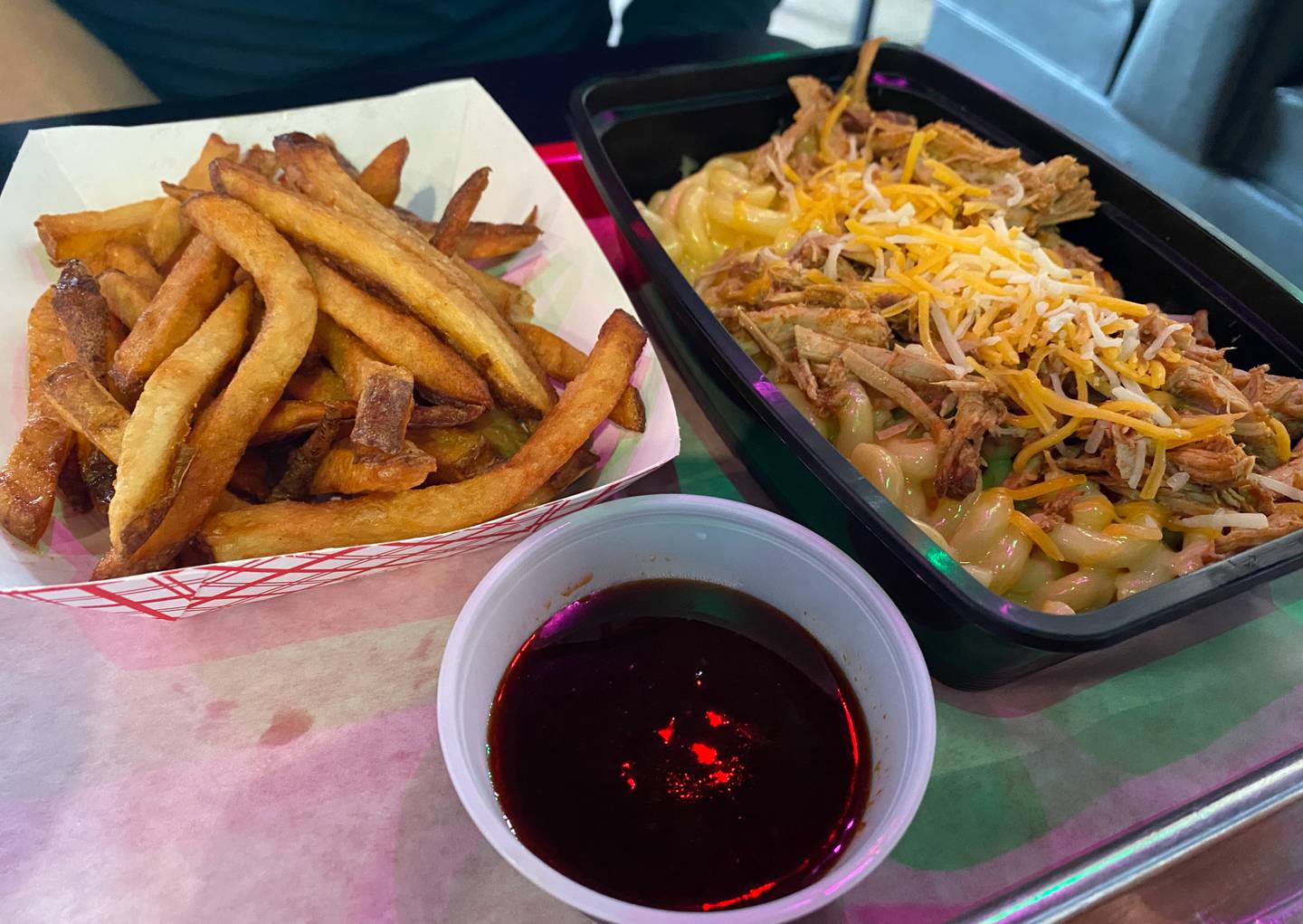 The Veterans Q sauce adorned my Rock N Gnarly Cheeseburger ($10), which came with smoked bacon, American cheese, lettuce and tomato.
It was wonderful. Besides the barbecue sauce, which I also thought was amazing, the smoked bacon provided delectable crunch.
The barbecue sauce also makes an appearance on the Encore Burger ($8.50), which comes with cheddar cheese, double-smoked bacon and onion rings, and the Amplify Burger ($9.75), which is loaded with cheddar cheese, pulled pork and bacon. The barbecue pulled pork dog ($5.65) also comes with the sauce – and features homemade cheese sauce, pulled pork and shredded cheese on an Angus hot dog.
On my next visit, I'd certainly like to give the other sauce a go. The restaurant says it's great with their onion rings, and it's also included on the Headbangers Cheeseburger ($12.75), which comes with two 1/3-pound patties, double cheese, smoked bacon, lettuce, tomato and onions.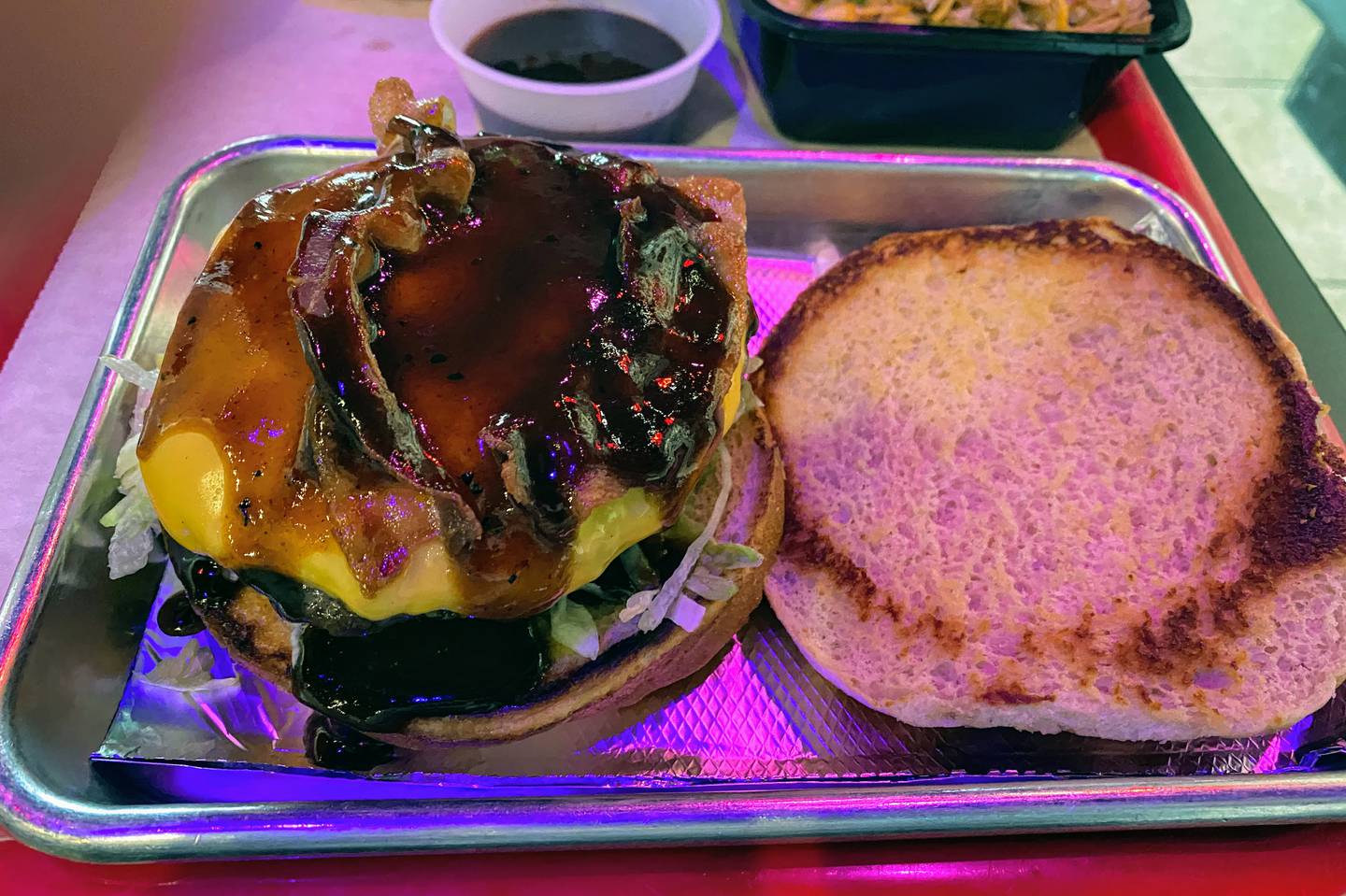 I ordered the chili ($4) as a side, which was a hearty serving. This I did take home after polishing off the entire burger. It was very flavorful, an ideal choice for a fall day.
Other sides available included fries ($2.75 for regular and $5.25 for large), which could be loaded with cheese ($5.25), chili ($5.75) or a combination of cheese, ranch dressing and bacon ($5.75), plus onion rings ($5). The menu also offers some meal combos to pair your entree with a side and drink.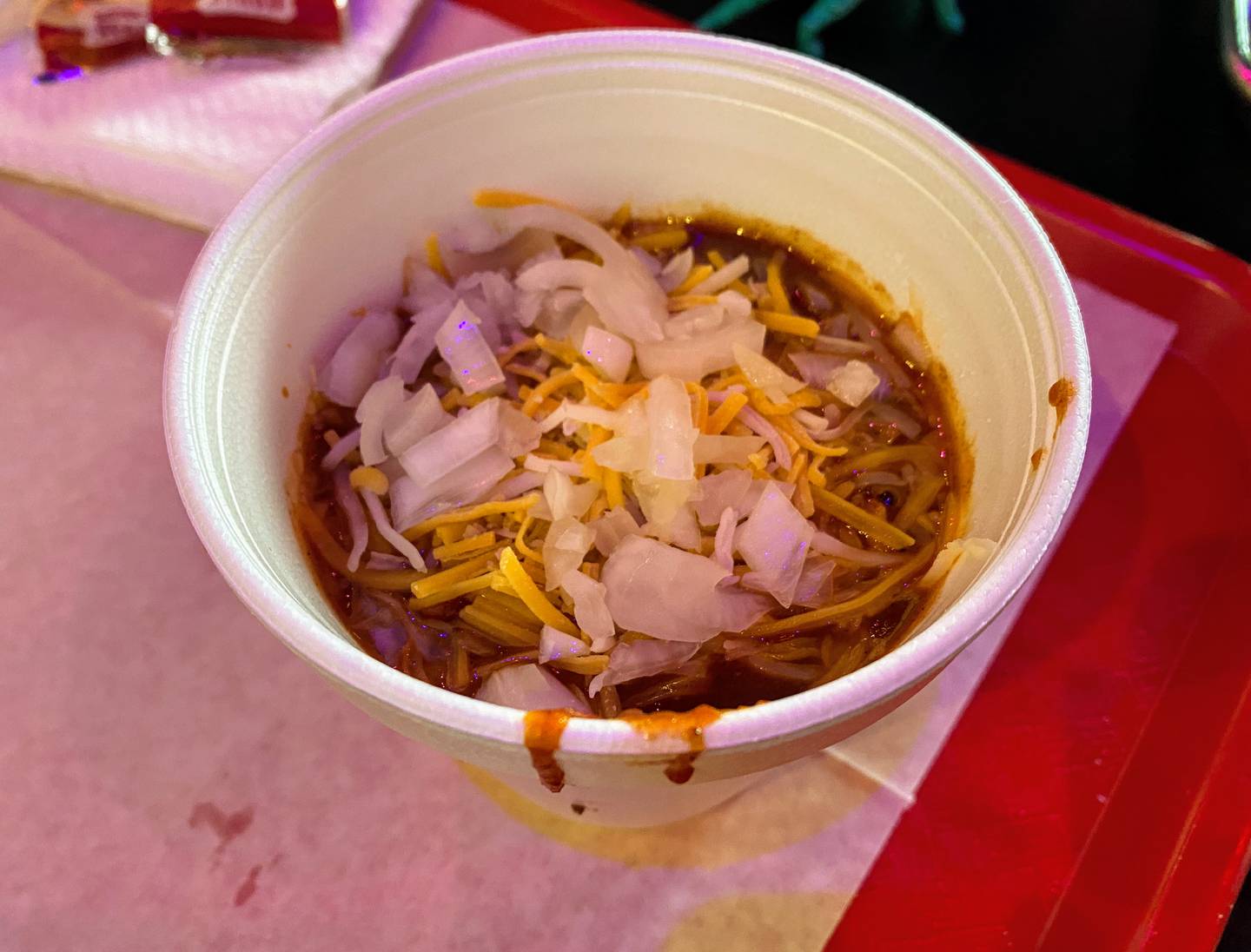 Our smallest diner ordered the grilled cheese ($5.50), which he gobbled up.
The kids menu, which is for children age 10 or younger, also features mac and cheese, hot dog and breaded chicken strips (each $5.50).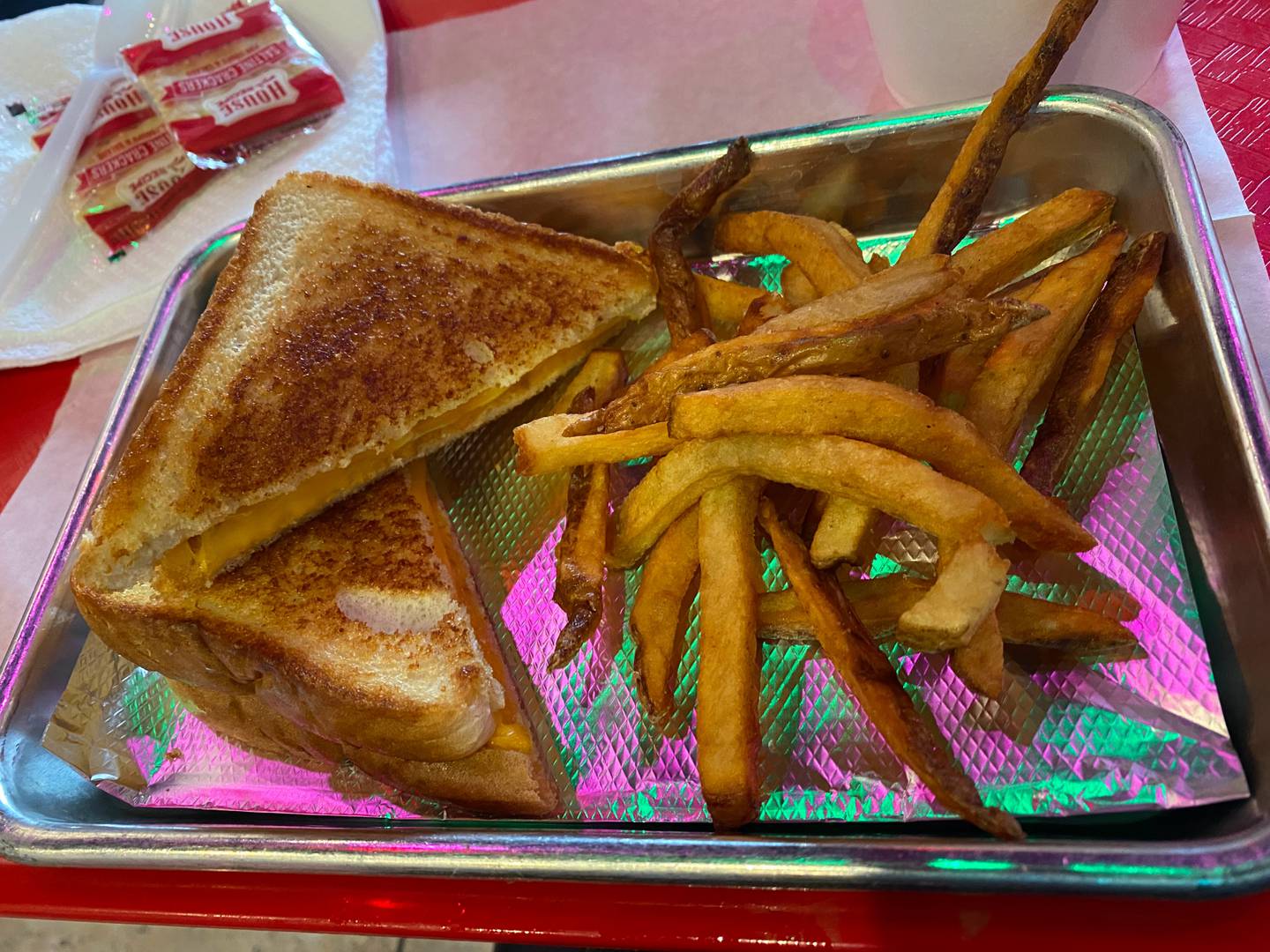 Rock N Grill, a good choice for lunch or dinner, is definitely worth another visit, and we sincerely hope to see them grow.
• The Mystery Diner is an employee at the Northwest Herald. The diner's identity is not revealed to the restaurant staff before or during the meal. If the Mystery Diner cannot recommend the establishment, we will not publish a story.
IF YOU GO
WHAT: Rock N Grill
WHERE: 335 N. Randall Road, Lake in the Hills
PHONE: 224-333-0001
INFORMATION: rockngrill.rocks