Director Sean Hargadon describes "The Moors" as "a fun-house mirror reflecting the characters within the Brontë sisters' novels." Actor R. Scott Purdy describes it as "a blend of 'The Addams Family' and 'The Far Side.'" I must agree, and so I also describe playwright Jen Silverman's "The Moors" as a very dark comedy, an homage to the Brontës – something Mel Brooks would have delighted in had he thought of it first.
Silverman's writing captures lines that alternate between humor and horror; her characters are well defined and gothically intriguing. She has crafted a play that presents loneliness, love and desperation. As director, Hargadon adeptly and inventively brings to life characters clearly contending with fear, desire and isolation.
I asked Hargadon what attracted him to "The Moors." In recent years, he has focused on plays by and about women; in 2022, he directed another Silverman play titled "The Roommate" for iambe theatre. Hargadon said he was intrigued by this show's illumination of the Brontë women and their novels, but more specifically by society's expectations for a woman to be seen or not seen – and how it relates to current times.
As for the plot, it's 19 century England. A governess has arrived in a remote corner of the stark Yorkshire moors to find a household of mysterious women and a mastiff – oh, let's face it, oddballs. The governess has been lured there by Branwell, the Brontë sisters' brother, through poetic and semi-romantic correspondence, but yet he's nowhere to be seen. The house is creaky and creepy, the moors are savage and beautiful, and nothing is as it seems. You don't have to be a fan of the Brontës to be engaged in this production. Secrets unfold, some predictively, some surprisingly, and scenes alternate between life with the sisters in their isolation, and out on the moors with their mastiff and a moorhen.
The ensemble of six is extremely well cast, highly credible and very relatable in their complex personalities. Julie Partyka of Park Ridge is a layered actress, making for a remarkable Agatha, mistress of the house and older Brontë sister. She's stern, domineering, forbidding, cold, deeply unhappy, and yet Partyka makes her alluring in her portrayal of Agatha.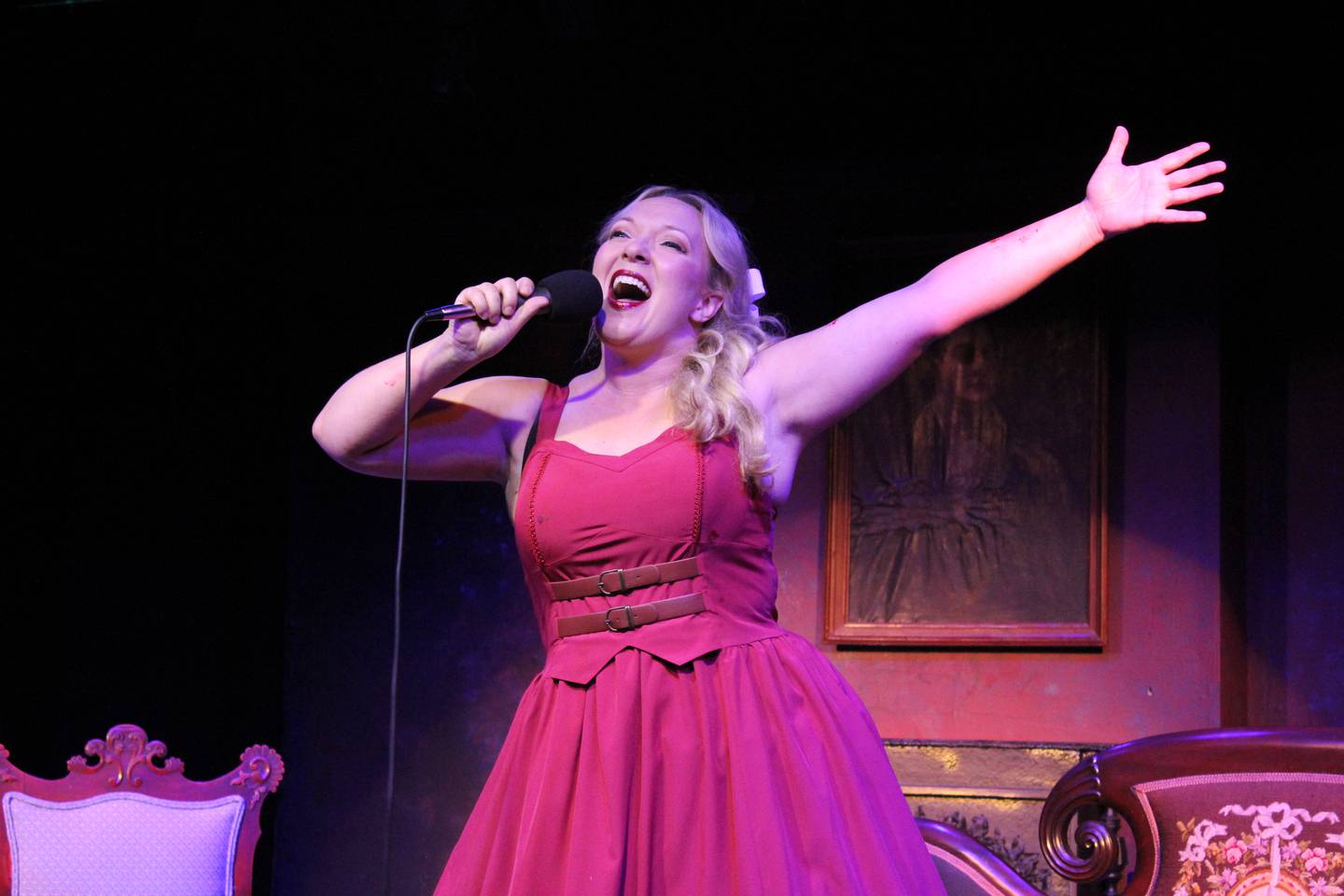 Heidi Swarthout of Batavia is Huldey; she portrays this sister with a great range – from giddy to childlike, an attention seeker who wants acceptance, but who's also unhappy and obsessed with writing in her diary. (Monday: I am unhappy. Tuesday: It is bleak here and I am unhappy. Wednesday: It is foggy … my digestion was disagreeable and I am very unhappy. Well, you get the picture.) Swarthout also happens to be a dynamic singer as witnessed in the final scene; she even breaks the fourth wall and fan club acknowledges the audience. Partyka and Swarthout have a definite, evident conflict between sisters.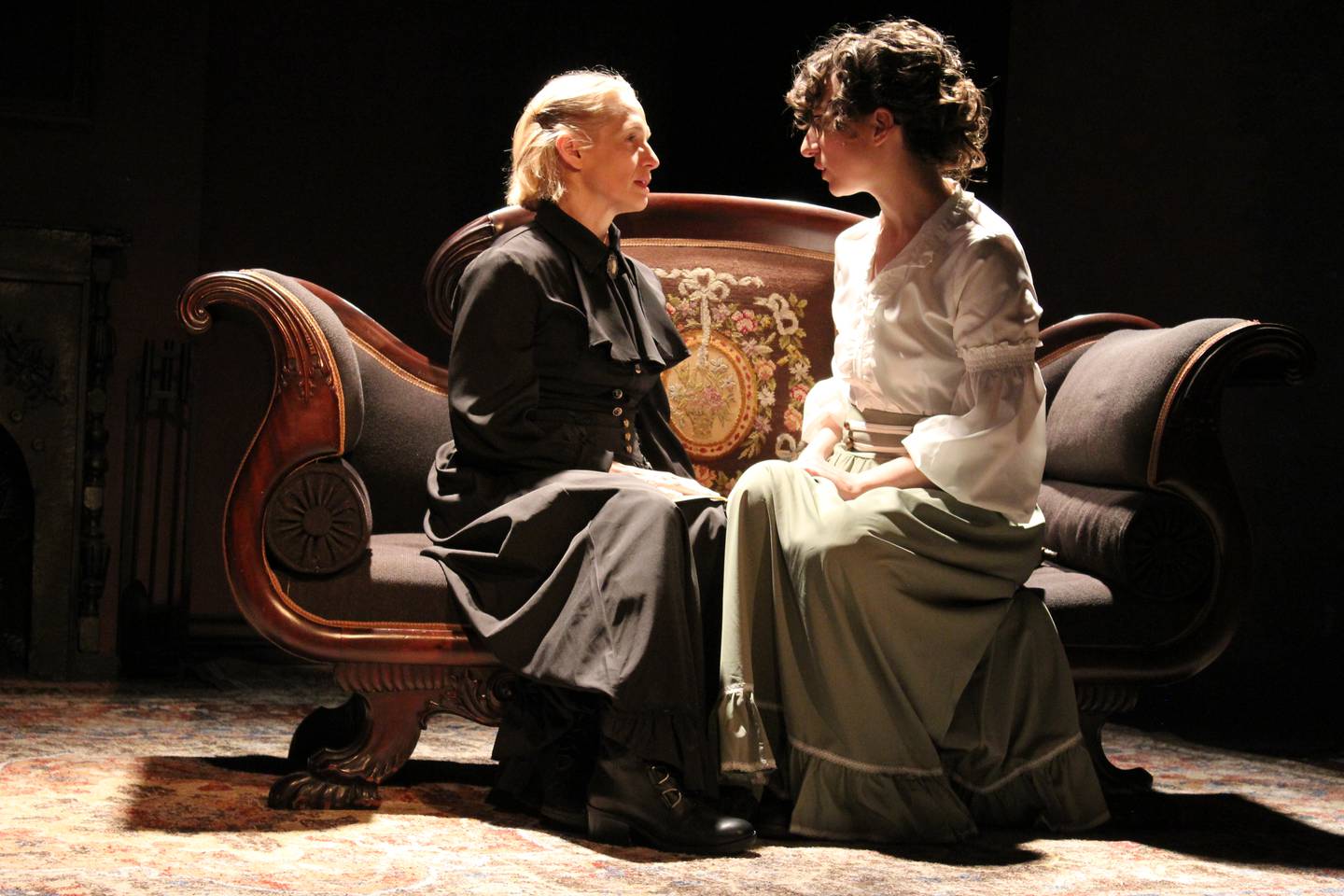 Amelia Kloskowski's governess Emilie is looking for love, and is an independent character who shows a surprising transformation. As evidenced by her delivery in the final scene of an intriguing dialogue with the maid that shows how little things really change, she is a subtle actress. Kloskowski of Addison also shows her singing capabilities with a sweet and haunting lullaby.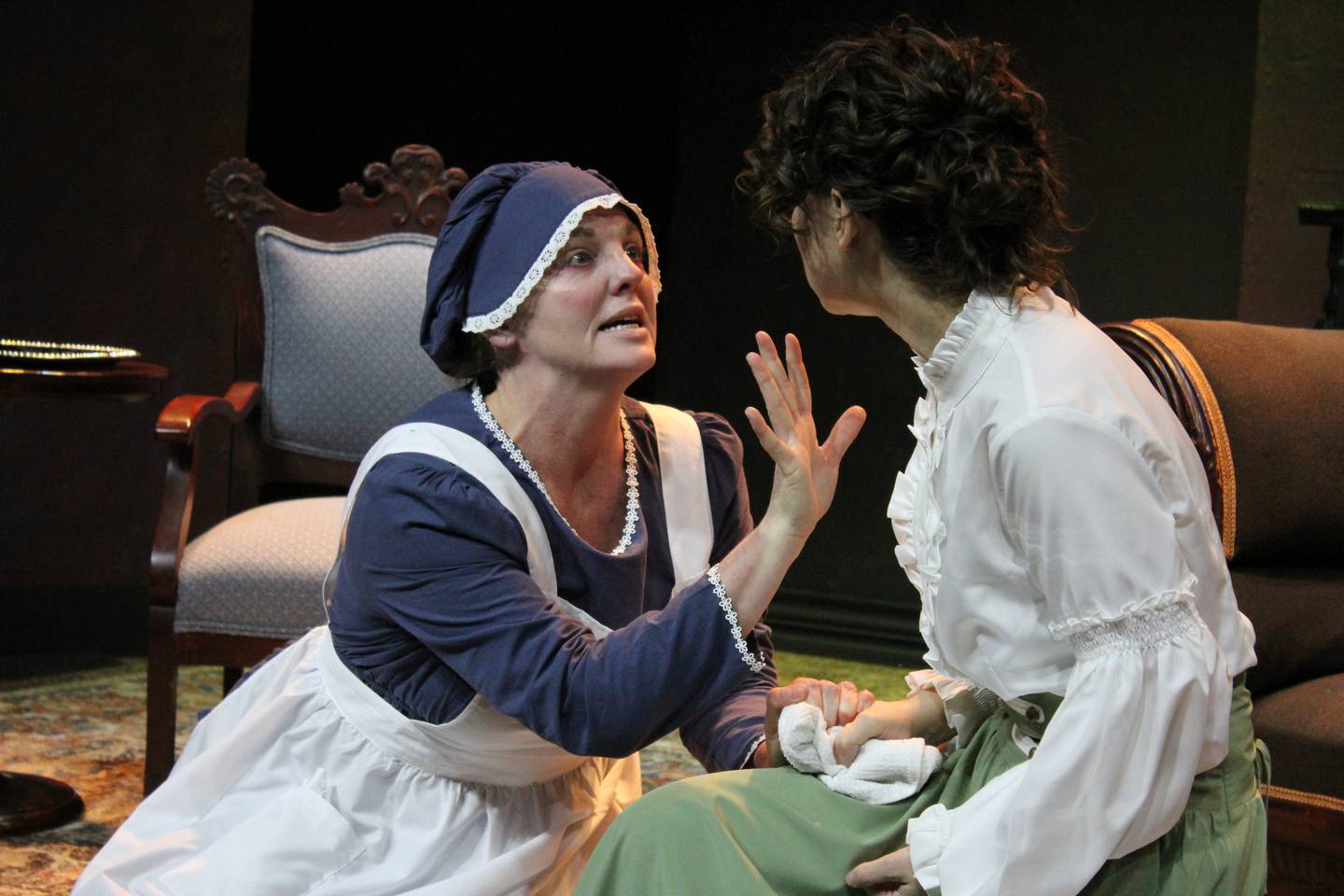 Jennifer Reeves Wilson of Batavia is Marjory/Mallory, the scullery/parlor maid. Watch the switching of her caps to know which character she is. With deadpan sarcasm and with her inconsistent identity, Reeves Wilson provides much of the comic relief, as well as being the catalyst for the ultimate plot twist.
The subplot of a budding romance between the biologically incompatible talking mastiff and moorhen is delightfully portrayed by R. Scott Purdy of Elgin (the mastiff) and Doreen Dawson of Wheaton (moorhen). Their chemistry is such that you really never want them to be off stage for long. Purdy delivers dramatic, lyrical soliloquies about happiness, depression and God; he has a magnificently powerful, expressive face. Even when silently sitting in the sisters' house, his sadness and disbelief are reflected.
Dawson brilliantly plays the moorhen, a queasy flyer; she's less intelligent, has a terrible memory and is very hesitant about the mastiff's intentions. She, too, is a master of the facial expression, and is quite adorable.
This ensemble more than delivers. And they get to do it all on a gorgeous Victorian set designed by Gary Puckett, in attractive era-appropriate costumes by Tiffany Jasinski, cleverly lit by Tim Curtis.
Stage Manager Aaron Hoge keeps the well-paced production running smoothly; there is also some adept fight and intimacy direction by Claire Yearman. Quite the creative team.
The Riverfront Playhouse is a perfect venue for "The Moors," warmly welcoming, intimate and comfortable. It's been in business for 45 years (how did I not know this?) with 293 productions in its history. The playhouse is literally right around the corner from the Paramount Theatre.
At Riverfront, you'll be treated to a standard of professionalism, and I am enamored of their parting words: "If you laugh, you leave a little happier. If you cry, you leave a little sadder but wiser. And if you sleep, you leave rested. In any event, you will always leave here a little more alive." And that can only be an invitation to great theater.
(Run time is one hour and 50 minutes, with no intermission. Play contains adult themes and violence.)
• Regina Belt-Daniels has been involved with theater onstage, backstage, on boards of directors and in the audience in three different states. And thanks to Sister Mary Justia's casting her as a very bossy Mother Goose in the first grade, she's been hooked on the art form ever since.
IF YOU GO
WHAT: "The Moors"
WHERE: Riverfront Playhouse, 11-13 S. Water St. Mall, downtown Aurora
WHEN: 8 p.m. Fridays and Saturdays through April 15, plus 2 p.m. April 2.
COST: $20 for adults, $18 students and seniors
INFORMATION: 630-897-9496, riverfrontplayhouse.com