Three friends working together to get a play up and running sounds like the basis of a Broadway musical or a TV sitcom, doesn't it? Think of all the dramatic complications! Well, it didn't happen with these three.
Shannon Mayhall of Cary discovered the play "Gidion's Knot," when she and fellow actress Doreen Dawson of Geneva were searching for a play they could do as a virtual reading during the pandemic. Mayhall and Dawson have known each other since their Illinois State University days; they most recently portrayed sisters in McHenry County College's Black Box production of "August: Osage County."
"Gidion's Knot" is an intense drama, resonating with today's social issues, particularly bullying, our educational system, and freedom of expression. Over the course of a parent- teacher conference, a grieving mother confronts an already overwhelmed teacher. The topic is a tragedy; her son Gidion has committed suicide, but the question is: was he bullied or was he the abuser?
Dawson said the initial draw of "Gidion's Knot" was the fact that it was a two-character play with "mature female characters – something hard to find as our demographic is not frequently represented." Mayhall said they both read the script twice, switching parts in order to determine who should be which character.
The fact that both were in love with the script and up for a challenge meant Director Richard Pahl of Elgin couldn't say no when Mayhall and Dawson approached him. Mayhall has known Pahl since he directed her in Elgin Community College's 2004 "A Little Night Music"; Mayhall introduced him to Dawson three years ago. Ironically, Pahl cast Dawson in "The Tin Woman," a production that never saw the light of day because it was halted during rehearsal due to the pandemic. All three easily express a great admiration and respect for each other and their work.
Dawson plays Corryn, the mother. The fact that Dawson herself is the mother of a child "who hasn't always fit into the mold of a typical child," coupled with her experience within a school system that "doesn't always champion individualism," made that part resonate with her. The character of Corryn is an intellectual, a liberal and a professor of literature. Mayhall plays the guilt-stricken elementary schoolteacher, Heather. Her caseload is packed with impressionable adolescents.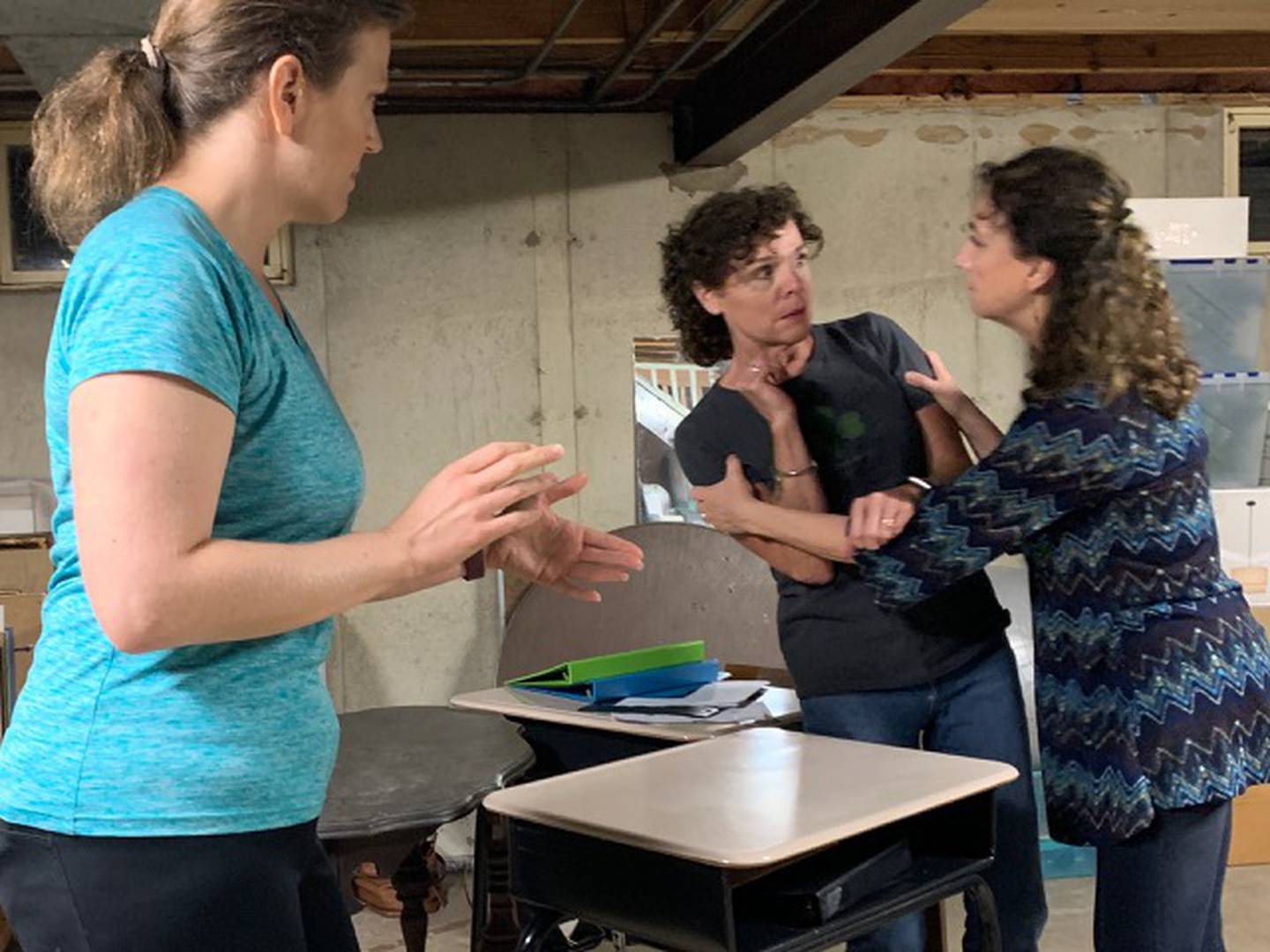 The exchanges between the two are edgy, tense and often funny. Director Pahl said "Gidion's Knot" appealed to him "theatrically," and it illustrates two different points of view: the teacher purposefully taking the best interests of her students into account, and a parent advocating for individuality and creativity in the schools. Pahl calls Mayhall and Dawson two "very fine actors" who understand their characters.
The three applied for and received an individual artist grant from the Elgin Cultural Arts Commission – a grant that Pahl first became aware of while serving on the commission in the past. They went on to rent the Elgin Art Showcase, which is a space all three love for its "beauty and versatility." The three also searched for an appropriate name for the theater company, finally deciding on the hook "iambe," the goddess of mirth. Mayhall explains she and Dawson are in constant laughter mode, so the choice seemed more than appropriate. They are also the true definition of an ensemble: a coordinated group that functions as a whole.
"Gidion's Knot" is a suspenseful, intriguing and authentic two-hander. With this team, it is sure to be an intimate and consuming production, and is guaranteed to spark many a lively car-versation on the way home.
The 75-minute play by Johnna Adams is for mature audiences, and proof of vaccination is required.
The iambe theatre ensemble production of "Gidion's Knot" is scheduled to open Oct. 29 in the eighth-floor Elgin Art Showcase, a lofty venue for lofty ambitions. Break legs!
• Regina Belt-Daniels has been involved in many aspects of theater since the first grade, from acting to directing and a lot of backstage crewing in between. She currently serves on the RCLPC Board and the It's Showtime Advisory Committee, and enjoys writing theater reviews.
IF YOU GO
WHAT: "Gidion's Knot" by iambe theatre ensemble
WHERE: Elgin Art Showcase, on eighth floor of high-rise at 164 Division St., downtown Elgin; proof of vaccination required
WHEN: 7:30 p.m. Oct. 29 and 30, and 2 p.m. Oct. 31
COST: $18 cash at door or go to Eventbrite for tickets at tinyurl.com/4d7eavb5