The Knights of Columbus in McHenry has its holiday food giveaway down to a science.
The Catholic fraternal organization orders the food from Meijer, has it delivered the morning of the Thanksgiving and Christmas giveaways, and sets up a series of tables where volunteers take one box down the line to get it filled. Once done, the box is taped shut, stacked and carted off to the parking lot for distribution.
In the parking lot, cars pull in, and hundreds of volunteers load a box, a frozen turkey and a bag of potatoes into each car.
It is so well orchestrated that the packaging, which started at 7 a.m. Saturday at Church of the Holy Apostles in McHenry for this year's Thanksgiving donation, was done and mostly cleaned up by 9 a.m. The last cars are usually out of the lot by 10:30 a.m.
"There is not a name for what we do," Scott Knudsen said. He means giving titles to those who work to set up the event, but he is also one of dozen men from the Knights of Columbus who organize the food giveaway each year.
They don't do it alone, however. Partners and volunteers come from area veterans groups, the St. Vincent de Paul Society – another Catholic charity group – and many others.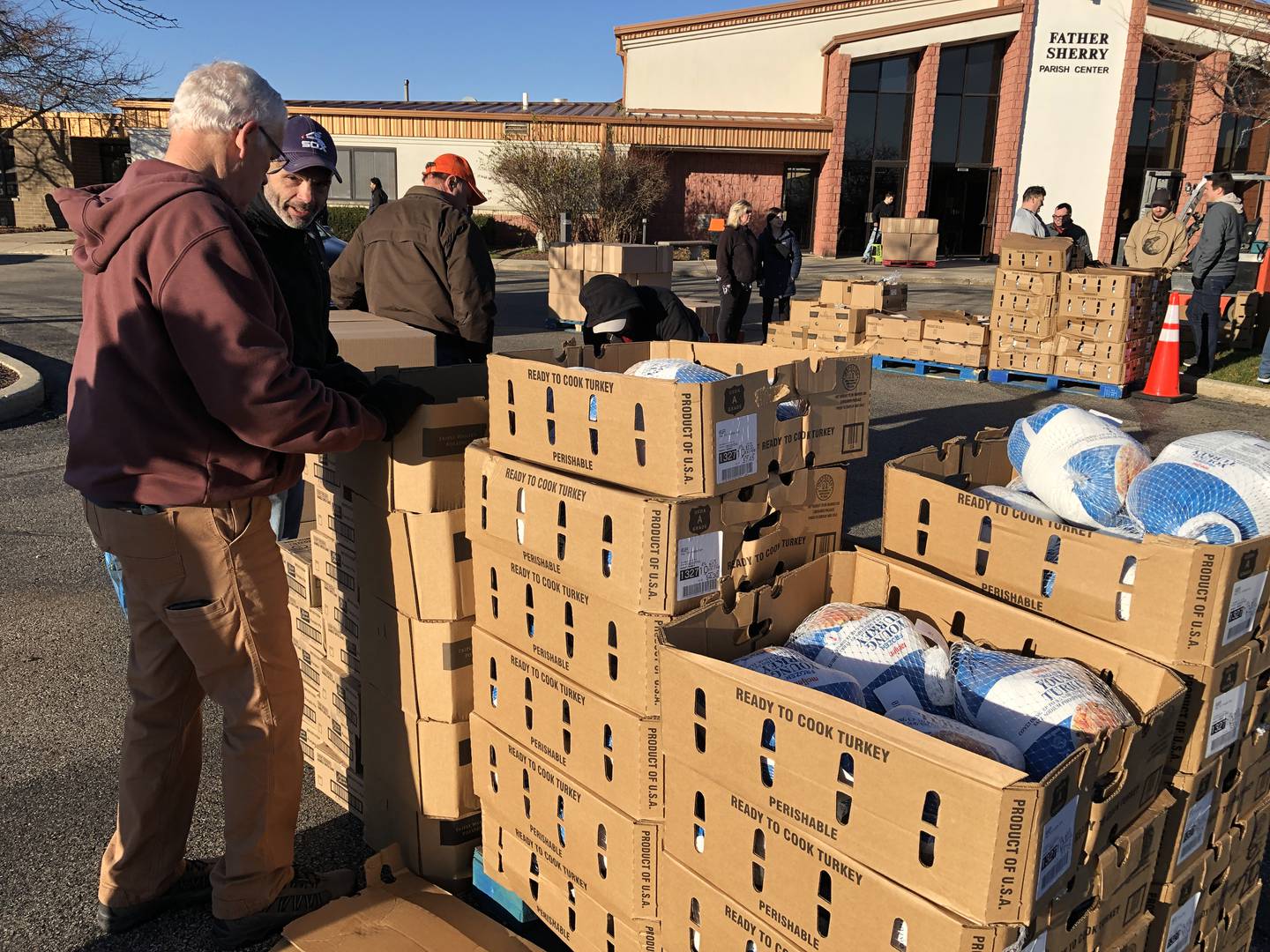 Some of those same volunteer groups also refer the families who will later receive a food box. "We reach out to the organizations to get the number of meals" they will need to serve families in need, Knudsen said.
While the focus is on a traditional Thanksgiving meal of turkey, stuffing, mashed potatoes and cranberry sauce, they pack the boxes with other food staples, too.
This year, the boxes included peanut butter and jelly, pancake mix, pasta, pasta sauce, frozen ground beef and pasta box dinners. The idea for some of the extras is they can go with turkey or potatoes, stretching the leftovers for a few more days of dinners and lunches, Knudsen said.
"Let's provide that meal so families don't have to think about it, so families don't have to worry,

—  Scott Knudsen, Knights of Columbus
"The goal from day one is this: Let's provide that meal so families don't have to think about it, so families don't have to worry" about groceries for a few days in addition to a holiday meal, Knudsen said.
Rick Pizarek from St. Vincent de Paul was one of the people who helped pack the food and take the boxes to the parking lot for distribution. A few of the food boxes will go with him to deliver to people who couldn't pick them up Saturday morning.
Of the 400 boxes assembled, 118 went to people who'd come to the organization for help. While the group's focus is housing and work, it also helps keep people fed, and their cars gassed up, Pizarek said.
"If you can't pay for gas, you can't get to work and could lose your job. If you lose your job, you can lose your apartment," Pizarek said.
The organization works within defined geographical boundaries, but its members work with other organizations, such as the township's general assistance office, to help residents in McHenry County. "Part of the assistance is referring to other organizations" to help, Pisarek said.
When Saturday's distribution was finished, there were a few boxes with leftover jars of pasta sauce or boxes of spaghetti. Those will go to the church's food pantry for distribution, Knudsen said.
In four weeks, the Knights and Columbus and its helpers will do it all over again, making another 400-plus boxes of Christmas meals available for families. That effort also needs volunteers and is set for 7 a.m. Saturday, Dec. 16, at the Church of the Holy Apostles, 5211 Bull Valley Road, McHenry.