Colleagues and lawyers who tried cases in front of him remembered McHenry County Associate Judge Michael Coppedge Monday as a brilliant legal mind and hard-working jurist.
Coppedge – described as courteous, meticulous, keenly intelligent and honorable – died Monday morning after collapsing in his chambers at the courthouse in Woodstock.
Paramedics from the Woodstock Fire and Rescue District responded to the courthouse at 8:22 a.m. Monday in response to a cardiac arrest, said Alex Vucha, communication specialist. The judge was taken to Northwestern Medicine Woodstock, where he was pronounced dead at just before 10 a.m., McHenry County Coroner Michael Rein's office confirmed.
Friends and colleagues shared praise of Coppedge and shock at his death at the age of 61.
"He was probably the most prepared judge I have ever been in front of," said Assistant Public Defender Richard Behof, who had argued many cases before Coppedge over the last three years.
"He was extremely courteous, not only to the attorneys but to the people who appeared in front of him," Behof said. "We lost a really great judge today."
Circuit Court Clerk Kathy Keefe also called Coppedge "a great judge."
"He was an extremely hard worker, very intelligent, very fair," Keefe said. "But more than that he was a really nice man who will be missed by our entire courthouse family. Our thoughts and prayers go out to his family."
"We lost a really great judge today."

—  Assistant Public Defender Richard Behof
Chief Judge Michael Chmiel released a statement Monday afternoon saying: "We are struck with shock and sadness at the Judicial Center today with the passing of Judge Coppedge. He was one of the most thoughtful and professional persons many of us have ever met and was relied upon throughout the courthouse by all of us. He is and will be missed. Our good thoughts and prayers extend to him and his family."
A former Crystal Lake attorney, Coppedge was first selected as an associate judge in 2015. He filled the position left vacant by retired Judge Robert Bearderstadt. Coppedge was reappointed in 2019.
Before ascending to the bench, he was a partner in the law firm now known as Cowlin, Naughton, Curran and Hanzel.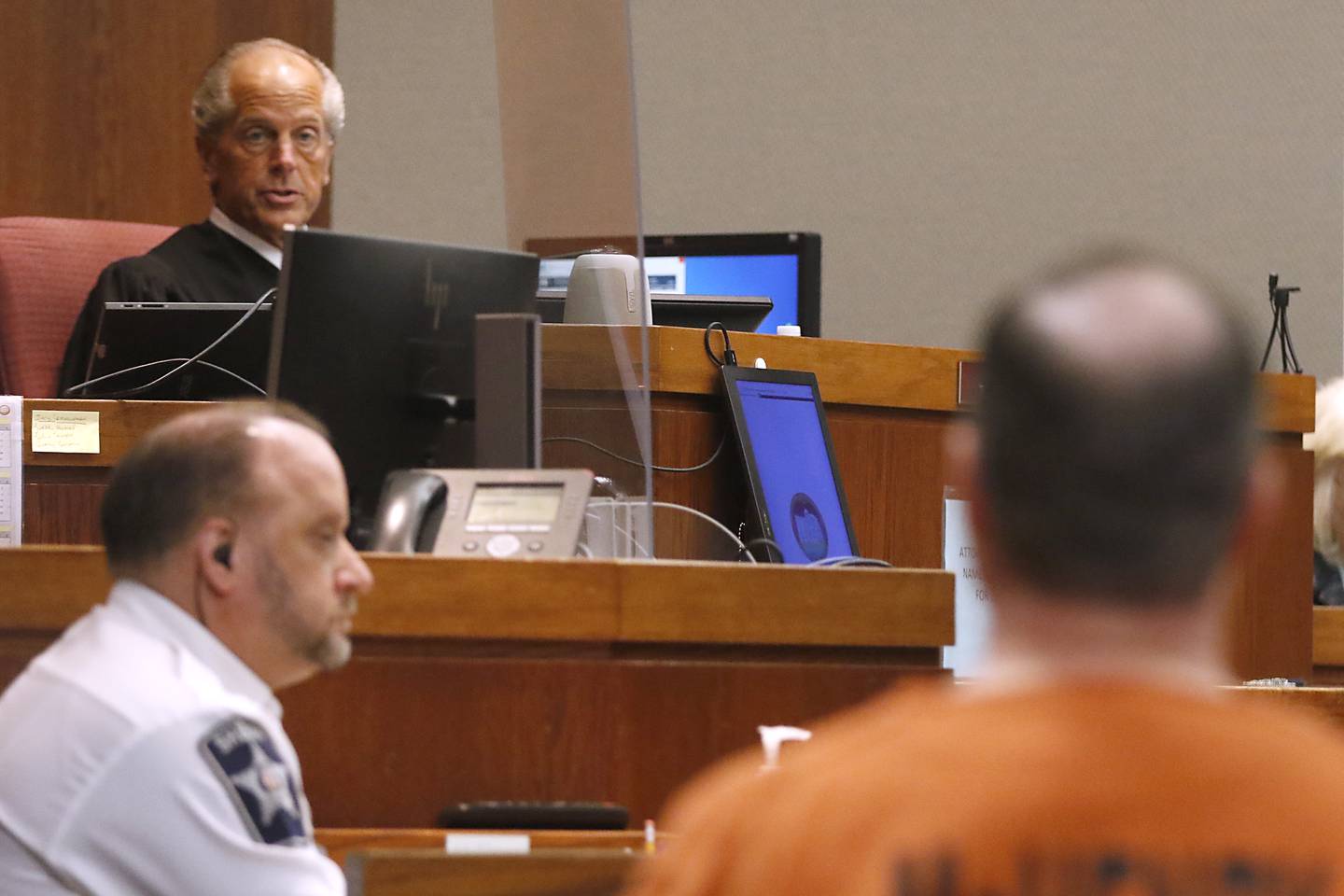 Attorney John Cowlin, a partner in the law firm, said he remembered when he first interviewed Coppedge years ago. Cowlin immediately knew he wanted Coppedge on the team.
"That was one of the best moves that we made," Cowlin said.
Coppedge previously worked with Cowlin as an attorney for the city of Crystal Lake, and Cowlin said Coppedge's attention to detail was present in every case.
"He was really a meticulous individual in his research and preparation for trials," Cowlin said. "It's a big loss to the court system. ... He handled rather serious trials and he handled them very well. He did everything very confidently."
Coppedge oversaw murder trials – last November finding a defendant guilty of first-degree murder but mentally ill for intentionally ramming his car into an oncoming vehicle – and recently oversaw many of the pretrial hearings that determined if defendants could be released pending trial under the controversial new Illinois SAFE-T Act, which did away with cash bail.
Coppedge graduated from the College of St. Francis in Joliet and earned a law degree from Northern Illinois University. He was admitted to the bar in 1987.
"It's just devastating and heartbreaking," said retired Judge Sharon Prather who had known Coppedge for many years dating back to when he practiced in front of her as an attorney.
"He was a great person and a really excellent judge," Prather said. "He was very good, he did a really good job as judge but, of course, Mike did a great job at everything he did. I'm sad for him and sad for his family."
She recalled Coppedge's fine demeanor and mannerisms and the way he handled himself.
"His passing is a great loss to the judiciary and the people of McHenry County," she said.
In an email McHenry County State's Attorney Patrick Kenneally said Coppedge "was one of the most prodigious legal minds in McHenry County, and a wonderful judge."
"It is hard to overstate what a loss this is for the 22nd Judicial Circuit," he said. "Our deepest condolences go out to Judge Coppedge's family. May he rest in peace."
A statement from the county's 22nd Judicial Circuit said Coppedge was found unresponsive in his chambers Monday morning and that court security responded promptly.
Defense attorney Matthew Haiduk said he knew Coppedge when Coppedge was a prosecutor for Crystal Lake before becoming a judge and that they "frequently disagreed."
"But his rulings always made sense and were well thought out," Haiduk said. "He was one of the finest legal minds I've ever practiced in front of, and I am very sorry to hear of his passing."
Brian Stevens, a local defense attorney, said he also knew Coppedge from his days as a prosecutor for Crystal Lake.
"He had one of the most brilliant legal minds of anyone I have met," Stevens said. "When he took the bench he carried over years of legal and courtroom experience and became one of the finest judges. He always made attorneys that appeared before him better, because of the high level of preparation we knew he expected. He will be missed by everyone who knew him."
Defense attorney Robert Deters echoed others' sentiments and said Coppedge "was a respected jurist and an honorable man."
"He is a great loss to the legal profession and will be missed by myself and everyone who practiced law in his courtroom," Deters said.
Northwest Herald reporter Michelle Meyer contributed.