A collective gasp was heard Monday in a packed McHenry County courtroom when a judge said a man was guilty but mentally ill of first-degree murder for purposely crashing into an oncoming vehicle, killing its driver.
Instead of killing himself, as he claimed voices were telling him to do, William P. Bishop, 44, of Chicago, killed Jason Miller, 41, of McHenry, and critically injured his passenger, Rory Fiali, 58, also of McHenry.
In addition to first-degree murder, Judge Michael Coppedge found Bishop guilty but mentally ill on two counts each of aggravated battery and aggravated driving under the influence in connection with the May 18, 2020, crash near Hebron.
The finding means that although Bishop may have been experiencing a mental health crisis at the time of the crash, he still had the capacity to discern right from wrong. It also means that when he is sentenced to prison, he would be eligible to receive mental health treatment.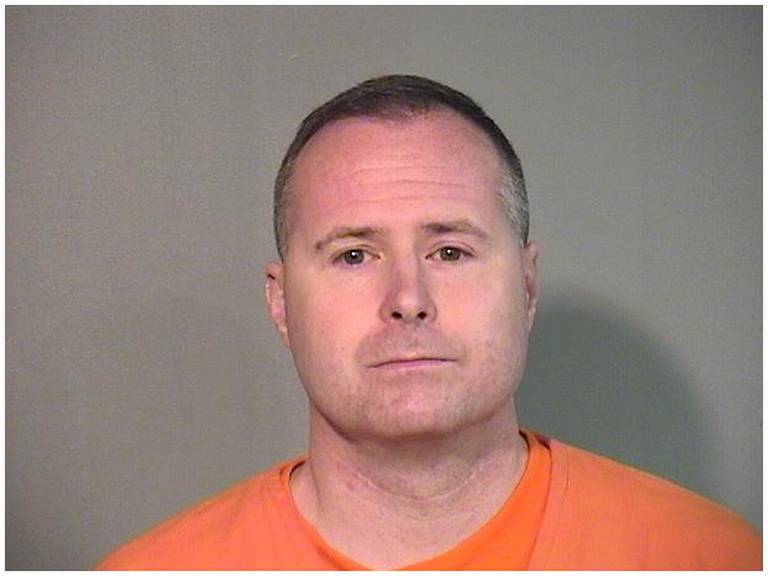 Coppedge said Bishop's defense of not guilty by reason of insanity was not proven and he was twice the legal limit of THC when he "knowingly" crashed his Jeep into the oncoming work van.
Miller and Fiali had just left a job in Harvard and were traveling east on Vanderkarr Road. Bishop was westbound on the rural road. He had left his apartment in downtown Chicago hours earlier, was feeling paranoid and hearing voices, and had smoked marijuana that day, according to trial testimony and recorded interviews of Bishop by police.
He said he left the city to clear his head and was driving backroads, listening to Howard Stern on the radio. During trial, Bishop's defense attorneys said he was receiving messages from the radio telling him to kill himself, had been in a manic psychotic episode and was not able to appreciate the consequences of his actions that day due to his mental illness.
But in his ruling Monday, Coppedge said prosecutors proved "beyond a reasonable doubt" that Bishop "knowingly" used his vehicle as a "deadly weapon" when he accelerated, crossed the center line and deliberately crashed into the oncoming work van at between 80 and 87 mph.
"The evidence is clear he drove his jeep directly at Miller's vehicle," Coppedge said.
Bishop's vehicle showed he lifted off of the gas at 0.2 seconds before impact and showed no signs that he hit the break. At the point of impact, his gas pedal was still 80% depressed, Coppedge said.
"One second before impact the Jeep steered to the left," Coppedge said, citing expert witness testimony from last month's trial.
Miller's vehicle showed that at the point of impact, he "was breaking and taking evasive actions" to avoid the crash.
As the nearly 50 people in the courtroom – some supporting the victims' families and others present for Bishop – wept quietly, Coppedge cited statements Bishop made in the moments and hours after the crash. Bishop knew his name and where he lived. He "admitted it was his fault." He told investigators and doctors that he was hearing voices, that he was attempting to commit suicide, and that he saw the white van approaching, Coppedge said.
He also told investigators that he intended to hurt only himself and not others. He said he was "in a bad spot" and "following direction of what was coming through his ears," Coppedge reiterated from trial testimony.
Coppedge said Bishop "sounded very clear and coherent and conversational" and "calm and coherent" in the recorded interviews with detectives just hours after the crash.
The judge said Bishop chose to hit a vehicle, which he knew by the very fact it was moving, that there would be at least one person inside of it and that he knew his "actions created a strong probability of death."
Coppedge said he does not dispute that Bishop, who has dealt with mental illness since at least 2013, was at the time of the crash "suffering from a mental disease" or experiencing a mental health crisis.
He noted experts who testified for the defense and said he suffered bipolar mania with psychosis and was unable to appreciate the consequences of his actions that day.
He also noted an expert for the state who agreed Bishop suffers from mental illness but also has a history of the chronic use of marijuana. On the day of the crash, he was under the influence of more than twice the legal level of THC, medical experts testified.
"The burden on the defense is to prove by clear and present evidence that he was insane," Coppedge said.
Ultimately, Coppedge ruled that Bishop was guilty but mentally ill on all counts.
Upon the ruling, Coppedge revoked Bishop's $1 million bond and Bishop was taken into custody of the McHenry County jail. He faces between 20 and 60 years in prison when he is sentenced. A date to argue post-conviction motions was set for Dec. 7.