Starship's 1985 pop anthem "We Built This City" blared Wednesday as fog machines pumped columns of smoke into the air for McHenry Mayor Wayne Jett's entrance to his state of the city speech.
The mayor's annual McHenry Area Chamber of Commerce state of the city luncheon was back to full scale following COVID-19 pandemic years that saw it shrunk or canceled all together. And, Jett took the opportunity at The Vixen to tick off some of his accomplishments as mayor as well as offer hints at what's coming next.
"That was probably the nicest of the songs they could have chosen," Jett said.
During his speech, Jett focused on developments in McHenry over the last few years that he said were made possible by public/private partnerships. Specifically, he pointed to recently completed renovations at Miller Point Park and its adjacent Riverwalk Shoppes, and last year's addition of a splash pad at Fort McHenry Park, as examples of successful partnerships.
"The city of McHenry is surpassing every city in McHenry County," Jett said.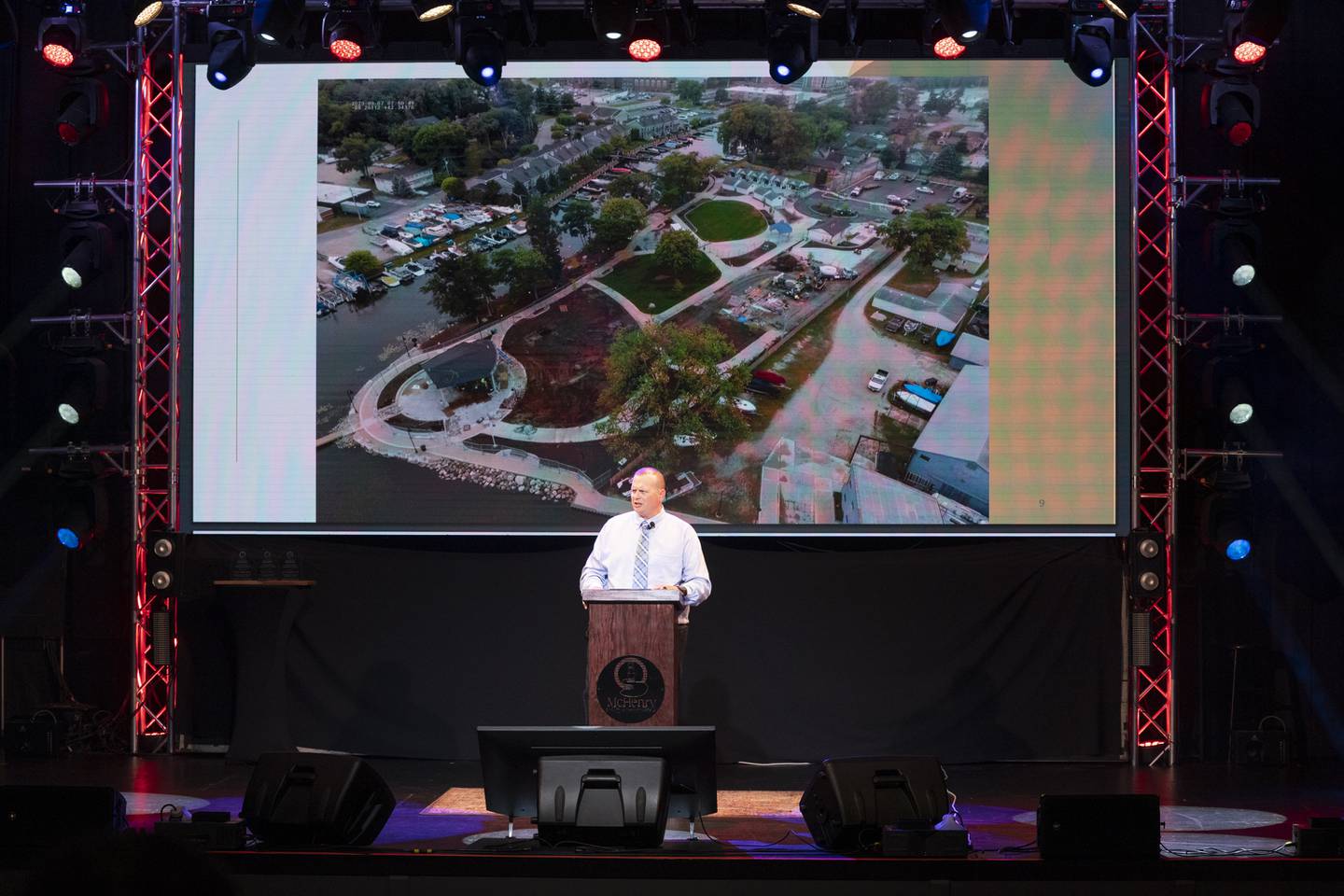 The RISE Up Foundation, which is run by Jett and his wife Amber, donated $200,000 from its 2021 concert, "Splash into Country," toward construction of the splash pad in 2022, but the parking lot needed expansion, Jett said.
"I met with staff and decided to do what we do best and that's asking for donations" to get the work done, Jett said.
"The city of McHenry is surpassing every city in McHenry County."

—  McHenry Mayor Wayne Jett
Jett said he reached out to area construction and materials companies that agreed to excavate, donate the asphalt and stone and lay the asphalt to get the parking lot completed, Jett said.
Many of the projects would not have come to fruition "if it wasn't for these relationships," Jett said of the recently completed work.
Other partnerships – including those with Naturally McHenry County and the McHenry County Economic Development Corporation – have helped the city bring in more businesses, Jett said.
Jett credited those partnerships, as well as city incentives, as the reason that since Sept. 2022, 78 businesses have either opened or are in the process of opening in town.
Incentives offered by the city include a vacant building program allowing tax abatements to companies that move into buildings which have sat vacant for five years, and its facade improvement grant, which gives building owners a dollar-for-dollar match of up to $30,000 to improve building exteriors.
Next, Jett said, the mayor wants the city to consider a program to either encourage owners to demolish long-vacant buildings, or get them redeveloped.
There have been challenges along the way, Jett said, pointing to the Trio convenience store and gas station planned for the corner of Route 120 and Ringwood Road. That project has been held up for nearly four years, including waiting on approvals from the Illinois Department of Transportation, Jett said.
Those issues have been resolved. "They have their approval and there will be a full go-ahead," Jett said of the Trio project.
Bill Hobson, director of the parks and recreation project, at Jett's invitation talked about possible expansions of the city's recreation center. Voters in 2018 turned down a referendum question to expand the center, adding a gymnasium, indoor pool and outdoor water park.
Since the failed referendum, residents have been calling more, asking about the amenities it would have offered, Hobson said.
He plans to ask the City Council to consider whether to place an expansion on a future ballot, Hobson said.
The Vixen events space was provided to the Chamber rent-free for the event, chamber President Molly Ostap said.