Plants such as wild bergamot – also knowns as bee balm – are native to McHenry County, so the ruby-throated hummingbirds here each summer are suited to sip nectar from its flowers.
That is one fact Landmark Elementary School Principal Margaret Carey learned in the past few months about native pollinators and pollinator gardens. Just because a greenhouse says the plant attracts hummingbirds, it doesn't mean the plant will feed an Illinois bird.
It is also the kind of lesson – what native plants do for local birds, bees, insects and the environment – Carey and her staff want students to learn from its newly installed pollinator garden.
Determining what kind of garden to put in – vegetables or native plants – also was part of the learning process for the school staff. "We didn't know what a school garden was" or what the possibilities were when they first started looking into the idea, Carey said.
"The goal is to bring it back, naturally, to where it was 150 years ago."

—  Jack Speer of Small Waters Education
Landmark School was able to secure two grants to install an Illinois native plant pollinator garden – one from the Illinois Clean Energy Grant and a second from the McHenry Country Wildflower Preservation and Propagation Committee.
The school also was pointed to Small Waters Education. The Harvard-based nonprofit ran by Jack and Judy Speer helps to design and maintain pollinator gardens.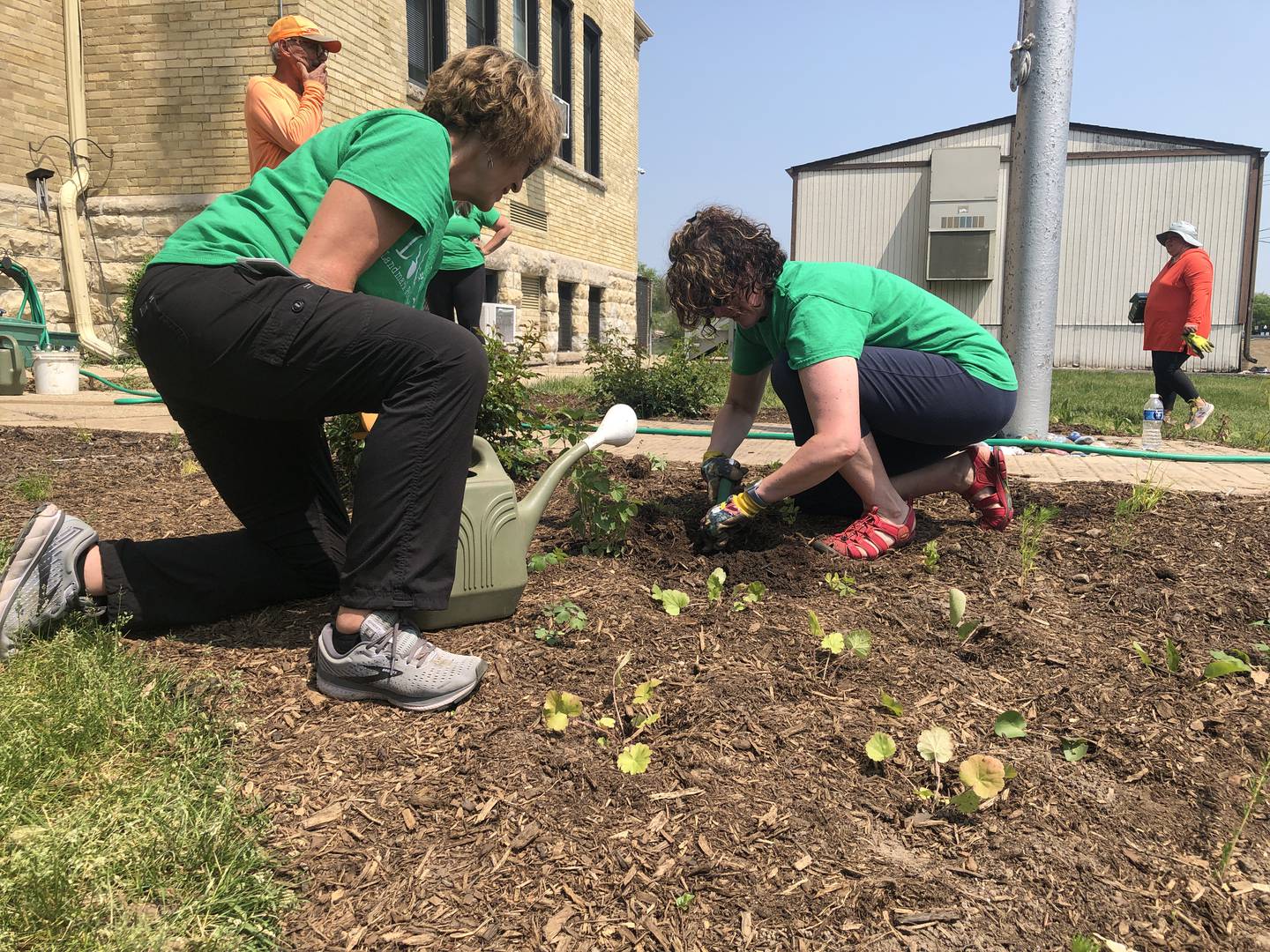 Once the plants are in the ground, not much maintenance needs to be done, Judy Speer said. The plants are drought-resistant and don't need additional watering after the first season.
They helped direct district staff on how to prepare the ground, Judy Speer said. Instead of tilling the area, just the sod and a few inches below needed removing. "Rototiling cuts up the roots" too much, she said.
The soil underneath the new flower beds at the 1894 school was "one of the deadest we've ever seen" after 100-plus years of lawn there, Judy Speer said.
The plants they picked for the site – on a hillside near a river – likely would have been similar to what was there before Illinois was settled by Europeans, Judy Speer said, with spiderwort, purple coneflowers, phlox and wild prairie smoke among the flowers.
"The goal is to bring it back, naturally, to where it was 150 years ago," Jack Speer said.
As the plants grow and self-seed, and the garden fills out, plans are to send families home with the seedlings to plant in their own yards, teacher Jessica Hodge said.
Landmark is a "school of choice" for District 15. New students are picked by lottery, and it offers a year-round schedule. While the year ends with the rest of the district, classes resume in mid-summer.
The native flowers bloom at different times of the year, bringing with them different pollinators depending on what is in bloom, Carey said.
As an outdoor classroom, including walking paths and a small paved area for students to sit, students can learn about pollination, draw the flowers and insects for art class or hold music classes outside, Hodge said.
Carey said she isn't too worried about students interacting with bees.
"We toured Harrison School in Wonder Lake in sandals" when checking out that school's pollinator garden. "There were bees everywhere, they were not interested in us" and instead were busy collecting pollen and doing their jobs, Carey said.
"If you leave the bees alone," she said, "they will leave you alone."