People walking along tree lines, heads down and poking around with a stick, may become a common sight next month as the hunt for the elusive morel mushroom begins in McHenry County.
From mid-April to mid-May, Brad Schwarz of Wonder Lake is one of those hunters. He has been collecting and cooking morels – a type of wild mushroom known for its rich, nutty flavor – for the past 20 years.
"If you like to cook and eat wild game, [morels] tie everything together. If you get a deer or a turkey and you are processing it and cooking it yourself, you don't just want a can of cream of mushroom soup" to cook the meat in, Schwarz said. "If you are cooking, morels take it to the next level."
It is like 'Where's Waldo?' Once you see the first mushroom, you see more.

—  Wonder Lake morel hunter Brad Schwarz
Mushroom hunters or the mushroom-curious can also take Andy Andresky's community education class at McHenry County College. He has taught classes on edible mushrooms and mushroom hunting for the last 10 years.
Mushroom hunting is "a little under the radar. But once people venture into it, they get into it," Andresky said.
He looks for both edible and medicinal mushrooms, both of which can be found in treed areas around the county.
"We live in a great area for hunting mushrooms," Andresky said.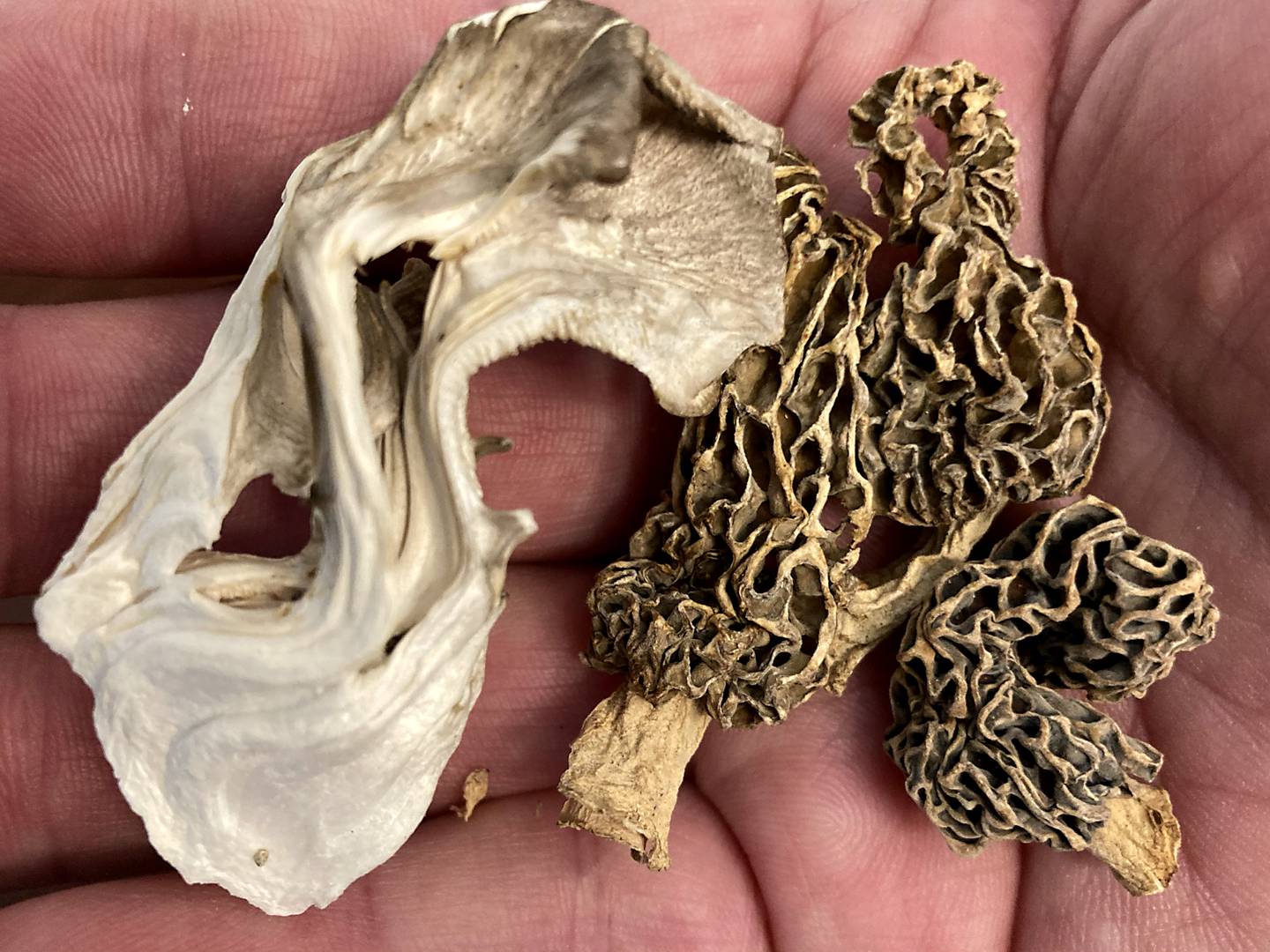 It is illegal to pick mushrooms in forest preserves. Schwarz said that is not where he looks for morels or other mushrooms anyway. He found his first harvest in his own yard under a fallen apple tree and often hunts on land owned by friends or "public land that is not in a state park program."
Good examples are soccer fields and schools with woods bordering them or any place with dead and fallen trees on the property.
What morel hunters do not like to do is tell others where, specifically, they've found them.
There is a fear that if they share their spot, "your spots will be overrun" by other morel foragers, Schwarz said. Once he finds a spot – and he has four of them – it is likely morels will show up there every year.
Morel hunters look for places with dead and fallen trees, well-drained but loose soil, areas with recent prescribed burns, "or any type of damage or manipulation done to the land," Schwarz said.
For Andresky's Mushroom Mission class at MCC, set for May 11 and 13, he takes participants out to the woods to look for mushrooms. He suggests that once someone finds one, they stop and take a good around. There are likely more nearby.
"We have seen dozens in one section, in one 10 by 10-[foot] area," Andresky said.
"It is like 'Where's Waldo.' Once you see the first mushroom, you see more," Schwarz said.
A walking stick, used to brush the top of likely areas, can help uncover hidden morels.
"They don't mind being under foliage and leaves," Andresky said. He also suggests using a net bag to collect morels.
"You are supposed to walk around with a fishnet type of bag for hardcore foraging. You are jostling the bag and dropping spores. You are all 'Johnny Appleseed-ing' the area" by spreading the spores for future growth, Andresky said.
Morels are not the only mushroom found locally.
The pheasant back mushroom is harvested on the side of trees and are found at about the same time of year as morels, Schwarz said. It can have a fresh "cucumber smell, like when you cut into a watermelon rind." He slices them thin and pickles them.
The hen in the woods mushroom are also popular but are found in the fall.
"They freeze and dry really well" Schwarz said.
According to Illinois mycologist Patrick R. Leacock and his website, mycoguide.com, at least 1,200 species of mushrooms can be found just in northeastern Illinois.
Illinois also has poisonous mushrooms that should never be eaten.
The University of Illinois Extension office does not educate on wild mushrooms because of the risks involved, said Nick Frillman, who works with specialty mushroom producers for the extension office.
Frillman suggests anyone who wants to forage for mushrooms start by going with someone who has hunted before.
"Go with a trained professional who has eaten the thing you are picking, ideally from the same spot you are going," Frillman said.
Even with his experience, Schwarz said he won't pick any capped mushrooms.
"If you cut part of the cap off and it turns purple, that will kill your liver," he said.
There is another way to get fresh mushrooms, Frillman said: "Your can grow your own culinary speciality on logs or in beds in your own yard."
Online sellers offer mushroom spawn – sawdust or wooden dowels infused with mushroom cultures – and educational videos on how to propagate the fungi.
"You can grow morels, technically," although the process is "very not super figured out yet," Frillman said. "It is easier to do shiitake [mushrooms] in the shade of a tree in your yard."
Schwarz recommends mushroom hunters pick up a book on the topic and double check anything they find against color photos before picking anything.
"Take pictures and then go home and research it," he said.