In the beginning of 2020, just before the COVID-19 pandemic shut down the world, Stephanie Cooper and her boyfriend, Paul Thomas, both of Wonder Lake, were looking for a mutual hobby.
Their search led them to a beekeeping class at McHenry County College, and they fell in love with it.
The classes became their date nights, and beekeeping became something they shared during the pandemic when no one wanted to be around any other human being, she said.
"We got lucky," Cooper said. "Beekeeping became the perfect [COVID-19] activity."
That first year, they invested about $1,000 for the equipment, two protective bee suits and about 5,000 honeybees with two queens.
Their first colony produced 10 gallons of comb honey, including 70 pounds of honey to keep the bees fed throughout that winter.
"We are now addicted to it," Cooper said, referring to beekeeping as "the new yoga."
The reference to yoga, she said, is that beekeeping is a hobby that requires one to be calm and relaxed so the honeybees won't become agitated.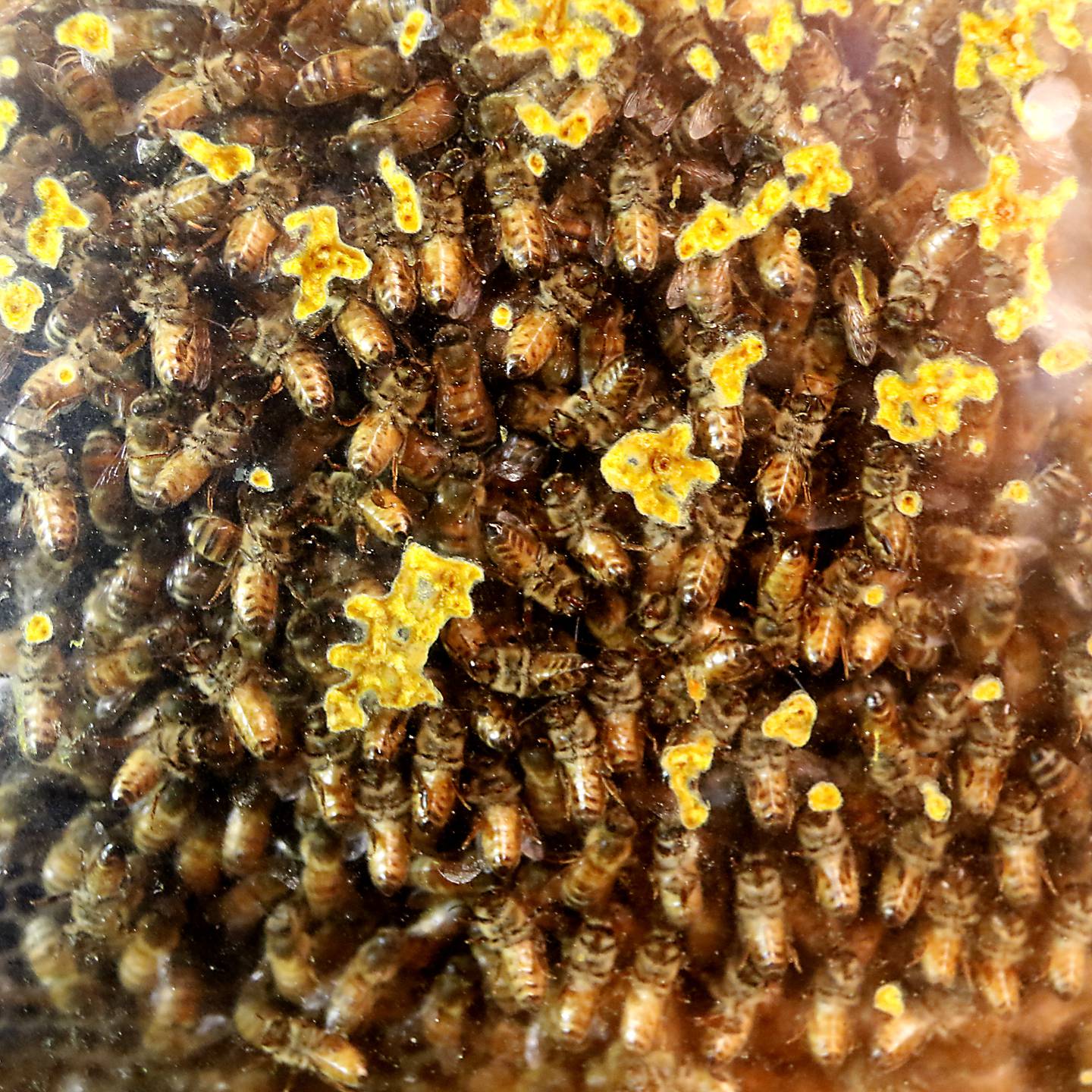 "Your movements have to be slow and controlled," Cooper said. "You don't want to be super hyper or excited around the bees [because] they will pick up that energy. It is calming."
Thomas, who owns a construction company in Wonder Lake, said he was not initially a "honey guy and not normally a bee person," but since taking the class and keeping the bees, he finds the hobby "very intriguing."
"Once you start learning about them, you find there is a whole other world and a whole new group of people that are very passionate about [beekeeping]," he said.
The couple enjoyed it so much that they have continued with their beekeeping out on farmland Thomas owns just north of Wonder Lake.
The site is the "perfect habitat" for honeybees because it has plenty of native prairie flowers, wetlands, a creek and an oak savanna, the couple said.
Properties like Thomas' are exactly what the honeybees need to survive and also something that is slowly becoming scarce, said Thomas and other beekeepers, including their teacher at MCC, Larry Krengel.
Krengel, who lives in Marengo, said beekeeping has grown in popularity, evidenced, in part, by his classes at MCC growing over the past 25 years to 60 students from six.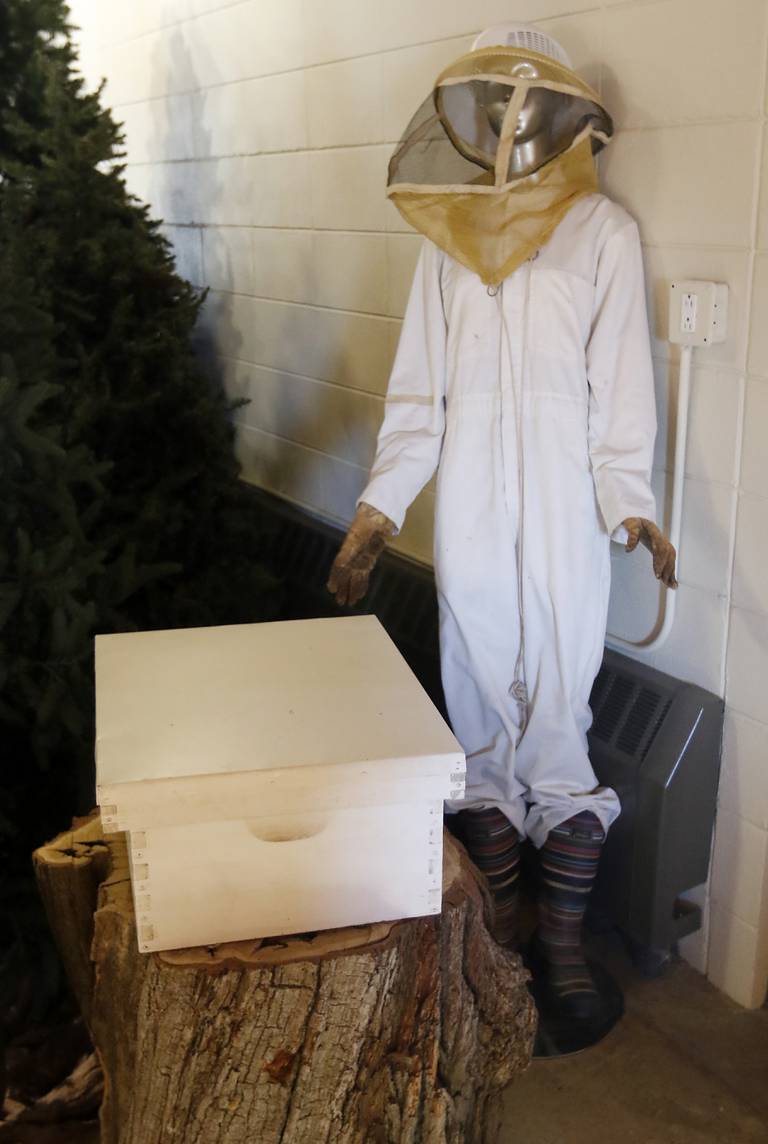 In 2001, 1,160 beekeepers were registered throughout the state of Illinois. In 2019, that number grew to 4,541 beekeepers, according to the Illinois Department of Agriculture.
Krengel, who began keeping bees about 40 years ago, said the hobby is something that "sucks you in."
"There is a mystique about beekeeping," he said. "When I go to the hive, it is just me and 50,000 insects."
And like Cooper and Thomas, Krengel does not fear being stung. Honeybees sting only if they feel threatened, and if they sting, it is not painful like a wasp's sting, they said.
"There has always been beekeepers around, you just didn't realize it," said Sue Dietz, owner of Harvard Eggs, Feed and Produce. "Once you get into it, you are amazed at how many other people there are keeping bees."
Dietz, who is currently taking orders for this season's honeybees, warns people thinking about getting into beekeeping that it "can really suck you in."
"The bees are so fascinating," she said. "My stress relief is to go out to my hives. I am very busy six days a week, but I go out to my hives and it is just me and mother nature. It is very calming to work with the bees. You would think it is the opposite, but it is not."
Not only are honeybees calming and interesting, but they also play a vital role in the environment, the beekeepers said.
The threat of losing them because of various pesticides and a lack of wooded areas and wild flowers is real, Krengel and other beekeepers said.
Many get involved in keeping honeybees because they want to save the honeybee, which is important to many food supplies such as apples, blueberries, cucumbers, melons and pumpkins, they said.
A lack of feral honeybees over the past several years has greatly increased the need for managed honeybees to be used for the pollination of plants, according to the Illinois Department of Agriculture.
The popularity also is seen among groups such as the Northern Illinois Beekeepers Association, which has members in and around McHenry County. The group meets the second Thursday of each month at the college except for in December.
Ralph Brindise of Lakemoor, treasurer of the association, said there are currently 240 members, a number that continues to grow each year. But this number likely does not reflect the total number of people who keep bees in the area.
Brindise cares for 18 colonies in different locations throughout McHenry and Lake counties.
"Once you start doing it and you get used to working with stinging insects, it becomes a very zen feeling," Brindise said. "Not to sound corny, but to be around them is very zen, and a lot of people feel that way. It draws them in."
And, of course, there is the honey.
Cooper said she uses the honey her bees produce as a replacement for sugar in everything from brownies and cookies to glazes for chicken, bacon and Brussels sprouts. They also give many of their friends honey.
Cooper said she already is planning for the next honeybee season and she is eager to check on them.
Although they take measures to keep the honeybees alive during the winter, she worries about them.
Cooper is unable to check on the honeybees during the winter because opening the hive could let moisture in that would kill them, she said. They have to wait until temperatures climb higher than 45 degrees to check on them.
"Every day, I wake up wondering if they are still OK. Are they too cold? Do they have enough food and ventilation in their hive?" she said. "We are always worried about them, but I guess that is part of the hobby. I feel responsible for them."
Krengel is currently teaching honeybee classes at MCC. Information on the classes can be found by visiting mchenry.edu/personaldevelopment/.