The statewide indoor mask mandate in Illinois will be lifted Feb. 28, except in schools, Democratic Gov. JB Pritzker said Wednesday.
Pritzker announced his mask mandate plan during a scheduled news conference.
"Remember that whether we remove masks or not, COVID-19 has not gone away," Pritzker said. "There are so many Illinoisans who need to protect themselves from the virus more than others and many more of us who gladly put on our masks not so much for ourselves, but for our elderly neighbor for our immunocompromised aunt, for the toddlers for whom there is not yet a vaccine, for adults who are medically unable to be vaccinated, for the person in the room whose circumstance they do not know."
The lifting of the indoor mask mandate does not apply to schools, Pritzker said, adding that he hoped it would come weeks after Feb. 28. Despite its status being clouded by a court challenge, Pritzker said he was not relenting on his indoor school mask mandate just yet.
"The equation for schools just looks different right now than it does for the general population. Schools need a little more time for community infection rates to drop for our youngest learners to become vaccine eligible and for more parents to get their kids vaccinated," Pritzker said. "The protocols and tools that we've been using thus far have worked."
The removal of the state mask mandate does not change things for healthcare settings or public transportation, including school buses. The mask mandate that applies there is a federal one, so children riding the bus to school will still need to wear a mask.
Illinois has seen a continued decline in statewide COVID-19 hospitalizations, coming off a peak of 7,380 people in the hospital with COVID-19 on Jan. 12, down to 2,496 as of late Tuesday.
The state is projecting a continued significant rate of decline, with Illinois getting down to a total of 500 people in the hospital with COVID-19 in just 10 days.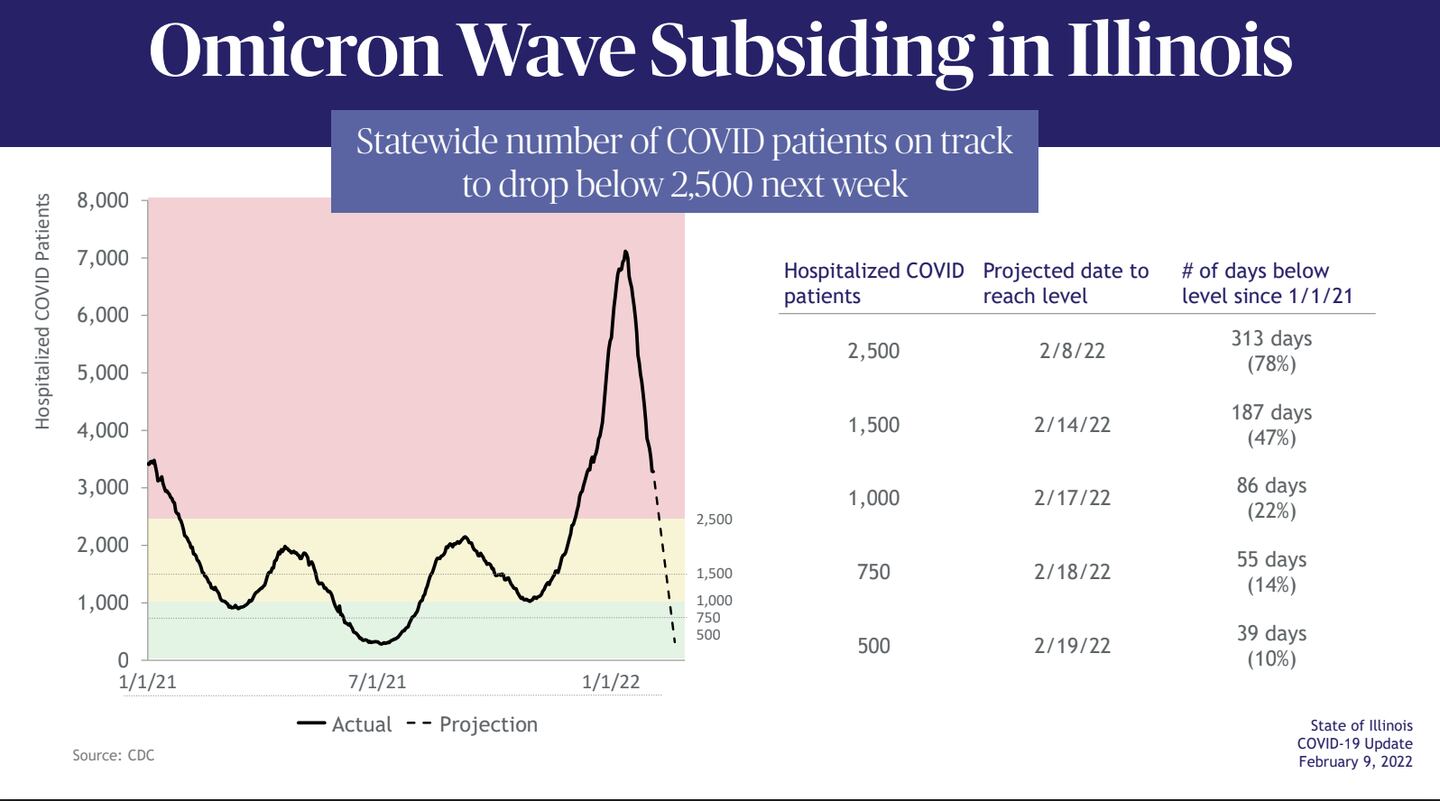 Dr. Emily Landon, head of the University of Chicago's infectious-disease prevention and control program, said the state's data is dramatically improving.
"It's aggressive and optimistic, but it's also reasonable," Landon said of removing the mask mandate at the end of February. "This does not mean that no one needs to wear a mask anywhere."
Pritzker echoed Landon's optimism about where the state's COVID-19 data is headed.
"People really do feel that the trajectory here is one we'll be able to hold onto," he said.
Landon warned people not to stop wearing masks during isolation or quarantine periods after having been exposed to COVID-19 or contracting it. She also admonished folks who might downplay the seriousness of contracting the virus.
"Please open your eyes. Common colds don't kill almost a million Americans. The flu does not kill a parent of 1 in 500 children," Landon said. "If you find yourself sweeping away the news of a [COVID-19]-related death because that person had underlying medical conditions, ask your doctor what your chart says about you."
She also advocated for the continued use of masks in schools or other similar settings.
"I know everyone wants to see kids unmasked. I do too. But masks have made life livable for all of us. They've kept us out of lockdowns, they're keeping our kids in school right now," Landon said. "Masks in school have become so political, that it's hard to imagine anyone thinking clearly about them. But the data is clear: unmasked classrooms and counties without school mask mandates are more likely to go remote or suspend classes than those with masks. They have higher rates of infection in kids and in the community."
Illinois Department of Public Health Director Dr. Ngozi Ezike said even with the mandate coming off on Feb. 28, masks are still "highly recommended."
"It has been a roller coaster ride that no one asked to get on," Ezike said. "But through all of your efforts, we have reached a point where we can take a step getting back to life before the pandemic."
Pritzker faced increasing pressures to issue new mask guidance in recent weeks as other Democratic-led states such as California and New Jersey announced plans to roll back mask mandates. A ruling from a Sangamon County judge also has thrown Pritzker's authority to issue school mask mandates into question.
On Friday, Sangamon County Judge Raylene Grischow issued a temporary restraining order invalidating the mask mandate for public schools. The ruling applied to about 170 school districts that were sued by parents and students.
Grischow ruled the mitigations amounted to a kind of "quarantine" and the Pritzker administration overstepped its bounds by issuing those mandates through emergency rules.
On Monday, Pritzker slammed Grischow's decision for cultivating "chaos" for parents and families in the state, and he noted that Attorney General Kwame Raoul has appealed to have her order overturned.