The work on La Salle's Celebration of Lights in Rotary Park begins roughly six weeks before the gates open.
It takes city employees hours to construct and prepare for opening night Monday, Nov. 15.
From a handful of displays on a single road at its genesis, the event has grown to one that spans two to three miles and holds nearly 400 displays, attracting 15,000 to 20,000 vehicles this past year.
The Celebration of Lights started nine years ago when Mayor Jeff Grove came up with the idea to have another holiday activity in La Salle. At its beginning, there were about 13 displays on a gravel road.
The displays have grown from mostly being selected from a catalog to now many sponsors opting for a custom display that better exemplifies the company.
Much thought and work goes into the set up, said Director of Community Development Brent Bader, who along with Administrative Assistant Beth Ketter gave a behind-the-scenes online presentation Tuesday night for the La Salle Public Library.
"It's something where we want it to feel like when you pass through those illuminated gates, you're in an actual winter wonderland," Bader said. "I think we've captured that pretty well. It's something that we're all very proud of here."
This year's celebration will host 45 new displays and a newly-designed route to take advantage of the recently-constructed pathways. The new route also will include a Grinch Exit positioned about halfway through the event for those with small children or others who may need an early exit.
The event will be open from 5 to 9 p.m. on weekdays and Sundays as well as from 5 to 10 p.m. on Fridays, Saturdays and the week of Christmas beginning on Monday, Nov. 15, and through New Year's Day.
The city has developed a way of tagging and keeping each display for each sponsor to be showcased. The city orders a varying number of new displays each year. This helps keep the event fresh for repeat visitors.
"What's great when we're adding new displays every year is that when you come back for repeat visits it's a different experience every time," Bader said. "You never know what you're going to find that wasn't there last year."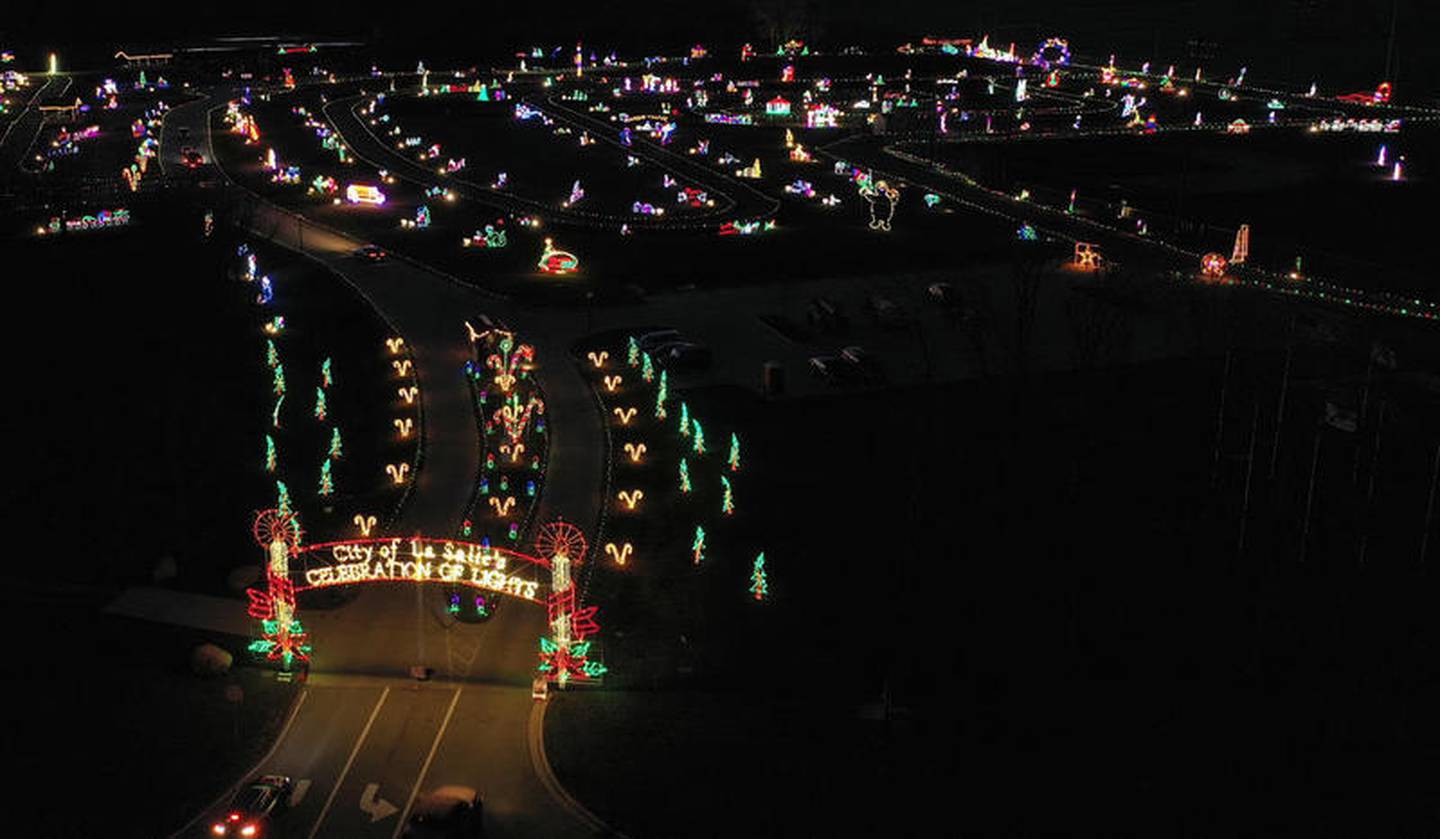 Many hands outside of La Salle are essential to the survival and growth of the event. Bader said one of the most important aspects to the celebration is the amount of volunteers that donate their time to making the event possible. Whether school volunteers collect funds or a resident just trying to get into the holiday cheer, the work doesn't go unnoticed by the city.
"I think everyone that has a hand in this from the volunteers to the sponsors of the displays and everyone that donates," Bader said. "I think it's something that really benefits from the spirit here in La Salle and our surrounding communities."
Ketter said in the beginning the displays weren't run on traditional electricity but rather a system of generators to keep them illuminated.
After the first year, the city decided to go to local businesses with catalogs, explain the program they wanted to grow and ask for them to sponsor a display.
This tactic worked as many businesses not only in La Salle, but also across the Illinois Valley have become sponsors as the event continues to grow.
"We don't go out and ask people to participate anymore, we don't have to," Ketter said. "We haven't done that in about three years. They call us now so that makes it much easier."
Despite the pandemic the event was able to offer an opportunity many families were happy to take advantage of, according to Bader. As a result the event saw immense support and growth during its last season.