Waltham fifth grader Liam Pearce had his sales pitch ready Saturday for the Lemonade Day Youth Market.
With a table full of his pom pom products in front of him, he told customers for $1 or $2 they could buy the items as a decoration, a cat toy, for juggling or for indoor snowball fights.
Pearce was one of 18 students participating in nine different student-led businesses set up Saturday at Country Kids Produce in Utica.
"Sales have gone pretty well," Pearce said.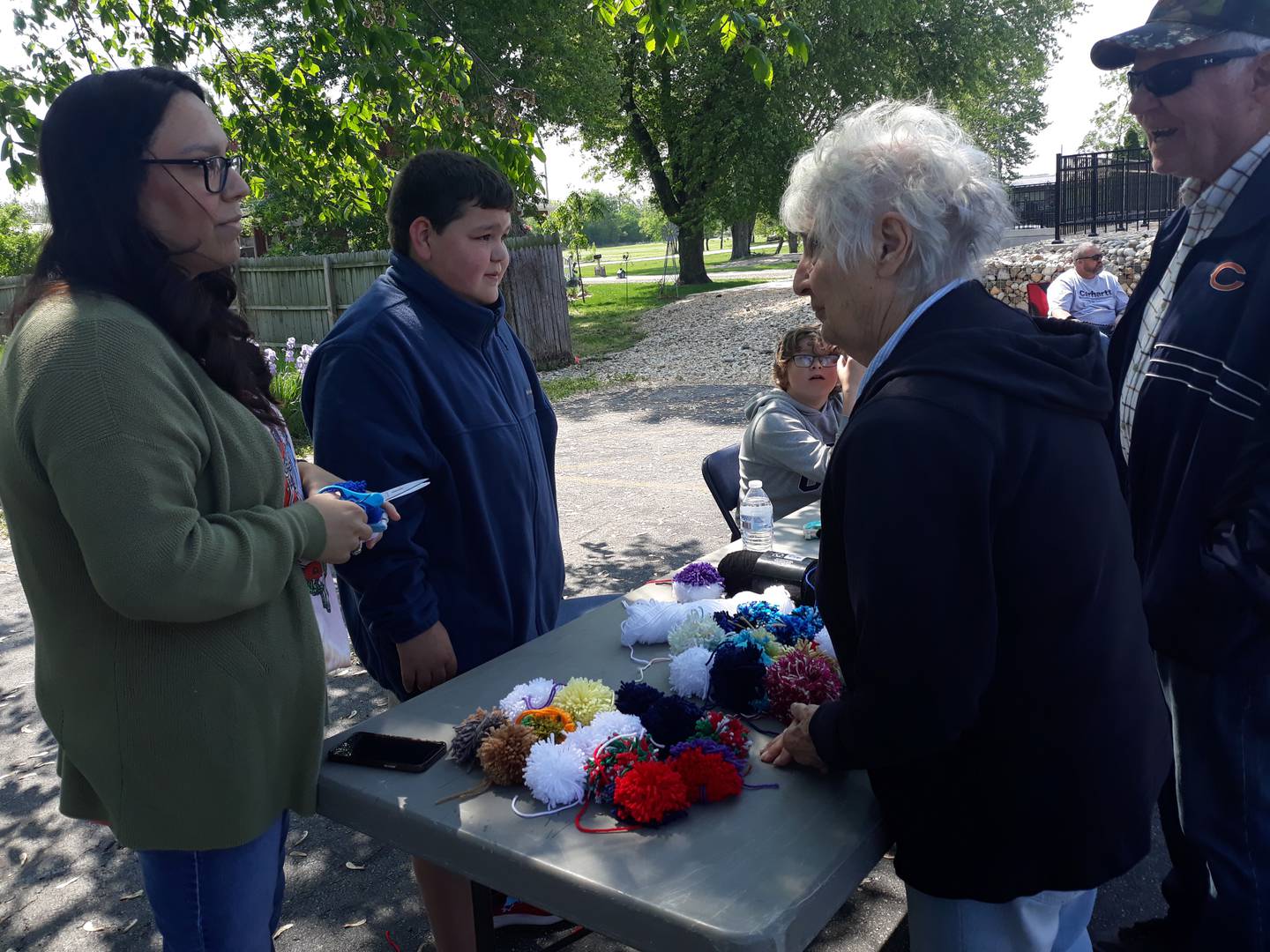 Students in Brittany Culjan's and Kathy Schultz's classes kicked off the Lemonade Day program in March sponsored by the Illinois Valley Area Chamber of Commerce. The program encourages students to choose a business idea, then see it to fruition.
Students learned all sorts of lessons on finance, including budgeting for a business, how to plan spending for materials to make products, how to price items and how to save, on top of all sorts of lessons Saturday from marketing their businesses with posters, dealing with customers and counting out change, among other items.
The students even took out loans to finance their businesses, with Rachel Balestri from Eureka Savings Bank helping them learn about the process.
"They'll have to pay it back after (Saturday) and learn about percentages, and what interest means," Schultz said, noting that's one of the lessons of the program.
Judging by how brisk sales went Saturday, very few of the student-led businesses will have any trouble.
"It's been really busy," said Quinn Krug, who operated Thee Team of Three, which sold painted pots, slime and clay bracelets.
Krug said the bracelets took about 15 minutes to make and 60 of them were made for Saturday's market. Only a handful remained near market's end.
"This has been very fun," Krug said.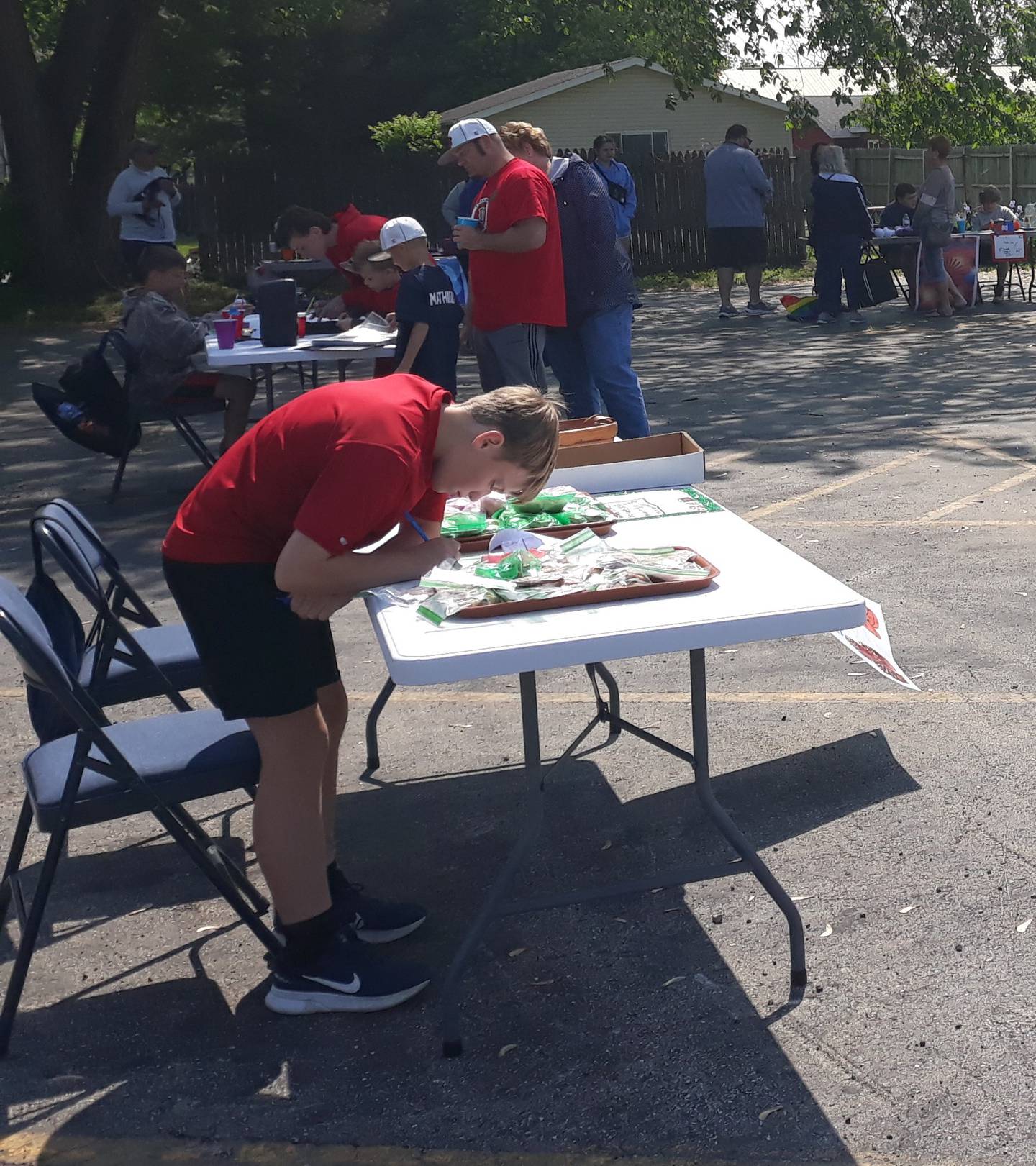 Beyond the lesson plans, which are online and geared to teach youth, students were given class time to work on their products and business plans. The students had a soft opening Thursday at the school to work on their pitches and get ready for Saturday's public market. They earned $400 in an hour.
Bailey Serena, who operated Bailey's Amazing Creations, which sells bracelets and iced coffee, had a notepad by her side with various dollar amounts written on it. She said she was keeping track of change.
"We get $40 to start the day to help us make change with customers," she said. "I have to make sure I have $40 at the end of the day to give back."
Other businesses Saturday included Jake's and Grayson's Treats, Brody's Baseball Cards, Sour and Sweet Squeezes, Sweets and Snacks, GNB Snowcones and Everything Bracelets.
Illinois Valley Area Chamber of Commerce Executive Director Bill Zens said the chamber would like to expand the program to more schools next year. Waltham served this spring as the test run, and so far, it's been a good trial, he said.
Culjan and Schultz recommended the program to other classrooms.
"It makes them learn responsibility with their time and money," Schultz said.
Because it involved so much hands-on experience, the teachers said it created enthusiasm with students who otherwise are not excited about school.
"They couldn't wait for the markets, and the whole time they are gaining this real world experience and learning a lot from it," Culjan said.
"They are learning to tap into skills they didn't even know they had," Schultz said.
Students said Saturday they learned everything from counting out change to dealing with customers.
"Entrepreneurship is quite difficult," Pearce said. "But it's pretty fun."