MINONK – With both 18-win teams having solid seasons and looking toward upcoming conference tournaments and the quickly approaching postseason, Marquette's trip to take on Fieldcrest on Monday looked to be good preparation for each side.
The Knights posted a 25-13, 25-19 win on their home floor, breaking open a tight first set late against the Crusaders and then making a couple more plays down the stretch in the deciding second set.
Fieldcrest (19-3) was led by seven kills from Ashlyn May, with Carolyn Megow adding six kills and Kaylin Rients six. Allie Wiesenhofer collected a team-best three aces and eight digs, while Kristyn Swartz had 12 assists. Marquette (18-5) was paced by six kills from Makayla Backos and four apiece from Eva McCallum and Kaylee Killelea (18 assists), while Lindsey Kaufmann had 17 digs and Mary Lechtenberg a trio of blocks.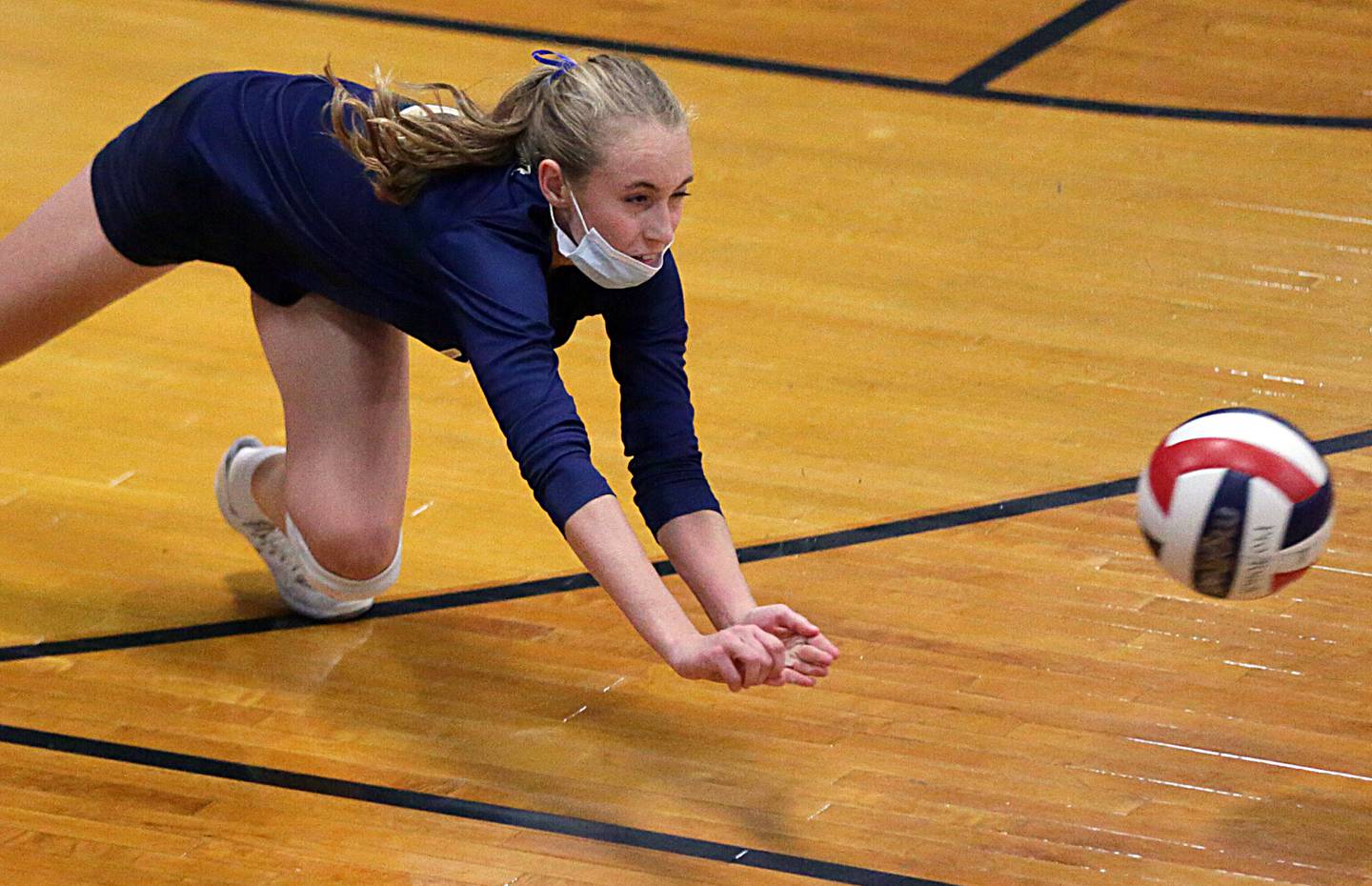 "Tonight was like a defensive competition. It was like, who is going to be scrappier, who is going to out-dig who?" Fieldcrest coach Cathy Sanders said. "I thought Marquette did an excellent job defending us, made us step up our game and kept us on our toes. We came out strong in the first set and they struggled I think, but we sure saw what their team can do in the second set.
"We talk all the time about keeping a balanced attack, and tonight we got a little right-side heavy, but once it was addressed we were good. We want opponents to have to guess, and there were stretches where because of our play Marquette had a good idea of where the attack was going to be coming from."
The hosts held a 13-9 advantage in the opening set before May posted back-to-back kills before three MA hitting miscues. Rients then added a block-kill before another kill by May, and a swing from Carolyn Megow stretched the lead to 21-10. The teams then see-sawed points until Rients' kill off an overpass.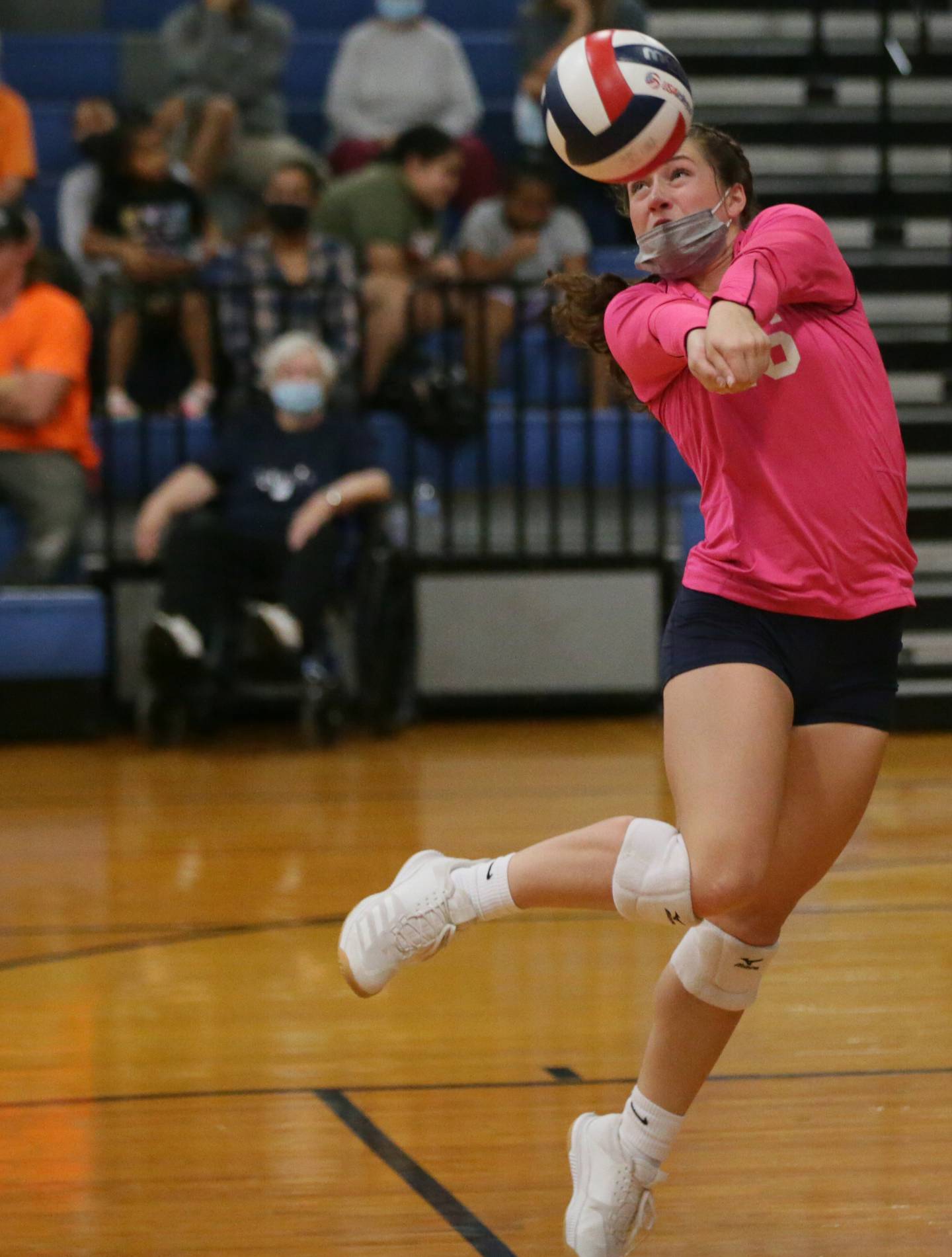 "Like I told the girls, I don't think we played badly, but we unfortunately got caught in a couple of rotations midgame where Fieldcrest was able to push out to a solid lead," Marquette coach Mindy McConnaughhay said. "We didn't come out strong in the first set, we were average at best, but I thought the second set was much better overall.
"The second set we blocked better and were way better in our serve receive because we struggled in those two aspects right out of the gate. There were also a couple times we'd win a long rally and then have a serving error to lose any momentum we had."
Fieldcrest used an early four-point burst from Megow – including a pair of aces and two kills from Kaya Buchanan – to lead 6-3. Marquette chipped away over the next 18 points, with Backos putting down three kills and Killelea a pair to close to within 14-13. But a sideout winner from May, two Crusaders hitting errors and a blast from Buchanan made it 18-13.
The visitors closed to 18-16 on two kills from Backos and a Knights hitting error, but a serving error started Fieldcrest on capturing six of the final nine points – including kills from Rients on the final two.
"Lindsey really came alive for us defensively in the second set," McConnaughhay said. "She was able to get to so many balls that not many players can get to, let alone make something happen out of them. I also thought Kaylee made something out of nothing a lot tonight with our serve receive struggling, and Mary and Lilly were strong at the net blocking."
Fieldcrest is back in action Tuesday at Dwight, while Marquette will travel to take on TCC rival Putnam County on Thursday.