OTTAWA – It's doubtful the members of the Marquette Academy volleyball team will enjoy being compared to horses that used to pull fire trucks to the conflagrations around each and every town, but there is a similarity in at least one regard.
It takes just a little whiff of smoke to get them really going.
Because they'd opted to be on hand for the first Friday home football game in a month, the Crusaders had to leave Ottawa at 5 a.m. Saturday to play five matches against bigger schools at the tough Harvard Invitational.
They performed admirably, going 4-1 but expending every last bit of energy. That's why the Crusaders started out sluggish early in Monday's match against Hall at Bader Gym.
However, it took only one full rotation of the Red Devils hitting smashes at them to "smell the smoke" and snap out of those doldrums for a 25-23, 25-15 victory.
It was the play of sophomore Lilly Craig, who notched six of her seven kills on the night, that helped the home team survive their sloth-like first set. But then Eva McCallum and Lindsey Kaufmann stepped up at the net and in the back row, respectively, to make game two a little more one-sided and lift Marquette's record to 18-3 on the year.
"That absolutely had everything to do with Saturday. I'm tired and I wasn't playing, so I can only imagine how really exhausted they are," Marquette coach Mindy McConnaughhay said. "All day at school today they were like deer in the headlights. I just told them it was a test of their mental toughness, to just go out and do your job, do what you have to do, and fortunately it got us through.
"Lilly was huge for us in the first set , definitely kept us in it until we kind of woke up and started playing like we can, then everybody looked back to normal in the second set. For being as off as we were, I'll take the win. It wasn't pretty, but it was effective."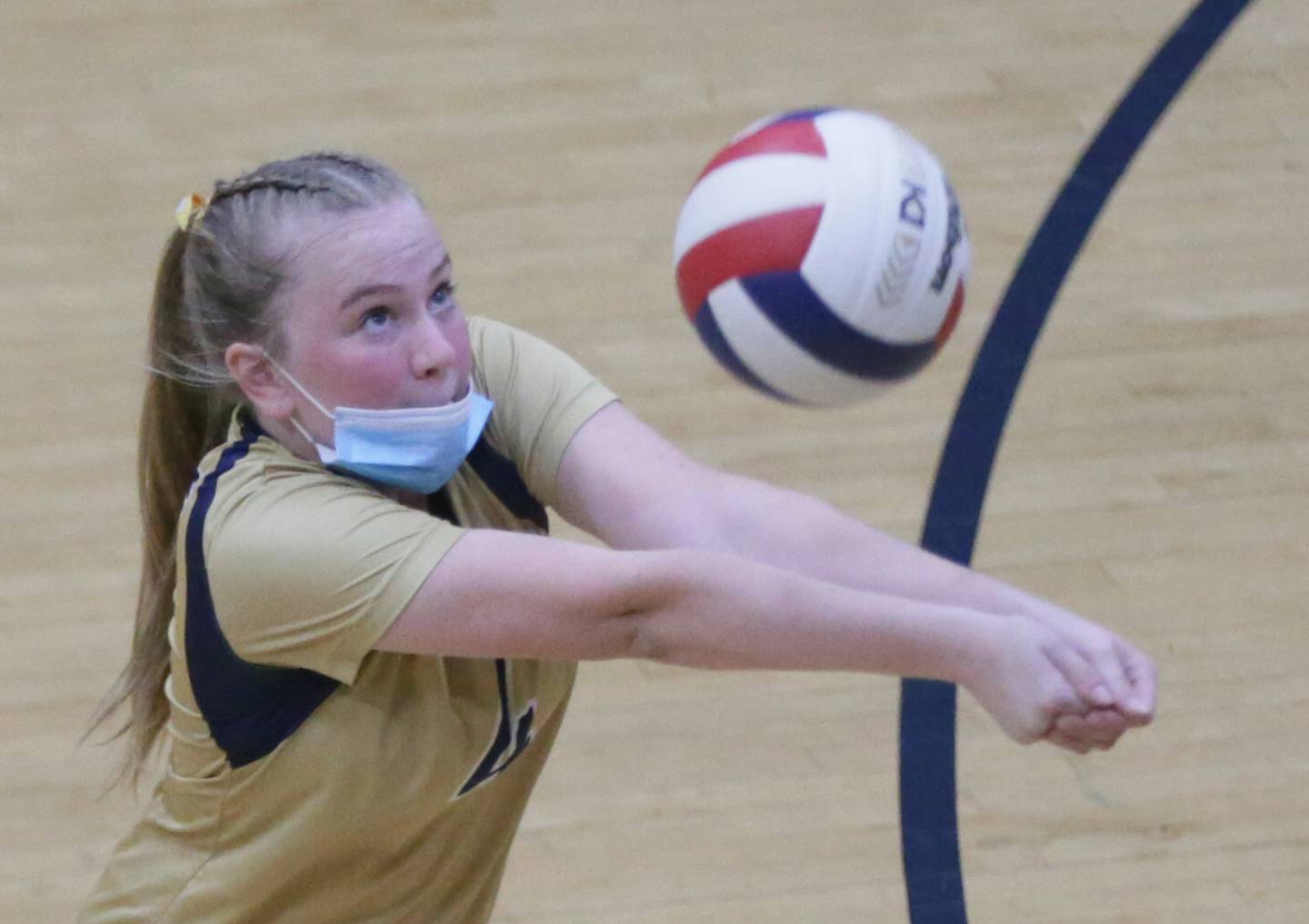 A kill and a block by Taylor Coutts helped Katelyn Pullam to four points and a 5-2 Hall edge. Later, a trio of points by Ella Taliani widened that margin to 9-3, and later yet three more by Pullam – the last on a Molly Dalzot kill – took it to 17-12.
However, a block by Marquette's Mary Lechtenberg for sideout and four straight points by Craig, two on McCallum kills, knotted the game at 17. From there the Crusaders were fully operational, but still didn't put the Devils away until two kills by Craig sealed the match.
In Set 2, there wasn't near as much drama.
A wild save by Kaufmann led to a kill by Makayla Backos for a sideout and broke a 4-all tie, then Emma Rinearson served four points in a row for a 9-5 Marquette lead. Two Coutts points got the visitors within 9-7, but McCallum got a block, then back-to-back aces to make the edge five. Four points by Rinearson lifted that number to 22-14 before McCallum served the winners on a Backos kill and an ace.
McCallum finished with eight kills and six points, Rinearson 10 points, Kaufmann 12 digs and Kaylee Killelea 25 assists.
For the Red Devils (6-18), Pullam ended up with a match-best 10 points, while Dalzot collected a team-best four kills.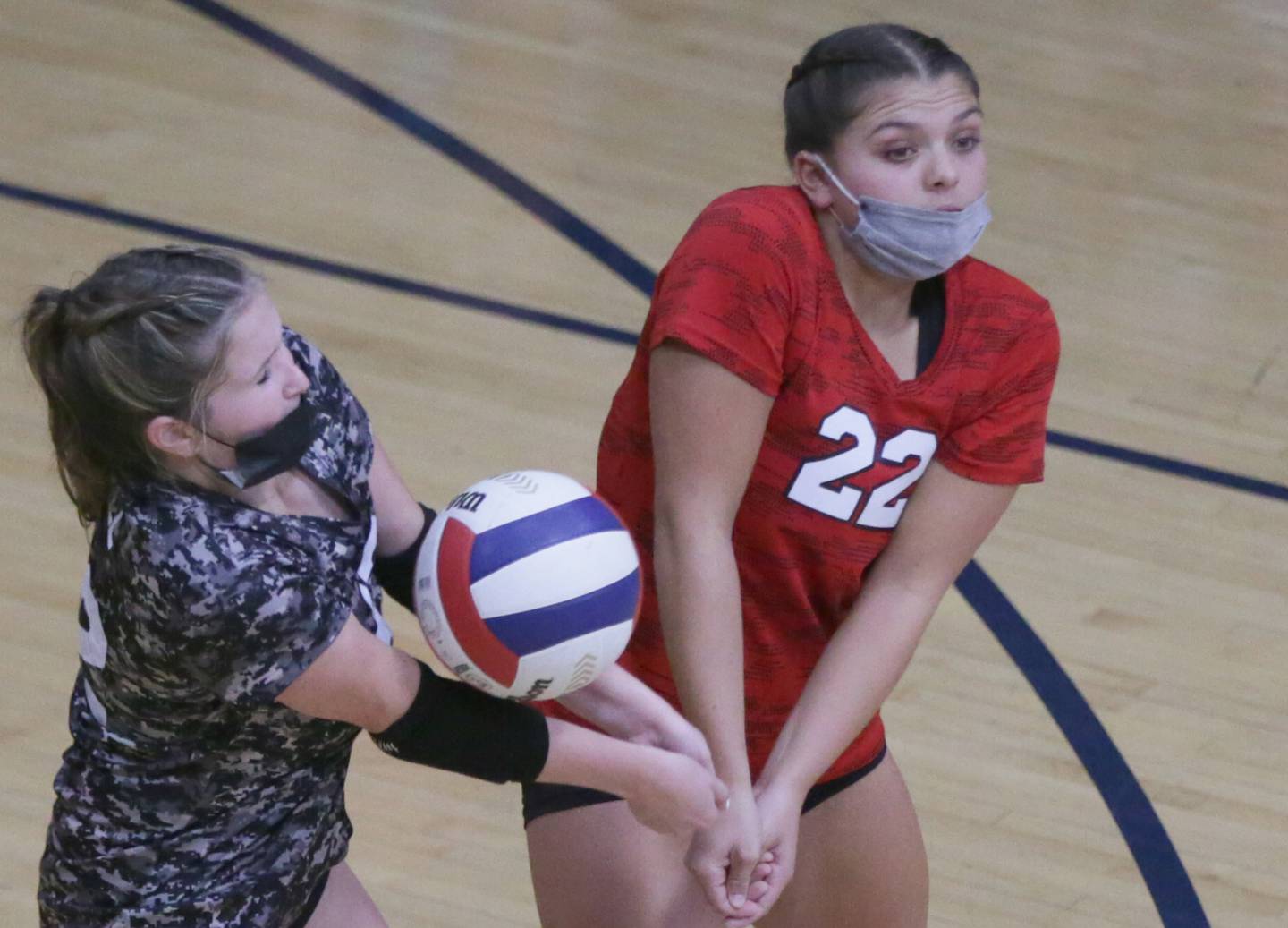 "We try to be smart … and the girls played hard, they didn't give up," said Hall coach Darcy Early, "but Marquette just adjusted so well to everything we did to them. If we got a kill in one place, they'd adjust something to close it off the next time, and they did that all night."
Marquette will host Serena at Bader Gym at 6:30 p.m. Thursday, while the Red Devils host Mendota Tuesday at 7 p.m.