BLOOMINGTON - As the first-half clock dropped under five seconds, Fieldcrest senior Ella Goodrich stood wide open in the right corner expecting sophomore sharpshooter Kaitlin White to take the final shot.
But a couple seconds later — and to her surprise — the ball was in Goodrich's hands.
"I was expecting Kaitlin to shoot, then all of a sudden she's passing the ball to me," Goodrich said. "I didn't think there would be enough time to get my shot up, but I shot it, hoped for the best, and it went in.
"I felt like that was turning point, it put us up nine and gave us a lot of energy going into halftime. I didn't want to get too excited, because there was still another half left. I don't take too many [3-pointers], but that was one I'll remember for a long time."
Goodrich's triple at the buzzer gave the top-seeded Knights an 18-9 lead at the break against No. 3 Eureka (19-6), the four-time-defending champions who had given the Knights their only loss of the season over a week ago.
Then a strong start to the fourth quarter eventually led Fieldcrest (23-1) to a dominating, 47-28 victory in the championship game of the Heart of Illinois Conference/McLean County Tournament on Saturday at Illinois Wesleyan University's Shirk Center.
It was the first ever title for the Fieldcrest girls program at the event. They also took possession of the McLean County/HOIC traveling trophy as a cherry on top.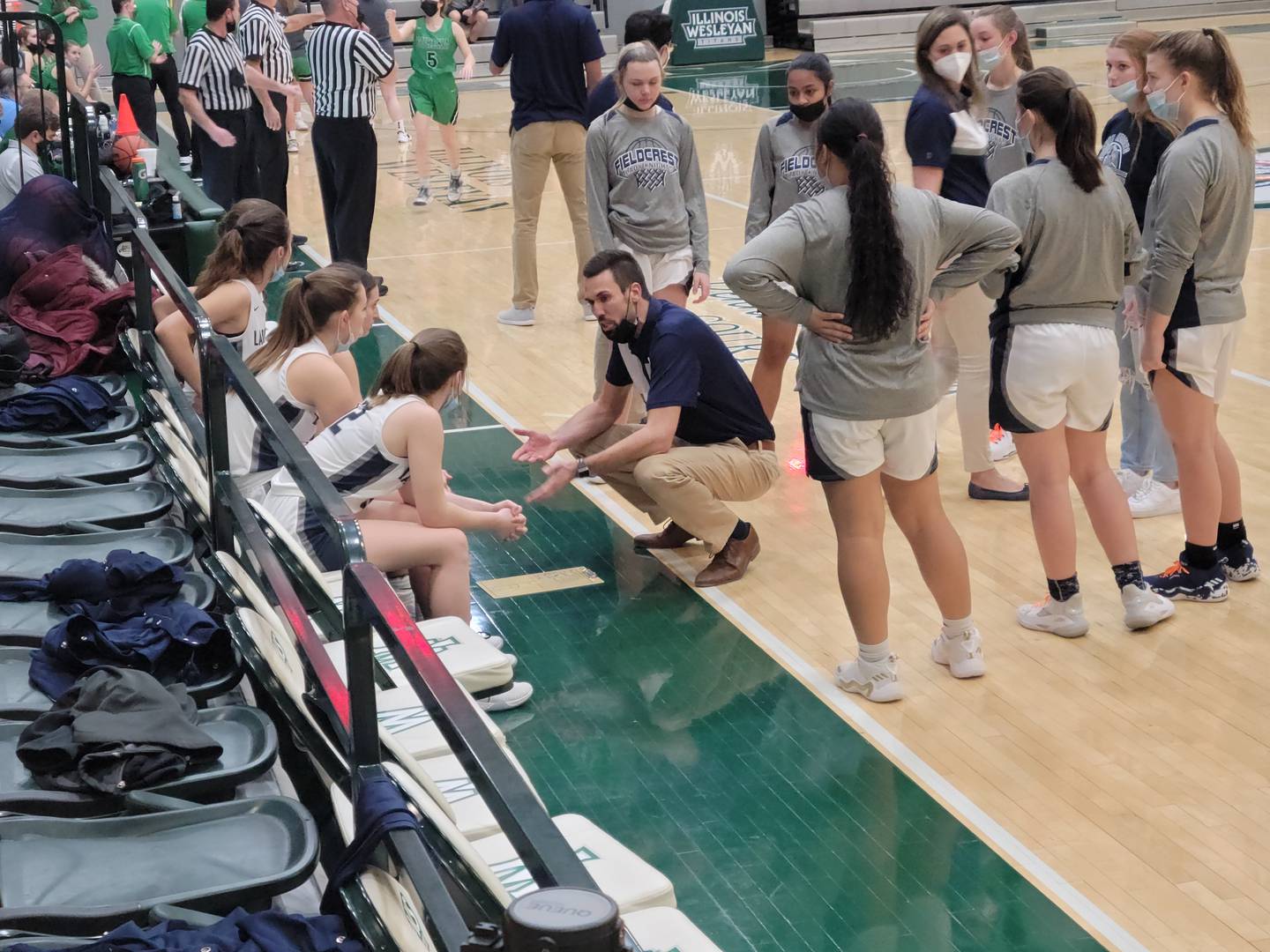 "We talked a lot coming into this game about responding to adversity," said Fieldcrest coach Mitch Neally, who celebrated his 36th birthday. "We knew we were going to make plays and so were they ... that's what two really good teams do. We wanted to never get too high or low. I told them, 'This is going to be a war, every possession is a battle within that war, and we have to win most of those battles.' I think we won our share of those battles tonight.
"With all respect to Eureka, we know we didn't play our best game against them 12 days ago. We had a heart-to-heart talk after that game. I think it woke us up a little bit. We were able to get a second chance at them tonight.
"That's all we wanted, and we made the most of it."
The squads were tied 6-all after the opening quarter, but Fieldcrest opened the second on a 9-0 run, including two layups by Carolyn Megow off Ashley May assists and a trey from Haley Carver. Then, following a pair of hoops by the Hornets, Goodrich's 3 gave her team the momentum that would carry over into the second half.
Fieldcrest held Eureka to just 4-of-21 shooting in the opening half — 28% for the game — forced nine turnovers (19 for the game) and held a 25-11 advantage on the boards (37-18 for the game).
"We hang our hat on our defense," Neally said. "A lot of people will talk about the scorers we have on the floor, and we do, but we also have five girls on the floor that can get after you on defense."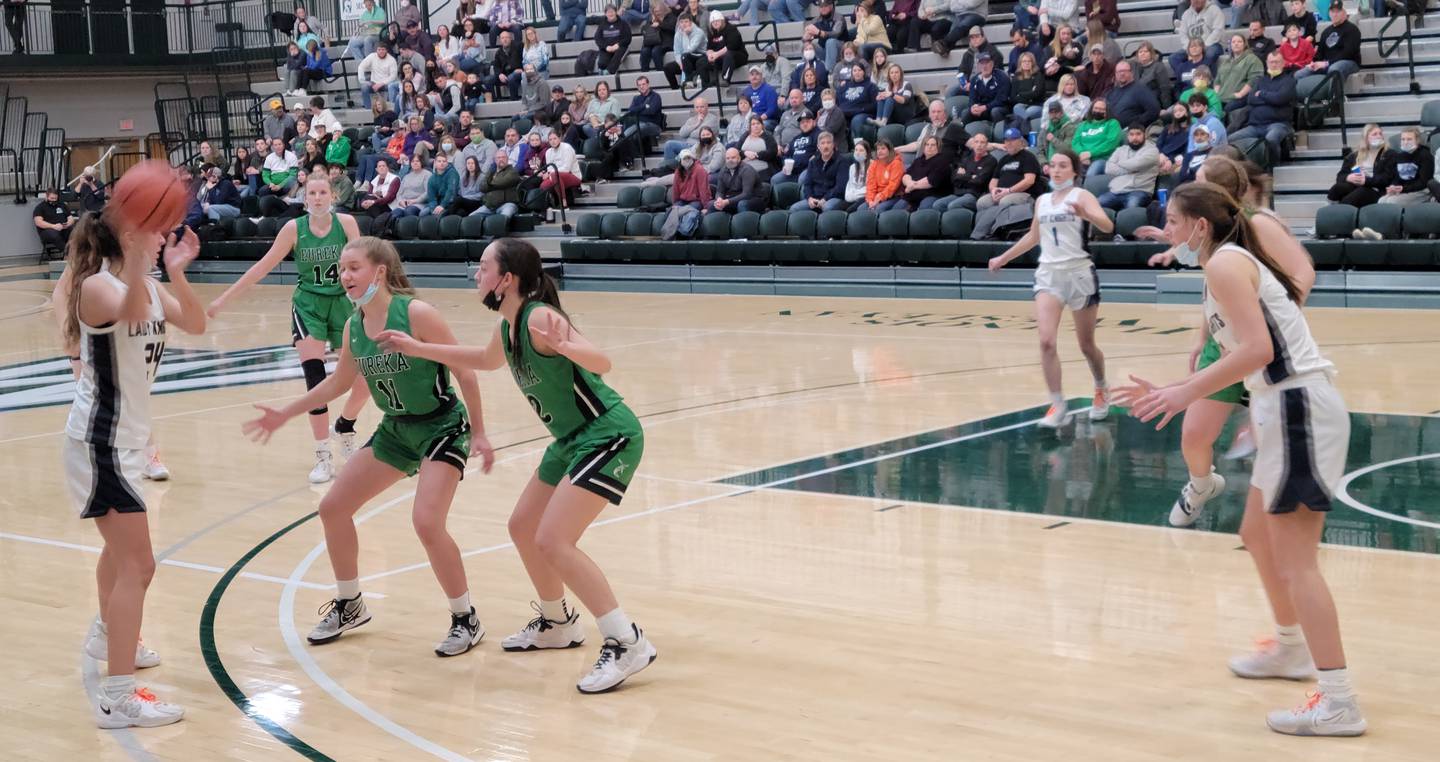 Consecutive steals-turned-layups by May opened the third quarter, and a 3-pointer from White at the 5:10 mark made it 25-11. Eureka close to within eight on back-to-back 3s from 1,000-point scorer Ellie Cahill, but Goodrich netted 10 consecutive points spanning the third and fourth before an 8-0 run in the middle of the final frame put the game away.
Goodrich finished with 19 points and 11 rebounds, while Ashlyn May had 10 points, seven assists, seven steals and six rebounds. Megow posted eight points and White had seven points and six rebounds.
Cahill, who had 26 points in the first meeting with the Knights and 32 in a semifinal win Thursday over Tremont, led the Hornets with 14.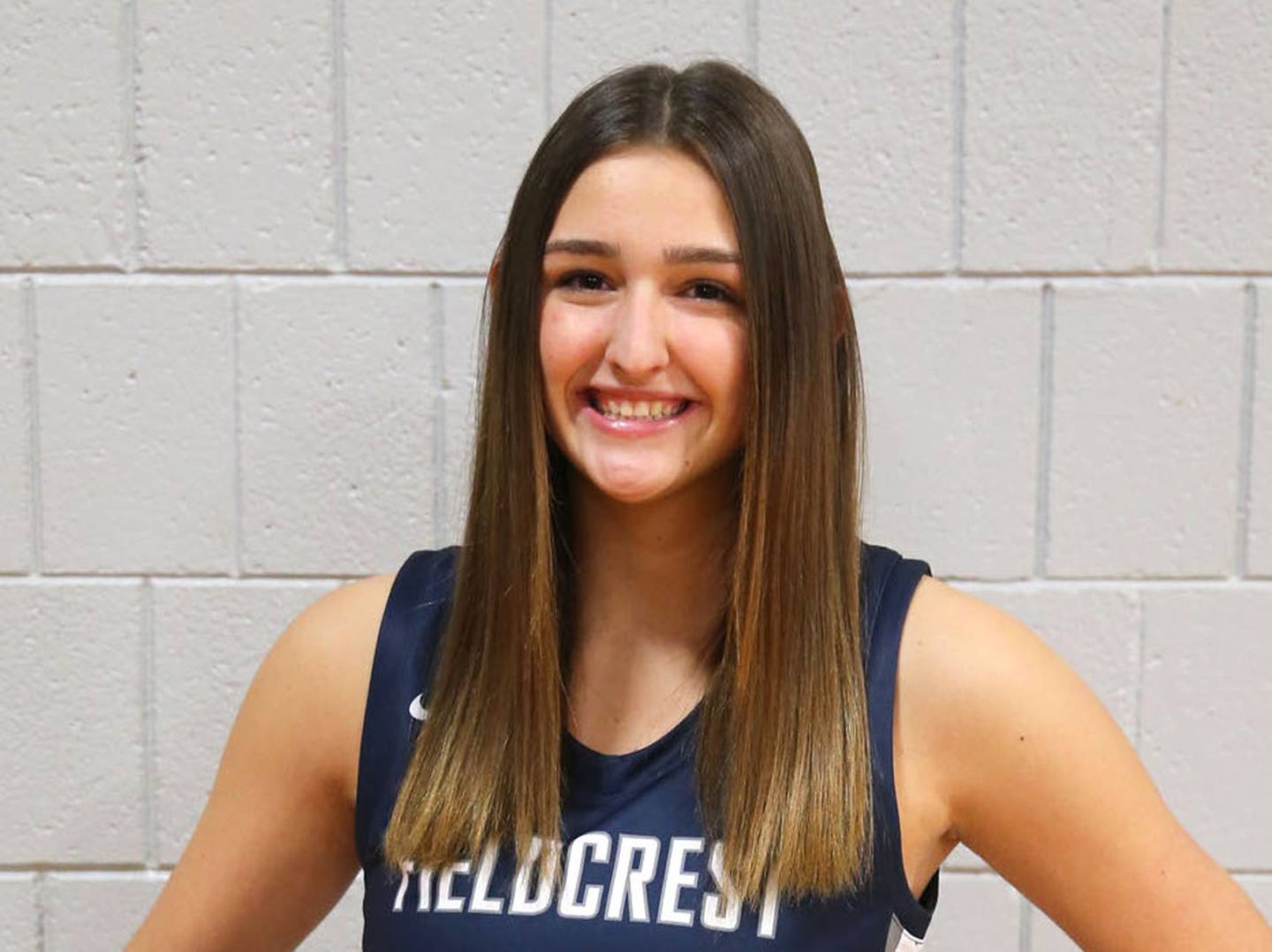 "We are such an unselfish team, and my teammates made some really good passes to me all game long," said Goodrich, her team finishing with 16 assists on 20 field goals. "We are all about doing whatever it takes to win, and I think we did that tonight.
"This is the highlight of my life. Winning this tournament, getting the traveling trophy for the first time ever and having never beaten Eureka in my four years on varsity ... this is a dream come true. I'm so proud of this team, and tonight was an amazing experience.
"This is all Coach Neally asked for for his birthday, so that makes it special as well."
—
At Shirk Center, Bloomington
HOIC/McLean County Tournament
Championship game
Fieldcrest 47, Eureka 26
EUREKA (26) — Linder 1-5 1-2 4, Greene 0-1 0-0 0, Nohl 0-5 0-0 0, Cahill 6-14 0-1 14, Knapp 2-7 0-1 4, Bluneir 0-1 0-0, Lapp 1-3 0-0 3, Crusie 0-0 0-0 0, Anderson 0-0 1-2 1, Skutt 0-1 0-0 0, Hoffman 1-2 0-0 2. Totals 11-39 2-6 28.
FIELDCREST (47) — White 3-7 0-0 7, Megow 3-5 2-4 8, Carver 1-7 0-0 3, May 5-12 0-0 10, Goodrich 8-12 2-2 19, Timmerman 0-1 0-0 0, Celis 0-0 0-0 0, Harms 0-0 0-0 0, Mangan 0-0 0-0 0, Gimed 0-1 0-0 0, Marty 0-0 0-0 0. Totals 20-45 4-6 47.
Eureka (19-6) 6 3 11 8 — 28
Fieldcrest (23-1) 6 12 11 18 — 47
3-point goals — Eureka 4-21 (Linder 1-3, Greene 0-1, Nohl 0-3, Cahill 2-8, Knapp 0-1, Bluneir 0-1, Lapp 1-3, Hoffman 0-1); Fieldcrest 3-12 (White 1-3, Carver 1-5, May 0-2, Goodrich 1-2). Rebounds — Eureka 18 (Nohl 5); Fieldcrest 37 (Goodrich 11, May 6, Megow 6). Assists — Eureka 4 (Greene 2); Fieldcrest 16 (May 7, Megow 4). Steals — Eureka 8 (Nohl 3); Fieldcrest 13 (May 7, Megow 3). Blocks — Eureka 0, Fieldcrest 1 (Goodrich 1). Turnovers — Eureka 19, Fieldcrest 19. Total fouls (none fouled out) — Eureka 10, Fieldcrest 11.