SENECA – Improvement is crucial for teams this early in a basketball season, whether that improvement comes in a short stretch over one quarter or slowly but surely over all four.
After having dominated Hall in the first quarter of its season opener Monday, Serena bounced back after suffering through a dismal first quarter against Herscher on Wednesday night, but it still needed a short but crucial stretch in the fourth quarter by senior guard Katie Baker to hold off the Tigers for a 44-36 victory at the Falcon-Irish Girls Basketball Thanksgiving Tournament.
In the night's second game, host Seneca jumped in front of Hall, 15-5, in the first quarter and was in control throughout, but the scrappy Red Devils improved just enough in each quarter to make the Irish work for the 43-32 win.
The final night of pool play Friday will have Hall playing Herscher at 5:30 p.m., then Serena will battle Seneca in the finale at 7 p.m.
Serena 44, Herscher 36
The Huskers moved to 2-0 but cold shooting (3 for 15 from the field) in the opening quarter made that look like an iffy proposition. A deuce by Herscher's Mia Ruder gave the Tigers an 8-7 lead early in the second, but Serena scored the next 11 points – five from Paisley Twait and four from Jenna Setchell – to take a 10-point lead.
A stretch of five straight turnovers by Serena allowed Herscher to climb back in, getting as close as 34-32 after a 3 by Lacy Grigas. But back-to-back layups and a free throw by Baker opened the game up before a clutch putback on her second toss by Makayla McNally proved the dagger, making it 41-34 with only 3 minutes, 33 seconds left.
Baker finished with 16 points, eight rebounds and eight steals, and Twait had 14 points, nine rebounds and four steals for the Huskers, who made up for shooting 38.7% (19 of 49) by outrebounding the 33%-shooting Tigers, 34-23.
"In the first half, if either side had been able to make layups, that team could have been up 15," Serena coach Jim Jobst said. "We warned the girls that on long passes they were going to gamble and go for steals, but it helped us that we have some pretty good ballhandlers that can handle that kind of pressure. We felt we could penetrate against their zone, and in the second half that's what we started to do more, and we finally started making some layups.
"That's a good team, Herscher. … Fortunately, we handled things down the stretch pretty well."
Seneca 43, Hall 32
The Irish had seven players in the scoring column and used their high-pressure defense to force 11 Hall turnovers in the opening quarter.
However, after moving the lead to 21-9 in the second quarter, thanks to six of Kennedy Hartwig's team-best 10 points, they went cold (7 for 25) from the field. That allowed four of Makenna Christiansen's game-best 17 points and five points by Brooke Spoonmore to slice the Hall deficit to as few as eight.
"We're not smooth, we're not efficient … but to be fair, I'm throwing a bunch at them," said Seneca coach Brian Holman, whose club shot only 27.7% (18 of 65) from the floor on the night. "I'm new, and it's different when you take over. Ted [O'Boyle, former Irish coach] had his style and did different things with different girls, and now that's changing, and the girls are trying, working hard and you can see it's there, but the girls are still kind of rigid, kind of robotic right now. It's not second nature to them yet.
"But this was just Game 2 of 32, so we'll get there. We'll keep plugging, doing the things we do and hopefully after a few more games things will come more naturally to them."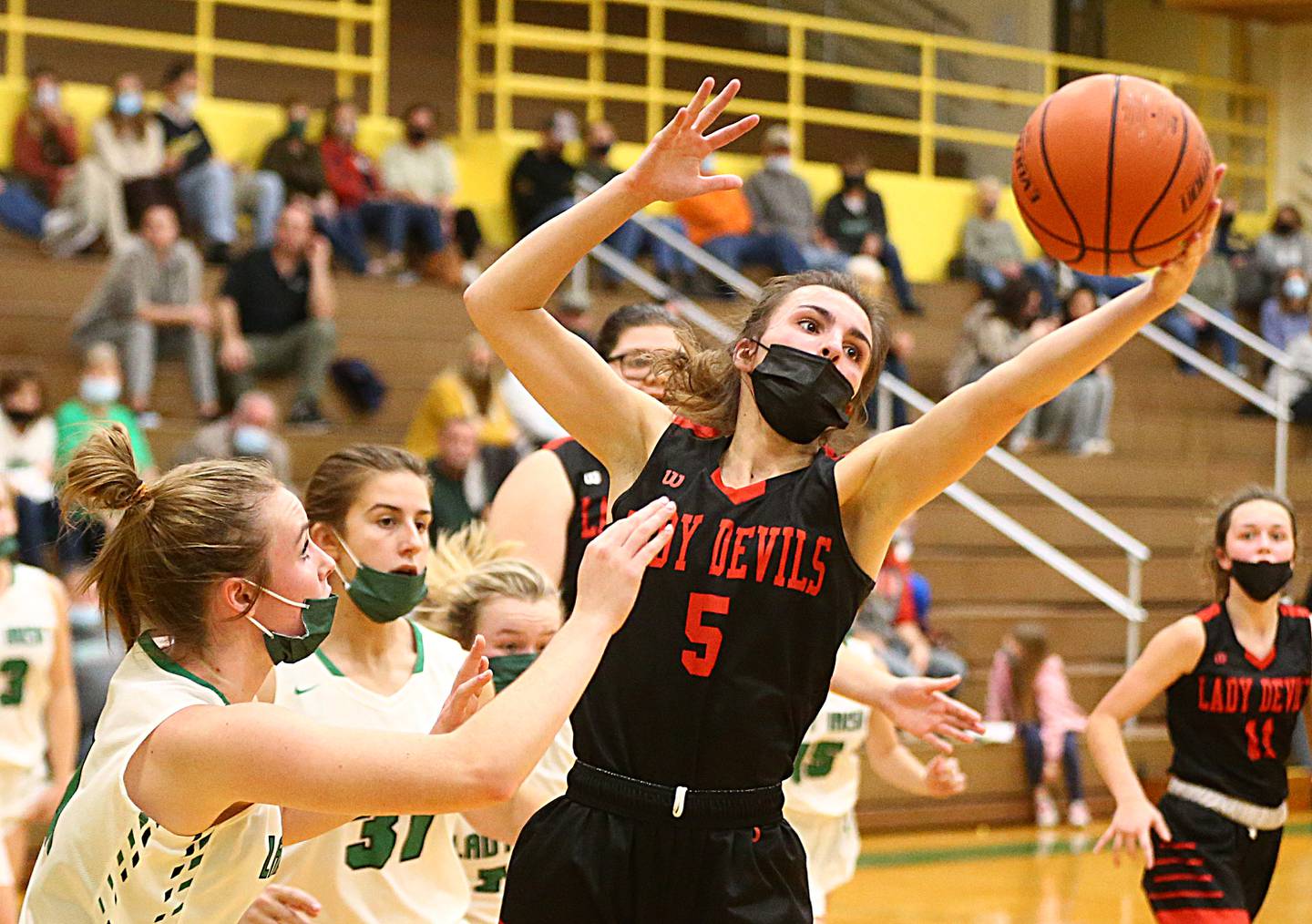 An 11-3 Irish run spanning the half expanded the lead to 18 before five points each from Christiansen and Promise Giacometti made it closer down the stretch. Hall finished the night with 35 turnovers.
"Falling behind early against a good team on their home floor with a loud opposing crowd, and this being the first varsity experience for a lot of them, I told them just to keep fighting, and they did," Hall coach TJ Orlandi said. "From Monday night (a 47-22 loss to Serena) to Wednesday was a huge improvement, and that's what we're trying to do, get better each time we go out there.
"The slow starts are just killing us, and that's just being young and not knowing what to expect. Once we settled down, we started playing more like how we're capable, but this was a step in the right direction, with the defensive effort in the second half especially."