PERU – Since the Marseilles Holiday Tournament, Hall boys basketball coach Mike Filippini felt his team has played well.
However, the Red Devils didn't have a win to show for it, dropping three close games against Newman, Kewanee and Serena.
Hall broke through Tuesday.
The Red Devils withstood an 8-0 run, limited St. Bede to three free throws in the final 5:38, and Ethan Plym drained a 3-pointer with 1:12 left as Hall held on to beat the rival Bruins, 51-49, in a Three Rivers Conference East Division game at the Academy.
"It was a big crowd. Loud," Filippini said. "We found a way to win. I'm happy for the kids. I'm proud of the kids because we've been playing well enough to win, and we just couldn't crack through, and tonight we did."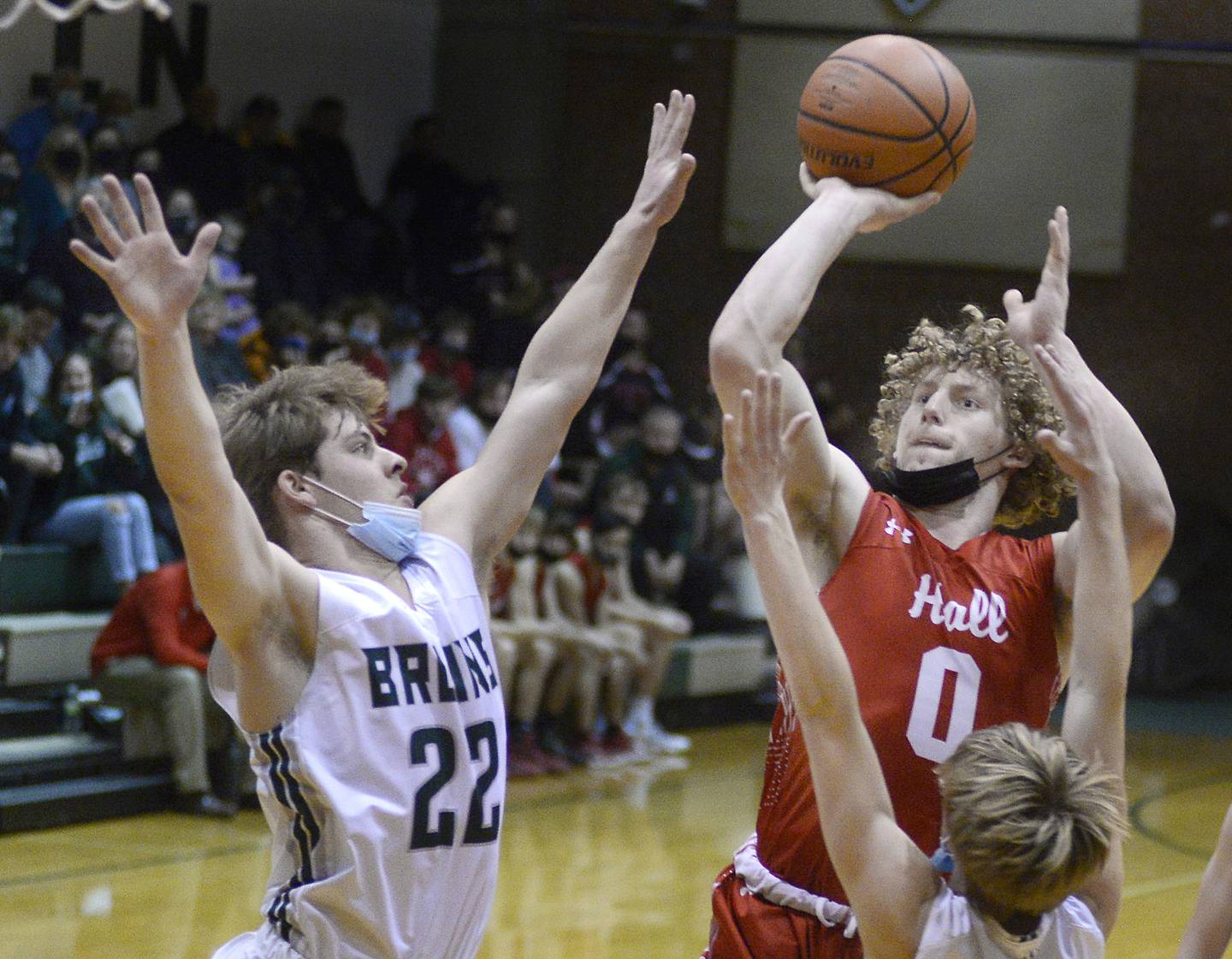 The Hart brothers went on an 8-0 run – with Paul hitting a 3 and scoring on a steal and layup and Isaiah hitting a 3 – to give the Bruins a 46-41 lead with 5:38 left, prompting Filippini to call a timeout.
The Red Devils immediately responded.
Plym hit a turnaround jumper, and Mac Resetich drove for a bucket to pull Hall within one.
"We kept doing what our plan was," Plym said. "We kept trying to play good defense. We kept trying to take good shots. We never doubted ourselves. We kept playing hard."
Hall's Riley Coble tied it at 47 on a bucket off an inbounds play with 3:38 left.
Resetich split a pair of free throws with 1:23 left.
He missed his second shot, but Hall grabbed the rebound and Resetich found Plym in the corner.
Plym buried the 3-pointer to put the Red Devils ahead, 51-48, with 1:12 left.
"Paul was guarding me most of the game, and it was tough to get shot over him. He's real long," Plym said. "But someone else was guarding me at the time. That is a shot I'm real comfortable with. I ended up open and luckily made it.
"It felt awesome. That's a shot you dream about going up against your biggest rival."
The Bruins had several chances to tie or take the lead.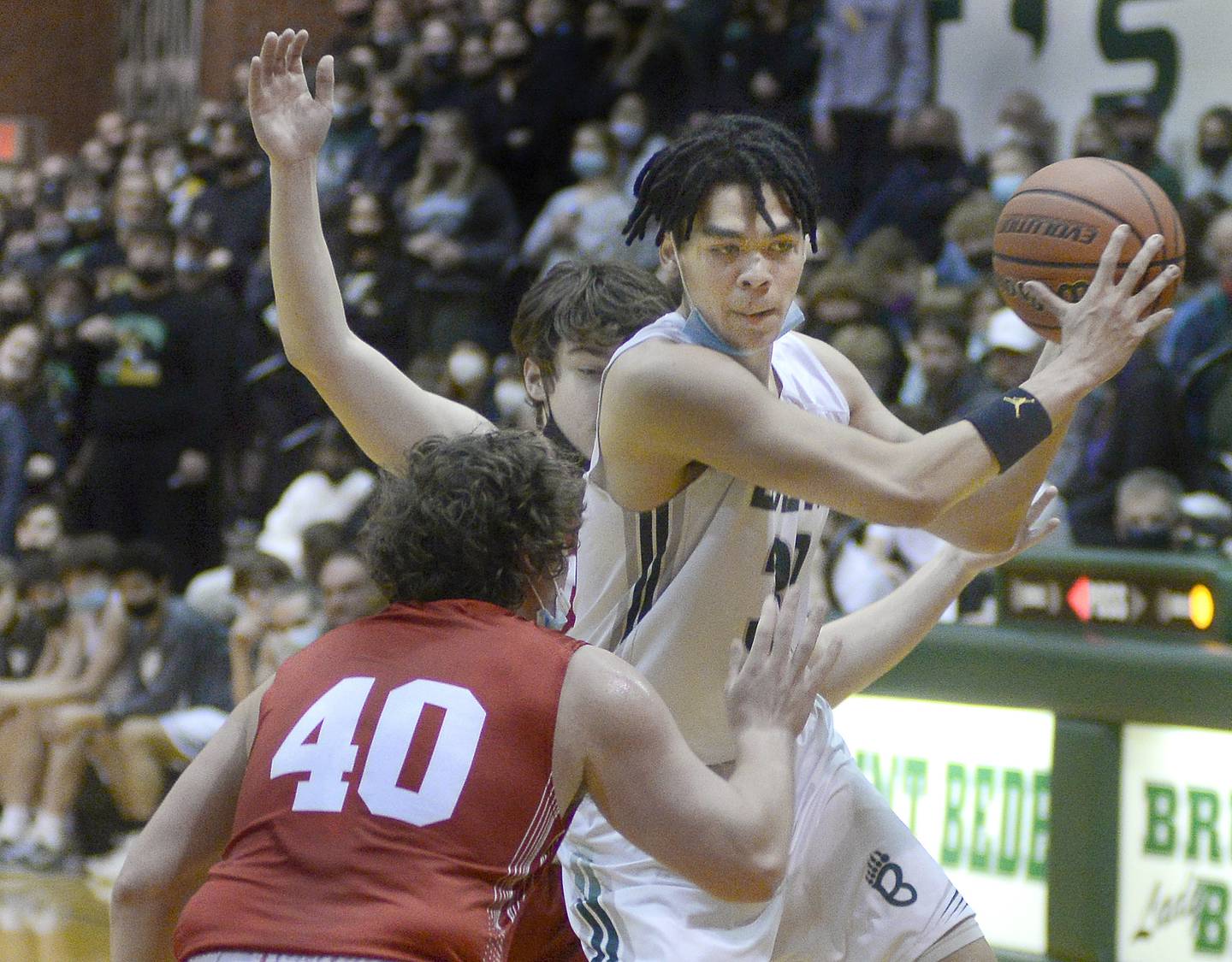 St. Bede missed a pair of 3-pointers before Paul Hart was fouled and split a pair of free throws with 35 seconds left.
Isaiah Hart stole Hall's inbounds pass, and Paul Hart put up a 3 that missed.
After St. Bede grabbed the rebound, coach Brian Hanson called timeout with 13.5 seconds left.
The Bruins inbounded to Paul Hart, but Hall's Ashton Pecher came over to double him and he passed to Callan Hueneberg, who missed a 3.
"We knew they were going to double Paul and it cleared out," Hanson said. "We had a great look, but 3-pointers are not easy shots for a reason. We even got a rebound and had a second chance at it. Some nights, it just doesn't go in."
Isaiah Hart grabbed the rebound and put up an off-balance shot that missed, and Hall rebounded.
"The last play we knew it was going to Paul," Filippini said. "Ashton did a really nice job coming off his guy. We got the ball out of Paul's hands and made somebody else try to beat us, which obviously was the game plan."
The Red Devils missed the front end of two one-and-one bonus free throws, giving St. Bede one more chance, but the Bruins' inbounds pass hit the ceiling, giving the ball back to Hall.
The Red Devils inbounded and the buzzer sounded, sending the Hall student section rushing onto the court.
"It was the best feeling," Plym said. "Coming in I knew it was my last game playing these guys. We hadn't beat them this year, so it was awesome."
The game was close throughout, as neither team led by more than eight points.
St. Bede led, 14-11, after the first quarter and, 28-26, at halftime before Resetich beat the buzzer with a putback to give Hall a 39-38 lead after three quarters.
"We played hard," Hanson said. "We always play hard, but we gave up end-of-quarter baskets as the buzzer expired in the first, second and third quarters. That was huge. They had at least four or five free throw rebounds. That's huge. That's about us. It's things we can't have happen in a close game."
Paul Hart led all scorers with 28 points for the Bruins (11-8, 2-3 TRC East).
Resetich scored 13 points to lead Hall (6-11, 1-4 TRC East), while Drake Garland had 12 points and Plym added 11.